There are a couple of ways that I go about making a hearty pot of chicken soup, but this is by far my favorite way!  The soup is very simple to make and it's very delicious and filling.  It is also easy on the wallet since it calls for common ingredients that are usually very inexpensive to get.
This recipe will serve about 5 – 6 people with large hearty portions.  To make this recipe, you will need the following ingredients:
3 – 4 lbs of Chicken (skinless, bone-in, about 8 – 10 pieces)
2 tsp Ground Oregano
2 – 3 tsp Salt
1/2 tsp Ground Black Pepper
5 Cloves of Garlic
3 Aji Gustoso
2 Limes
2 tbsp Achiote Oil (Aceite de Bija, may subsitute with 1 tsp of ground achiote)
3 Celery Stalks
4 Carrots
4 Large Potatoes
1lb Cassava (Yucca)
1 Cup Fresh Cilantro
2 Cups Angel Hair Noodles (fideos)
4 Cups Chicken Stock (optional)
Water
1/2 Cup Vinegar (optional)
I prefer to use skinless chicken to make the soup (unless I use the chicken wings, then I leave the skin on), about 8 – 10 pieces should be good.  I'm also partial to using thighs and drumsticks, but you can use any part you want (or you can just cut up a whole chicken and use that as well),
To clean the chicken, rinse it, then add some water and about 1/2 cup of vinegar (you may use limes instead of vinegar),
Let it soak for a couple of minutes, then rinse with fresh water and drain the chicken,
After the chicken is clean, put in a container to begin to season.  Add about 2 tsp of salt, it might sound like alot of salt, but remember this is to make a good sized pot of soup,
Then add about 1/2 tsp of Black Pepper,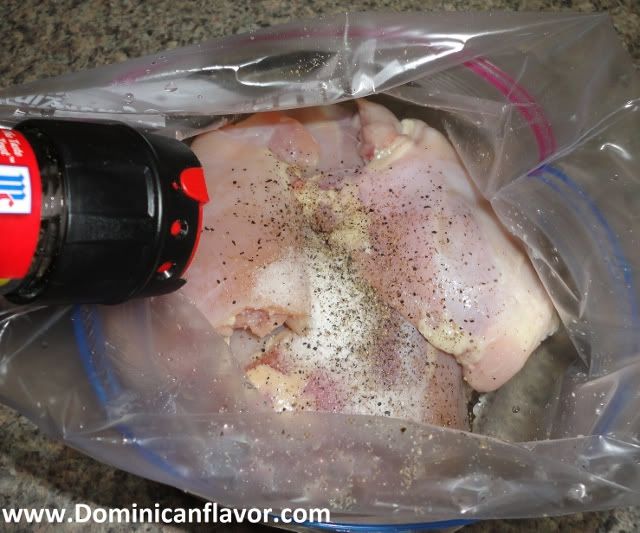 Then add 2 tsp of ground oregano,
Then add the mashed or chopped garlic (I like to mash it in a pilon),
Add 2 tbsps of Achiote oil, (you may substitute and add 1 tsp of ground achiote (bija) if you prefer),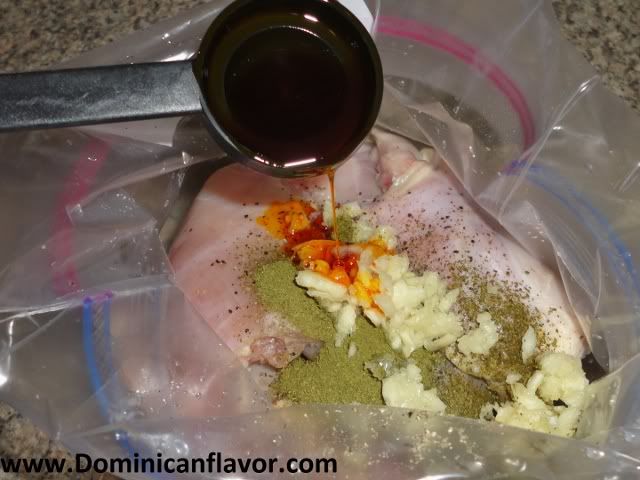 Then take the aji gustoso, (they can be found in most Spanish grocery stores and some supermarkets),
Remove the seeds and finely chop them, then add them to the chicken,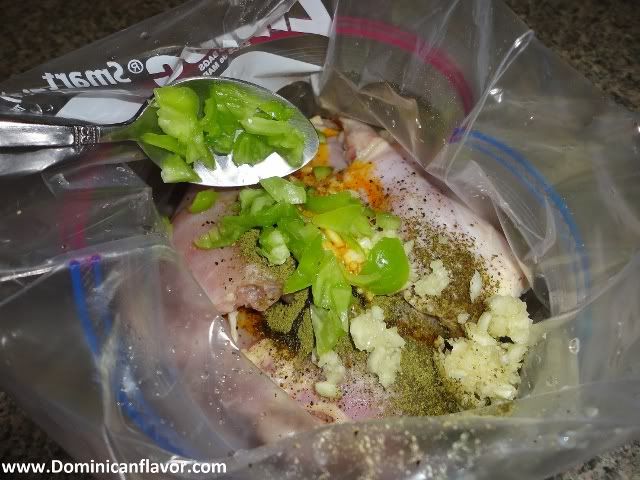 Then add the juice of 2 limes,
Mix well to incorporate all of the ingredients and thoroughly coat the chicken,
Let it marinate for atleast an hour, overnight is preferable so that the chicken can absorb the flavors of the marinade.
To begin cooking the soup, take a large pot and add about 2 tbsp of oil (may use vegetable or olive oil), put it on high.  Let the oil get really hot, then add the chicken pieces one by one (without the liquid marinade, set that aside),
I like to use tongs to avoid getting splattered with hot oil.  After adding all of the chicken pieces, let the chicken cook for about 10 minutes,
While the chicken is cooking, take a separate pot (about 3q sized one is good), fill it with water and put it on high heat.  This will be to add to the chicken later on when it comes time to make the soup,
After about 10 minutes, flip the chicken pieces over to the other side,
At this point, I like to "half cover" the pot so the chicken cooks in its juices, (you'll notice the smaller pot with the water getting nice and hot in the background), while the chicken is cooking, remember to just lightly stir it occasionally so that it doesn't stick,
While the chicken is cooking, prepare the vegetables.  Cut the celery into bite sized pieces,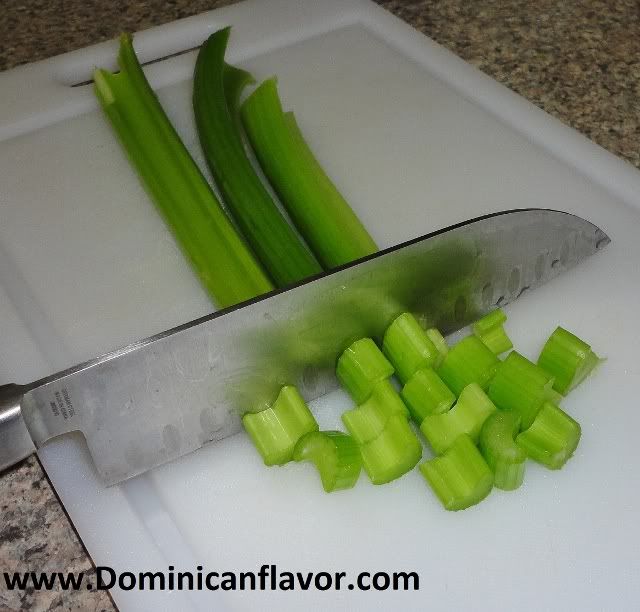 Then peel the carrots and cut them into bite sized pieces as well,
Set the vegetables aside until they are ready to be added to the chicken.
The chicken will cook for about 25- 30 minutes from initially adding it to the pot.  It will release some juices that will reduce down, when you see the chicken is "frying" in the oil like it is in the photo below,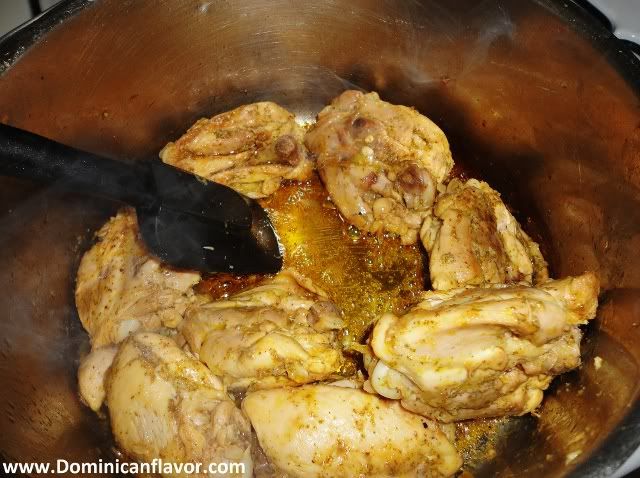 Let the chicken fry in the oil for a few minutes, it will start to get golden brown and develop more flavor,
Now take the reserved marinade and add it to the pot,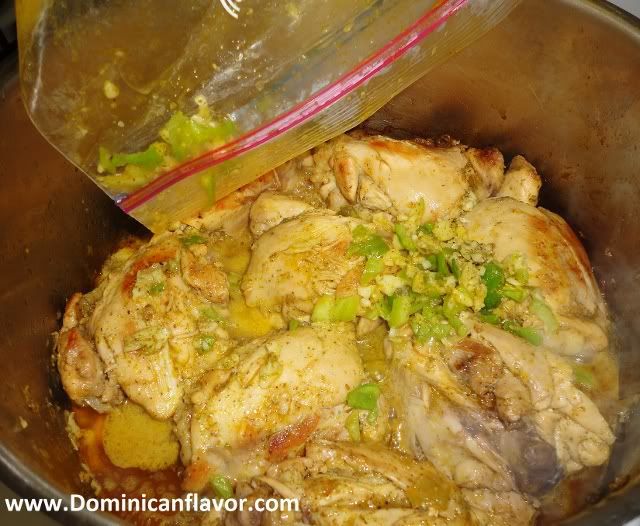 Then add the celery and carrots, very gently stir (I suggest you use a spatula) so the chicken doesn't break apart,
Let the vegetables cook with the chicken for a few minutes (about 5), then add the hot water (about 2.5 – 3 quarts).  Adding the water hot will make the soup be ready sooner since it will come up to a boil within minutes,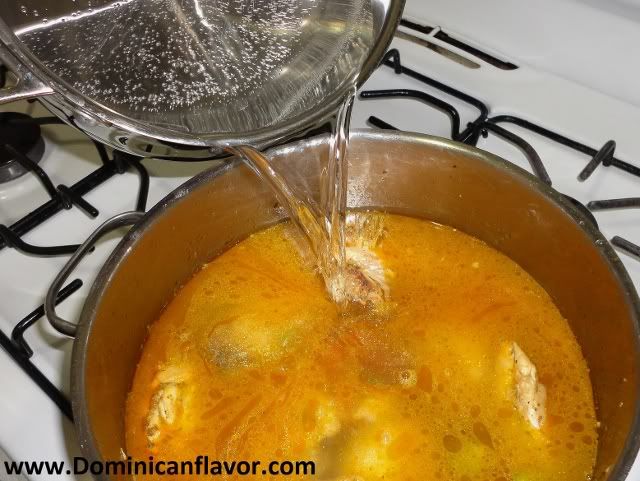 While the chicken is coming up to a boil, peel the potatoes and cut them into bite sized pieces,
Then peel the cassava (yucca) and cut into bite sized pieces, remember to remove the root,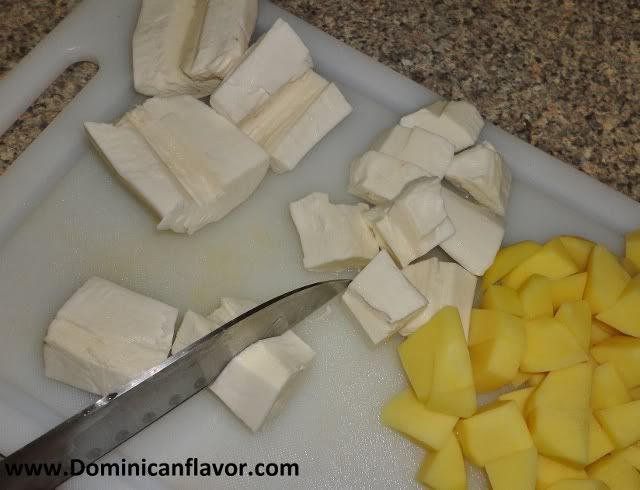 Set aside the potatoes and cassava, when the soup is boiling give it a quick taste test and add a little more salt if you feel it's necessary,
Then add the cubed potatoes and cassava to the pot,
Then take about 1 cup of fresh cilantro (I highly recommend you use fresh instead of dried cilantro), to add to the pot, if you have kitchen twine or a rubber band, tie it together to keep the cilantro in one bunch,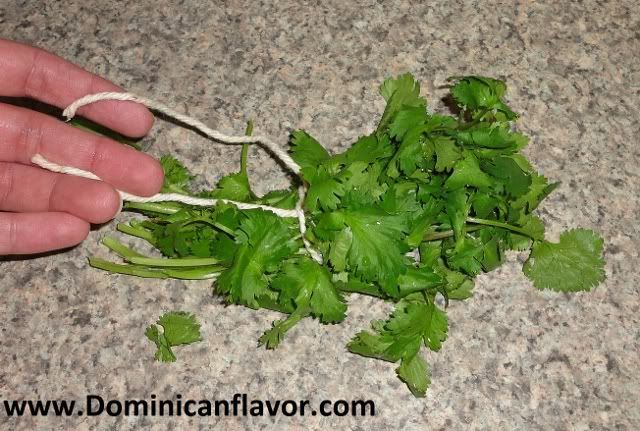 That way you can pull it out when the soup is done,
Then add some angel hair noodles (fideos), you can add as much or as little as you like.  I usually add about 4 rolls of noodles, which is about 2 cups,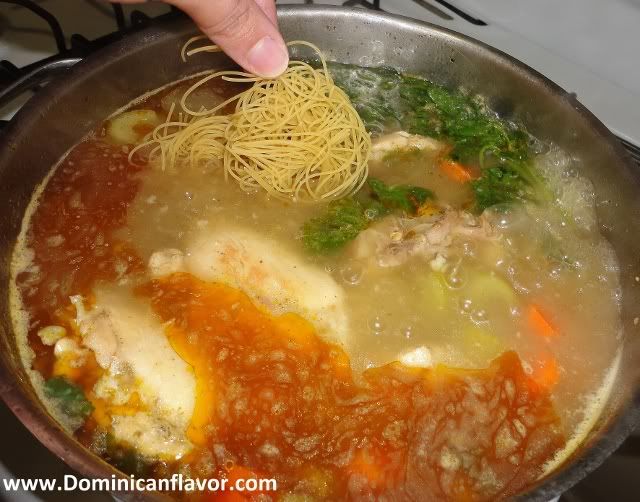 If you notice the soup is getting very thick, add some chicken stock or if you have chicken bouillon, dissolve one into the soup and add a few cups of water to thin it out,
Let the soup boil away and cook for about 15 minutes until the potatoes, cassava (yucca) and noodles are fork tender.  While the soup is boiling, I like to scoop out the grease that accumulates on the top of the soup with a wide spoon,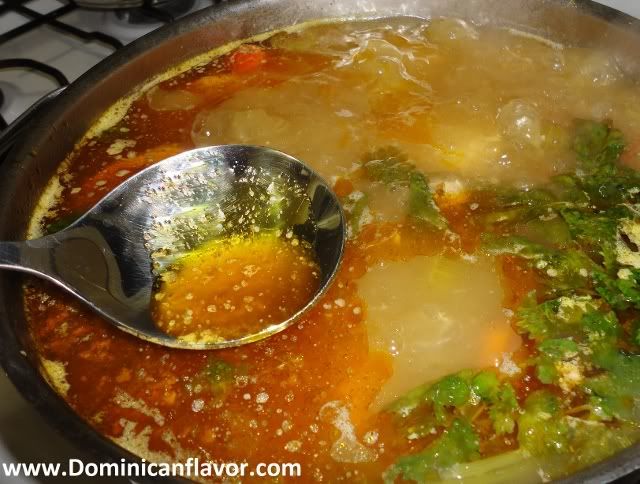 Doing this is optional, but I really recommend you do it so that the soup is lighter and not greasy when you serve it.  See how much grease I pulled out (and this was using a small amount of oil and skinless chicken),
After the soup has been boiling away for about 15 – 20 minutes, the potatoes and cassava (yucca) should be fully cooked, yet not falling apart.  Turn the heat off and keep it covered until serving time.
I recommend you serve it with some lime wedges and a side of fluffy white rice, yum! 🙂
Buen Provecho! 😉