If you're a bean lover like myself, I can assure you that you will enjoy this dish as much as I do. 🙂  The white beans are so rich and have this delicious intense smoked flavor from the pork chop (chuleta ahumada), you really can't go wrong with this dish.
If you prefer to omit the smoked pork chop, it will still be very tasty just have a slightly different flavor.  Either way you make it, pair with some white rice and you have yourself a delicious Dominican inspired meal! 🙂
To make this recipe, you will need the following ingredients:
1 lb Dry White Beans
1 Smoked Pork Chop (chuleta ahumada)
1 Red Bell Pepper
1 Green Bell Pepper
1 Onion
3 Garlic Cloves
1/2 Cup fresh Cilantro
1/2 tsp Oregano
2 tsp Salt
1/2 tsp Black Pepper
1/2 tsp Ground Coriander
2 tbsp Tomato Paste
Before we start, I just want to say that when making any kind of stewed bean, it's much better to use the dried beans as opposed to the canned ones because you get much more flavor out of them.  It is a longer process because you have to soak them and then boil them for a while to get them soft (unless you have a pressure cooker that softens them much quicker), but in the end the dish will have a more intense bean flavor and it really just enhances the dish overall.
If you opt to use canned beans, just use 2 cans of white beans, make sure to drain and rinse them well to remove the liquid they are preserved in.  Then add some fresh water.
To begin, take the dried white beans (I use the small ones, but you can use the regular sized ones if you prefer),
Give them a good rinse with fresh water and drain them,
Once they've been rinsed, fill the container about 3/4 of the way with fresh water,
The water should cover the beans by several inches, let them soak for a few hours so they can expand.  I usually put them in the fridge to soak the night before I cook them.
This is what they will look like after soaking overnight: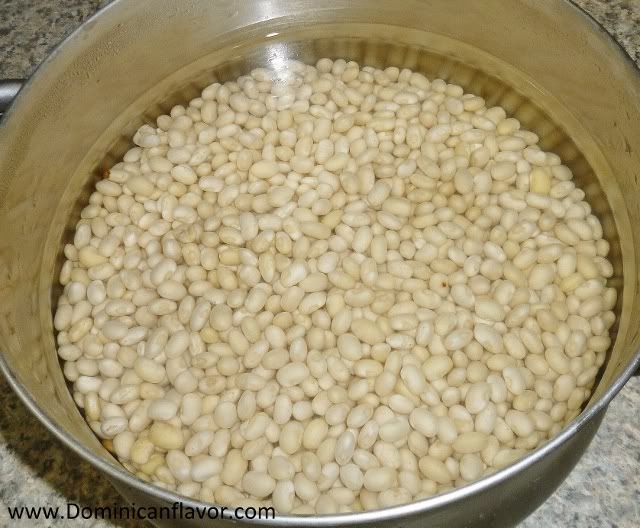 They will be plump, but still hard: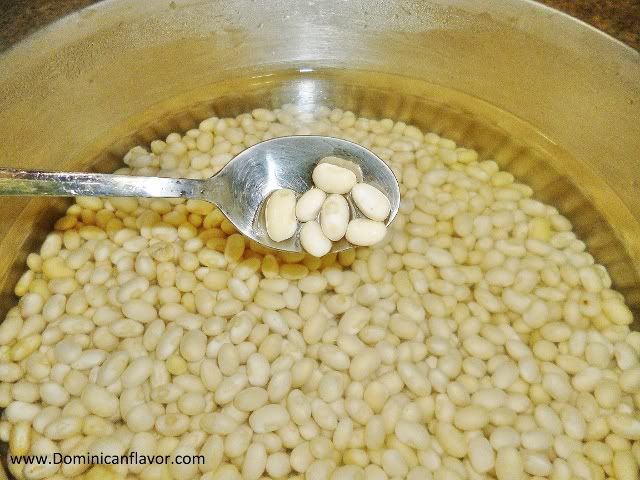 I usually soak my beans in the same pot they will be cooked in, but if you soak them in a separate container, now add them to a pot and put it on high heat to bring them up to a boil.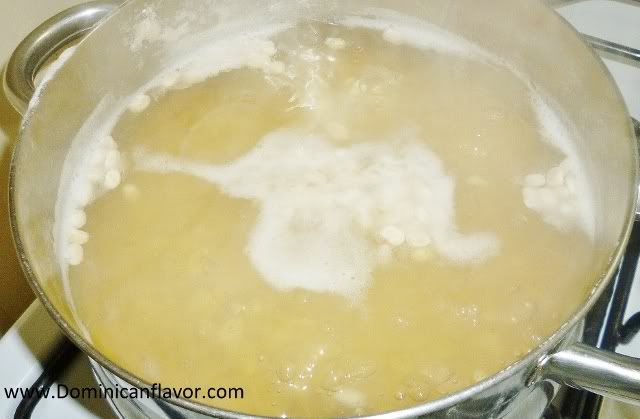 When they start boiling, let them cook for about 20 minutes half covered (so the water doesn't spill over, stirring occasionally,
After about 20 minutes, take the smoked pork chop (has to be smoked, do not use a regular pork chop because the flavor will not be the same), if you can't find smoked pork chops (usually available in most supermarkets or Spanish grocery stores (bodegas)) you can use a couple of strips of bacon or a ham hock as an alternative.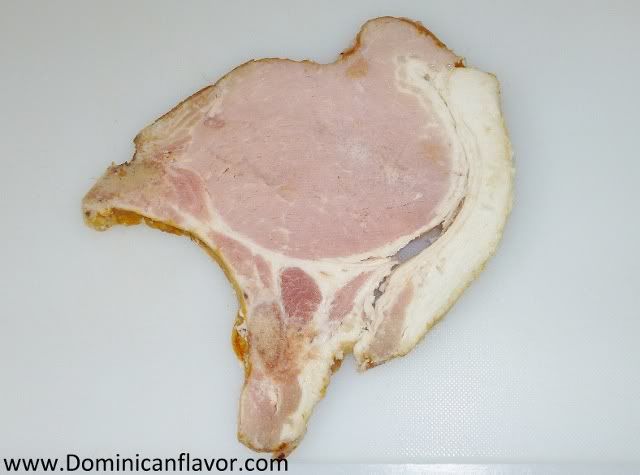 Cut the chop into small bite sized pieces,
Add the pork chop to the pot, including the bone, half cover it and let it cook for about 20 – 25 minutes.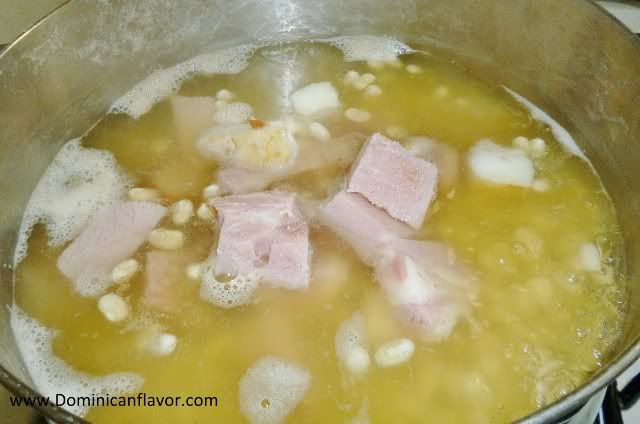 After about 20 – 25 minutes, we start to add the vegetables and spices.  I take the bell peppers and cut them into big pieces (you may finely cut them if you prefer) and add to the pot,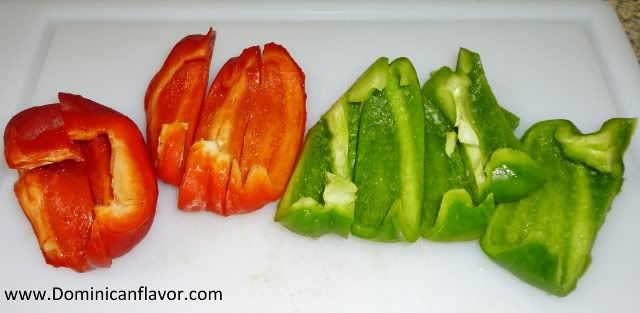 Chop the onion and add to the pot as well,
Add the mashed (or chopped) garlic to the pot, give it a good stir,
Then add the dissolve the tomato paste in the beans, it will seem like the pot is very crowded at this point with the vegetables, but they will cook down later on,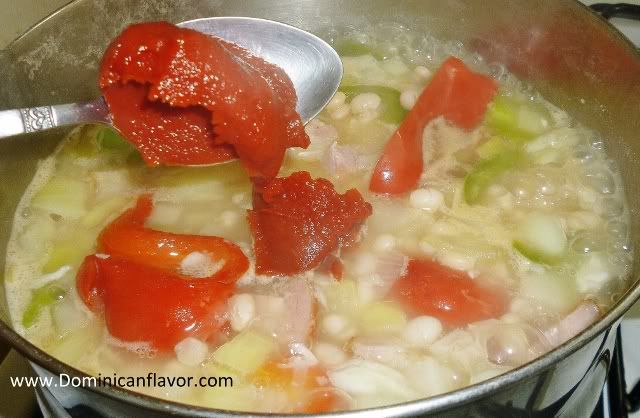 Then add the salt.  I usually add 1 tsp to start, then taste it later on and add the second teaspoon if it's needed.  Sometimes the smoked pork chops can give the beans enough flavor that 1 tsp is enough.
Then add some black pepper to give it some spice,
At this point the beans have been cooking for about an hour, they will still be somewhat hard, but also most of the liquid has become thick, therefore, I usually add about 2 cups of water to loosen them up since they still have to cook for a while longer.  If your beans aren't thick, then don't add the extra water unless you feel it's necessary.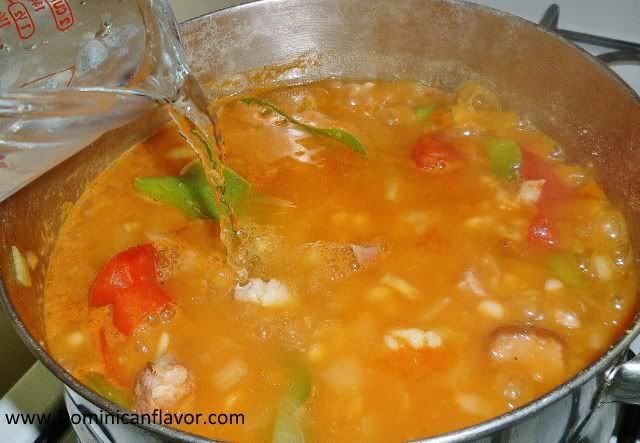 Then add the cilantro,
Add the coriander,
Then add the oregano,
Give everything a good stir and let it cook for another 30 – 45 minutes until the beans are soft.  Give the beans a taste test and add more salt if you feel it's necessary.  If your beans taste good but they are a little runny, remember that as they cool, they will get thicker.  However, you can also take a cup of beans and liquid, blend in a blender and pour it back into the pot.  That will help thicken it.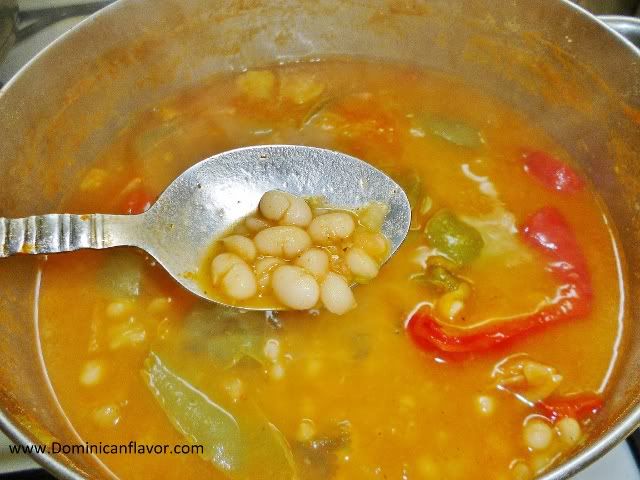 Once the beans are soft and the liquid is thick, put them on low or turn off the heat until you are ready serve.
I recommend to serve with some white rice and a meat dish like stewed beef (recipe coming soon!). Yum! 🙂
Buen Provecho! 😉