I've made Guandules con Coco many times and this is by far my favorite recipe.  They come out very flavorful, tender with just the right amount of coconut taste (it's not overpowering).  Pigeon peas have a taste that is similar to lentils and are very hearty and filling.   Serve this over some fluffy white rice and prepare yourself to experience a wonderful and tasty flavor sensation!  😉
To make this recipe you will need the following ingredients:
1 14oz bag of frozen pigeon peas (may substitute with 2 cans of pigeon peas, drained and rinsed)
1 Small Onion
1 Red Bell Pepper
1 Green Bell Pepper
1 cup fresh cilantro
1 tbsp Oregano
3 Garlic Cloves
2 tbsp Oil
2 tbsp Tomato Paste
1 can (approx 13 oz) Coconut milk  (NOT cream of coconut)
1 cup of cubed Acorn Squash
2 Celery Stalks
3 Habanero Chilies (ajis gustosos (si estan disponible))
1 tbsp vinegar
5 – 6 Cups of water
1 tsp Salt
1/2 tsp Black Pepper
Fresh pigeon peas are impossible to come by around here, therefore, I prefer to use the frozen pigeon peas instead of the canned ones for this dish because you can get more flavor out of them.  The canned ones work fine for rice with pigeon peas (moro de guandules), but I highly recommend you use the frozen ones to stew them.  If you opt to use the dry ones (by soaking them in water before cooking), please keep in mind that those will taste different than the green ones.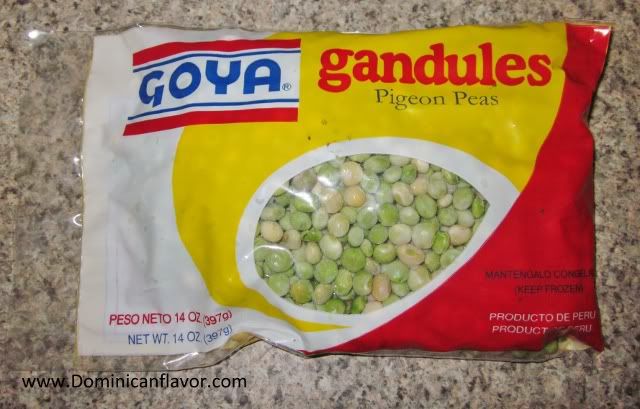 To start, rinse the pigeon peas with fresh cool water,  I don't recommend you add the peas from the bag directly to the pot because that "frozen water" it has in the bag doesn't taste very good, rinsing them will make them taste "fresher",
Chop or mash some garlic (I prefer to use a "pilon" (pictured below) to mash mine),
Take a medium sized pot, add the oil and put on medium high heat.  Then add the garlic,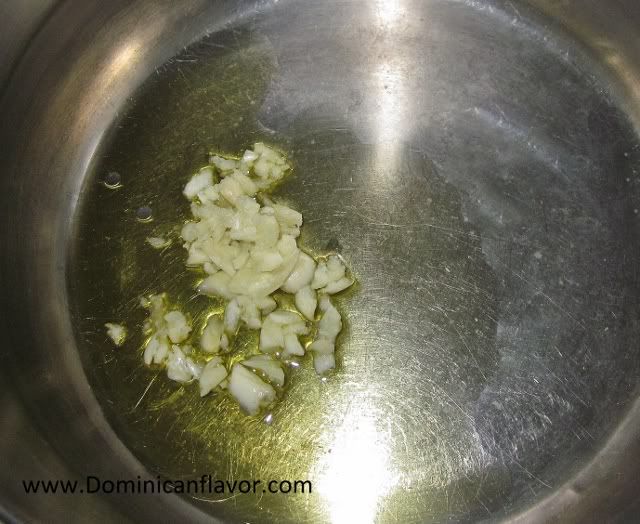 While the garlic is heating up, add the salt,
Then add some black pepper,
Saute until the garlic is fragrant, watch carefully because it can burn fast and if it burns, you will have to start over because charred garlic is VERY bitter and inedible.  Once it's fragrant, add the pigeon peas to the pot,
Stir and let them cook in the garlic oil for a couple of minutes.  If they are drying up, add a splash of water.  Then add the tomato paste,
Stir well to dissolve the paste,
Chop the onion and add it to the pot,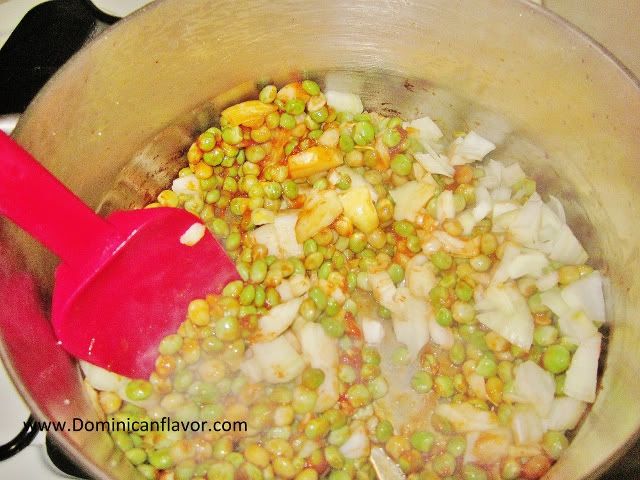 Let that cook for a few minutes, in the meantime you can chop the peppers and habanero chilies or grate them in the food processor.  Today I am in the mood of grating them, but sometimes I just cut them into little bit sized pieces and add it that way.  I have this cool mini food processor that I got on sale for like $5.00 at the supermarket, it comes in handy when you don't want to chop alot of vegetables manually… 🙂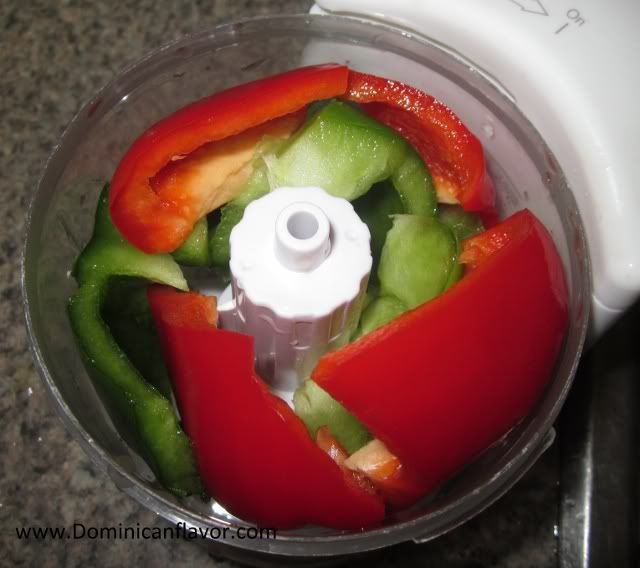 Habanero chilies, or as we call them "aji gustoso" are very flavorful chilies that come in different colors (green, orange, red, etc).  I use the green ones because they give the dish great flavor (a little goes a long way), they can be hard to find here sometimes so they may be omitted.  Keep in mind that if you use the RED ones, they are VERY HOT and can make your dish extremely spicy.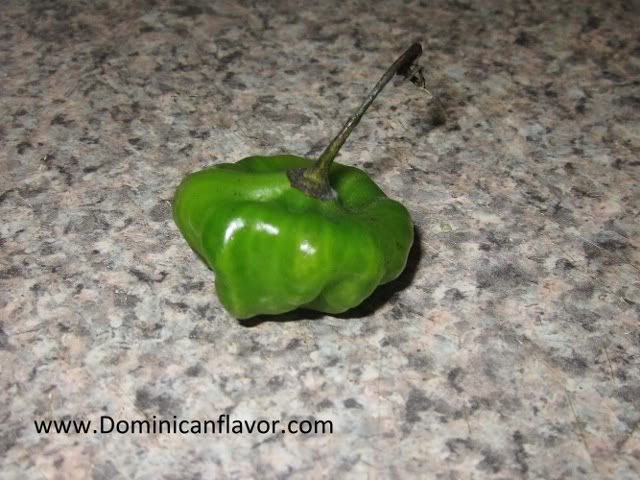 After grating the peppers, add them to the pot,
Now we add some oregano to give it some good flavor, (you know we Dominicans put oregano in almost everything 🙂 )
Then add some vinegar,
Stir well to incorporate everything, let it cook for a few minutes (3 – 5 minutes is fine),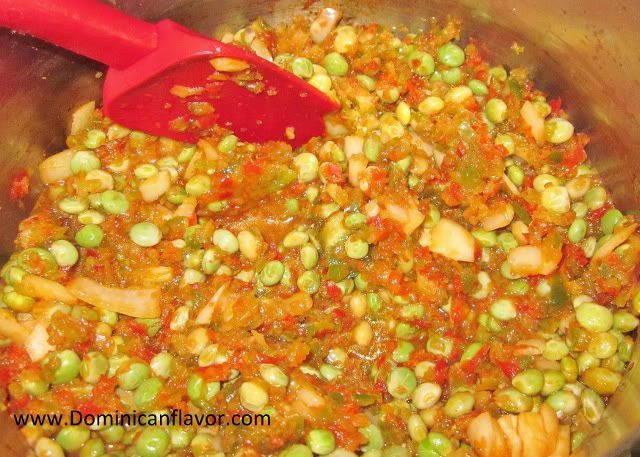 After letting it cook for a few minutes, add the water,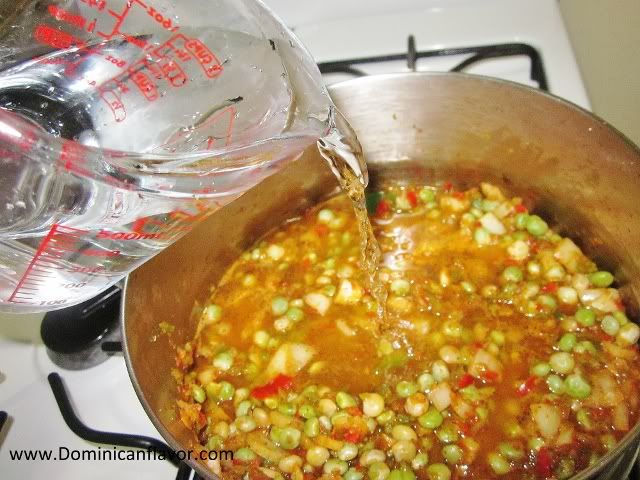 Stir well and let it come up to a boil,
While the ingredients in the pot are coming up to a boil, peel and cube the acorn squash (to get about a cup),
Cut the celery into big chunks (or bite sized pieces),
When the items in the pot are boiling, add the squash and celery to it,
Take HALF (about 1/4 to 1/2 cup) of the cilantro and if you want, chop the cilantro, I usually add it whole,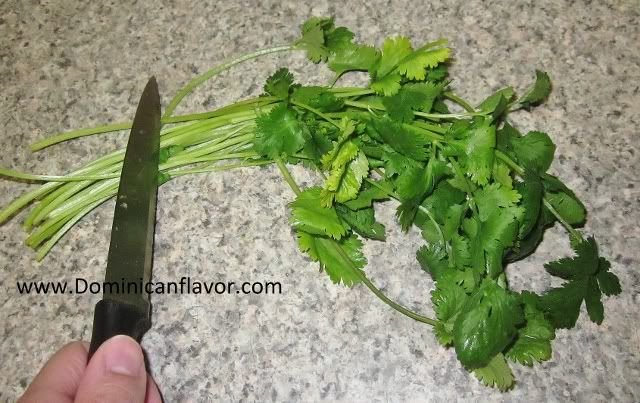 Add it to the pot, stir well,
Now, lightly cover the pot, and let the ingredients cook on medium to medium high heat for about 15 minutes.
After 15 minutes, uncover and add the coconut milk (if you are using canned coconut milk like me, shake the can well),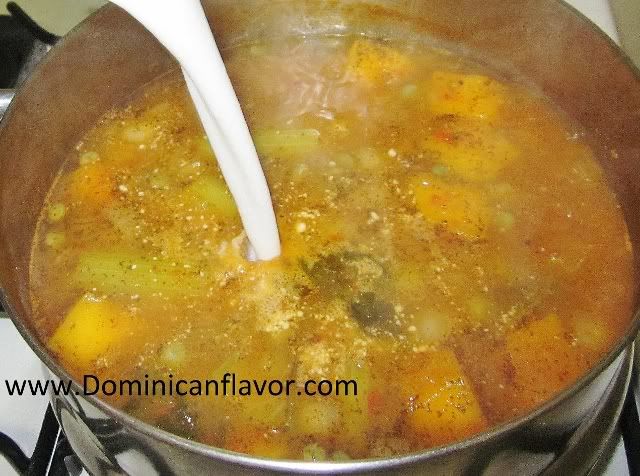 Stir well, cover and put the heat on medium low to low let it simmer for 10 – 15 minutes,
At this point, the pigeon peas should be ready.  You can skip this step, but I like to do this because it enhances the dish.  Take 1 to 2 cups of the broth with some of the pigeon peas and the larger vegetables,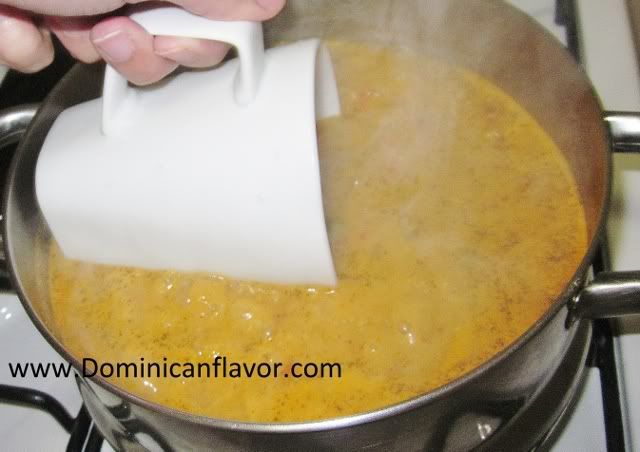 Add to a blender, then add the remaining fresh cilantro,
And blend away until it's nice and smooth,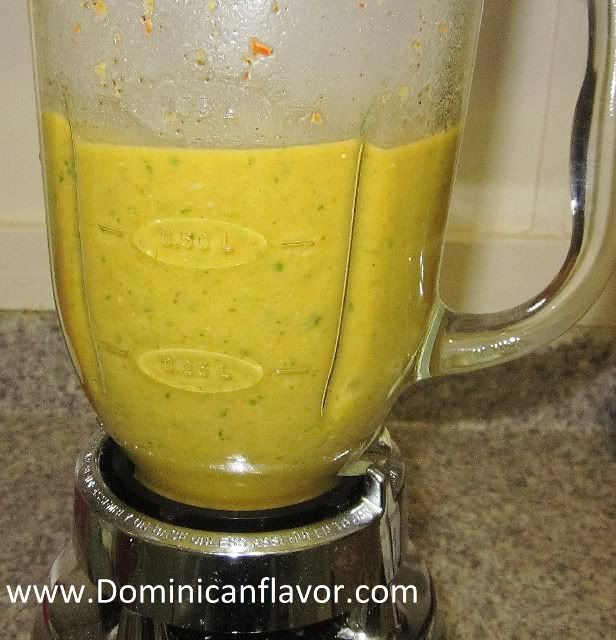 Add the blended mix back to the pot,
Doing this thickens the pigeon peas and brings out more of their natural flavor.  If you don't want to blend them, you can take a spoon and a fork and mash some of the pigeon peas in the pot, that will help thicken it up as well.
When they are ready, the pigeon peas will have a brownish color and be tender but have some bite to them.
I suggest you serve with some white rice and maybe some savory pork chops (pictured below) or fish in coconut sauce. Yum!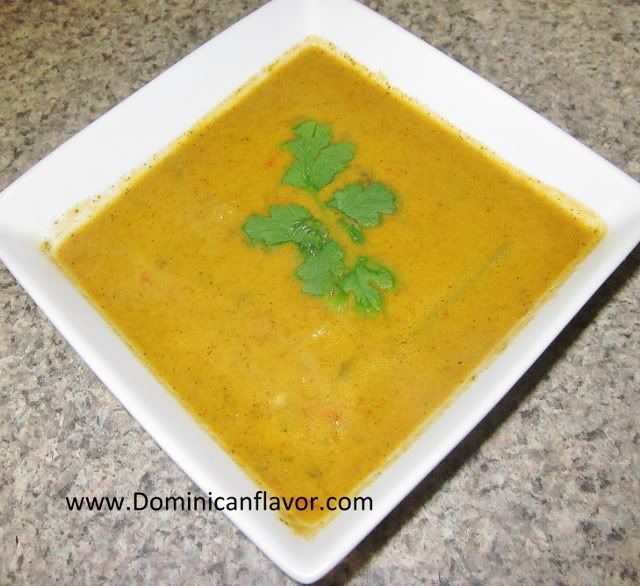 Buen Provecho! 😉