Mashed yucca is a quick, delicious and hearty dish that Dominicans constantly make for any meal time of the day.  Since it is inexpensive, you can make a pot of mashed yucca,  serve it topped with some cheese and you have yourself a filling meal.
Yucca is thicker than potatoes and has an "earthier" taste, but if you like mashed potatoes, give this recipe a try, you might just love it! 🙂
In reality this recipe should serve 5 – 6 people, but in my household it probably serves 3 – 4 (my husband has a healthy appetite.) 🙂  If you want to make a smaller batch, just cut the recipe in half and that should work out well.
To make this recipe, you will need the following ingredients:
4 – 5 lbs of Yucca (cassava)
4 tbsp Butter (may use margarine)
1 tsp Salt
1 Cup Milk (may use low fat milk)
First, fill a medium sized pot halfway with fresh water, put it on the stove and turn the heat on high to let it come up to a boil.  While the water is heating up, peel the yucca.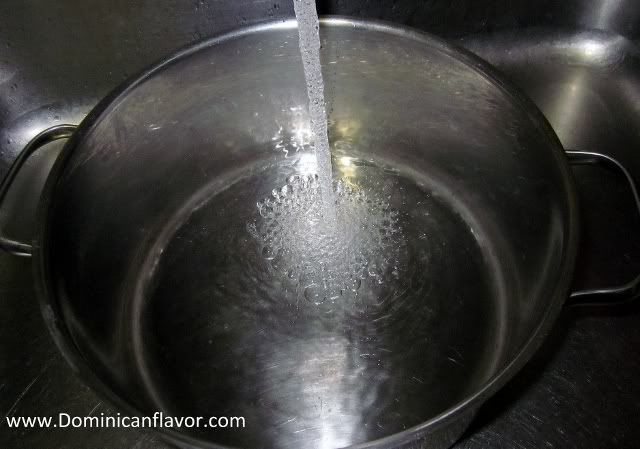 Yucca can be easily found in most large supermarkets around here year round.  If there is a Spanish grocery (bodega) store near you, you can definitely find it there as well.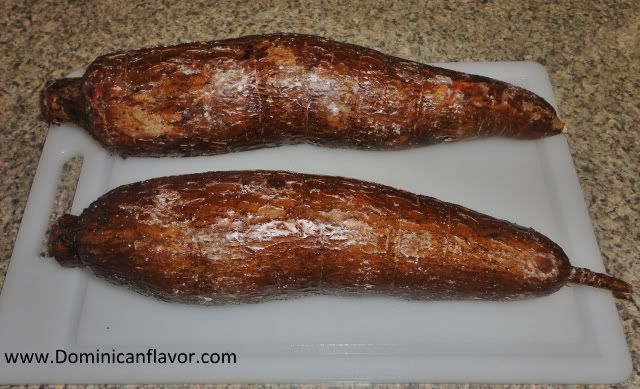 Although Yucca is a very hard root vegetable, it is actually very easy to peel, first cut off the ends, use a sharp chef knife or cleaver because the thick end of the yucca can be hard to cut through without giving it a good whack,
Good yucca will be very white inside.  If it has a section with gray stripes (a sample pic will follow after the yucca is peeled), that means that part of the yucca is bitter.  We can work around that by cutting that piece later on.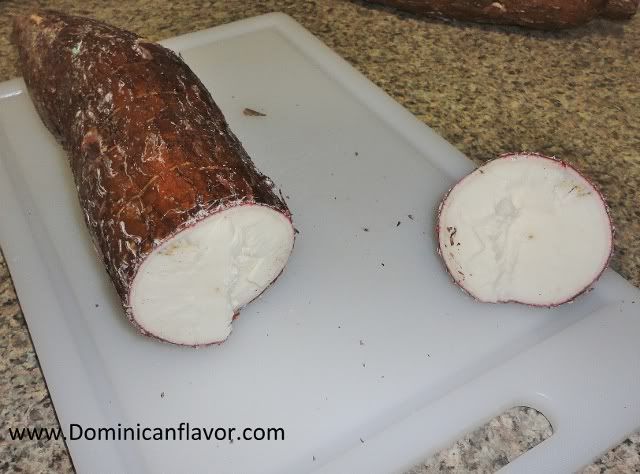 The thinner end is much easier to cut off,
Take the trimmed yucca and cut it into 3  equal sized pieces.  Just put pressure on the knife to cut through each piece,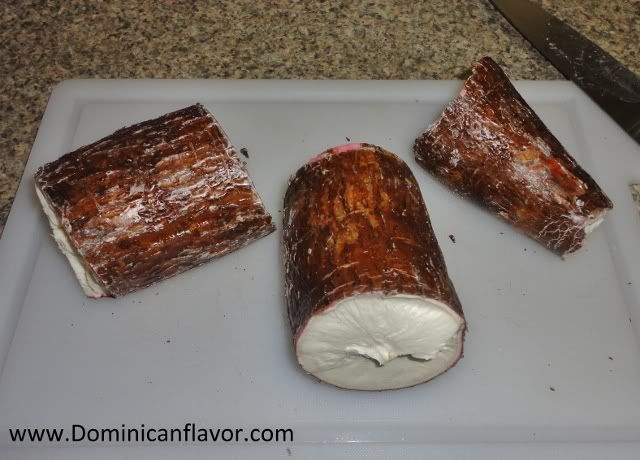 With the knife, cut through the layer of the skin just enough to get to the white part,
Run the knife between the skin and the white part, you will notice that the skin will start to lift away very easily,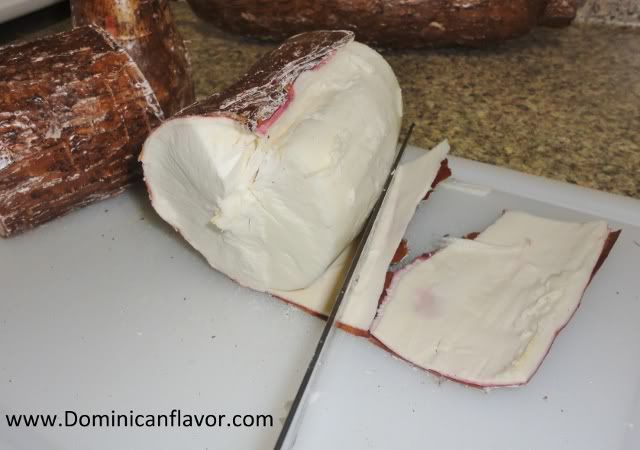 Just continue to run the knife under the skin until you have peeled the whole piece, the skin will just strip away,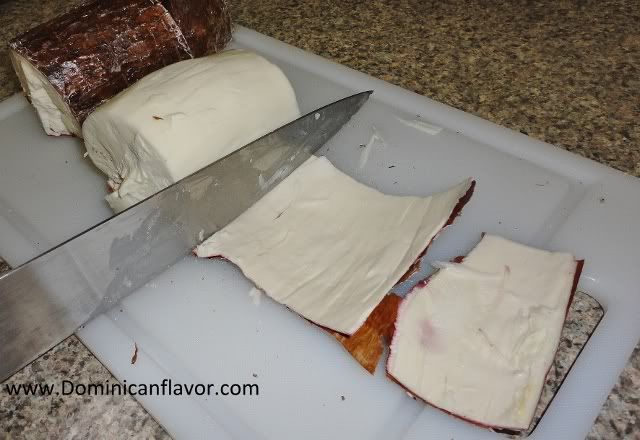 When the yucca is peeled, check for any "gray" areas to remove them.  Around here where I live (New England), the yucca is imported and sometimes they can be hanging out in stores for a while before they are sold.  It's very common to get "bitter" yucca, so it's important to check that the yucca is nice and white.  If it has areas with gray (stripes) (see picture below), you need to remove them so you don't ruin your dish.
If you get a yucca that has large gray stripes throughout the entire piece, unfortunately it's not salvageable.  I don't recommend you eat bitter yucca, it will not be a pleasant experience…
If it has a small area, that is okay, just trim it away with a knife,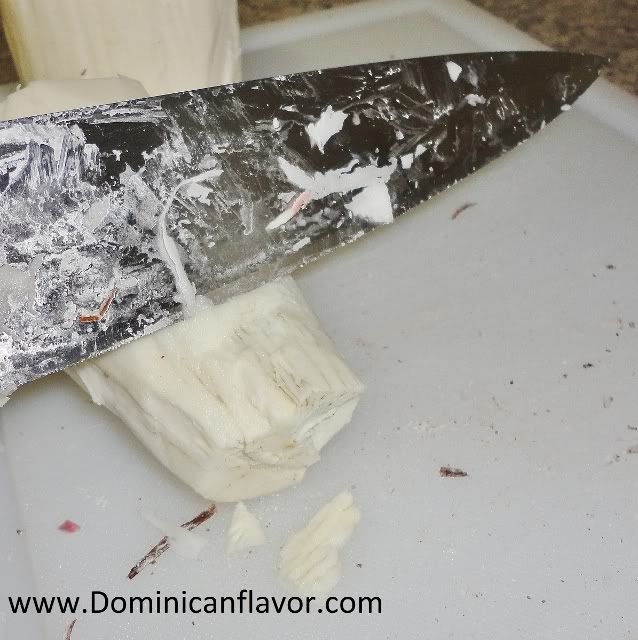 Once the yucca is peeled, cut each piece in half (for faster cooking),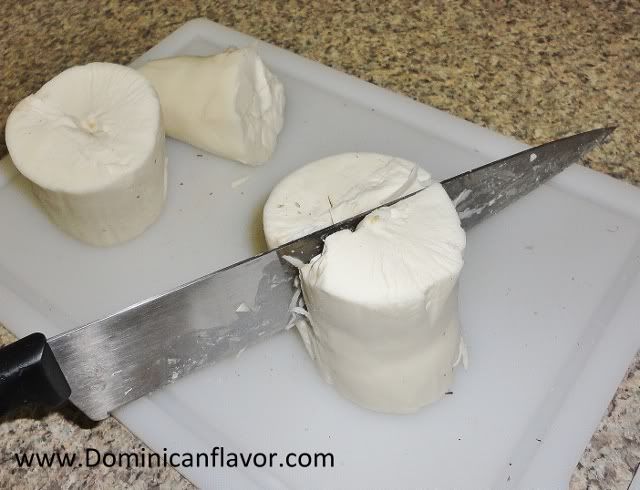 Inside it will have a thick root running through the middle.  Just leave it, it will be easier to remove when the yucca is cooked.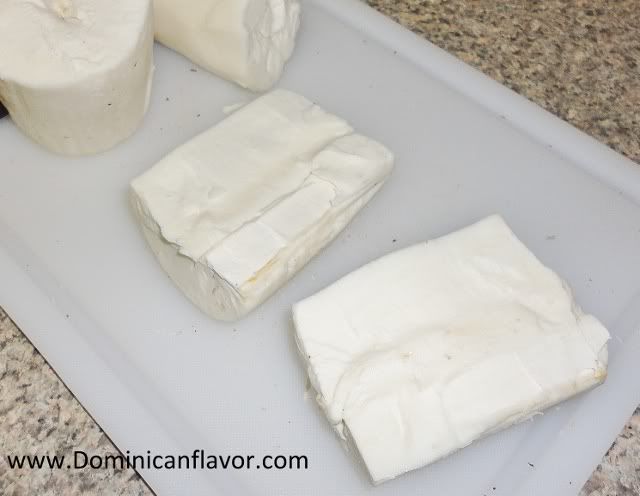 Once all of the yucca is peeled and cut, rinse them and add it to the pot with water.  It's okay if the water is warm and not boiling,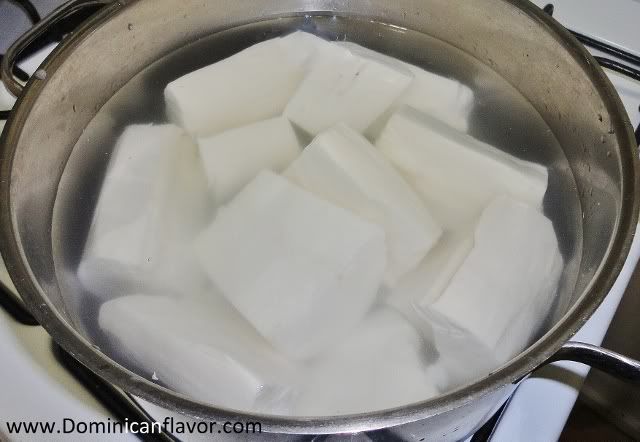 Cover it and let it come up to a boil.  When the water is boiling, add a generous amount of salt (1 tbsp should be a good amount),
Let the yucca boil half covered for about 20 – 25 minutes.  You want it to get VERY soft.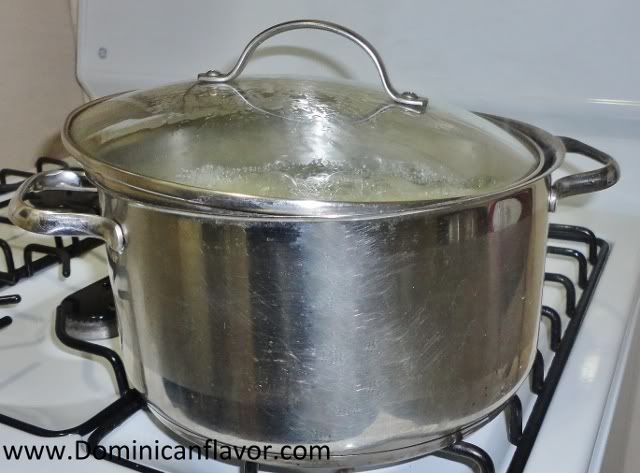 When the yucca is really soft, that the fork pierces through without any pressure, it's ready!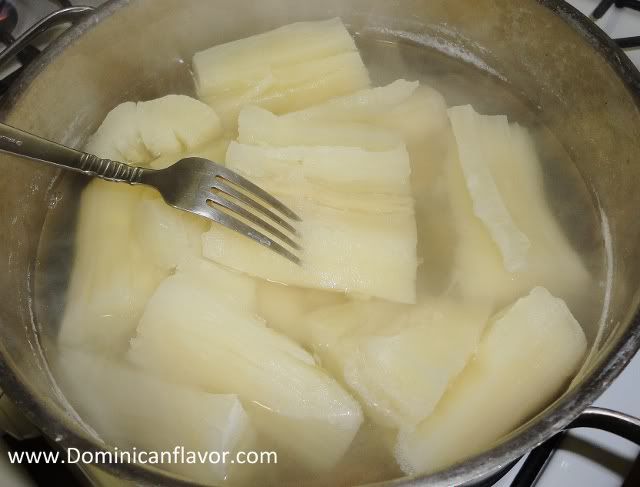 Take the root out of the yucca pieces, it's very hard and inedible so make sure to check each piece to ensure you don't get any roots in your "pure",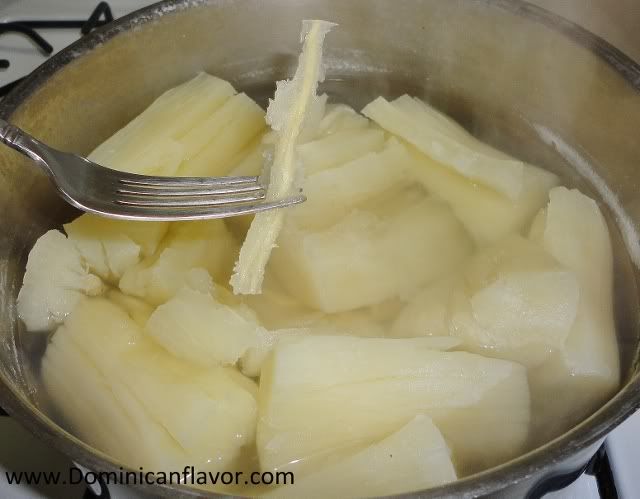 Drain the yucca and make sure to remove all of the water,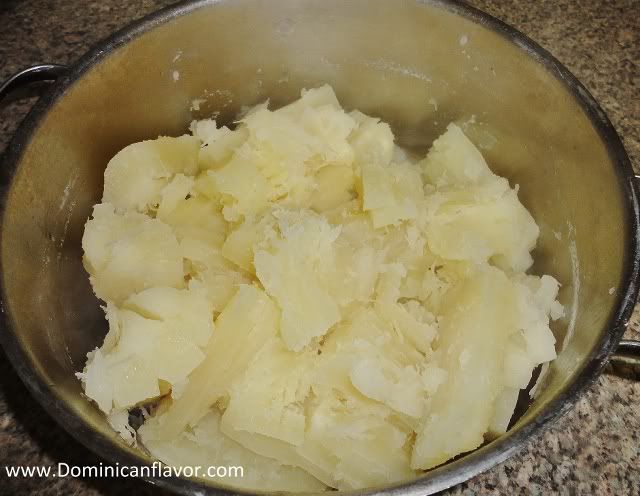 While the yucca is still hot, add the butter (or margarine as I usually use),
Then add the salt.  If you want, add 1/2 tsp first and mash then taste it.  Then add the other 1/2 tsp if you want it to be saltier.  1 tsp usually works perfectly for me though.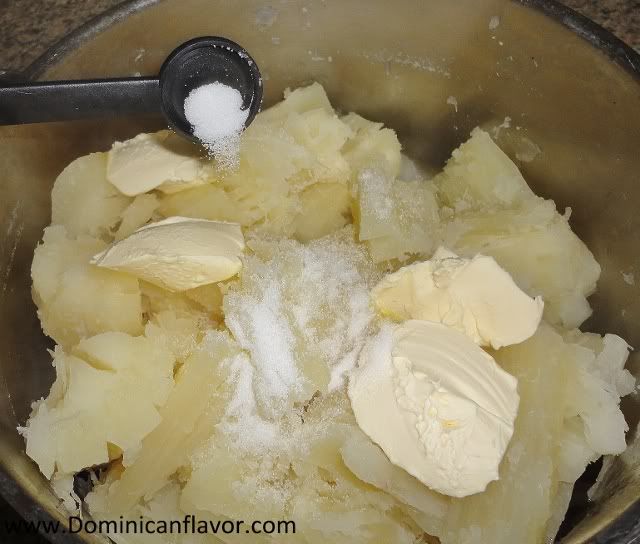 Give it a good mash to incorporate the salt and the butter/margarine and the yucca,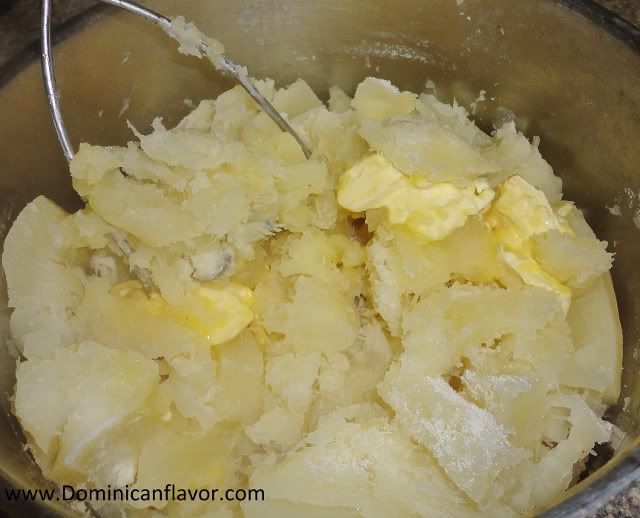 After mashing it, add the milk (warm it up in the microwave or the stove top before adding it to the yucca), I am using 1% low fat milk, but you can use whole if you prefer,
Then mash it again.  If the yucca seems a little dry, add more warm milk until it's creamy and smooth (similar to mashed potatoes),
See how delicious it looks?  It's very soft, creamy and very hearty!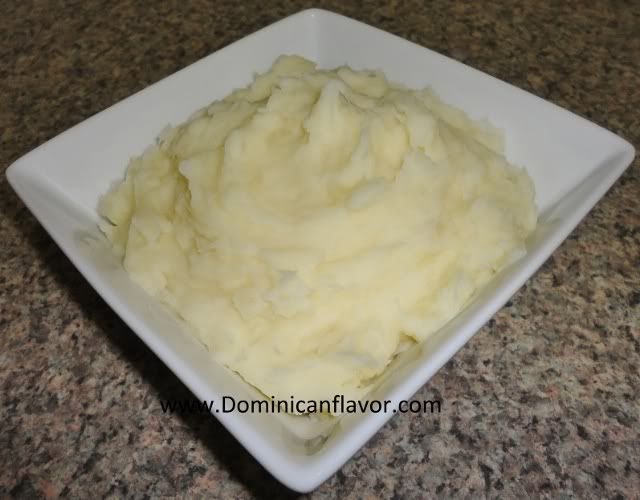 Pair it with a protein and you're good to go!   This is very delicious with fried salami or savory Dominican style eggs (pictured below)  Yum!
Buen Provecho! 😉