Here in the U.S., one of the most common side dishes at dinner time is mashed potatoes.  In our Country, it's the "Mangu," which is basically mashed plantains.  The only difference is that we eat Mangu for breakfast (it's an essential item for a "Tripletazo" (but that will be a different post), lunch and dinner since it goes well with meat, eggs, vegetables, etc.
Often times, making mangu can be tricky because it can come out hard and dry since plantains are not very soft when they cool down after cooking.  This recipe is very easy to make and the mangu comes out really creamy, savory and just really delicious! It stays soft even after re-heating it the next day if you save it as a left over.
To make this recipe you will need the following ingredients:
4 Plantains
1/4 cup of olive oil
2 tablespoons butter (may use a butter substitute like margarine)
1/2 cup Cold water (DO NOT SUBSTITUTE WITH HOT WATER)
1 tsp Salt
Fill a pot halfway with water, put on high heat.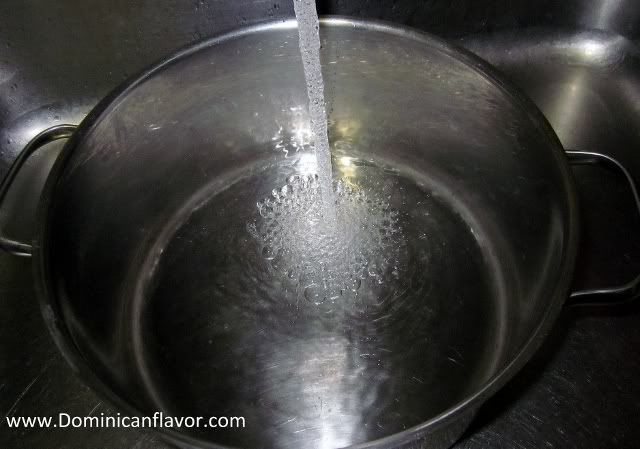 While water is heating, peel the plantains.  I usually rub my hands with cooking oil to peel the plantains, it really makes washing your hands easier because the oil doesn't let the stain from the plantains stick on your hands as much.
To peel the plantain, cut the ends off of,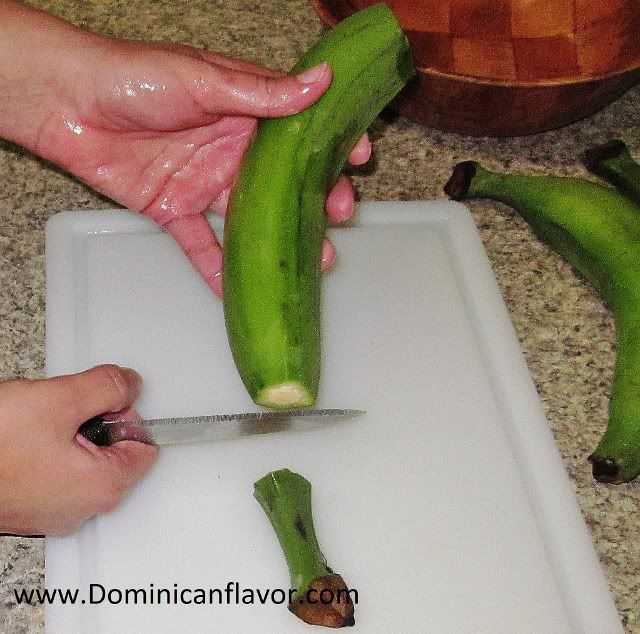 Cut a thin line down each side of the plantain,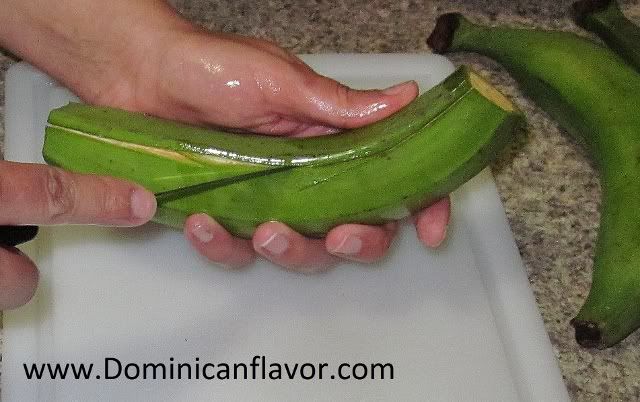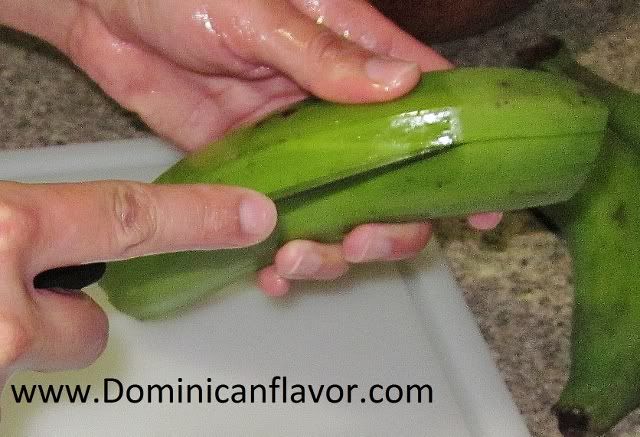 Pull the peel apart, use a pairing knife if the peel is very difficult to pull away.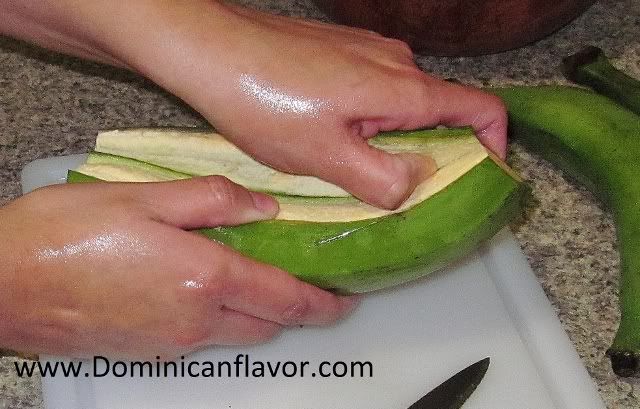 Once the plantains are peeled, for quicker cooking, I cut them in half,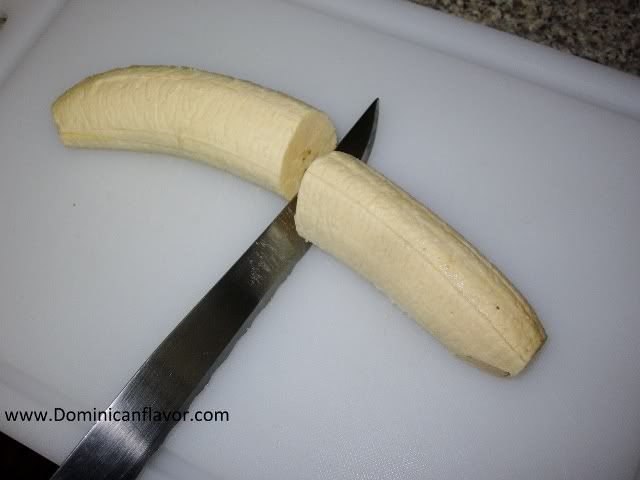 Then, slice each half in the middle (to get 4 pieces from each plantain),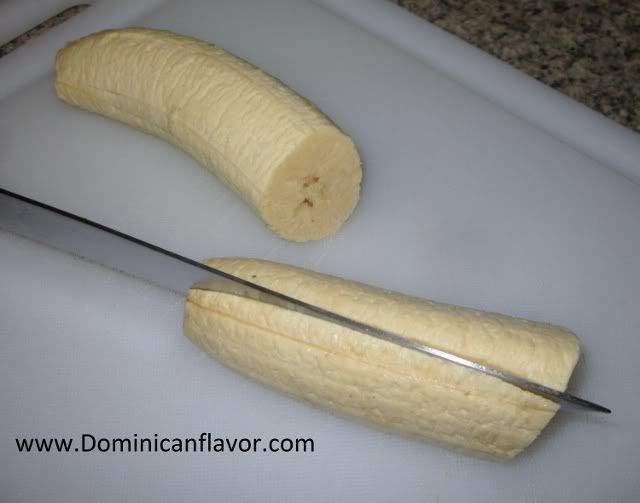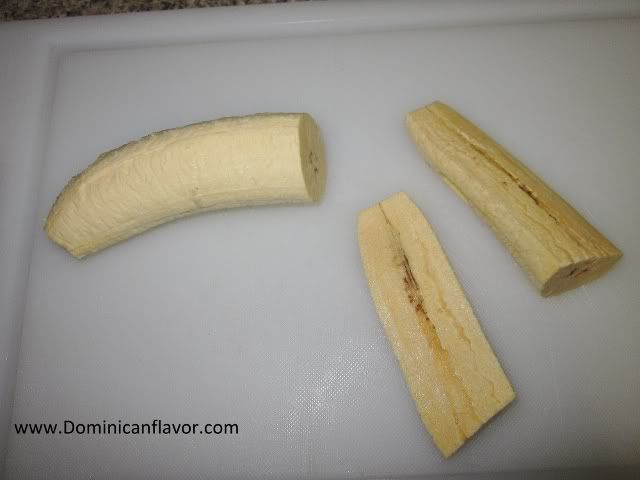 Once all plantains are peeled to in the water (it's ok if the water is not boiling yet), cover and bring to a boil.
When the plantains come to a boil, add a generous amount of salt (a tablespoon is about the amount I add),
Let the plantains boil until they are fork tender (about 20 – 25 minutes).
Drain ALL of the hot water,
While the plantains are hot, add the butter or margarine (I prefer to use margarine),
Then add the olive oil,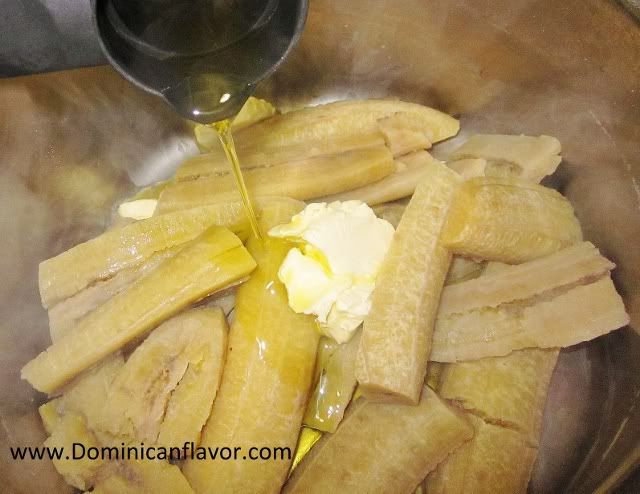 Then add the salt.  You may adjust the salt level, but I've made this recipe too many times to count and I think that 1 tsp is the perfect amount.
Now, mash the plantains (don't add the water yet), this is just to ensure the butter (or margarine) melts and to dissolve the salt as well.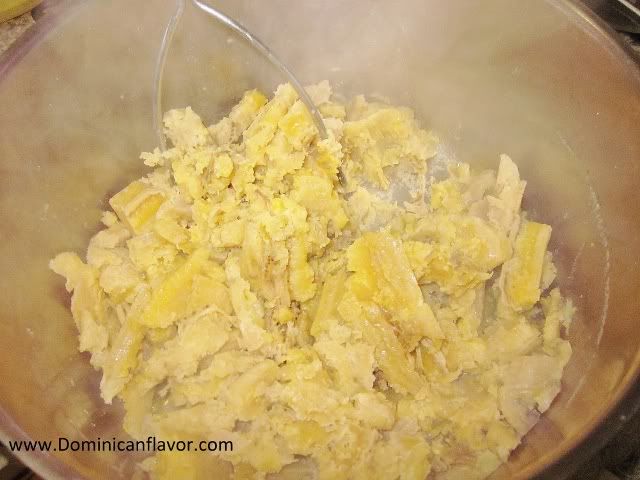 After mashing briefly, add 1/2 cup of Cold water (NOT HOT WATER), don't ask me why but adding cold water makes the mangu really soft and if you put it in the refrigerator then reheat, the mangu is not hard.  It's an old trick that has been passed down by generations and most of the seasoned Dominican cooks I know mash their mangu with cold water as well (same way my mom taught me).
After adding the water, mash some more until the mangu is thoroughly combined.  If you are finding that your mangu is still very dry, just add more cold water.  Add 1/4 cup more at a time, for me a 1/2 cup is the perfect amount because you don't want watery mangu.
After mashing for a couple of minutes, see how soft and creamy it gets.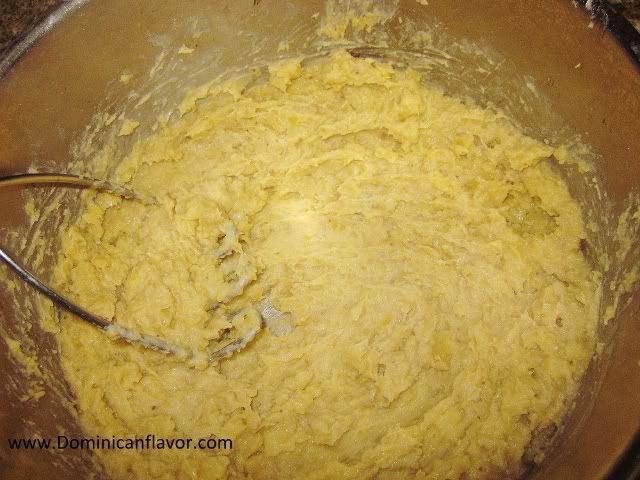 One of the most popular items that mangu is paired with is sauteed onions and fried salami (there is even a song dedicated this dish called "platano con salami" 🙂 )
If you prefer to serve it as a side dish  and omit the onions, it works well with meat, eggs, veggies, cheese, etc.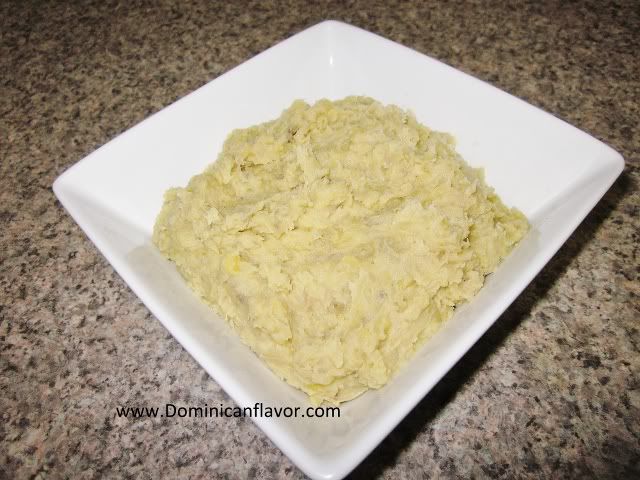 Buen Provecho! 😉