Not everyone is a fan of bacalao (codfish) because preparing it can be a "stinky" process.  When you boil the salt out of it, it makes your house smell like fish.   Well a good friend of mine taught me how to make a "homemade diffuser" with different spices that you can boil while making the bacalao, that helps cut that fouls smell that invades your home.  I always use it and I think personally it works wonders!  I also use it when I make other pungent smelling foods like arenke (smoked herring) and mondongo (tripe stew).  I will be making a post with instructions on how to make a homemade diffuser soon!
But alas, I love making bacalao and this salad is one of my favorite ways of preparing it.  We would always make this salad on Wednesdays during lent when I was younger, and sometimes my Grandpa would substitute the codfish with salmon, which works just as well in this dish.  This salad is very light and tangy on the palate since the vinaigrette brightens the flavor of the fish and it works so well as a side to any entree.  I suggest you make it, if you like bacalao, you will love this!
To make this dish you will need the following ingredients:
1 lb Codfish (bacalao)
4 Potatoes (medium or large)
4 Eggs
1 Small White Onion
2/3 Cup of White Vinegar
1/4 tsp Salt
1/4 tsp Black Pepper
1/4 cup of Olive Oil
First, let's make the vinaigrette to let it hang out while all of the other items cook.  Cut the onions into slices,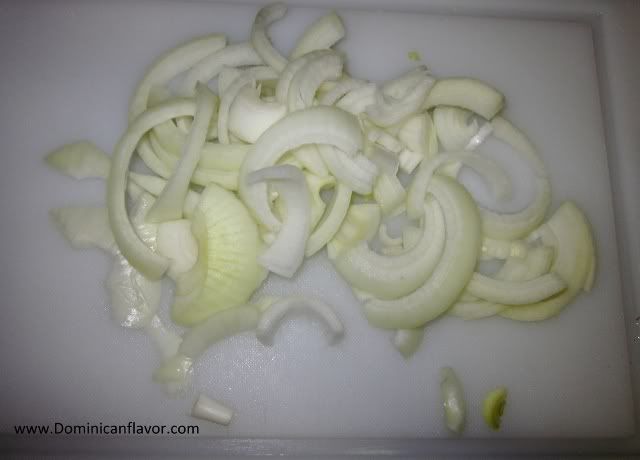 Put the onions in a bowl or small container, then add the vinegar to it.
Then pour the oil over the onions,
Then add some salt,
And some pepper to give it a little kick,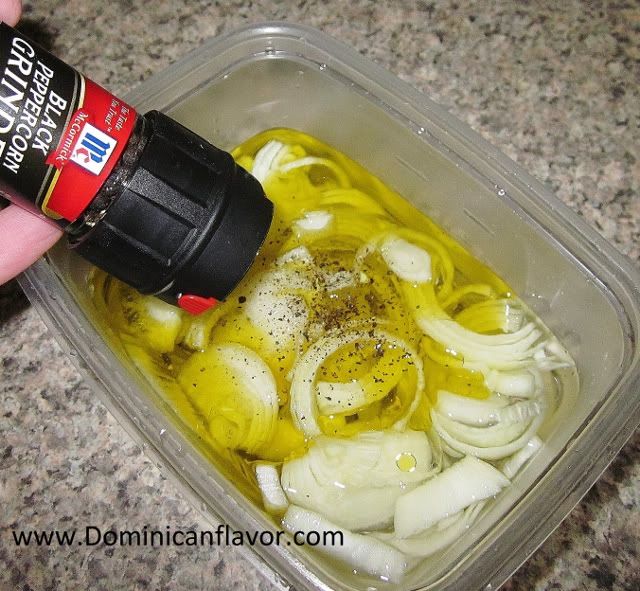 Now give it a good stir (I suggest you use a fork),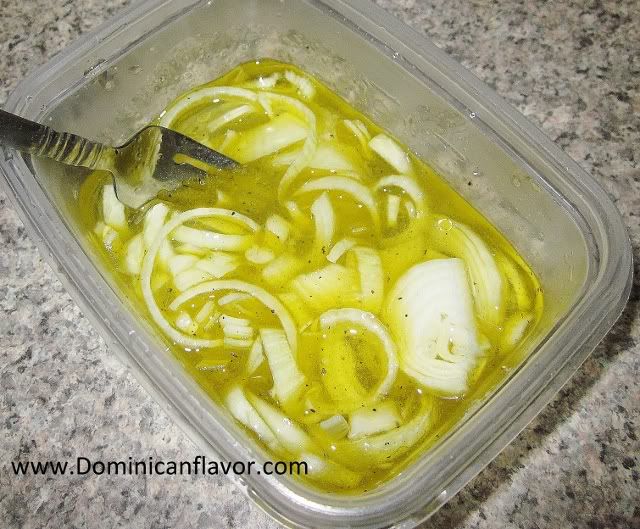 Set the vinaigrette aside and let it hang out until the rest of the ingredients are cooked.  I usually let it hang out at room temperature, but if you don't plan on using it for a few hours (if you are making it ahead of time) then put it in the refrigerator.
Now, to cook the salad ingredients, first take the codfish and give it a good rinse to wash off the excess salt from the packaging.  After rinsing it, put in a pot and fill it 3/4 of the way with fresh water.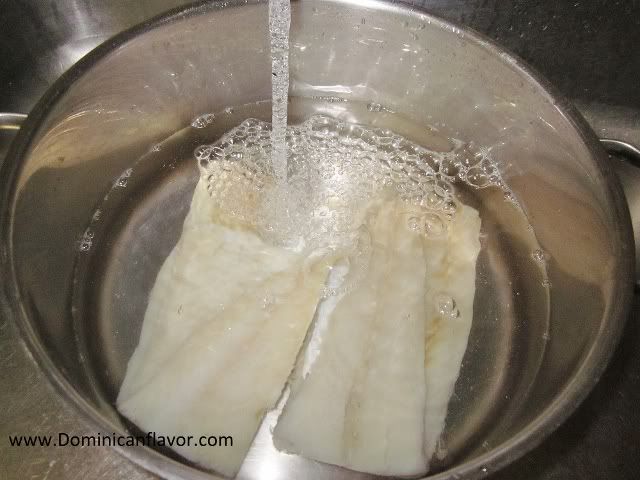 Put it on high heat and cover it, let it come to a boil.
To boil the eggs, in a separate small pot, add the whole eggs and cover them with COLD water.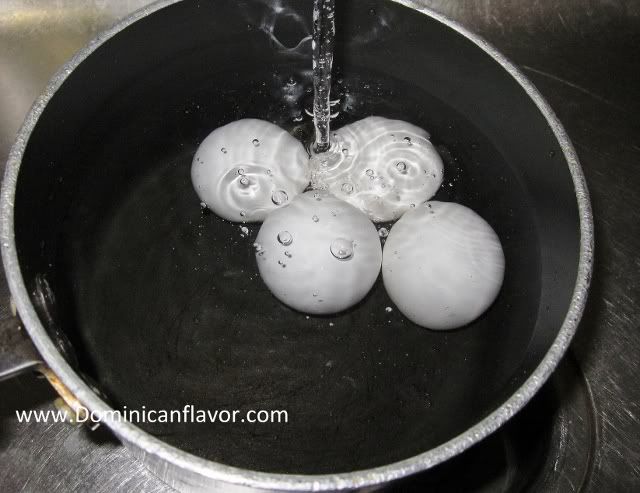 Put on high heat and let the water come up to a boil.  The way I learned to boil an egg and not get that gray coat over the yolk, is to let it come to a boil then cover it and turn the heat off and let it hang out for 15 minutes.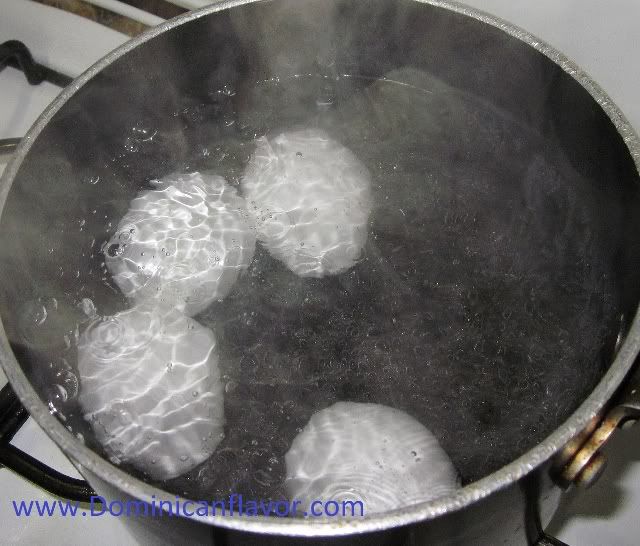 I usually boil my eggs that way, but sometimes I still get a little grayness on the yolk, but oh well it still tastes good. 🙂
After it comes to a boil, cover the pot and turn off the heat.  Then let it hang out for 15 minutes.
While the eggs are "hanging out", take another pot and fill it halfway with some water (this will be for the potatoes),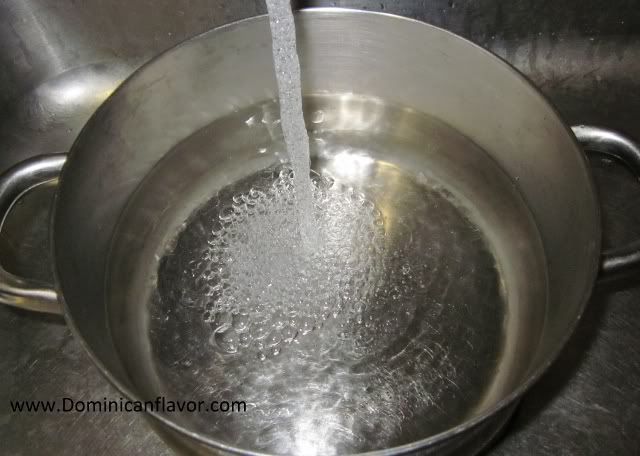 Then peel and slice the potatoes (for presentation its better to slice rather than cube the potatoes),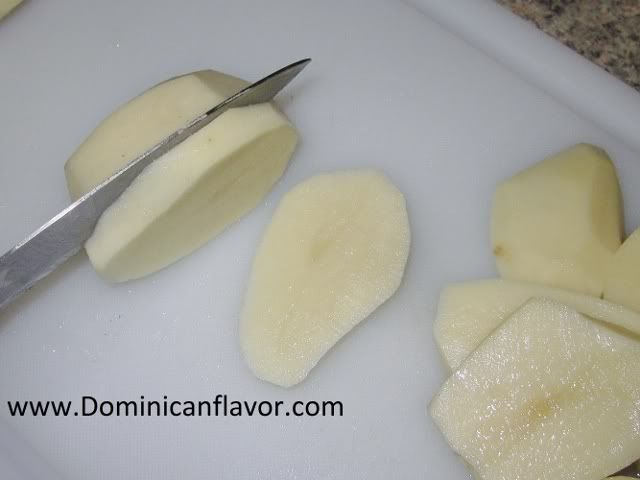 It might not seem like alot when they are whole, but 4 potatoes goes a long way in this salad when sliced, see what I mean?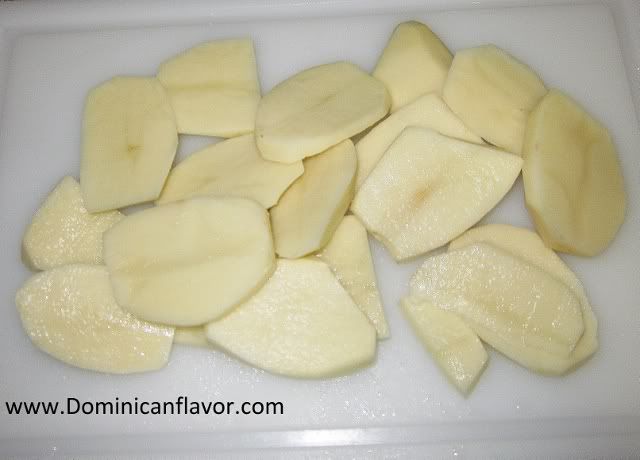 Add the potatoes to the pot, put on high heat and let them come up to a boil.
By now, the eggs are tired of hanging out in their hot bath, so uncover them and drain them.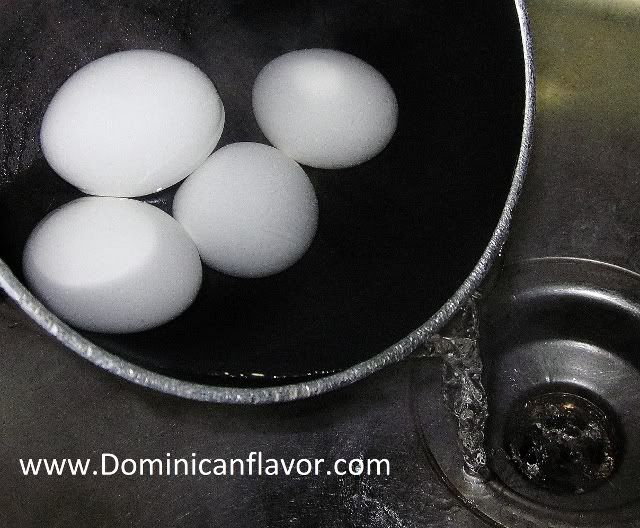 Set them aside and let them cool until we are ready to assemble the salad.
At this point, the codfish should be bubbling away.
After it's been boiling for about 20 – 25 minutes, drain the salty water,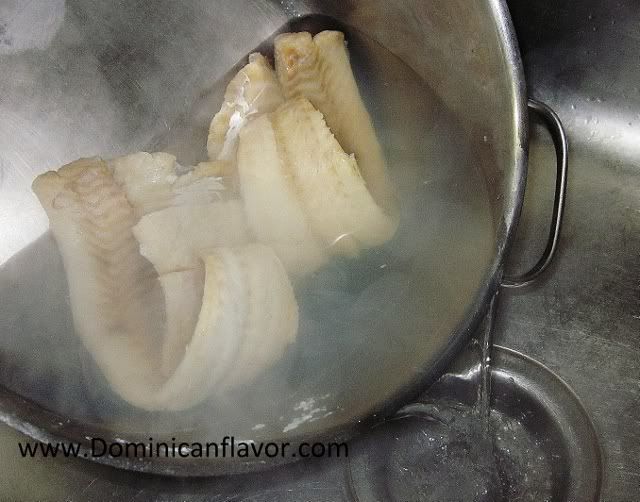 Then add some fresh water (cold water is fine), put back on the stove top to boil again.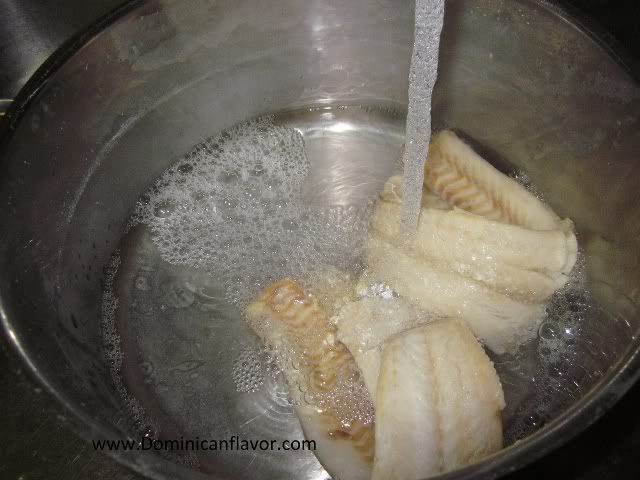 At this point, the potatoes should be boiling as well, so add a generous amount of salt (about 1 tbsp should do the trick)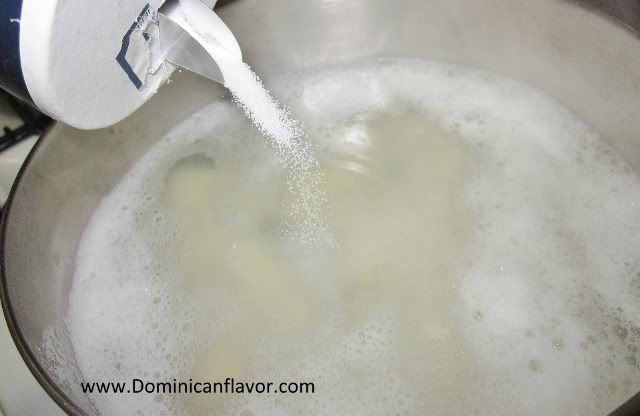 Let them cook until fork tender (about 10 – 15 minutes).  Be careful not to overcook so that they are falling apart.  Once they are cooked through, drain them and set them aside.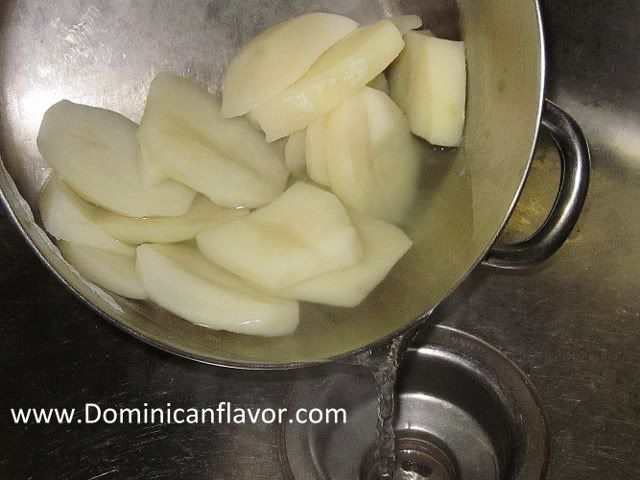 After the codfish has been boiling for about 20 minutes (the second time around), do a check to see if it's tender and flaky (it pulls apart easily),
Do a taste test, at this point the codfish should be fine to use for the salad, if you want a really bland fish, then I suggest you boil a third time.  Usually boiling it twice is enough for me.
Drain the water from the pot,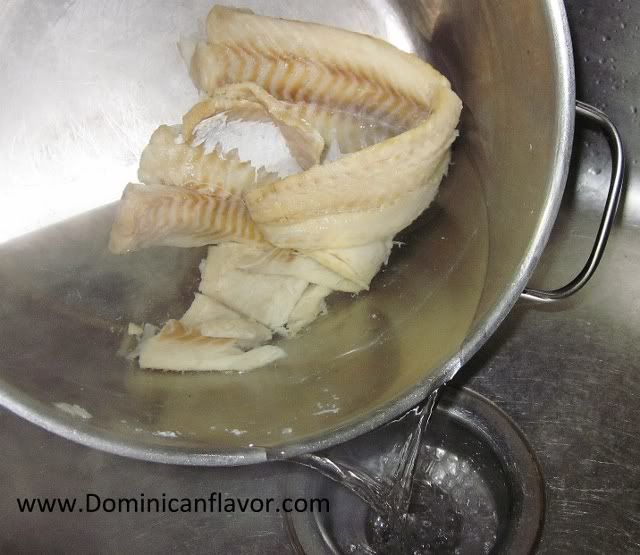 Transfer the fish to a bowl and flake it with a fork,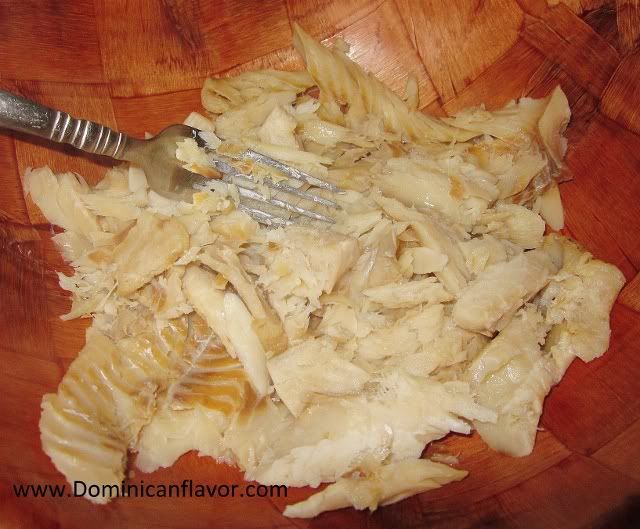 NOW COMES THE FUN PART!  Assembling the salad… 🙂  You can always change the presentation to your preference, but this is how I like to do it:
Take a nice wide platter that is atleast 1/2″ deep, and scatter the potatoes around the edges,
It's ok if some of the potatoes break, they will taste just fine I assure you. 😉
Take the flaked codfish, and nest it in the center of the potato circle,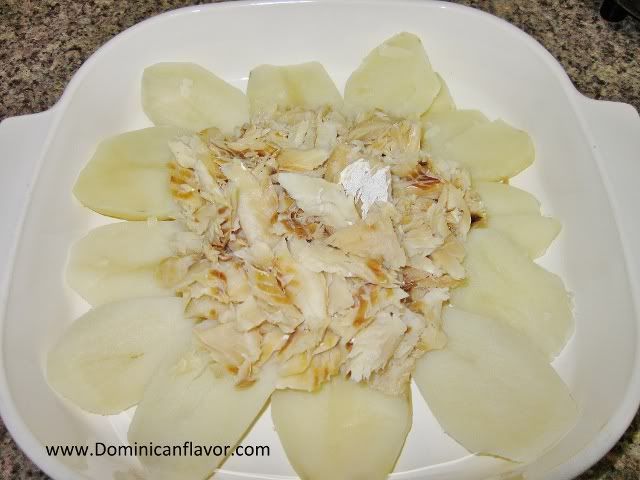 Now peel the hard boiled eggs (they should be cool at this point) and cut them into 4 pieces (cut them in half, then cut each half in half).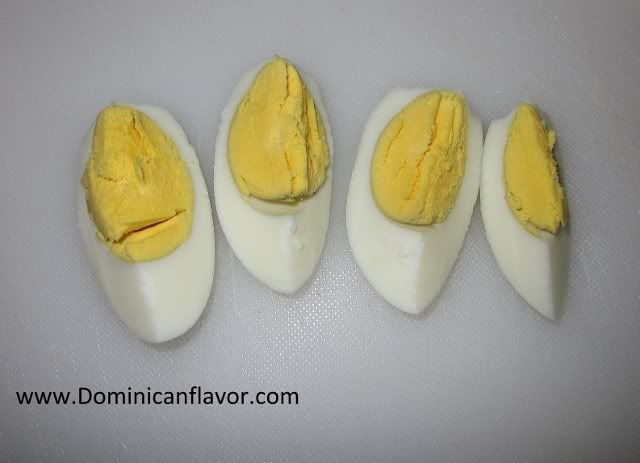 Place the eggs over the potatoes around the circle, it's ok if it doesn't look perfect! 🙂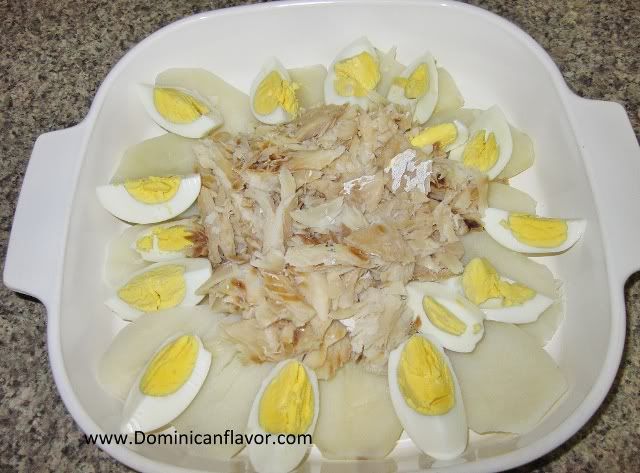 Then take the vinaigrette and pour it ALL over the potatoes, eggs and codfish. (it might seem like alot of dressing, but it really isn't)
Take some of the onions from the vinaigrette, and nest them over the codfish.
And terminamos (we finish)!  The salad is ready to serve.  You may put it in the refrigerator and serve it cool, or serve it warm after assembling.
Buen Provecho! 😉