When we moved to this country many years ago, my mom was grocery shopping and her friend had suggested that she try making a locrio de Kielbasa, which is very similar to a "locrio de salami".  Locrio is typically a rice dish that is cooked with meat together in the same pot.  My mom gave it a try and it was really delicious and she made it a frequent food item for mealtime in our house.
Kielbasa is used by many Dominicans now since not only it's a very flavorful sausage that is readily available in supermarkets, but it's also very inexpensive to buy.  Usually a 1 lb package of kielbasa can cost between $2.50 or $3.00 (sometimes less when on sale), as opposed to salami that can be more expensive.
To make this dish, you will need the following ingredients:
1 16oz (1lb) Kielbasa
1 Small Onion
3 Cloves of Garlic
1 can (approx 13 oz) of sweet kernel corn
1 Red Bell Pepper
1 Green Bell Pepper
2 tbsp Tomato Paste
1/2 cup fresh cilantro
2 Celery Stalks
4 cups Long Grain Rice
5 cups of water
2 tbsp Olive Oil
1 tsp Oregano
1 tsp Salt
1/4 tsp Black Pepper
I'm partial to using the "Hillshire Farms" brand Kielbasa because it's delicious, affordable and very easy to find.
Remove the kielbasa from the package and rinse it.  To cut it, you can slice it into little wedges, or to get even more pieces, I usually slice it halfway through the center,
Then slice each half, then slice into bite sized pieces.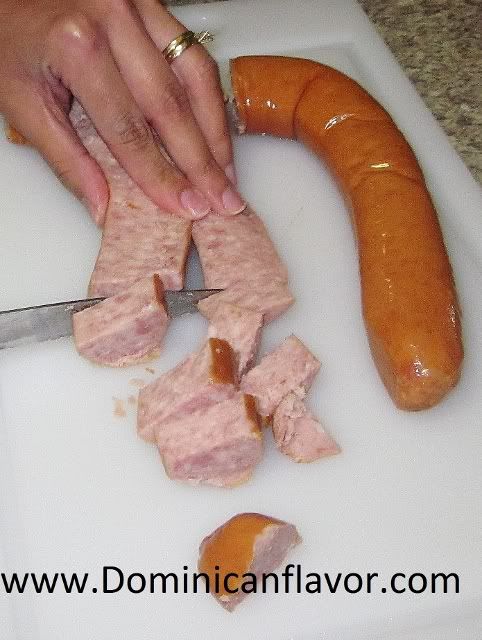 After cutting the kielbasa, take a pot (or caldero in my case), add the oil and put on high heat,
Add the kielbasa to the hot oil and saute for a couple of minutes,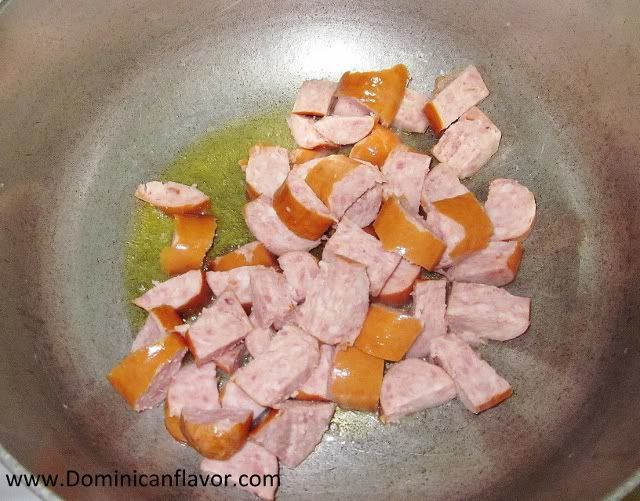 After a couple of minutes, the kielbasa will start to turn into a golden brown color,
At this point, add the chopped onions to the pot,
Then add the chopped garlic and stir,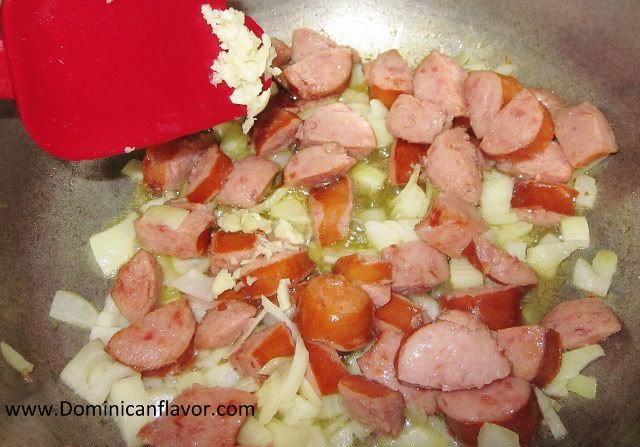 Let cook for a couple of minutes, then add the tomato paste,
Dissolve the tomato paste by stirring well,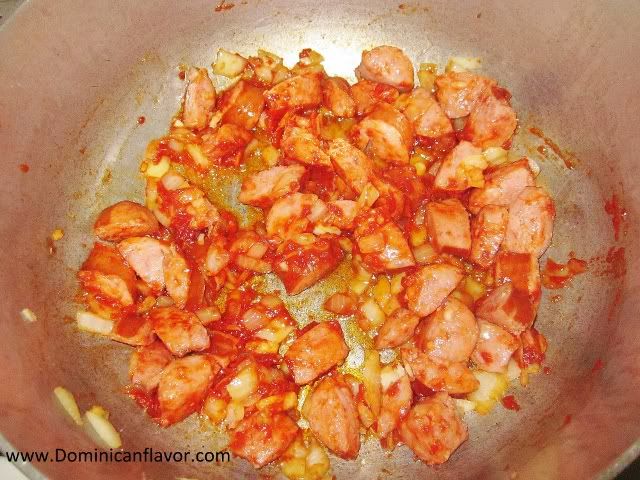 Drain the corn and add to the pot, if the vegetables and kielbasa in the pot seem a little dry add a splash of water.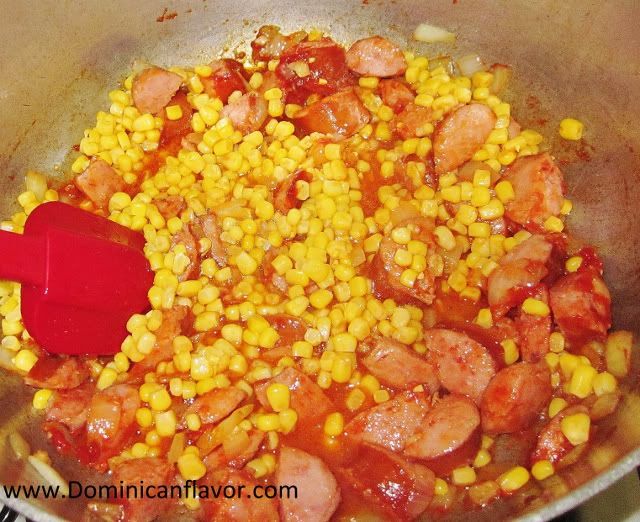 Chop the peppers, I usually leave them in big pieces to pull them out later, but you may chop into smaller pieces if you don't mind them in your rice.
Stir, and add the salt,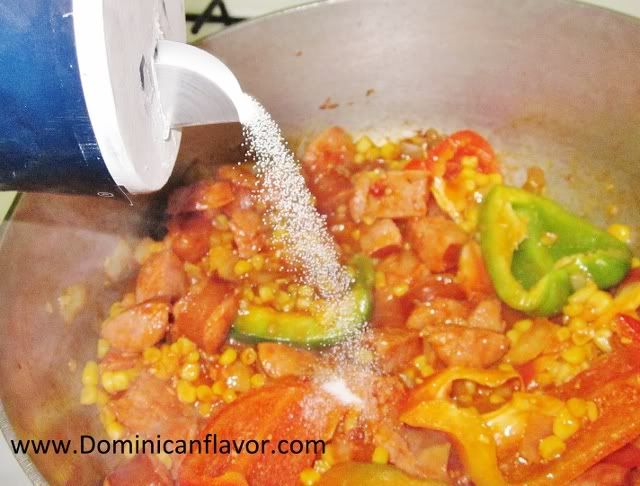 Then add some pepper, you can always adjust the amount of salt and pepper you add to your liking,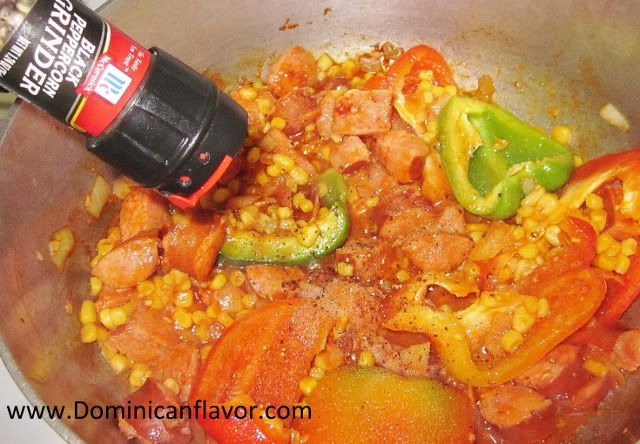 Now add the cilantro, you can add it chopped or whole to pull it out later.  I usually add it chopped,
Cut the celery into large pieces to pull out later (unless you want bite sized pieces),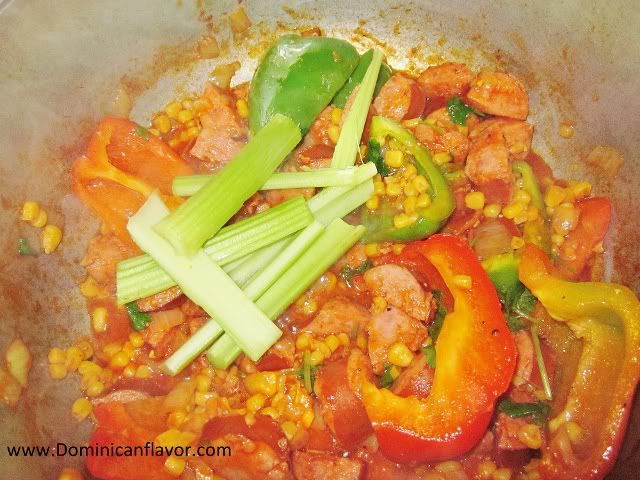 Then add some oregano,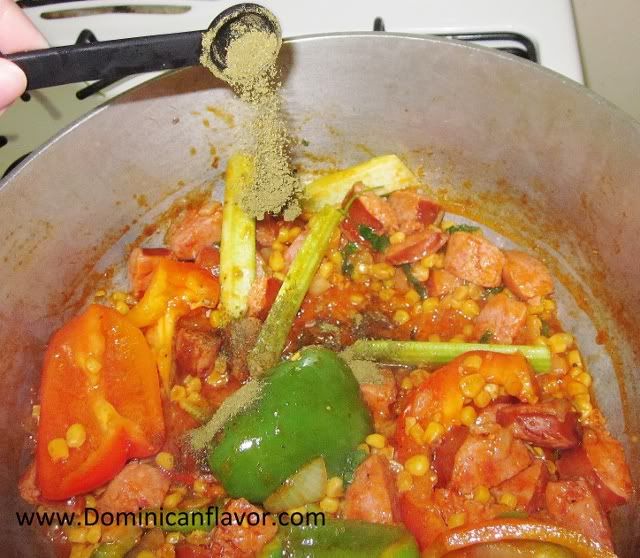 Let the vegetables and kielbasa cook for about 5 – 10 minutes (depending on how fast you want to eat 🙂 ) to let the flavors develop.  Then add the water, cover and bring to a boil.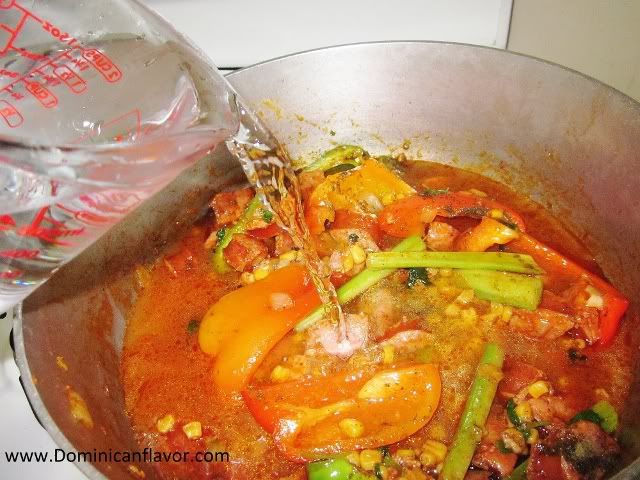 When the items in the pot come up to a boil, let them hang out for a few minutes,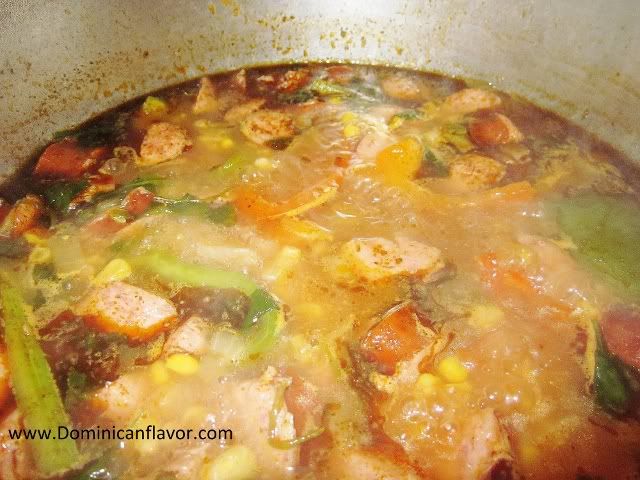 In the meantime, start to prep the rice by giving it a good wash (I always wash my rice, it tastes better).
Swirl the rice with your hands,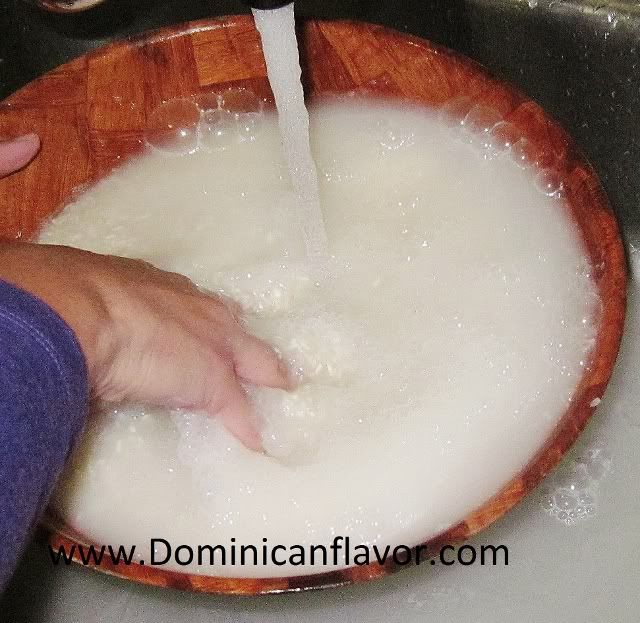 And then drain all of the cloudy water.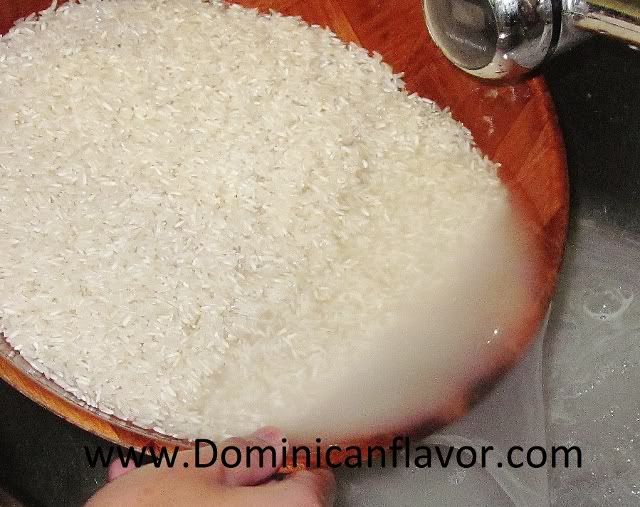 Repeat several times (about 3 or 4 times), until the water is translucent (it will never be crystal clear) enough that you can see the rice clearly under the water,
Drain the cleansed rice thoroughly, then add to the pot,
Cover and let the rice absorb the water, stirring it occassionally,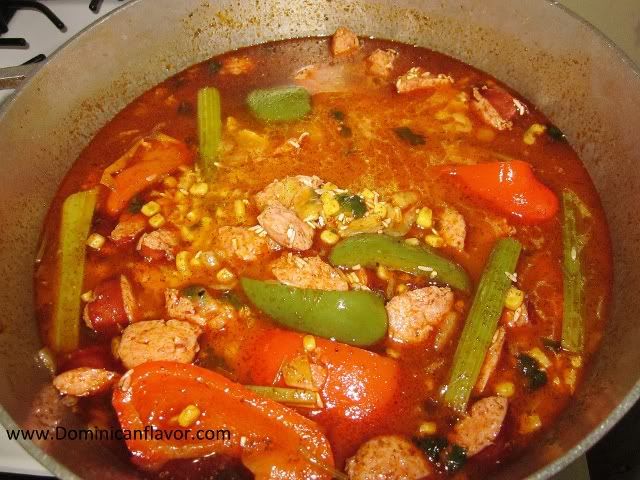 Once most of the water is absorbed, you may remove the large vegetables now, or later.  I usually pull them out in the end, after the rice is fully cooked.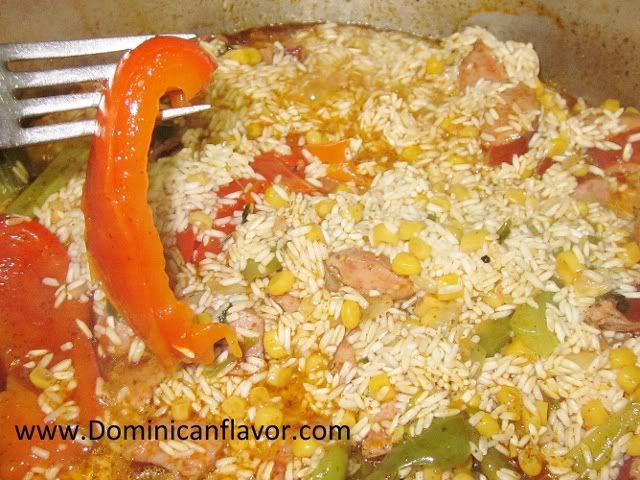 Once the rice has absorbed the water, pile it into the center of the pot,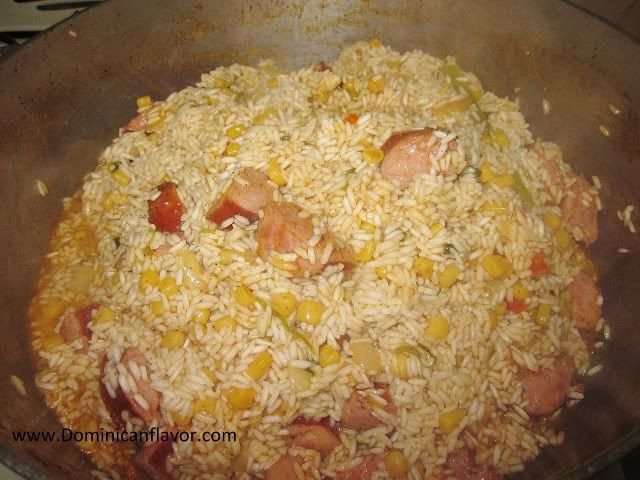 Dominicans have a tendency of covering their rice with a plastic bag under the cover to help the rice cook better.  I don't like using that method because I don't think it's good to eat melted plastic (since sometimes the plastic melts on the sides), so I prefer to use aluminum foil to keep up with tradition.  But really, you can just cover it and the rice will be fine. 🙂  I'm not one to mess with tradition though…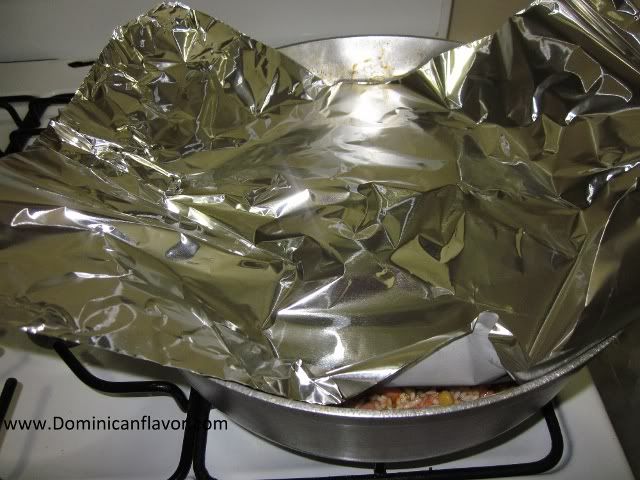 Cover and lower the heat to medium, medium low depending on the potency of your burner.  Medium works on my stove since my burner is not very potent.
Let the rice cook covered for 30 minutes.  Then, remove the cover and the rice should look like this,
Stir the rice, fluffing it up and bringing the rice from the bottom to the top,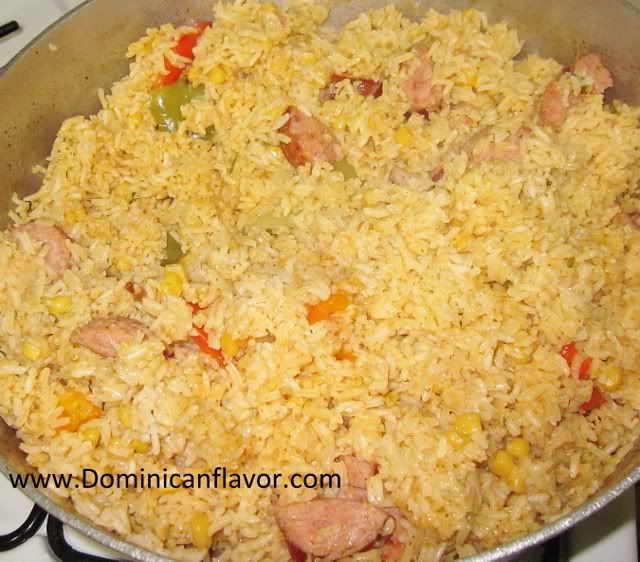 Cover again and let it cook for another 5 minutes.  Then serve!
I recommend you serve it with some frito maduros and a side salad or avocados. Yum! 🙂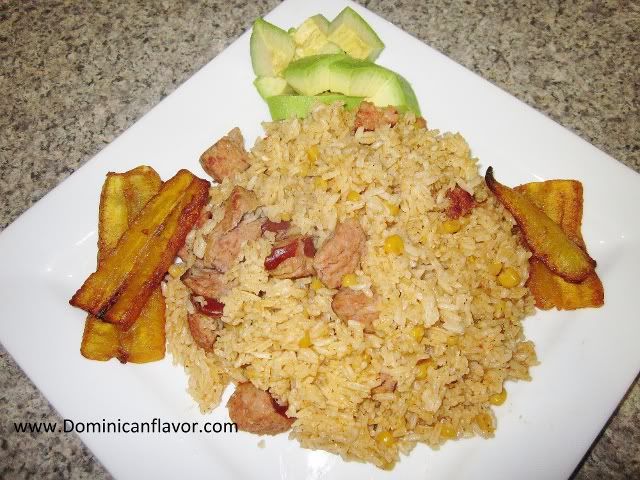 Or serve on it's own, it's really delicious!
Buen Provecho! 😉