A "moro" (which is rice dish cooked with some type of bean in it) is usually a quick fix to accompany any meal, especially if you don't feel like making a pot of white rice and a separate pot of stewed red beans.
I opt to use fresh vegetables when I make my moros, since it gives it a delicious natural flavor.  If you love beans and want more grains with your rice, you can always double the amount of beans the recipe calls for and it will have a more intense bean flavor.
To make this recipe, you will need the following ingredients:
1 (approx 15.5 oz) can of Red Kidney beans (may substitute with 2 cups of dried red beans that have been soaked and boiled until soft)
4 Cups Long Grain Rice
6 Cups Water
3 Garlic Cloves
1 Small onion
1 Red Bell Pepper
1 Green Bell Pepper
1/2 – 1 Cup Fresh Cilantro
1 Habanero Chile (aji gustozo)
2 Celery Stalks
1 tsp Ground Oregano
1 tbsp Vinegar
2 tbsp Spanish Olives
2 tbsp Olive Oil (may use vegetable oil)
1 tbsp Achiote Oil (may be substituted with 2 tbsp tomato paste)
1 tbsp Salt
1/2 tsp Black Pepper (optional)
I usually use canned beans to make moro because it's quicker and they give it good taste.  But if you prefer using dried beans, just soak them the night before and then boil them until they get soft before using them for this recipe.
Since I am opting to use canned beans, first, take the beans from the can and give them a good rinse.   Doing this enhances the flavor of the beans and gets rid of the liquid the beans come packaged in which usually has a high level of sodium in it.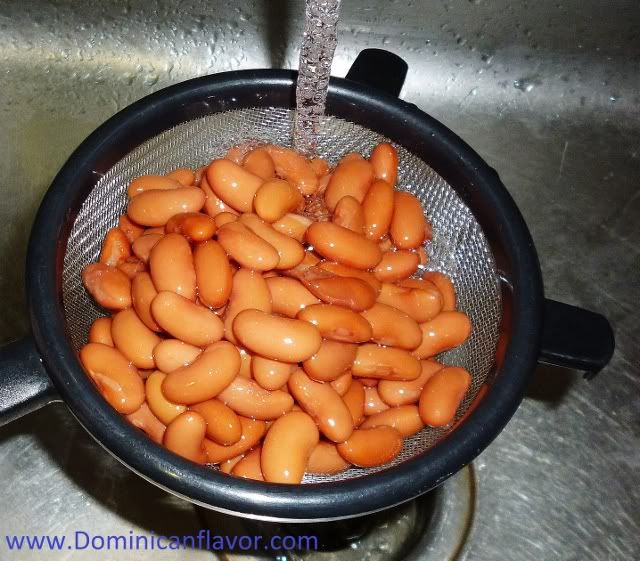 (I usually use the Goya Red Kidney beans)
After rinsing the beans, set them aside.  Take a medium sized pot (or caldero, which is what I'm using), add the olive (or vegetable) oil and the chopped garlic, put the heat on medium high and let saute until the garlic is fragrant.
Add the salt, you can always adjust the salt level to your liking, but 1 tbsp works well for the amount of rice this recipe calls for.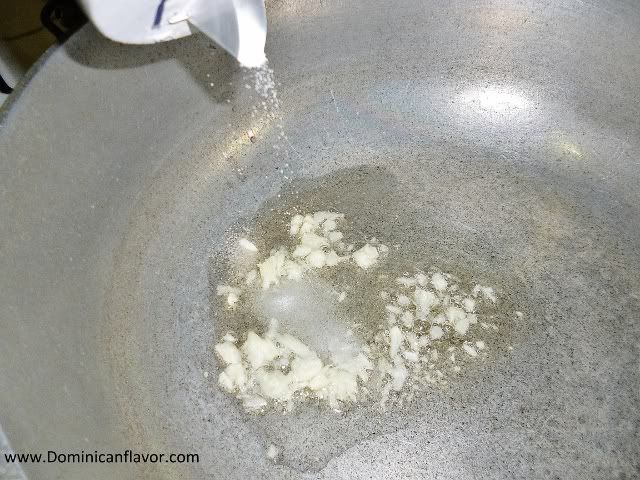 Be careful not to let the garlic burn (if it burns and turns black it turns bitter), once it's fragrant and starting to turn into a golden color, add the beans,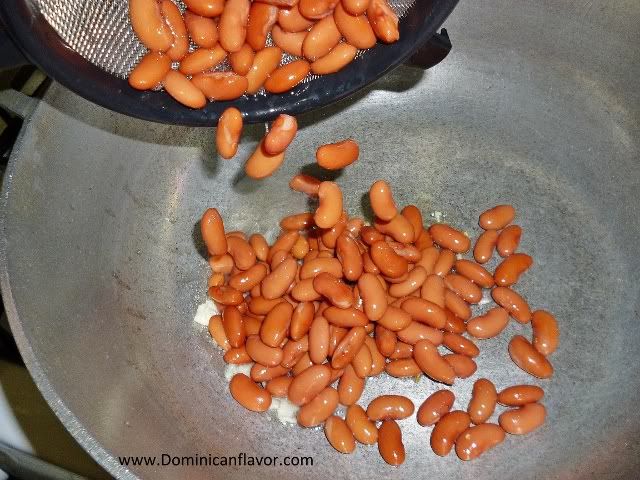 Add a splash of water (a couple of tablespoons),
While the beans start heating up, chop the onion,
Then add it to the pot and let it cook for a couple of minutes,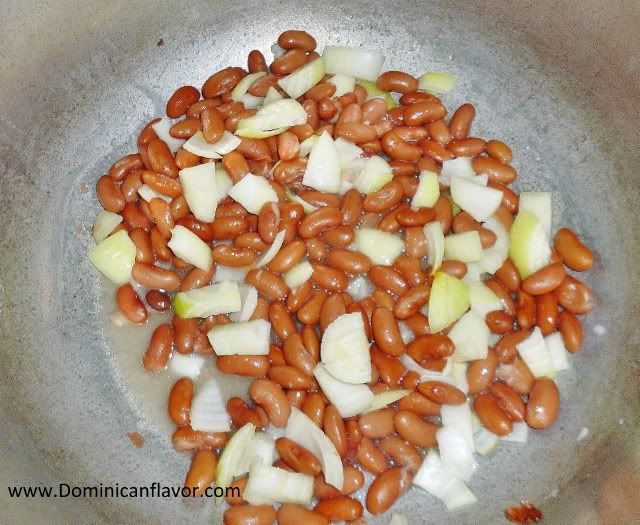 While the beans are simmering away, let's cut the habanero chile (aji gustozo).  This chile can be hard to find, sometimes depending on the season it is available in the bigger supermarket chains, but if you have a Spanish grocery store (bodega) near you, you can probably find them there year round.
Don't be fooled, these little chiles pack alot of flavor and spice, therefore, a little goes a long way.  I usually use the green ones because they are flavorful but not hot like the red ones.  You can always omit this from the recipe if you cannot find it.
I prefer to cut my bell peppers into large pieces to pull out after the rice is cooked.  You can cut them into smaller pieces if you prefer, they usually just get really soft and stick to the rice if you decide to go that route.  Once the peppers and the chile is chopped, add to the pot,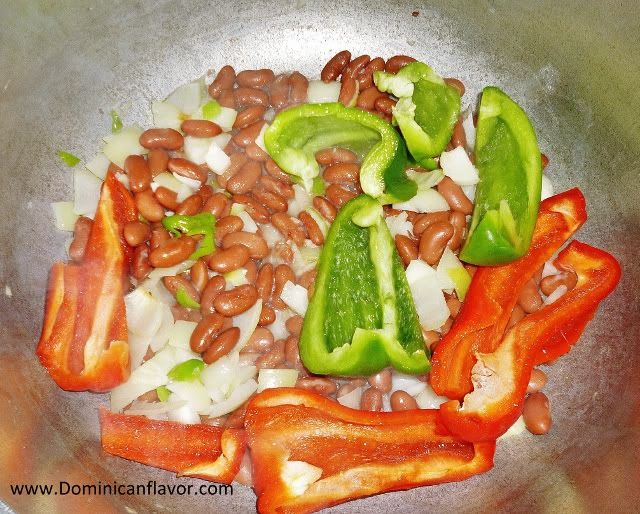 Cut the celery into larger pieces (I pull those out as well after the rice is cooked) unless you prefer smaller pieces,
Adding each of these vegetables builds a new layer of flavor.  Now we add the oregano,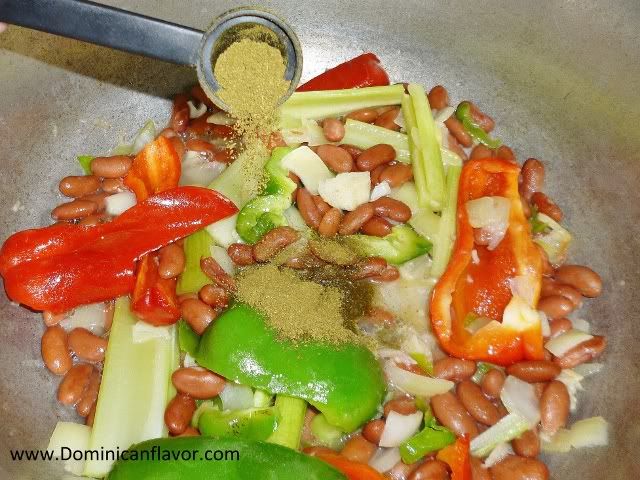 Then the vinegar,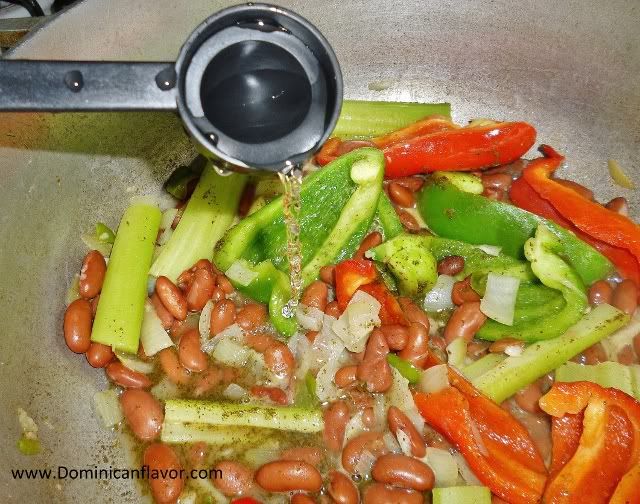 Then the achiote oil, you may substitute this with 2 tbsp of tomato paste if you prefer,
Then add the Spanish olives, I add them whole, but you may chop them if you like,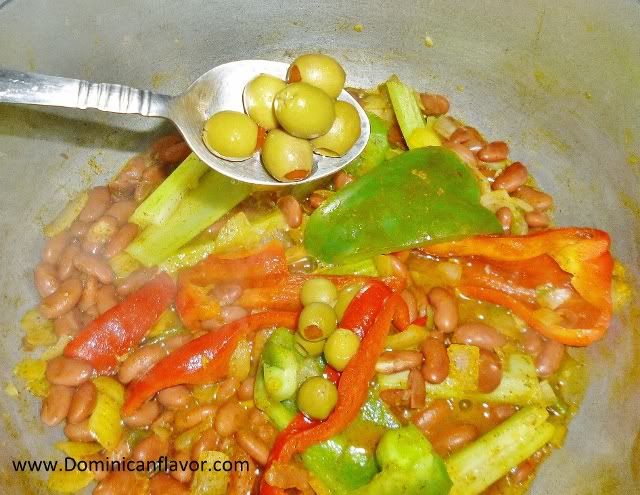 Give everything a good stir and let it cook for about 5 minutes, then add the water,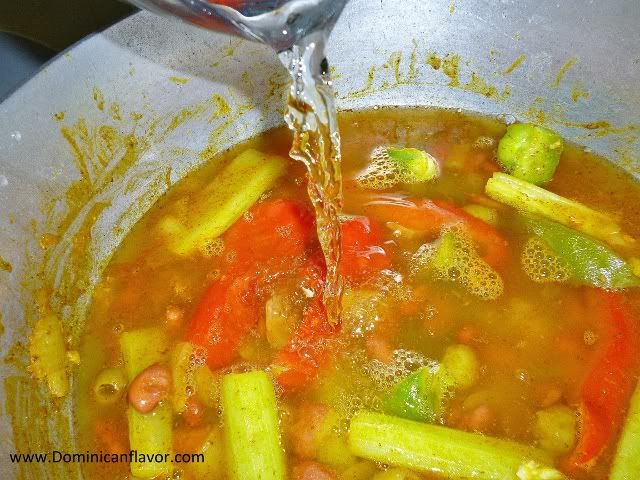 Then last but not least (for the vegetables), add the cilantro.  I add it whole, but you may add it chopped if you prefer,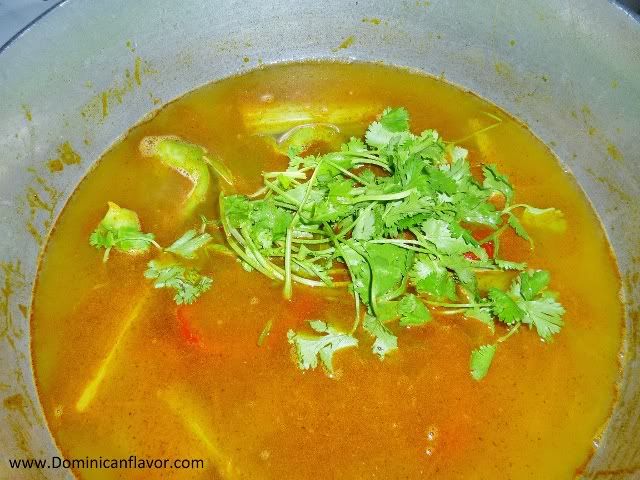 Give it a good stir, then cover the pot and let it come to a boil.  Once the items come to a boil, let them cook for a few minutes to develop more flavor.  Before adding the rice, you can give it a taste and add more salt if you want it to be more savory.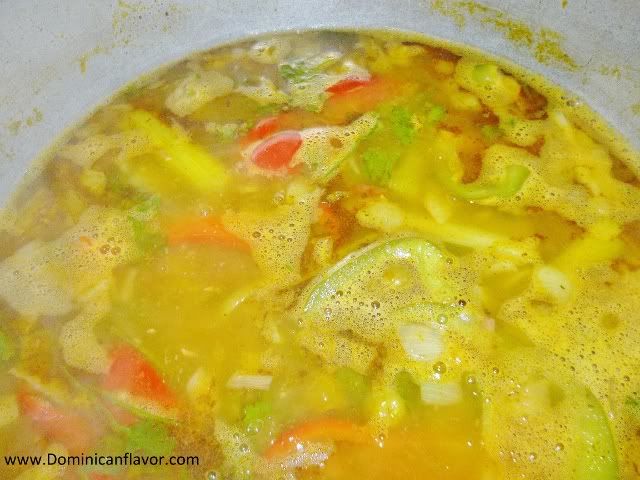 While the water is boiling, start to prepare the rice.  Give it a good rinse to wash away that "chalky" taste,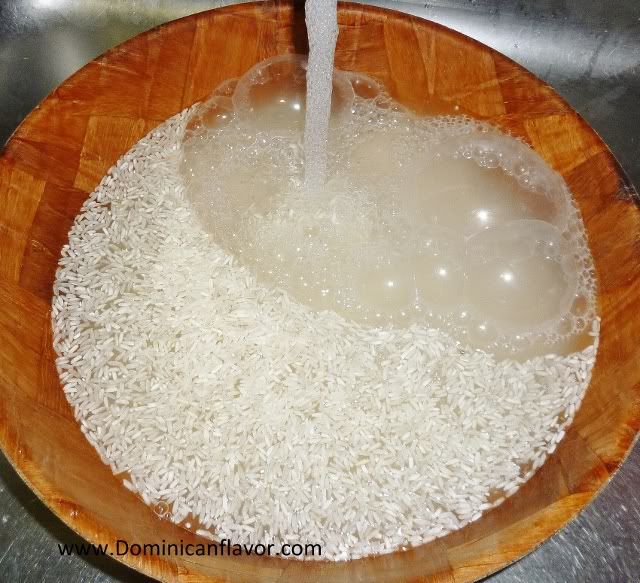 Swirl the rice with your hands and then drain away the cloudy water to rinse again,
Repeat the process about 3 – 4 times until the water is not as cloudy, but more translucent (you can see the rice under the water),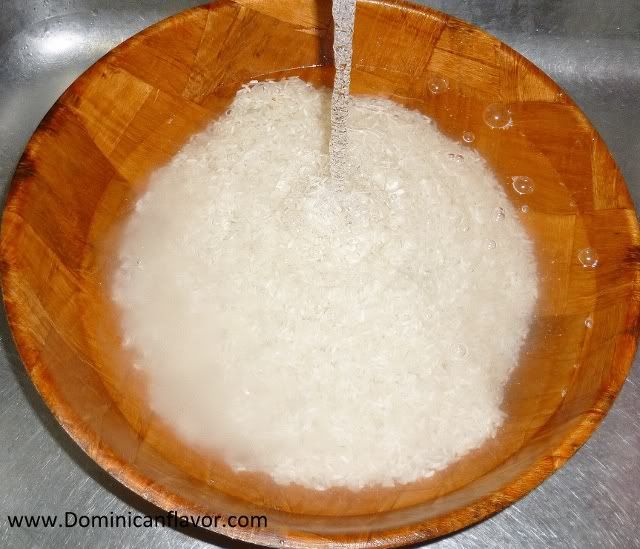 Give it one last drain, then add the rice to the pot and give it a good stir,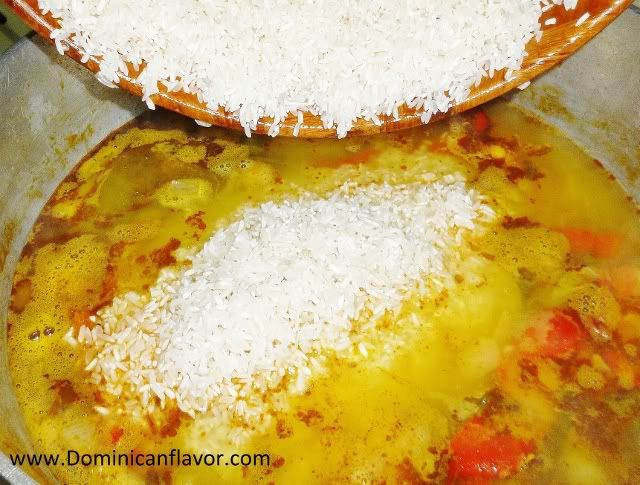 One way to check (well that's one Dominican method 🙂 ) if the rice and water level are in good proportion is to stick a tablespoon in the middle and if it stays standing up, you're good to go. It doesn't always work that way though, I got lucky this time around. 🙂
Don't panic if this trick doesn't work for you though, I've made this recipe countless times and using these measurements you should get fluffy rice. 🙂
The water will come up to a boil after adding the rice, when this happens, stir every few minutes and you will see the rice start to absorb all of that deliciousness,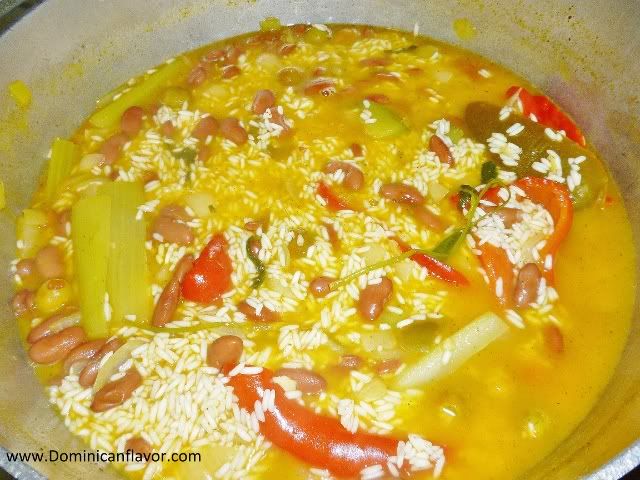 Once the rice has absorbed the water and is moist and sticky, pile it in to the middle of the pot,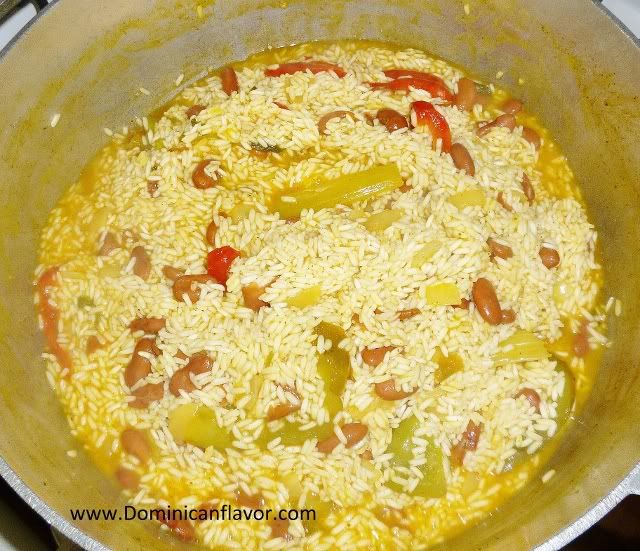 My mom always told me that covering the rice with a plastic bag ensured it cooked better when using a "caldero" (which is the kind of pot I'm using to make this rice).  But I prefer to use aluminum foil instead of a bag.  You don't have to do this if you don't want to, but it's the way my mom taught me, so I'm going to follow in her teachings. 🙂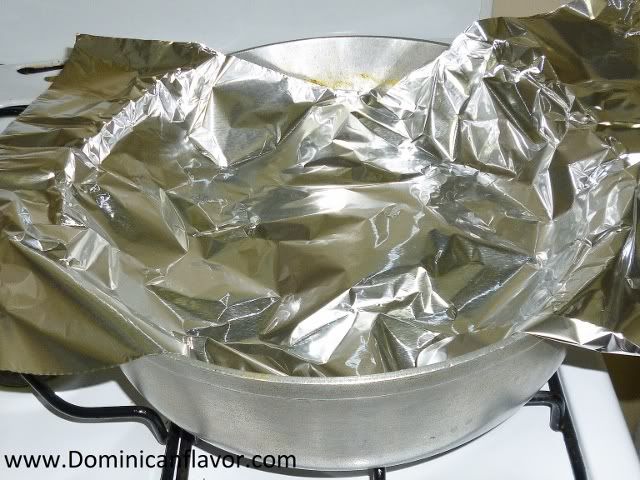 Then cover the pot and lower the heat to medium  to medium – low (depending on how potent your burner is).  If you have a strong burner, lower it to medium low, but if you have a weak burner (as I do) leave it on medium.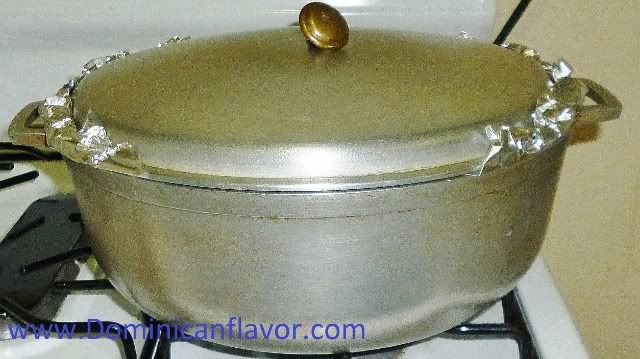 Let the rice cook for 30 minutes (without uncovering or stirring).
Then uncover and it should look like this,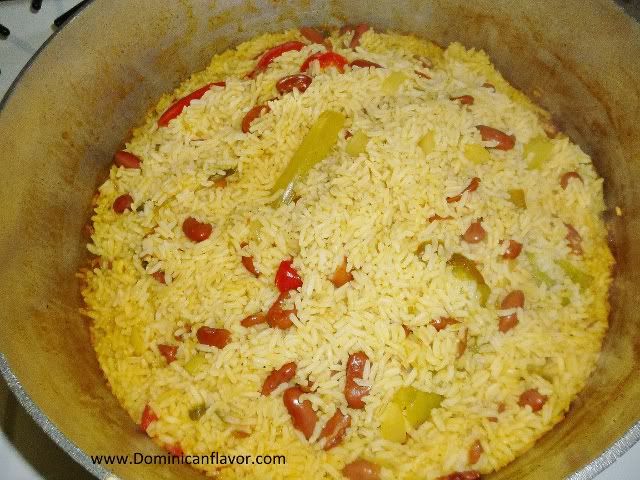 Now is the time I usually remove the larger vegetables that are really overcooked and mushy, so I prefer to toss them,
With a big spoon, stir the rice, bringing the rice from the bottom up, fluffing it up in the process,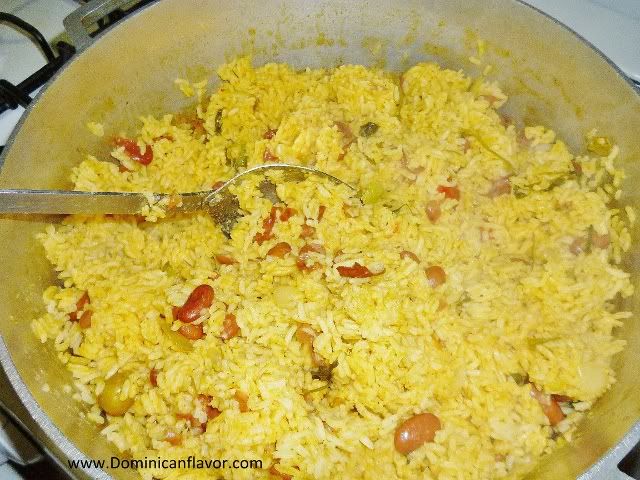 Cover and let it hang out for 5 minutes before serving.
I recommend to serve with a nice side of stewed chicken or roasted pork leg, yum!
Buen Provecho! 😉