I love this particular recipe because it's very quick to make since it requires boneless chicken and very flavorful like the traditional way to make it.  On the days I get home from work and I want to have dinner on the table in a rush, this dish definitely hits the spot!
This recipe serves 4 people generously and to make it, you will need the following ingredients:
4 Large Boneless Chicken Breasts
1 tsp Salt
1/2 tsp Ground Black Pepper
1 tsp Ground Oregano
1 tsp Garlic Powder
1 tbsp Achiote Oil (Aceite de Bija)
1 Lime (large)
3 Garlic Cloves
1 Cup White Wine
1/2 Cup Fresh Cilantro
5 Cups Pasta Sauce (1 regular sized jar)
2 tbsp Olive Oil
1/2 Cup of Vinegar (optional)
1 lb of Thin Spaghetti (may use regular spaghetti)
First, let's give the chicken breasts a vinegar bath.  You can use limes if you prefer, but I find that using vinegar to clean certain meats is quick, inexpensive and very effective!  Just add about 1/2 cup of vinegar and some water and let the chicken soak for a couple of minutes,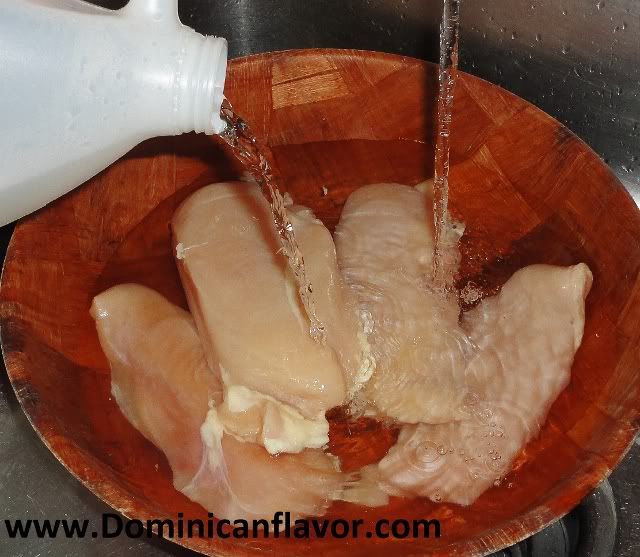 Then rinse it with plenty of fresh water.
Drain the chicken breasts and place on a cutting board to cut,
Since these chicken breasts pretty big, I'm going to cut them into 3 large pieces (you can cut them into smaller pieces if you prefer, but I find that the dish is heartier with bigger pieces),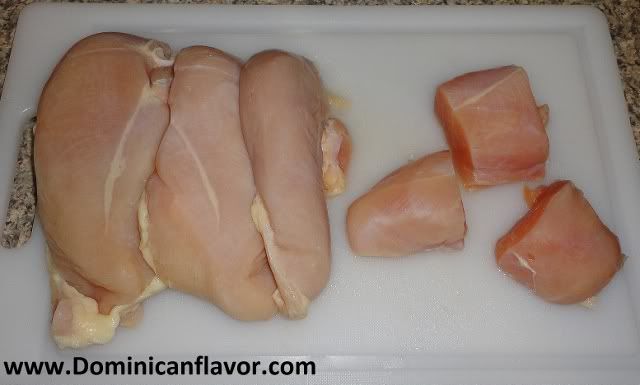 After cutting, place in a bowl and let's start to season.  Add 1 tsp of salt (you can add less if you prefer and adjust the level later, but I find that 1 tsp is the perfect amount for me),
Then add about 1/2 tsp of fresh ground black pepper,
Add 1 tsp of ground oregano,
Then add 1 tsp of garlic powder,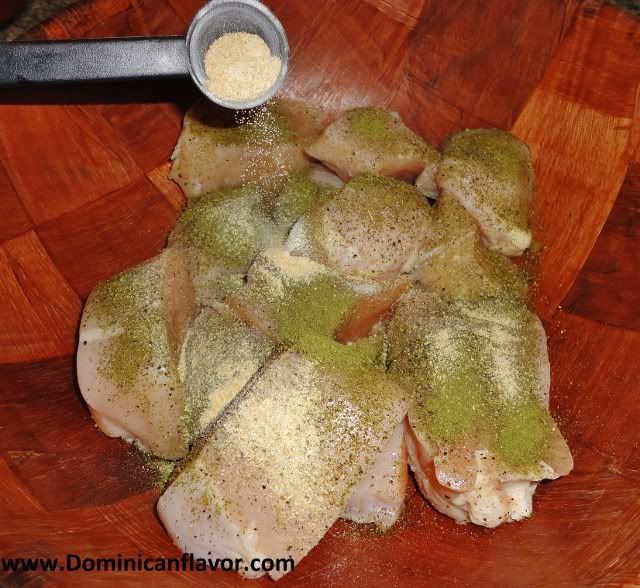 Add 1 tbsp of Achiote oil (aceite de bija, may substitute with 1 tsp of ground achiote/bija), be careful when working with achiote/bija because it is very difficult to remove the stain from your counter-tops if you spill it,
Then add the juice of 1 large lime (if you use smaller limes, use 2),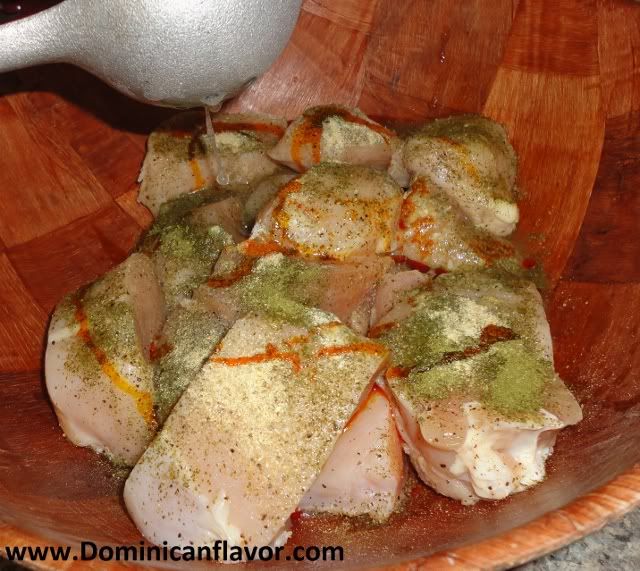 Mix the chicken with the seasonings until it's well incorporated (I suggest you use a spoon),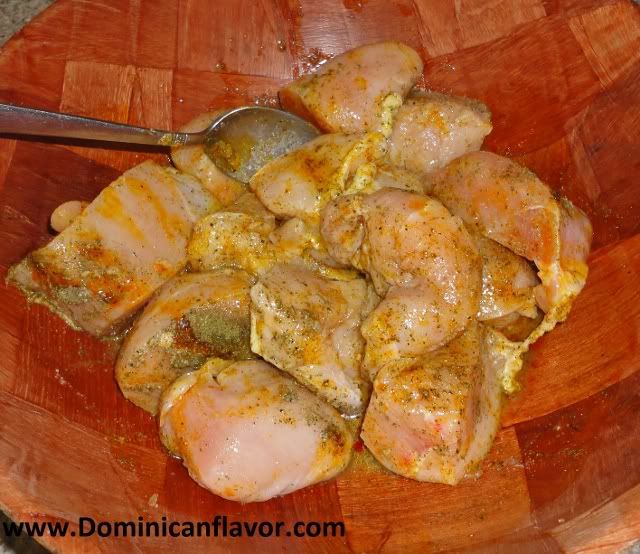 Once the chicken is marinated, you can let it hang out overnight for better flavor, but if you are in a rush and want to cook it immediately, that's okay! 🙂  It will still be very tasty if you cook immediately after marinating.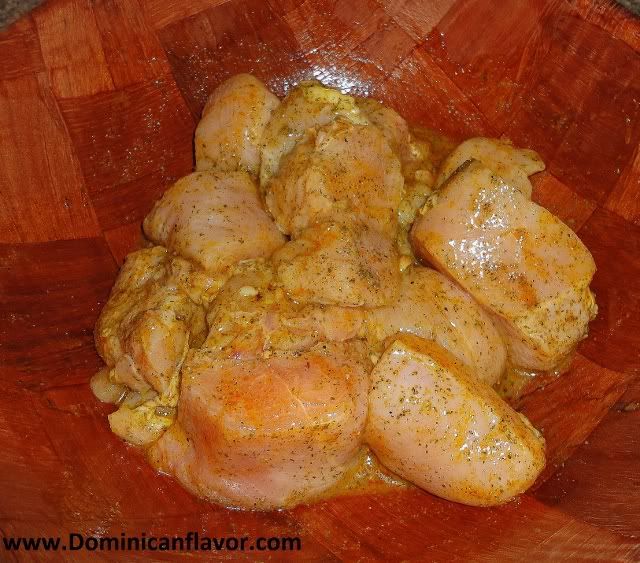 To begin the cooking process, take a large skillet and add about 2 tbsp of olive oil to it and put on high heat.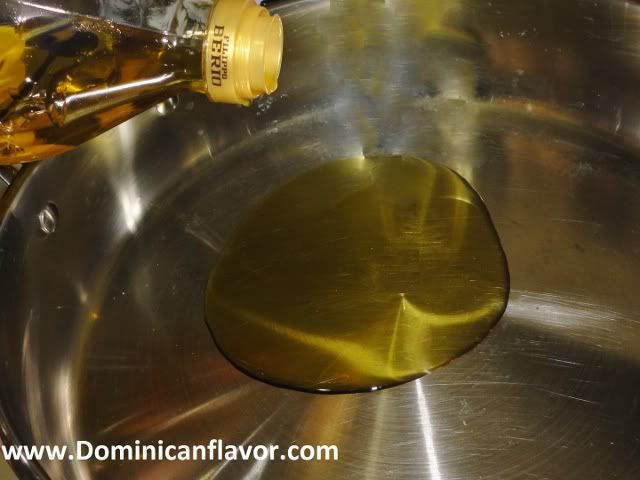 Let the oil get nice and hot (it's ready when it starts to smoke), then add the chicken pieces (I suggest you use tongs so you don't get splattered with oil) and you will hear a loud sizzle.  Don't add the marinade liquid, set it aside for later,
While the chicken is cooking, take a pot and fill it halfway with water, cover it then put it on the stove on high heat, this will be for the pasta,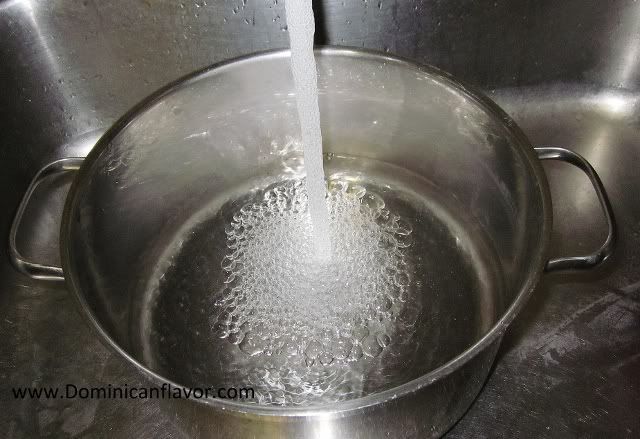 I prefer to use thin spaghetti instead of the regular, also, I discovered that using this particular brand of whole wheat spaghetti is really delicious and my family can't tell the difference that it's not the regular white pasta. 😉  If you prefer the white pasta, just use that instead, set it aside until the pasta water is ready,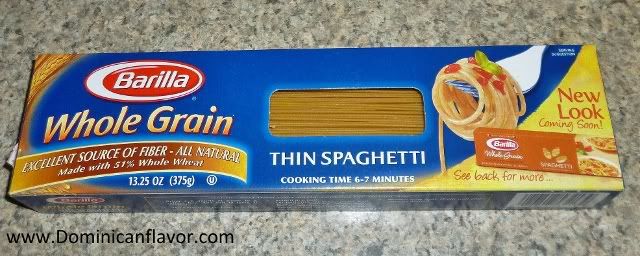 Let the chicken sear for about 6 – 8 minutes until the chicken starts to get a golden crust,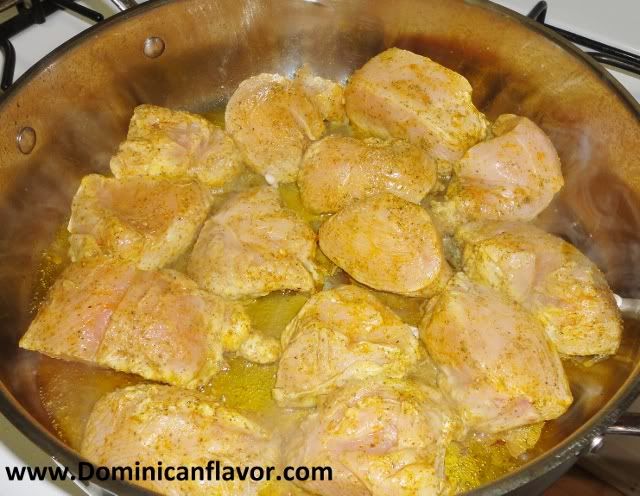 Then flip the pieces over and let the other side cook for about 6 – 8 minutes as well,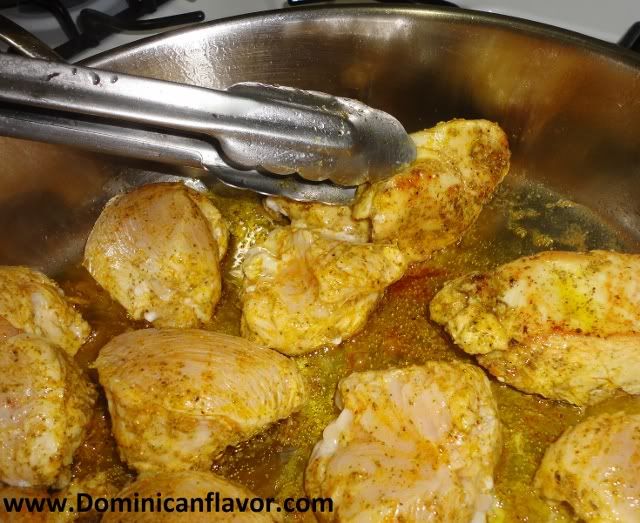 After letting the second side cook for a few minutes, add 3 cloves of finely chopped or mashed garlic,
Stir the chicken with the garlic and let it cook for about 1 minute until fragrant,
Then add 1 cup of white wine (may use cooking wine as well), (use a spatula to deg-laze the pan),
Then add the left over marinade liquid,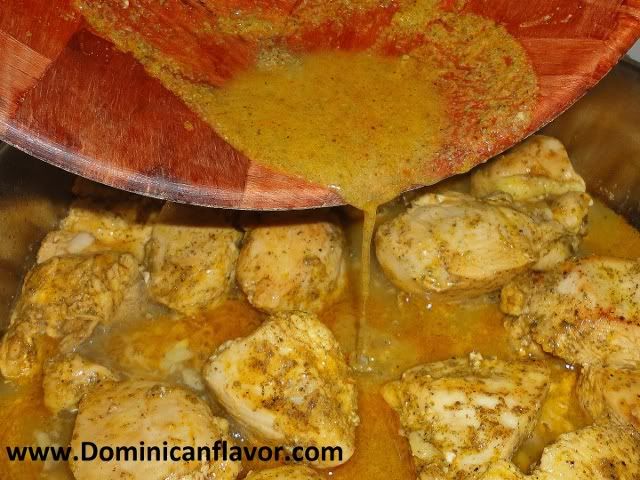 Mix all of the items well and let it cook for a few minutes (3 – 5 minutes) and let the wine reduce a little bit,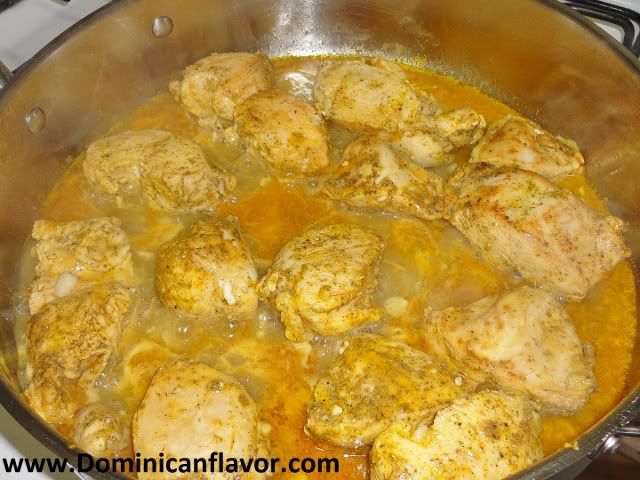 Then add 1 jar of pasta sauce (I usually use the Ragu brand, but you may use any brand you prefer) which is about 5 cups,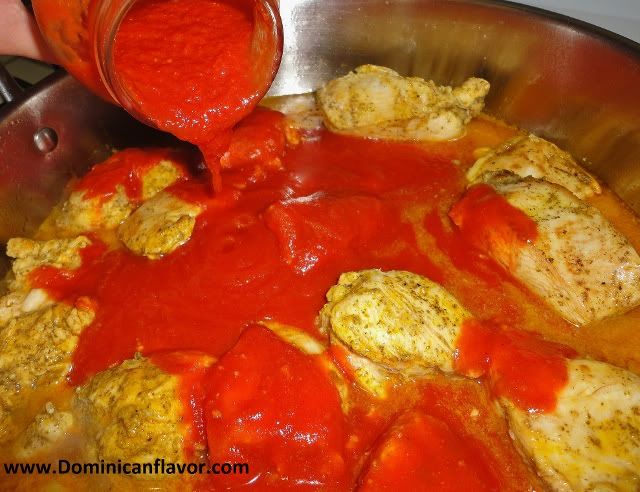 Then add about 1/2 cup of fresh cilantro (may substitute with 1 tbsp of dried cilantro),
Mix well and let the items come up to light boil,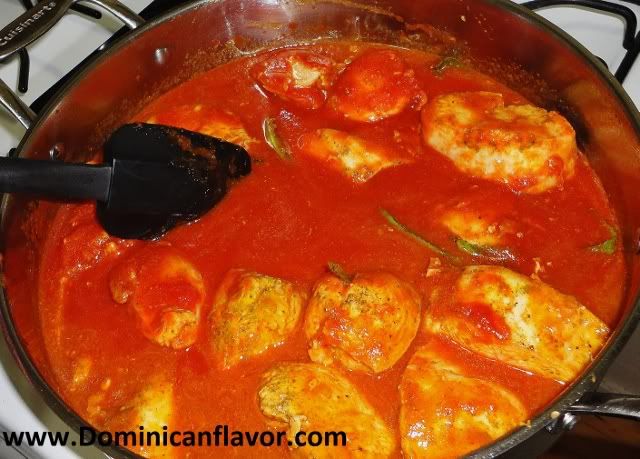 Then cover the pot and lower the heat to medium temperature and let it simmer until the pasta is ready to be added.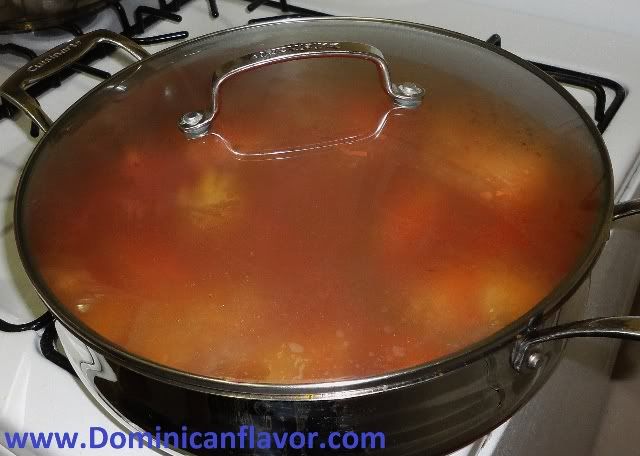 At this point, the pasta water should be boiling away.  Add about 1 tbsp of salt to the boiling water,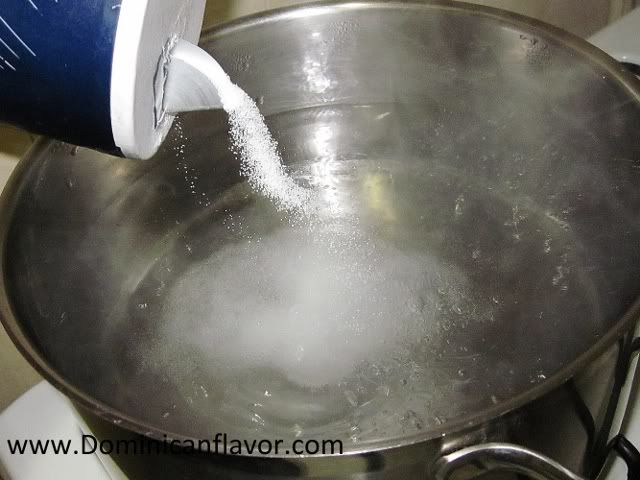 Then add the pasta, stirring occasionally so they don't stick together,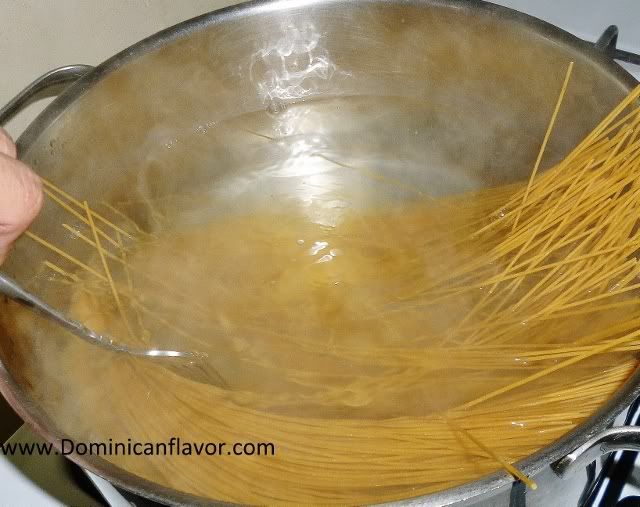 Cook the pasta until it's tender, with thin spaghetti it takes about 10 minutes,
Then drain the pasta and add it to the sauce and chicken and stir, turn the heat off of the sauce when you stir so that the sauce doesn't dry out,
After stirring, let the pasta hang out for a few minutes and serve!  It's a hearty meal, I usually serve it on it's own.  But it's delicious accompanied by tostones, white rice or the classic companion, garlic bread! Yum! 🙂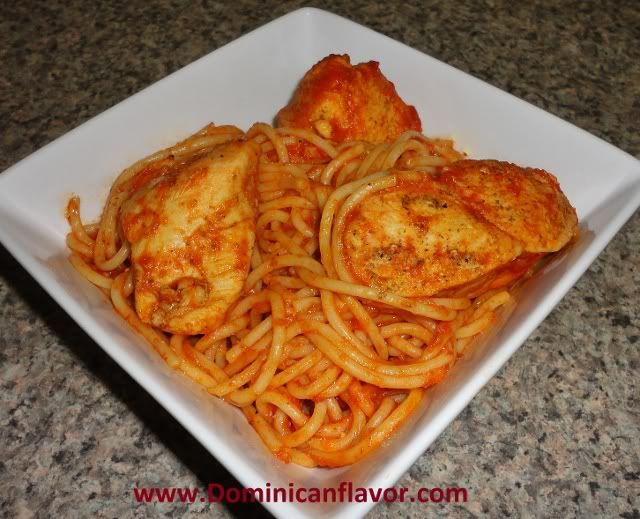 Buen Provecho! 😉