This is a very common dish in our culture that can be served for any meal of the day (don't be surprised if you are served spaghetti for breakfast in Dominican Republic 🙂 )!  It's usually served with some boiled (or fried) plantains or cassava (yuca), and sometimes even paired with white rice.
No matter how you serve it, it's very hearty and delicious!
To make this recipe, you will need the following ingredients:
1 lb Spaghetti (thin or thick)
1/2 lb Dominican Salami
1 Small Onion
1 Small Red Bell Pepper
1 Small Green Bell Pepper
2 Garlic Cloves (3 if they are small)
2 tbsp Spanish Olives
1 Celery Stalk
1 8oz can of Spanish style tomato Sauce
1 Habanero Chile (aji gustoso, optional)
1/2 Cup Cilantro
1 tsp Oregano
1 tsp Salt
1/2 tsp Black Pepper (optional)
2 tbsp Olive Oil (may use vegetable oil)
1 tbsp vinegar
Before we start cooking, I just want to say that I am very fond of using fresh ingredients as often as possible, I also like to sneak in healthier options whenever I can get away with it.  For this dish, I like to use whole grain pasta because it actually tastes pretty delicious and my family enjoys it.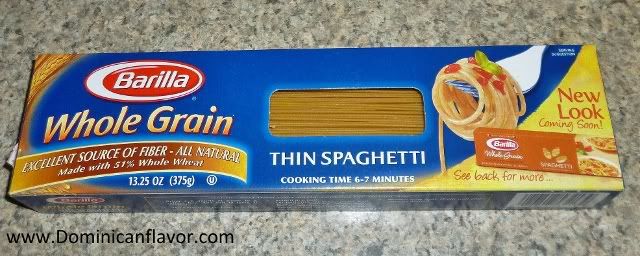 You can certainly use regular white pasta instead, but try this pasta out, you might be surprised at how well it works in this recipe. 🙂
First, take a pot and fill it 3/4 with fresh water, then cover and put it on high heat to let it come to a boil.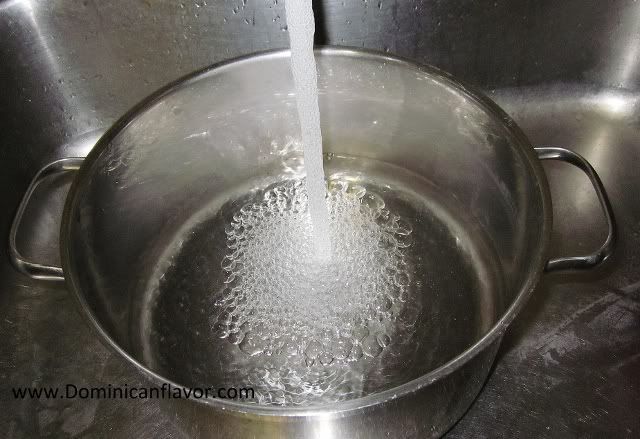 While the water is coming up to a boil, let's start making the sauce.
To start, use a good Dominican salami, I am partial to the "Higueral" brand, it is a bit more expensive than some of the other brands available, but I assure the taste and quality are second to none!
Take a nice large skillet, add the oil and put it on medium high heat.
Let's take the salami and cut it up into bite sized pieces,
Once all of the salami is nicely cut,
Add the cubed salami to the oil, and let it saute for a couple of minutes, stirring it occasionally,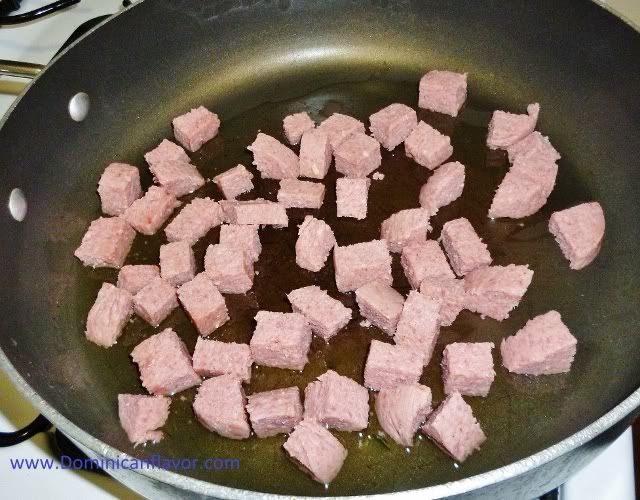 While the salami is cooking, chop or mash the garlic, then add it to the pan,
Chop the onion then add it to the pan and stir,
Let the salami cook with the onions and the garlic for a couple of minutes, while those are cooking, chop the bell peppers, (if you have large peppers, you can use half of each if you prefer)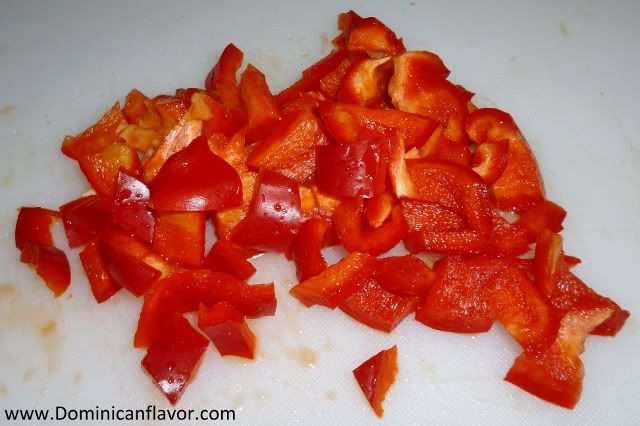 Then add the peppers to the pan, stir,
Finely chop the celery,
Add it to the pan and stir.
Take the Spanish olives (I prefer to use the ones without the pit), then add them to the pan.  You may chop them up if you'd like, but I usually add them whole.
Add the salt,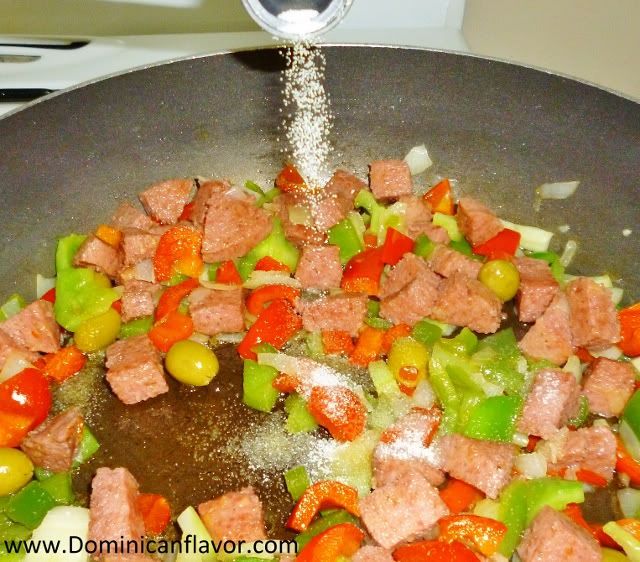 Then the oregano,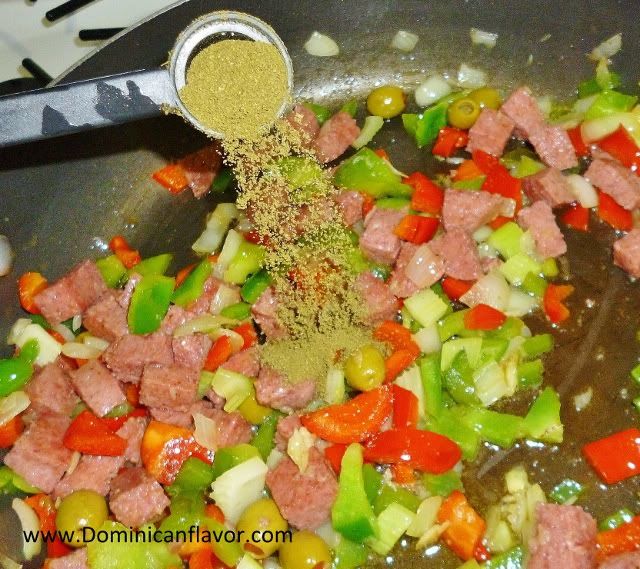 Since I am using a habanero chile (aji gustoso), I am not going to add black pepper to the dish, since I don't want to make it too spicy.  If you like it spicier, add the black peper as well.
Take the habanero chile (use a green one because the red one will make the dish really hot),
Take the seeds out and finely cut it, then add it to the pan,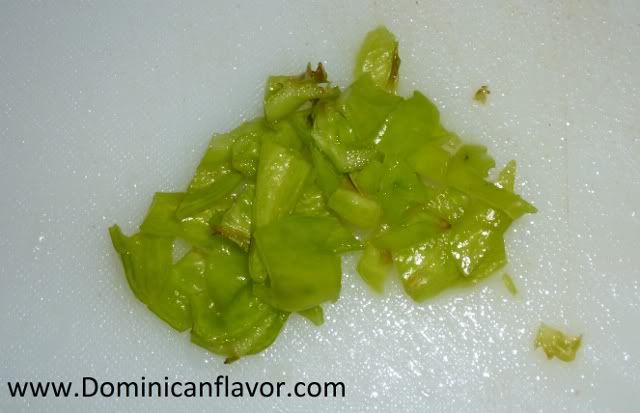 Add the tomato sauce, if you want a "saucier" pasta, add 2 cans instead of 1.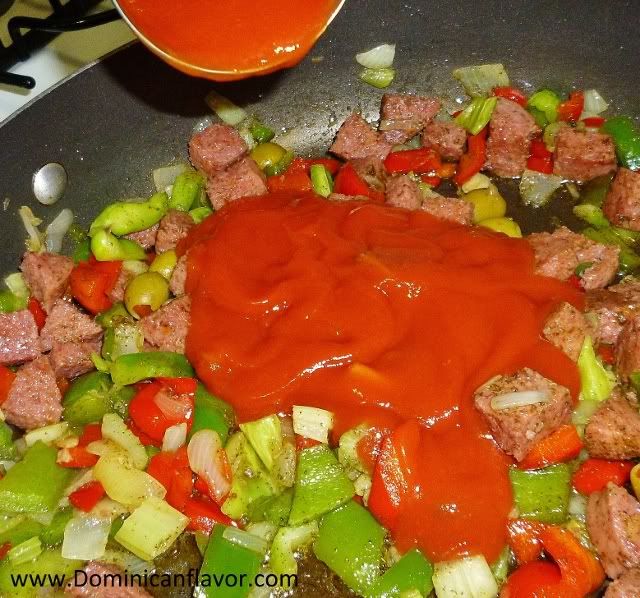 Take the can of sauce, add some fresh water to fill it, then add it to the pan,
And last but not least, add the cilantro. 🙂  You may add it chopped if you prefer, I usually add it whole,then give it a good stir.  Turn the heat down to medium and let the sauce cook for a few minutes to develop flavor,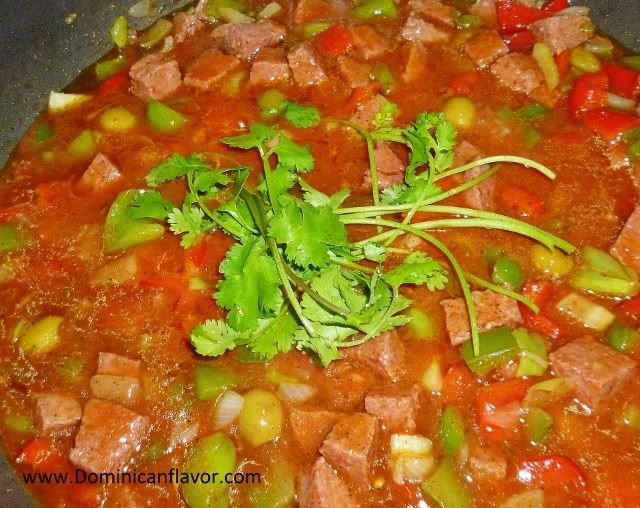 At this point the pasta water should be boiling.  Add a generous amount of salt (1 tbsp is fine)
Then add the spaghetti,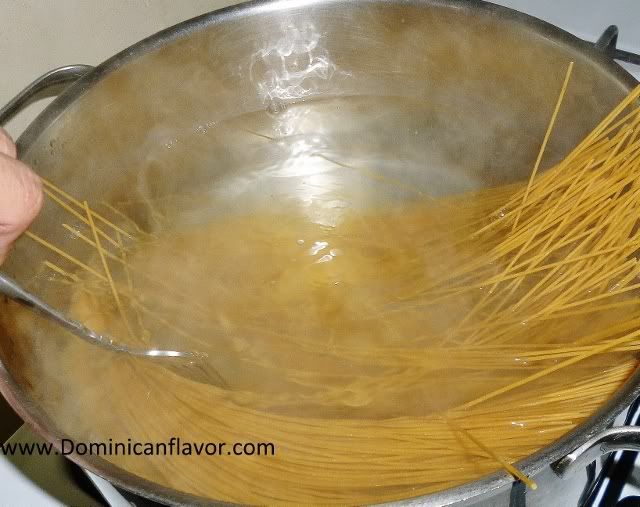 Stir it to make sure it doesn't stick,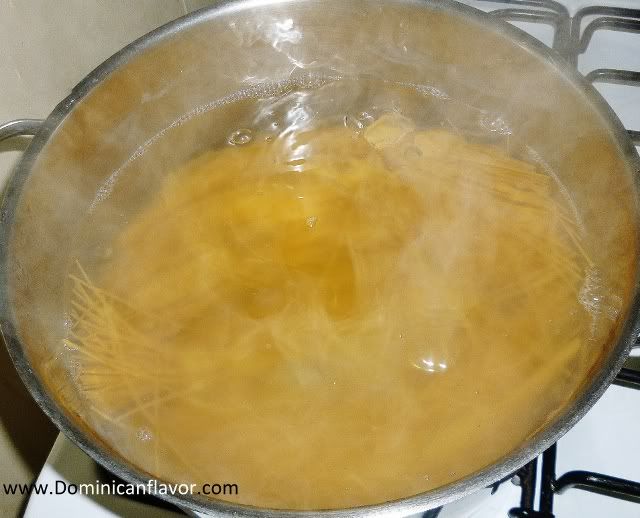 When the pasta has been cooking for 5 minutes, take 1 – 2 laddles of the pasta water,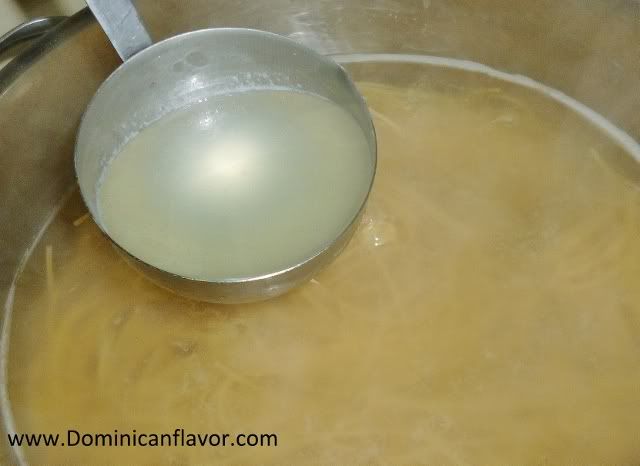 Then add that to the sauce, stir. Let the sauce simmer until the pasta is ready.
Add the vinegar, this is just to balance out the flavors of the sauce,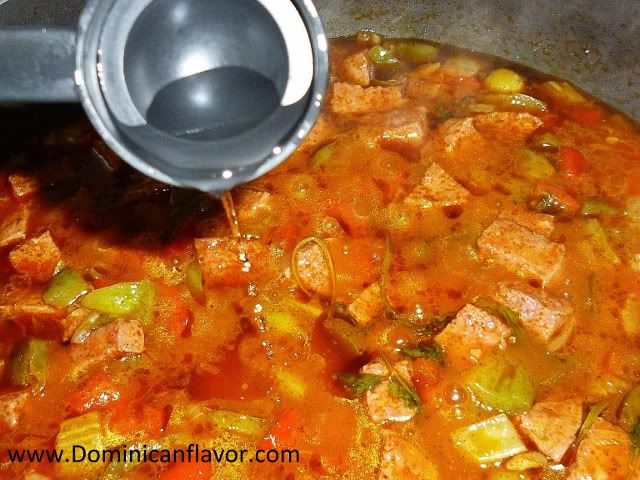 Give it a good stir and by now you should have a nice flavorful Dominican style pasta sauce bubbling away, 🙂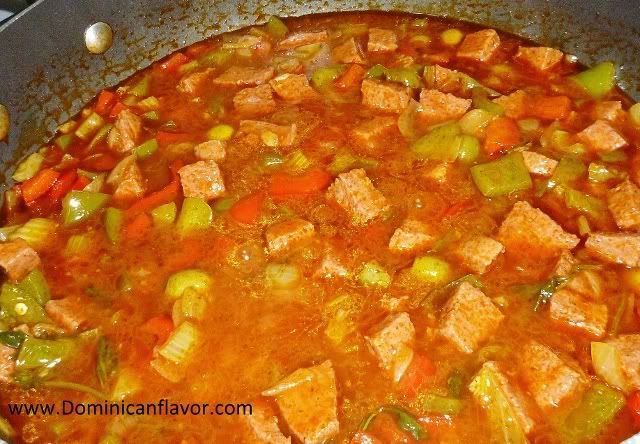 About 10 minutes after adding the pasta,it should be tender.  If you prefer it more al dente, check it after 7 minutes of cooking.  We prefer really soft noodles in our home, so I let it cook a little longer.  Just take a fork and take a noodle to check and see if it's tender enough for your liking.
Drain the pasta water and add the pasta to the sauce,
Fold the pasta into the sauce,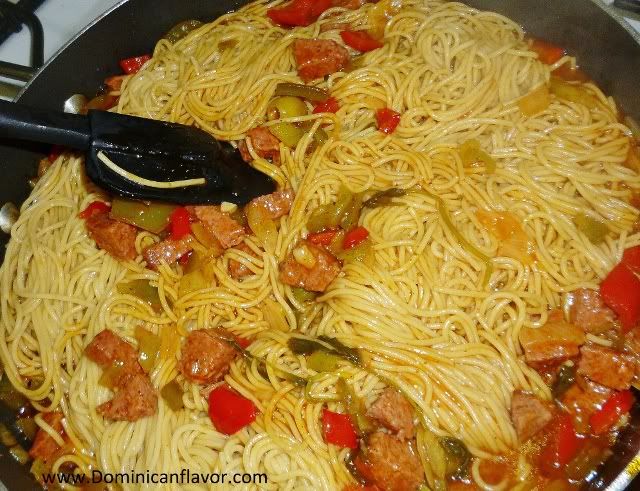 The pasta is darker than regular white pasta, therefore, that's why it has that darker color as opposed to reddish color.  Once the pasta is folded into the sauce, TURN THE HEAT OFF.  If you leave it on, the pasta will continue to cook and dry out.
Serve with some tostones or some toasted bread, YUM! 🙂
Buen Provecho! 😉