If you're a lover of plantains and salami (platano con salami) like myself, then brace yourself because this dish will knock your socks off!  This recipe really brings "platanos con salami" to a whole new level of delicious!
I usually make plantain dumplings to add to Sancocho (meat stew) and I love fishing them out when it's time to eat.  One day I though to myself, these plantain dumplings would be really tasty in an "escabeche" (it's a sauce with peppers, onions, tomato sauce, etc.), so I decided to write up a recipe and give it a try.  When it came time to make it, I decided to think like Emeril and kick the recipe up a notch by adding Salami and it just made it even tastier!
This recipe will feed about 4 people and to make it you will need the following ingredients:
4 Plantains
1.2 – 1 lb of Salami
1 Red Bell Pepper
1 Green Bell Pepper
1 Onion
2 Habanero Chiles (Aji Gustoso)
1/2 Cup Fresh Cilantro
4 Cloves of Garlic
2 tbsp Tomato Paste
4 Cups of Chicken Stock (may substitute with 1 chicken bouillon and 4 cups of water)
1 tsp Oregano
1 tsp of Salt
2 tbsp Olive Oil
1/2 tsp Ground Black Pepper
1 tbsp Vinegar
To begin, take the salami and cut it into bite sized pieces,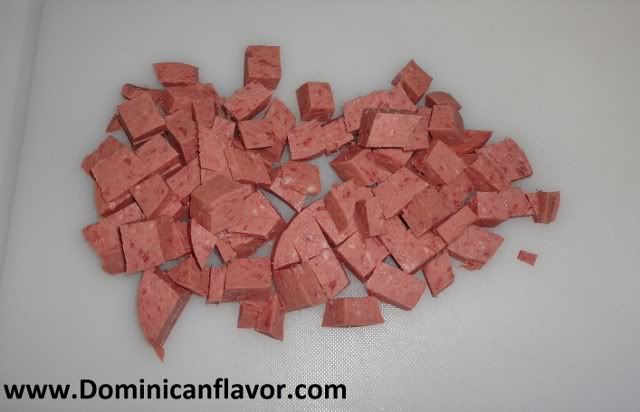 Then take a large skillet or pot and add about 1 tbsp of oil (I use olive oil but you can use vegetable oil if you prefer), put it on high heat and add the salami to saute it,
The salami will release a little bit of grease, therefore, 1 tbsp of oil should be more than enough to get them going on browning.
Then take the onion and cut it into strips (as thick or thin as you like), then add it to the skillet to the browning salami,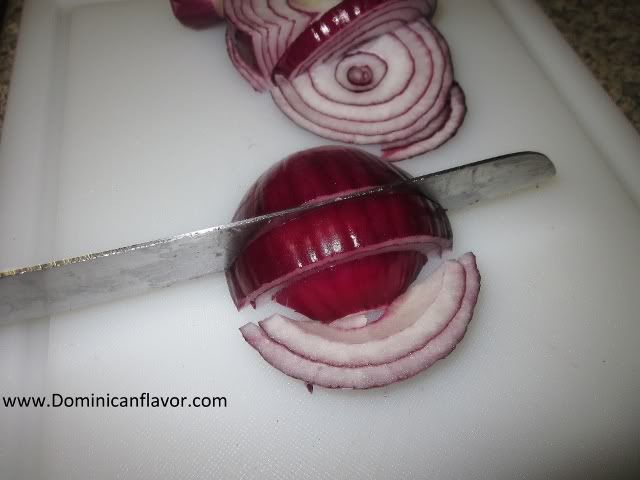 Then take the garlic and mash or chop it (I love to use my "pilon" to mash mine), then add it to the skillet,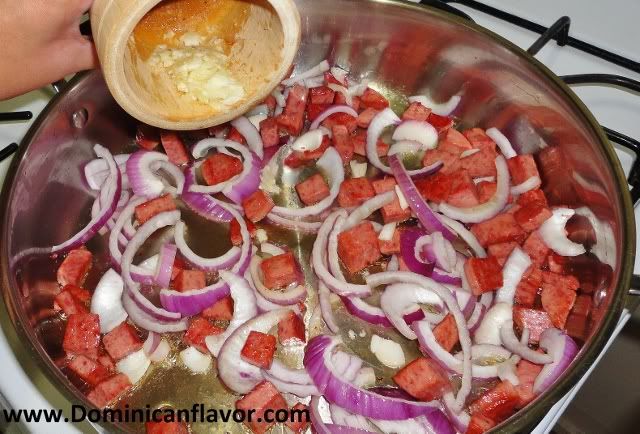 Then take the habanero chiles (aji gustoso),
finely chop them then add them to the skillet and saute, (please note that if you cannot find habanero chiles (aji gustozo), you may just omit it),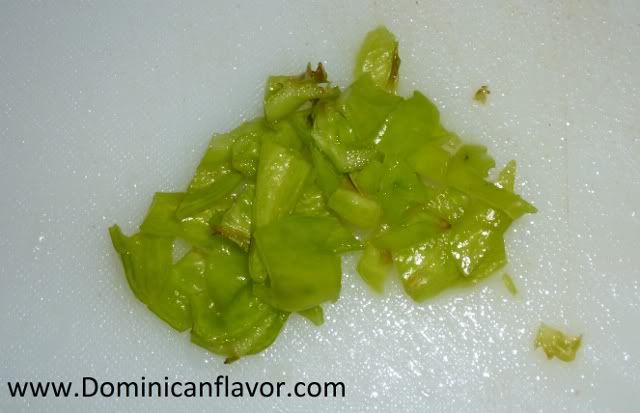 Then take the red and green bell peppers, remove the seeds and finely chop them (or cut them into slices if you prefer) and add them to the skillet as well,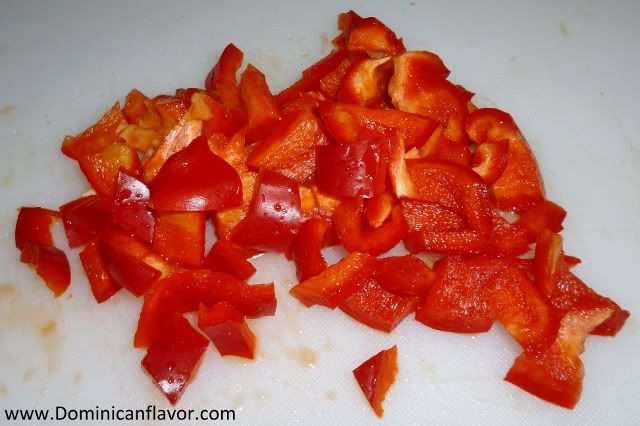 After adding the peppers and chile, continue to stir,
Then add the tomato paste,
Add 2 cups of the chicken stock (may use 1 chicken bouillon (sopita) and 2 cups of water instead of stock) and stir to dissolve the tomato paste, (I prefer to use natural chicken stock instead of chicken bouillon),
Add the oregano,
Then add about 1/2 tsp of salt (you can adjust the salt level to your liking and add less or more, I suggest you add 1/2 tsp and then adjust the level after the dish is fully cooked),
Then add 1 tbsp of vinegar then stir,
Add the cilantro (whole or chopped),
Stir the ingredients in the skillet, cover and lower the heat to medium.
Now, let's make some plantain dumplings (bollitos de platano).
Peel the plantains, (if my hands look shiny it's because I rub oil on them to avoid getting the stain from the plantains on them),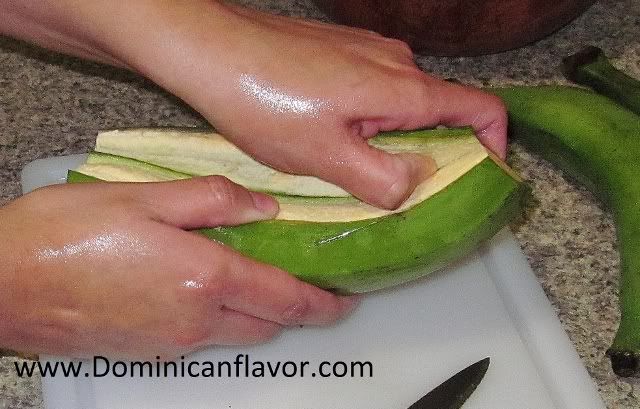 To grate them, you can use a grater or a food processor.  I prefer to use a food processor because it's quicker… 🙂
Cut the plantains into small slices and add to the food processor and grate,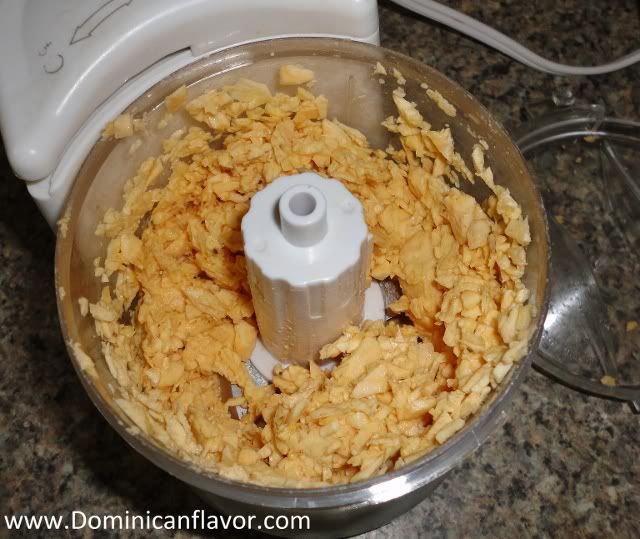 Add about 1/2 tsp salt to the shredded plantains,
Then add about 1 tbsp of olive oil,
Mix thoroughly with a spoon or your hands,
Then take about 2 tbsp of the plantains and put them in your palm and make an oval shaped dumpling (bollito), making sure to pack it well so it doesn't fall apart,
4 Plantains usually render about 18 – 20 dumplings, depending on how big you make them,
Once all of the dumplings are made, with a large spoon, gently nest them into the sauce in the skillet,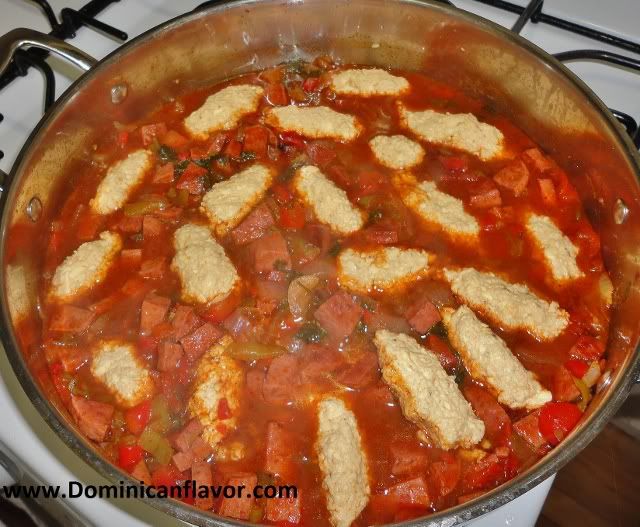 Add 2 cups of chicken stock or 2 cups of water if you used a chicken bouillon (don't add another bouillon), doing this will submerge the dumplings,
Gently stir the dumplings in the sauce, just shift them around so they don't fall apart.  Then cover them and let them simmer for 30 minutes on medium heat (they should be boiling gently in the sauce),
After letting them simmer, uncover and look at how delicious this looks?
The dumplings paired with the salami smothered in the thick sauce will make for a really heart and filling meal!
Buen Provecho! 😉