First, I must admit that I am not a lover of eggplant at all.  There are very few eggplant dishes that I enjoy eating and this is one of them.  I also enjoy them fried, but that will be a whole other post. 😉
Pork chops is usually the popular cut of meat that is used to make this dish.  I prefer to use boneless pork instead just because it's less messy to eat.  If you don't like eggplant, give this recipe a try, you might be surprised how tasty it is and how well the eggplant works with the pork.
To make this recipe you will need recipe you will need the following ingredients:
2 – 3 lbs Pork Meat (boneless or pork chops)
1 Small Onion
1/2 Cup Cilantro
1/2 Green Bell Pepper
1/2 Red Bell Pepper
3 Garlic Cloves
1 Eggplant
2 Limes
1 tsp Oregano
1/2 tsp Black Pepper
1/4 tsp Cumin
1 tbsp Achiote Oil (optional)
1 tbsp Sugar
1/4 Cup White Wine
1/2 Cup Vinegar
1 – 2 tbsp Vegetable Oil
1 tsp Salt
For this recipe I usually just buy a pork roast and cut it up into chunks.  You can also use pork chops as well if you prefer the meat to have bones on them.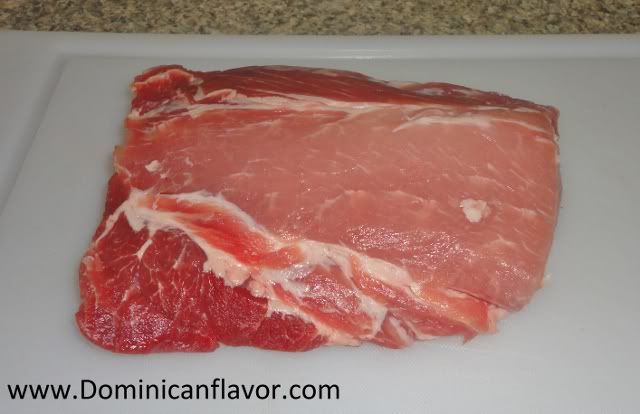 If you decide to go with the roast, just cut it into slices,
Then cut the slices into big chunks.  Make sure not to cut them into small chunks because when the meat cooks it will shrink a little and get very tender,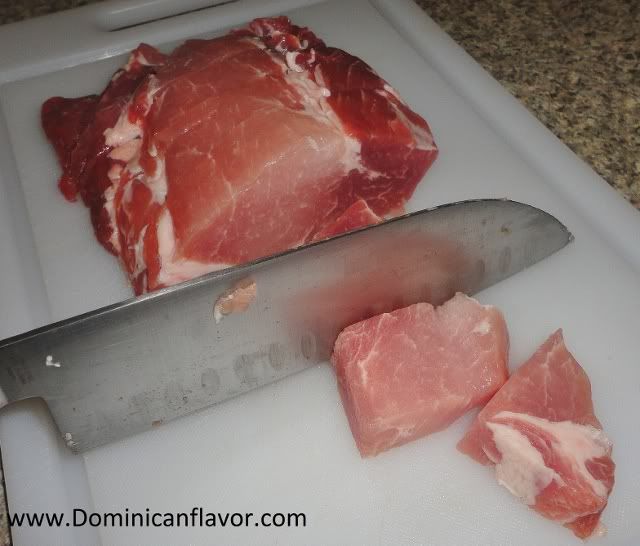 Once the pork is cut into chunks,
Give it a rinse with cool water and add some vinegar to let it soak for a few minutes (5 minutes is good),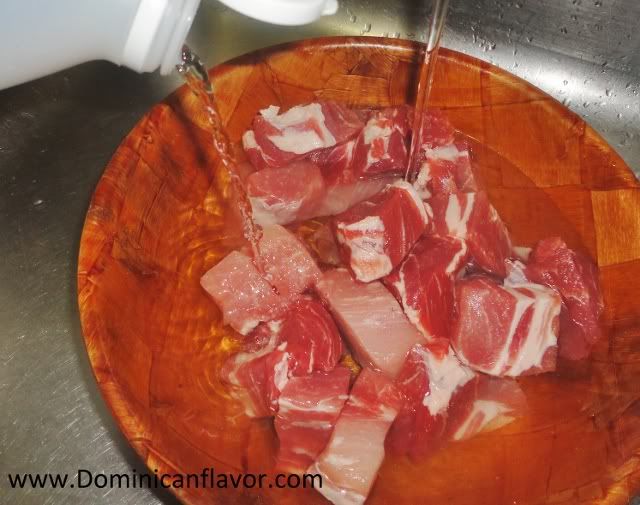 After letting it soak, give it a rinse with more fresh water and drain,
After cleaning the meat, put in a container to marinate.  I am partial to using ziploc bags because they can be washed and re-used, they also don't take up much space in the refrigerator.
To begin marinating the pork, add 1 tsp of salt,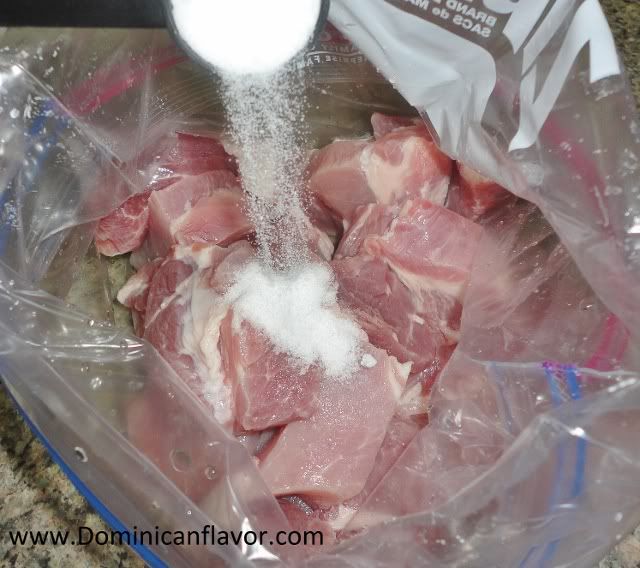 Then add the ground black pepper (freshly ground is better),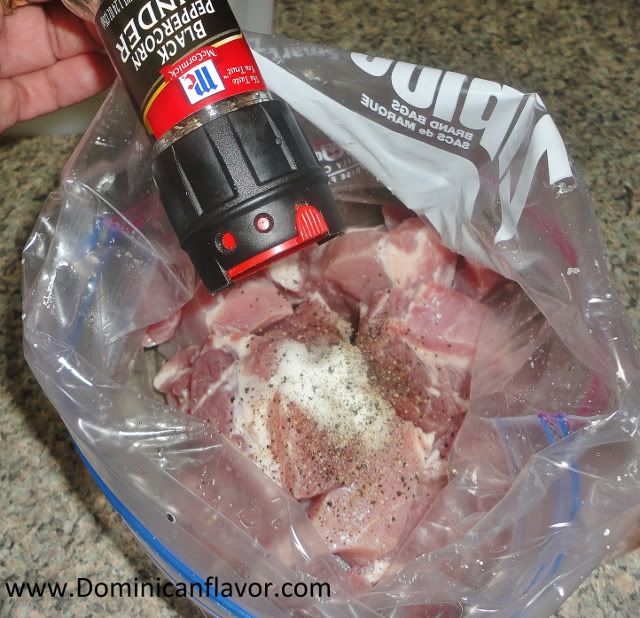 Then add the oregano (use Dominican oregano if you can find some 🙂 ),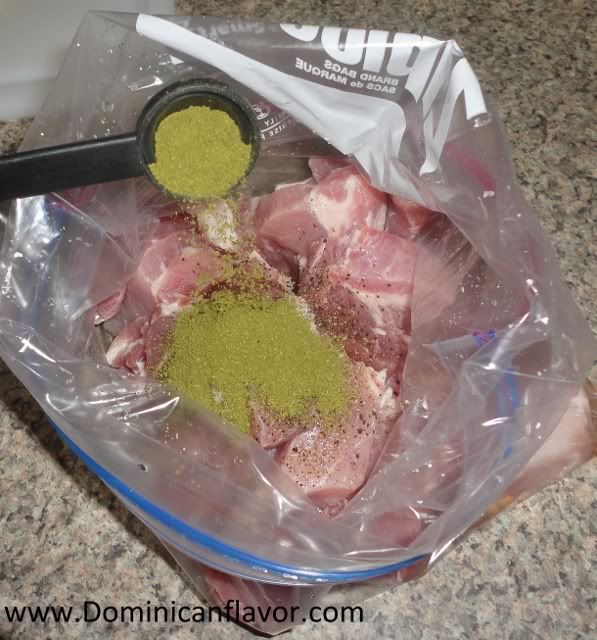 Then add the cumin, be careful in adding too much of this spice if you adjust the seasoning level.  It is very strong and a little goes a long way,
Take the onion and finely chop it, then add it to the pork,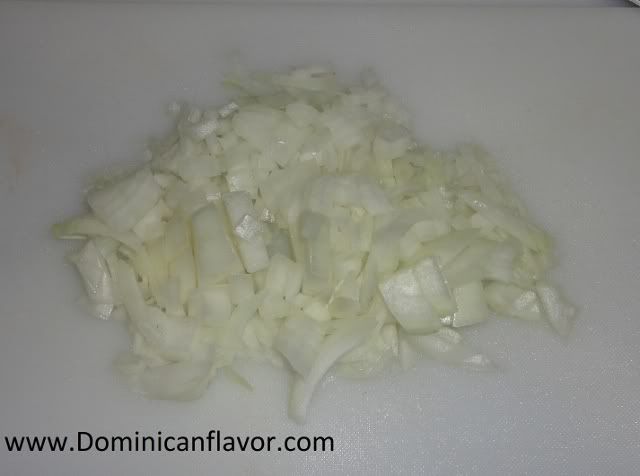 Finely chop or mash the garlic and add it as well,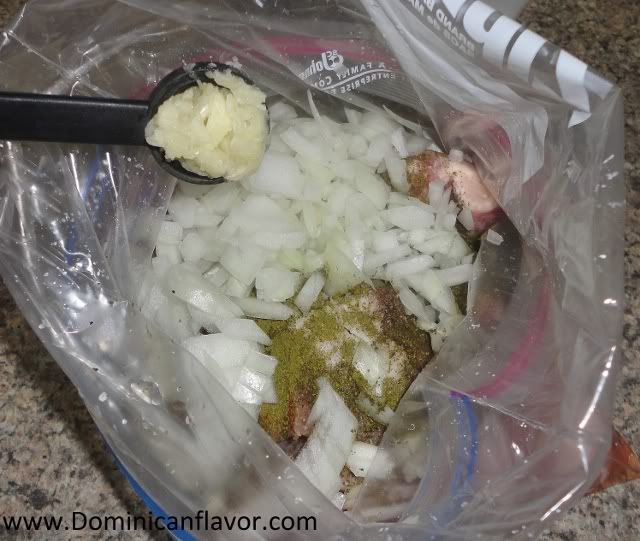 Finely chop 1/2 of a green bell pepper and 1/2 of a red bell pepper and add it to the pork.  You can add both of the entire bell peppers, but I find that adding half of each is perfect for this dish,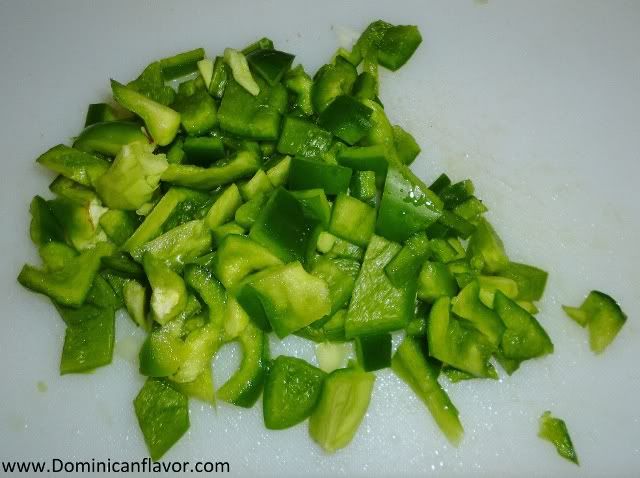 Squeeze the juice from limes on the pork,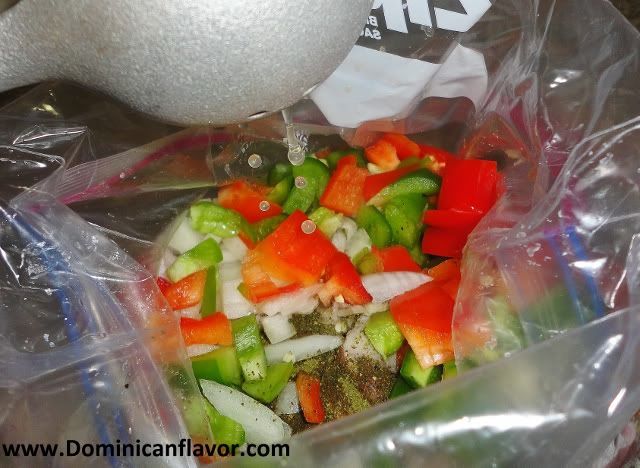 Add the achiote oil to give it some color, be careful not to get it on your clothes or counter-tops because it is very hard to wash off.  You may omit this ingredient if you'd like, I use it because it gives the dish a nice color.
Add the cilantro, you can chop it if you'd like, I usually just add it whole,
Then last but not least, add the white wine.  Make sure to use a white wine that you enjoy drinking, preferably one that is not dry.  I usually use Riesling because it's my favorite and I enjoy the sweetness.  Adding dry white wine will slightly change the flavor of the dish.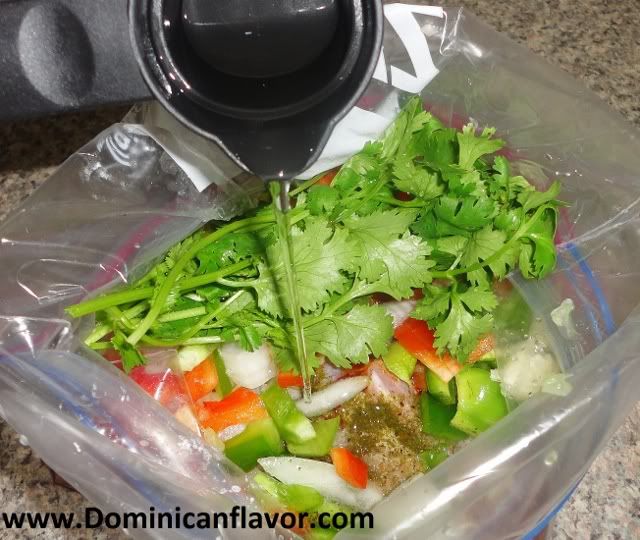 Then mix all of the ingredients together so that everything is incorporated and covering the meat,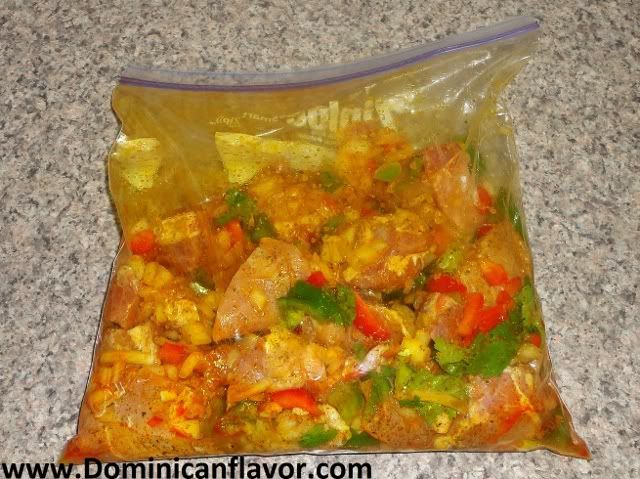 Let it marinate for a few hours, for best flavor put it in the fridge and let hang out overnight. 🙂
Now comes the fun part… Cooking time!! 🙂
Take the pork and separate it from the liquid, set them both aside.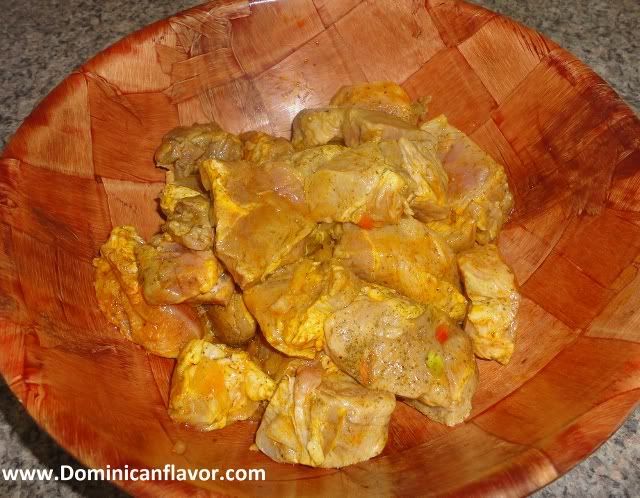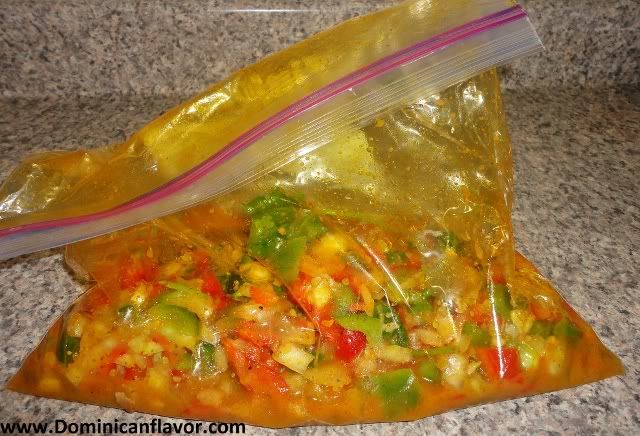 Before we start cooking the pork, I'm going to soak the eggplant in some salt water to help remove some of that bitter taste and extra seeds.  This is a method my mom taught me to prepare the eggplant.  If you like to taste the slight bitter tang from the eggplant, skip this step.
Take the eggplant, I like to buy the big dark purple ones,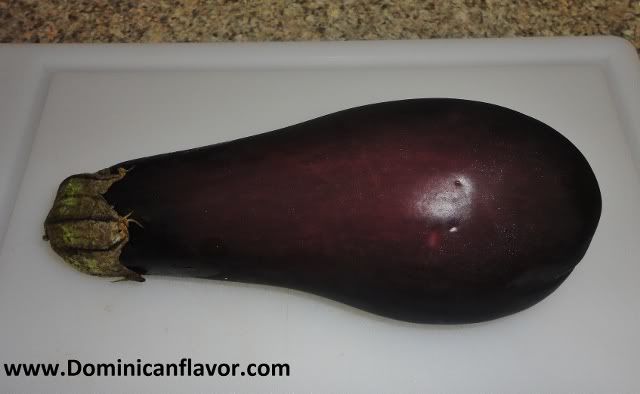 Peel it and then cut it into thick slices,
Then cut the slices into bite sized chunks,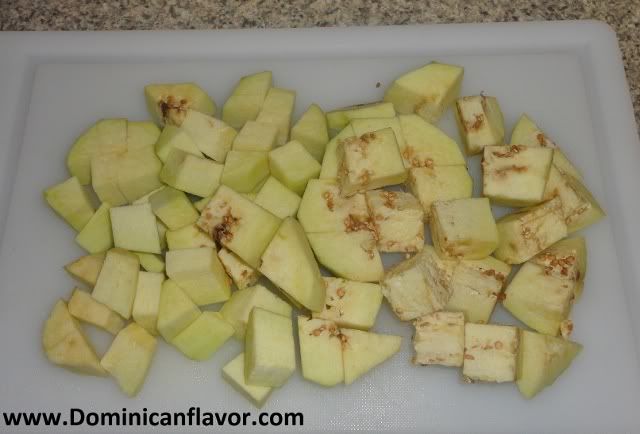 Add the eggplant chunks into a large bowl and add cool water to it,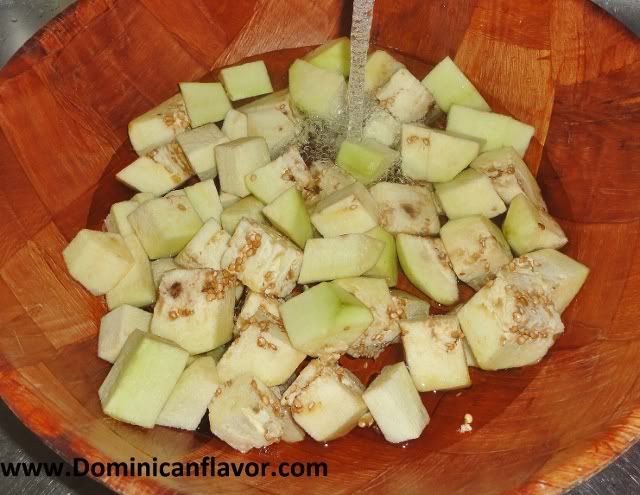 Then add a generous amount of salt, about 1 – 2 tablespoons,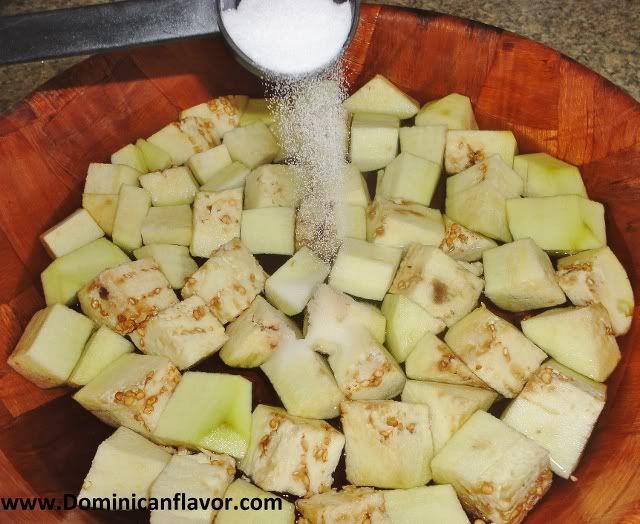 The eggplant chunks will float in the water, so I usually cover it with a large plate to make sure that they are submerged well in the water,
Set them aside for later use.
Now let's start cooking the pork. 🙂
Take a medium to large sized pot, put on high heat and add the vegetable oil and sugar,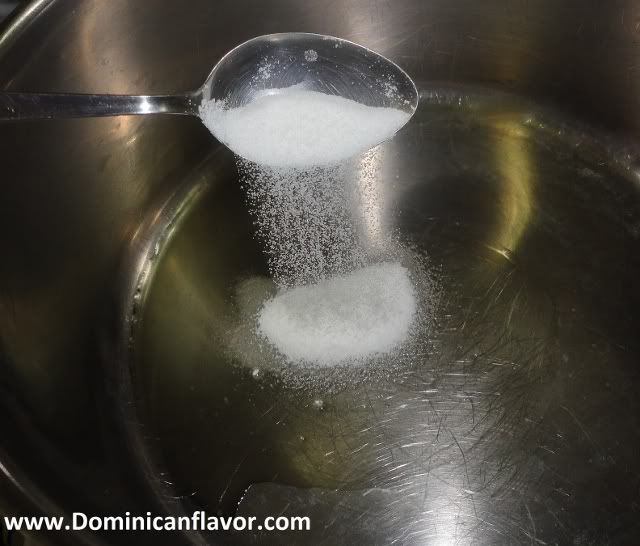 Let the sugar melt and caramelize,
Keep an eye on it because as when it starts to turn brown, it cooks very quickly,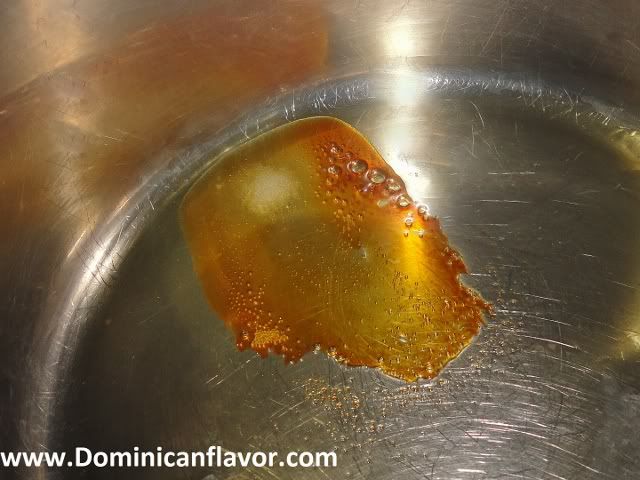 When the sugar is a deep dark brown color and starts to smoke, it's ready.  Be careful and don't let it burn and turn black, because if it does and you cook the dish with it will make the dish bitter.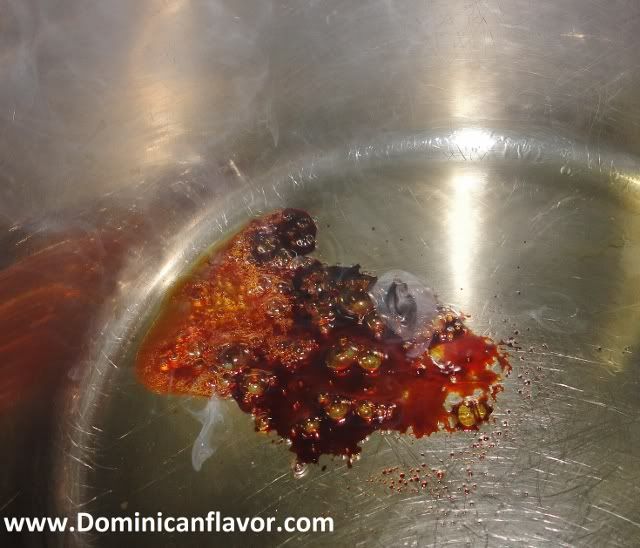 Add the meat to the pot.  You will hear a very loud sizzling noise which is normal, it doesn't mean that the meat is burning, it's just getting a good sear, do NOT stir it for a few minutes,
The meat will start to release some liquid and the sizzling noise will die down a bit.  Let it cook without stirring for about 5 – 7 minutes,
Then stir it,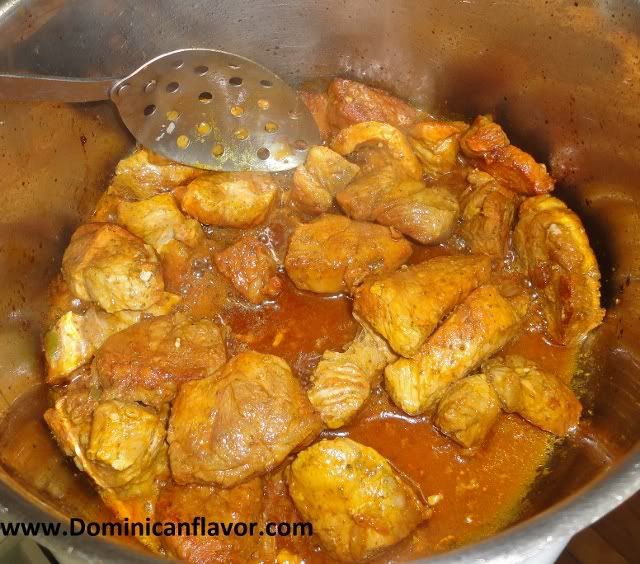 As it continues to cook the liquid will cook down, continue to stir every few minutes or so,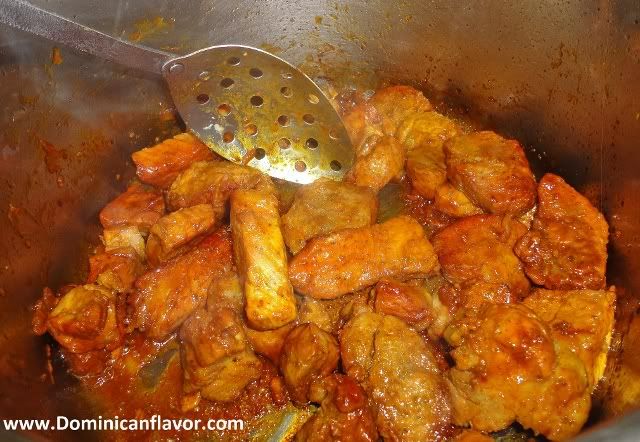 When most of the liquid has evaporated and the meat is sizzling in the oil (for me it usually takes about 20 – 25 minutes after adding the pork initially to the pan), let it continue to "fry" for a few minutes so that it develops more color and flavor, keep an eye on it so that it doesn't start to burn,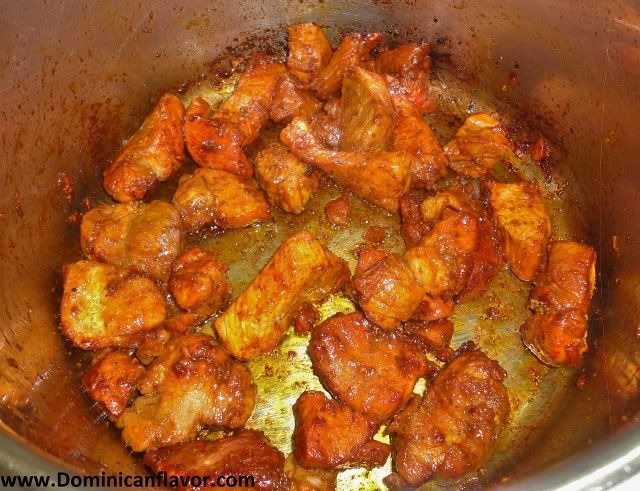 After the meat is nice and dark (after about 5 minute or so of "frying" in the oil in the pan), add the remaining marinade and stir,
Then take the eggplant that has been soaking and drain away the salt water.  You will notice that the water is somewhat dark (sorry no photo available for this step 🙁 ).  After draining, rinse the eggplant with plenty of fresh water,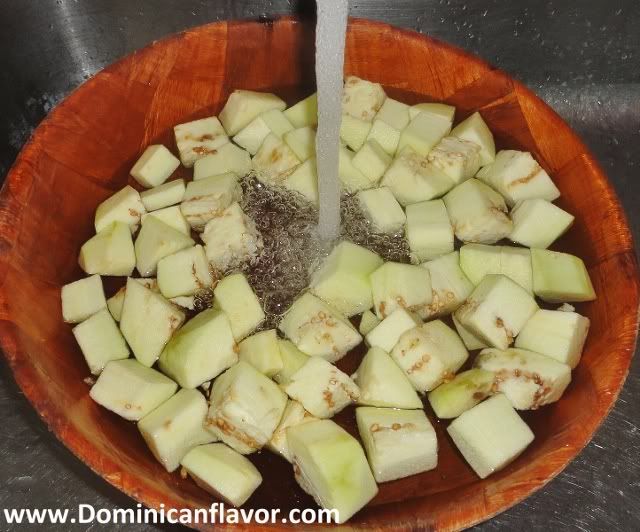 Make sure to drain the eggplant well, then add them to the pork and stir,
After stirring, cover the pot and turn the heat down to a medium temperature and let it cook without uncovering for about 10 minutes,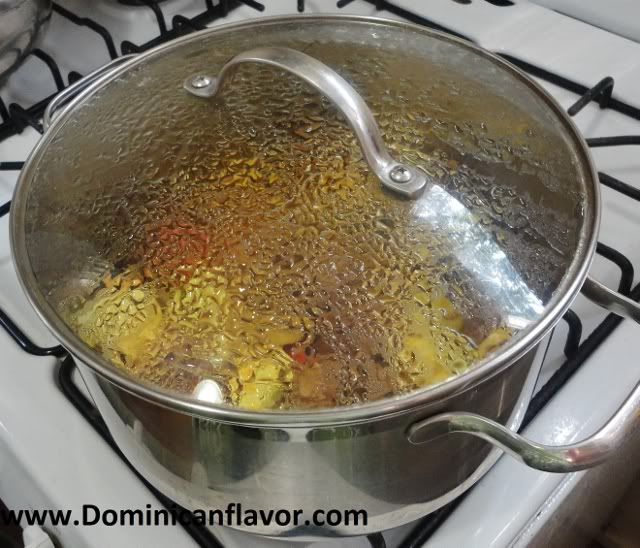 After 10 minutes, uncover and stir, then cover and let it cook for another 5 – 10 minutes.
Let it continue to cook down until the eggplant is very tender and falls apart easily.  It usually takes about 15 – 20 minutes after adding it to the pork.
At this point you can give it a taste and adjust the seasoning to your liking.   Once it's ready, turn the heat off or put it on the lowest temperature and keep it covered so it doesn't dry out until you are ready to serve it.
I recommend you serve it with a side of white rice and beans, yum! 🙂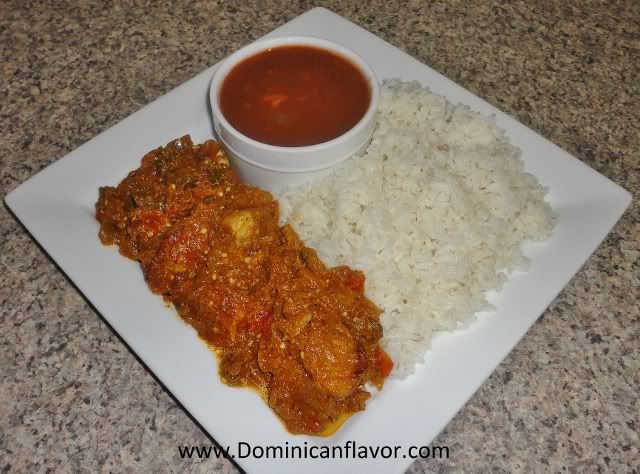 But as always, you can serve it with whatever side dish you prefer! 😉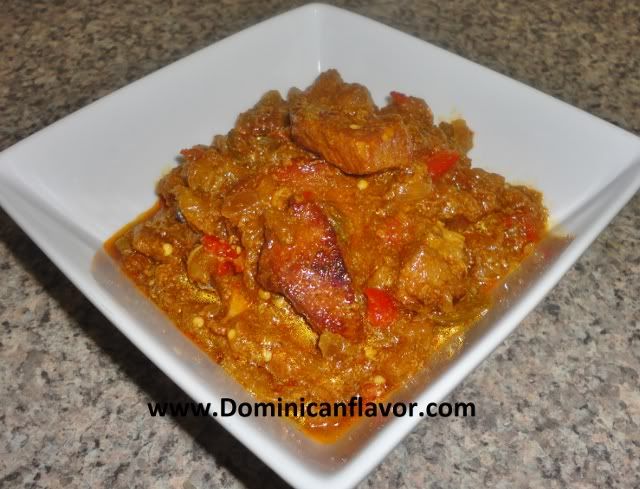 Buen Provecho! 😉