"Pollo Guisado" is without a doubt one of the staple meat dishes of Dominican Republic.  It is an integral part of "La Bandera" and it's super tasty when cooked right.
Whenever I travel back to the Dominican, I eat alot of this dish since it is cooked in the average household 2 – 3 times a week  (ok I'm making this fact up, but seriously, everywhere I go, it's usually what's for lunch) and it's really delicious when made with fresh chicken and local ingredients.
This is a constant item that I make at home and I promise you this recipe will be packed with delicious flavor and be very easy to make.  Just remember not to stir the chicken constantly while it's cooking so it doesn't break apart.  That was a mistake I made often when I was learning how to make pollo guisado because I always worried that the chicken was going to burn.  I promise, it wont if you follow these easy instructions. 🙂
To make this dish you will need the following ingredients:
1 4-5 lbs Whole Chicken (may use 4 to 5 lbs of the cut you prefer if you don't want to use the whole chicken)
3 Garlic Cloves
1 Green Bell Pepper
1/2 Cup fresh Cilantro
2 Celery Stalks
1 Small Onion
2 tbsp Spanish Green Olives
1 tsp Salt
1/2 tsp Black Pepper
1 tbsp Oregano
3 tbsp Worcestershire sauce (may substitute with 1/4 cup vino tinto or a red sweet wine (I usually use manischewitz wine))
1 tbsp Achiote Oil (optional)
1 lime
2 tbsp white sugar
2 tbsp vegetable oil
1/2 Cup Vinegar
I prefer to use a whole chicken because I like the trinkets (especially the gizzards) that come with it.  Also, it's usually less expensive then getting pre-cut chicken (usually $2 – $3 less, it doesn't seem like alot but when you are grocery shopping those few dollars add up).  It only takes a few minutes to cut it up and if you've never done this before, you can check out my post on how to cut up a whole chicken (como picar un pollo entero).
First, cut the chicken (unless you buy it pre-cut), removing the skin if desired from the individual pieces.   I use every piece, including the neck, gizzards, liver and heart.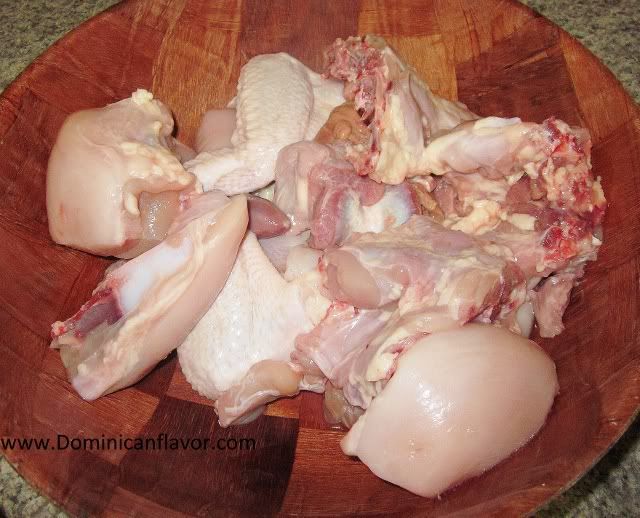 Once the chicken is cut, add to a bowl and pour the vinegar over the chicken and
add some water, let soak for a few minutes. (you may use limes, but I use vinegar because it's cheaper and just as effective 🙂 )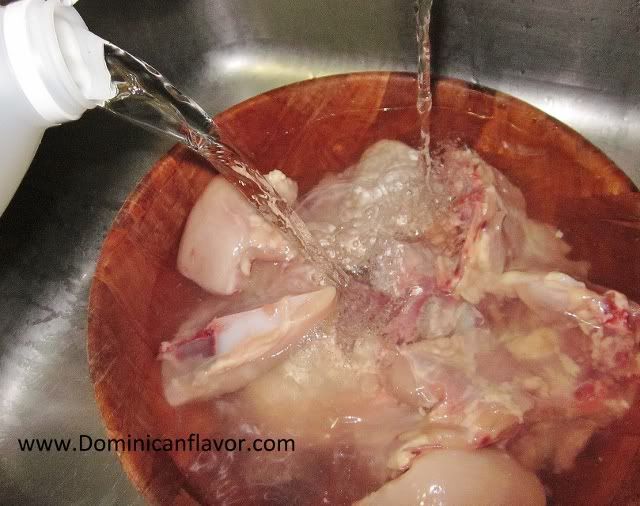 Drain then rinse the chicken with more fresh water.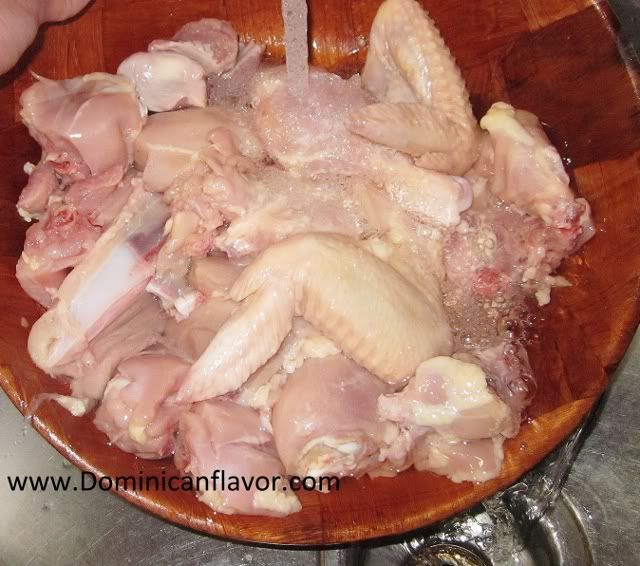 Once the chicken is rinsed and drained, put in a container to season it.  I usually season my chicken the night before and use a large ziploc bag since it takes up less space in the refrigerator.
To season the chicken, add some salt (1 tsp usually works perfectly but you can always adjust the level to your liking),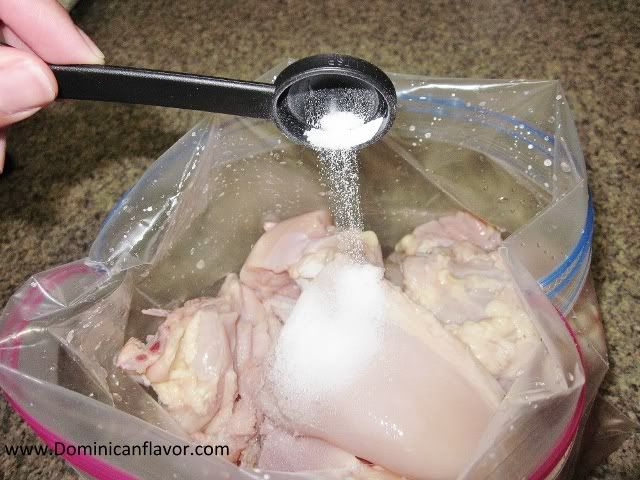 Then add some black pepper,
Add the oregano (use good quality oregano for best flavor, I usually use Dominican oregano),
Worcestershire sauce is not a Dominican ingredient, I used to use "vino tinto" which is a sweet red wine from Dominican Republic that can be found here now, but it is very expensive.  If you prefer to use vino tinto, a good substitute is manischewitz wine which can be found very easily in the liquor stores and is very inexpensive.
But let me tell you, this sauce can be easily found in supermarkets and it gives the chicken a punch of flavor.  I love it and use it in many of my recipes.
Now to continue with our marinade, add the worcestershire sauce to the chicken,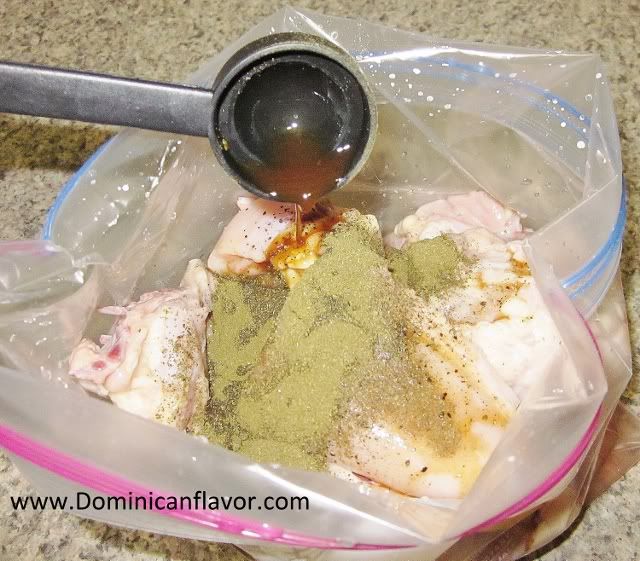 Then add the achiote oil.  I usually add this to give the chicken some color, but it may be omitted (some cooks prefer to use tomato paste to give their pollo guisado more color).
Keep in mind, when using this oil, be very careful to get it on your hands, clothes or counter-tops because it stains very easily.  A little goes a LONG way.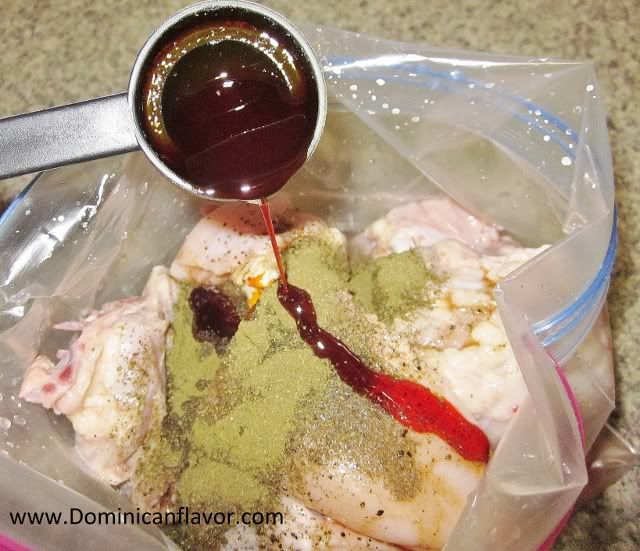 Finely chop or mash the garlic, add it to the chicken,
Add some Spanish olives, I prefer to use the ones that don't have a pit in them,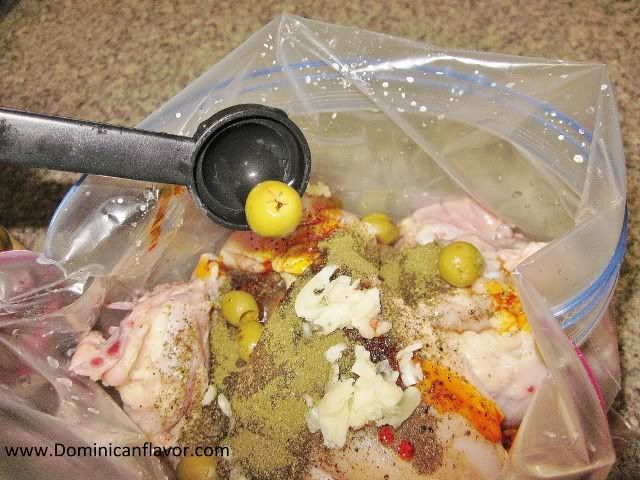 Add the lime juice,
Finely chop the onion (may subtitute and use 1 tbsp of onion powder) and add it to the chicken,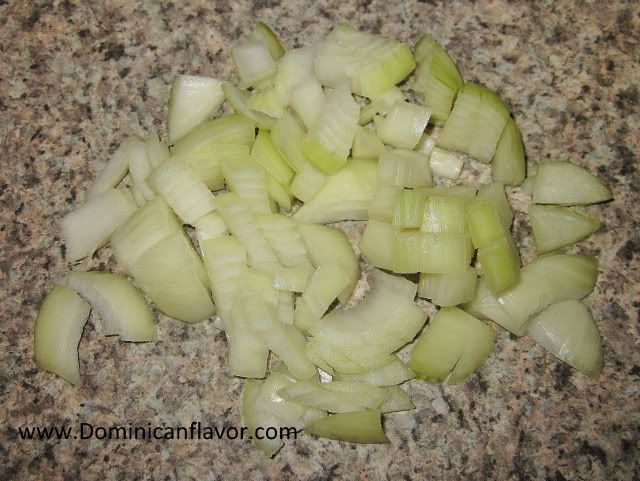 Finely chop the peppers (may leave in big pieces if you prefer) and add it to the chicken,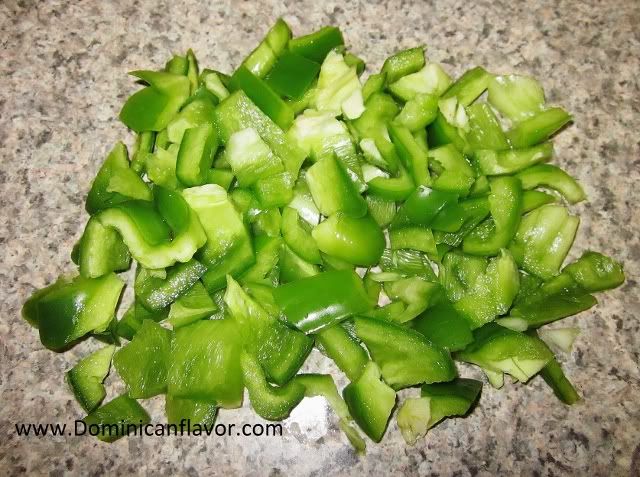 And last but NOT least, add the cilantro, may add whole (as I do) or add it chopped,
Mix well to incorporate all of the ingredients well, then let marinate for atleast an hour.  I usually marinate the night before for better flavor.
Now comes the fun part!  Cooking time!! 🙂
Take a pot (or caldero) and add the vegetable oil (make sure to add it in the center) and the sugar, put on high heat.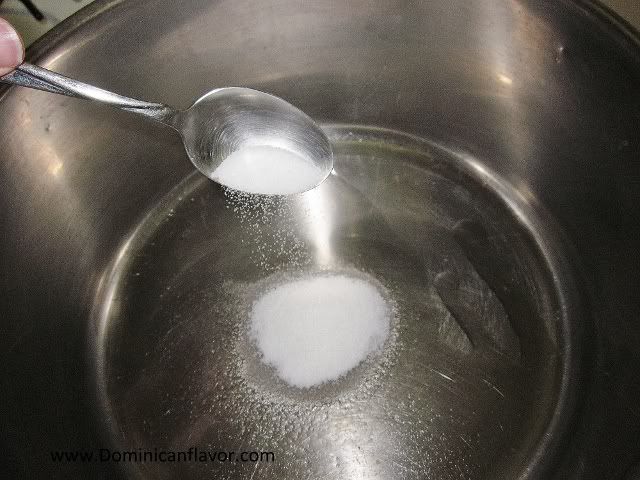 While the sugar is melting, take the chicken and separate it form the liquid in the marinade.  I usually just put it on a big plate.
Save the liver for last, set it aside, if you add it in the beginning, it will overcook and dissolve into the sauce.  If you like this part of the chicken, save it for last so it stays whole.
Do NOT discard the marinade, it will be used later on.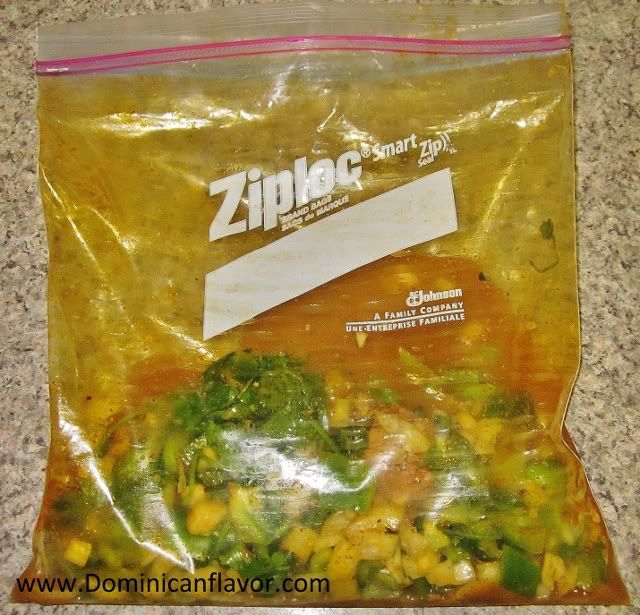 Watch the sugar closely as it melts.
It will start to caramelize quickly,
You want it to turn into a dark brown color (NOT BLACK, it will turn bitter if it turns black).  I know it's ready when it starts to smoke.  When this happens work quickly,
Add the chicken, use some tongs or a long spoon because when you add the thicken to the hot oil it will start to splatter and make a LOUD sizzling noise.  That is normal, don't worry the chicken is not burning. 🙂  It's just getting some good color and developing great flavor.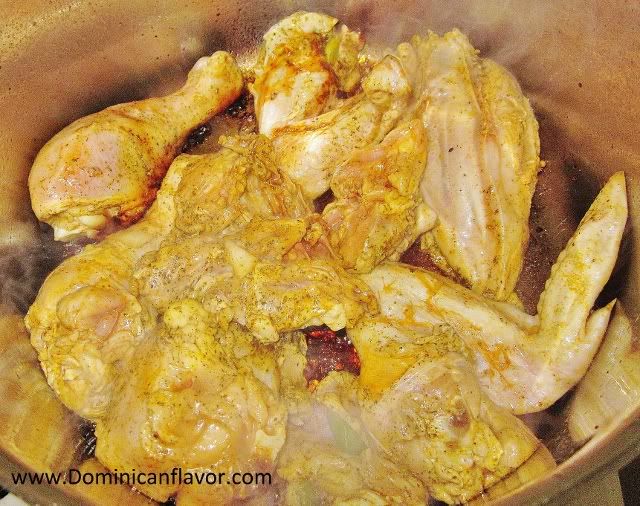 Once the chicken is in the pot, DO NOT STIR for about 10 – 15 minutes.  The chicken will begin to sweat its juices.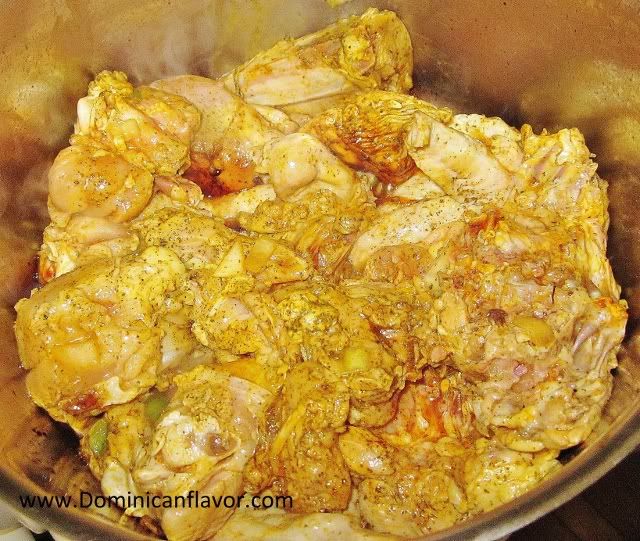 At this point, I usually lightly cover the pot and let it cook for about 15 minutes without stirring,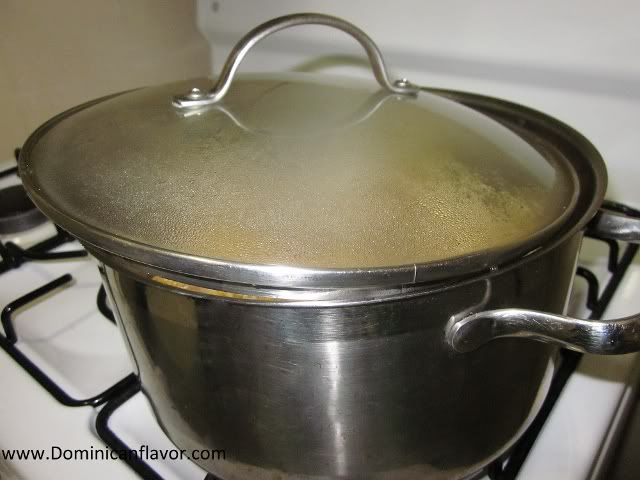 After about 15 minutes, the chicken will be bubbling away in it's juices,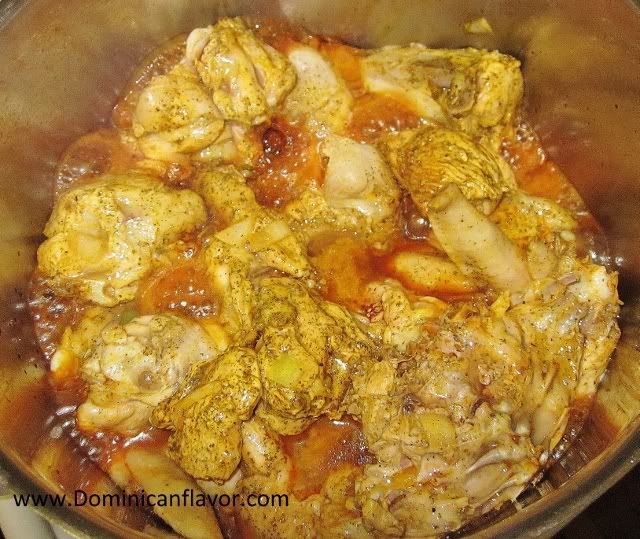 Now gently flip the pieces to get good color on the other side,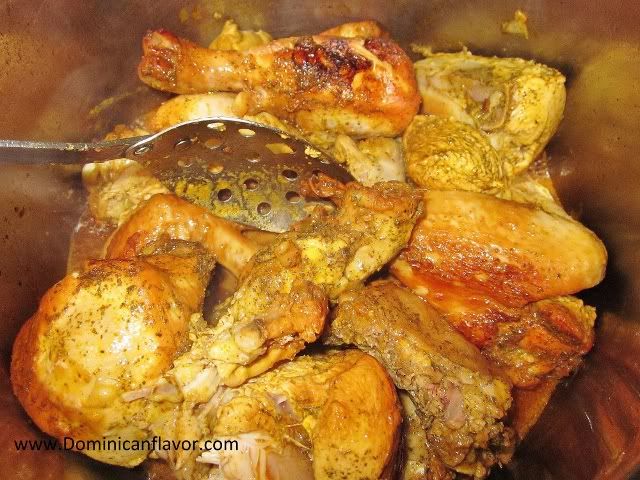 Once all of the pieces are flipped,
Cover the pot lightly and let it cook for about 30 minutes.  After flipping the chicken it usually takes about 25 – 30 minutes for the liquid to evaporate.  Keep an eye on it, when you see that the chicken is sizzling and "frying" in the thick dark brown oil (since the liquid has evaporated),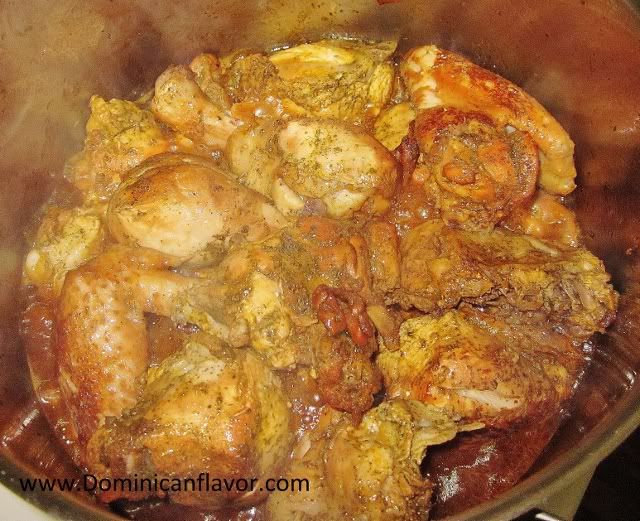 Add the the marinade, if it seems a little dry, add a little bit of water (1/2 – 1 cup)
Very GENTLY stir the marinade and incorporate it with the chicken.  Just move the chicken around to get the vegetables in the broth.  If you over stir the chicken it will start to break apart.
Take the celery stalks and cut them into big pieces, then add to the pot as well,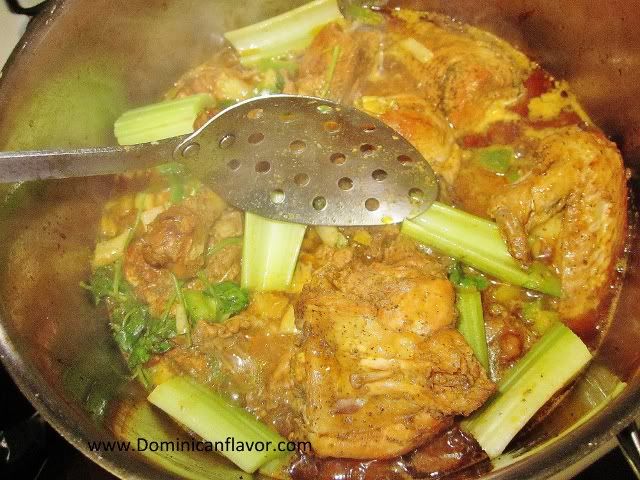 Lightly cover again and let it simmer for about 15 minutes, then add the liver, I usually just nest it in a corner to not stir the chicken, turn the heat down to medium to medium high heat,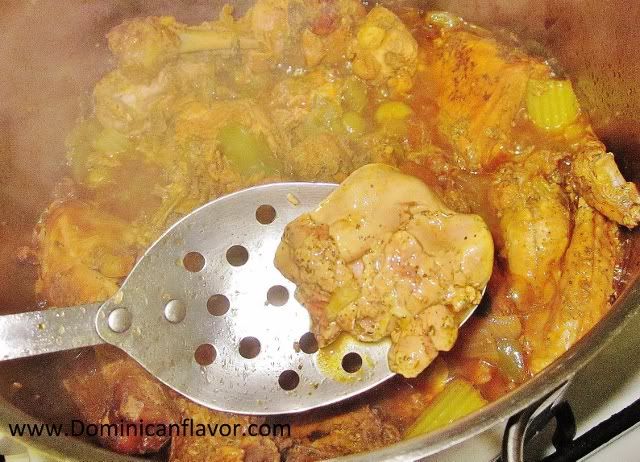 Lightly cover and let it cook until the sauce is thick, the chicken is tender and golden, in my stove it usually takes about 25 minutes after adding the liver and slightly lowering the heat,
Note, the chicken releases some fat, you may remove it by picking it out with a spoon if you prefer.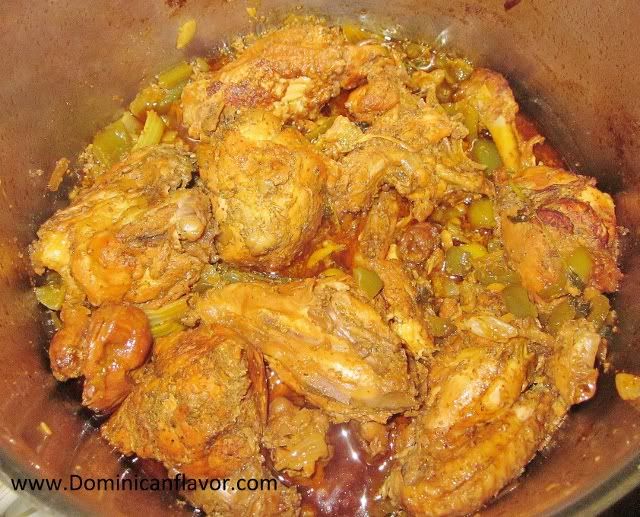 Once it's cooked, put the heat on low until you're ready to serve it.
Recommend to pair it with the classic sides of white rice and stewed beans.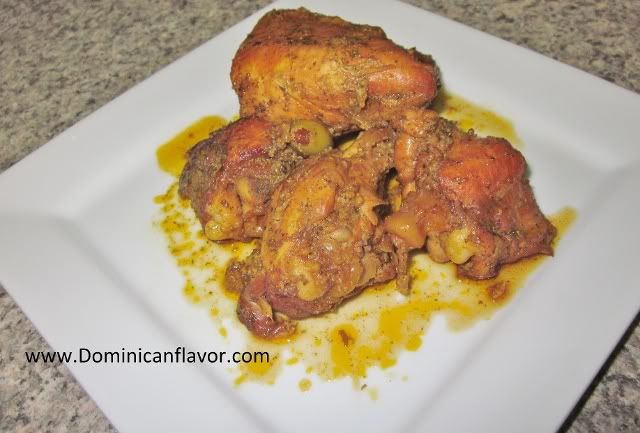 Buen Provecho! 😉