Making a pork roast is a great alternative to making a roasted pork leg (pernil horneado) with the bone in, since it cooks faster.  This roast is packed with alot of flavor and it always comes out really tender and juicy.  It's one of my go to (and most requested) menu items when I have dinner parties in my home and it goes so well with a nice side of moro (rice with beans in it) or any vegetable dish.
Before we start, I highly recommend you invest in a meat thermometer if you don't already have one!  Mine cost like $3 in Walmart and it was one of the best kitchen tools I have invested in.  Whenever you are in doubt if your meat is cooked through, just use this gadget and check the internal temperature (160 is safe temp).  It's also a good way to ensure you don't overcook your meat to the point that it gets dry and tough.  GET ONE, it is worth it! 🙂
To make this recipe you will need the following ingredients:
1 2.5 – 3 lb Boneless Pork Roast
1 tsp Oregano
1/2 tsp Black Pepper
1/2 tsp Onion Powder
1 tsp Salt
2 Limes
3 Garlic Cloves
2 tbsp Worcestershire sauce
1/2 cup Fresh Cilantro
1 Habanero Chile (aji gustoso)
2 tbsp Olive Oil (may use vegetable oil instead)
1/2 cup of vinegar (optional)
First, make sure your roast doesn't have a thick layer of fat.  If it has some fat that's ok because it will melt away while it's roasting.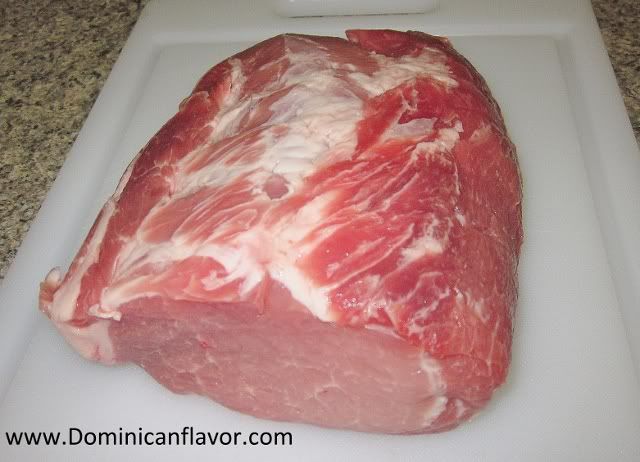 Let's give the pork a good rinse by putting it in a big bowl and adding the vinegar and some water to let it soak for a few minutes.
After letting the pork soak for a few minutes (5 is fine), give it a good rinse with fresh water,
Once the pork is clean, transfer it to a container to marinate it.  I like to use a ziploc bag because it takes up less space in the fridge.  If you opt to use a different container, I suggest to combine all of the ingredients into a small bowl then rub it on the pork and let it marinate covered for a few hours.
Since I'm opting to use a ziploc bag, first add the salt,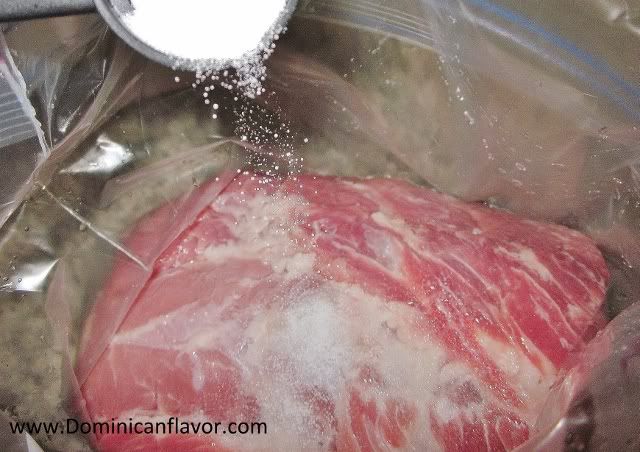 Then add some black pepper,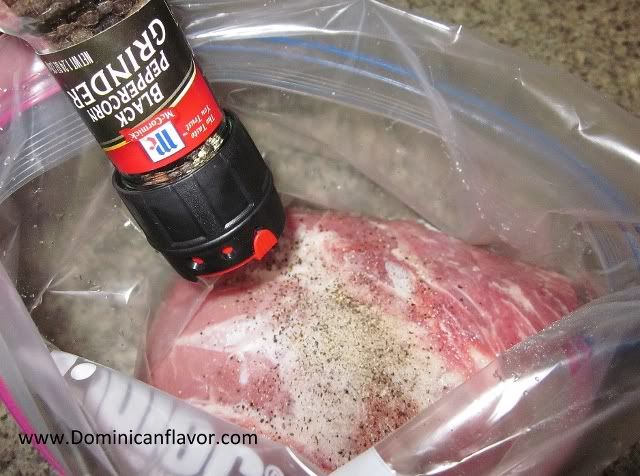 Add the oregano, use good quality oregano (I am partial to Dominican oregano),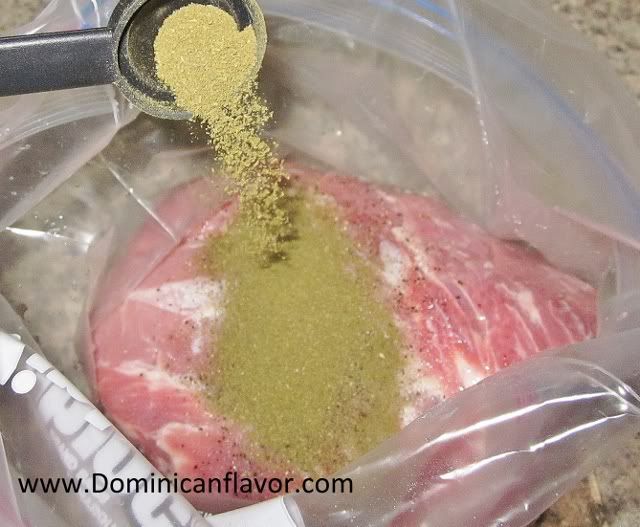 Add the worcestershire sauce,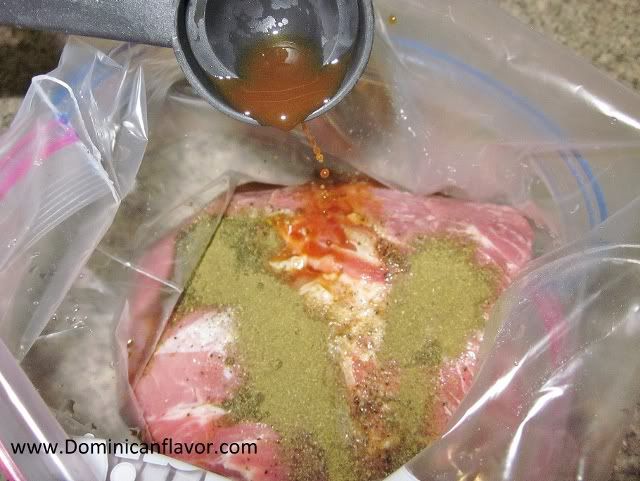 Mash (or chop) the garlic, then add it to the pork,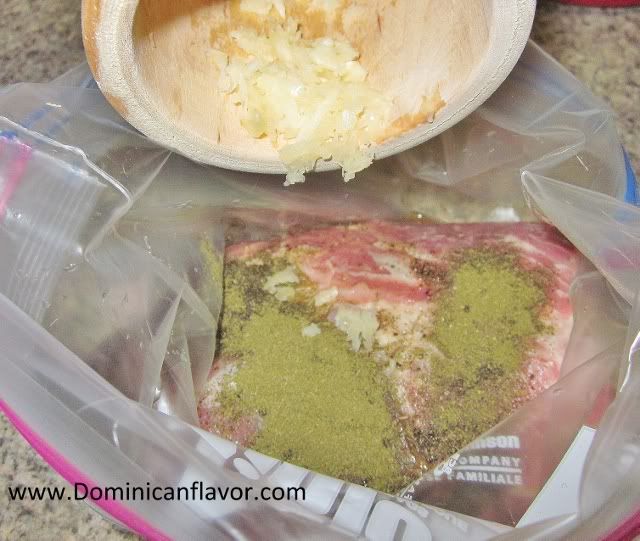 I love using habanero chiles (aji gustoso) in many of my recipes.  They are flavorful and also give the dish little spice without making it hot.  Just be careful and make sure to get a green one, the red ones are VERY HOT.
Make sure to remove all of the seeds, then give it a nice chop and add it to the pork,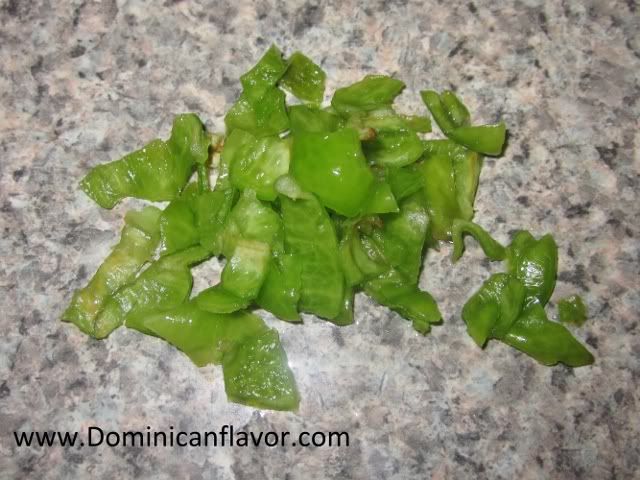 Squeeze the lime juice over the pork,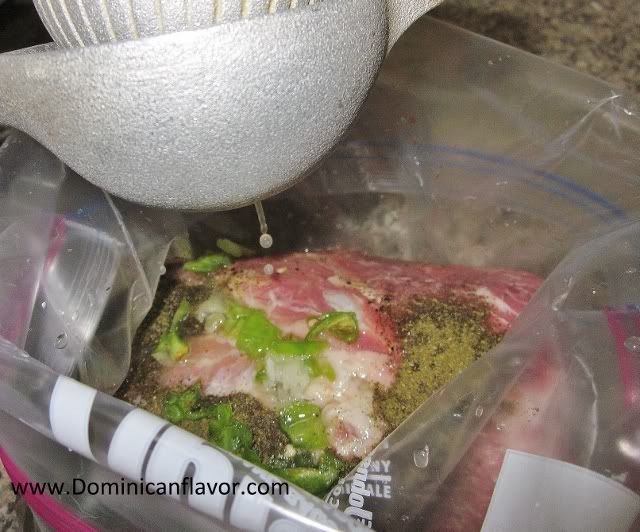 Then add some onion powder (you may use a fresh onion if you prefer, but the powder works really well in this marinade),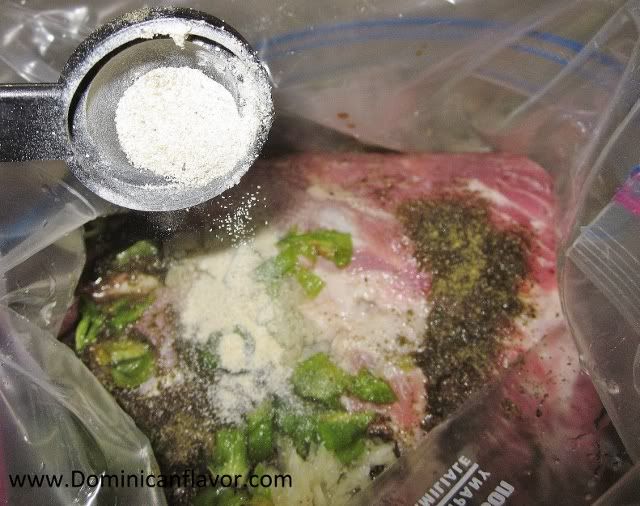 Then last but not least, add some cilantro (dried cilantro also works well in this dish, about 1 tbsp works),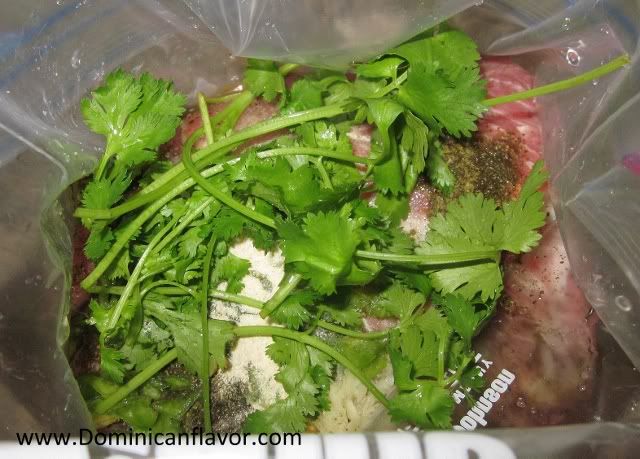 After adding all of the ingredients, close the bag and make sure to incorporate everything thoroughly.  Put it in the fridge and let it marinate for atleast 4 hours.  Preferably overnight.
Before cooking, preheat the oven to 350 degrees and prepare a large baking dish by lining it with aluminum foil..
Separate the pork from the marinade (set aside the left over liquid and save for later) and let it hang out at room temperature for a few minutes.  In the meantime, take a large skillet and add the olive oil to it (may use vegetable oil if you prefer), rotate the pan to coat the bottom and put it on high heat.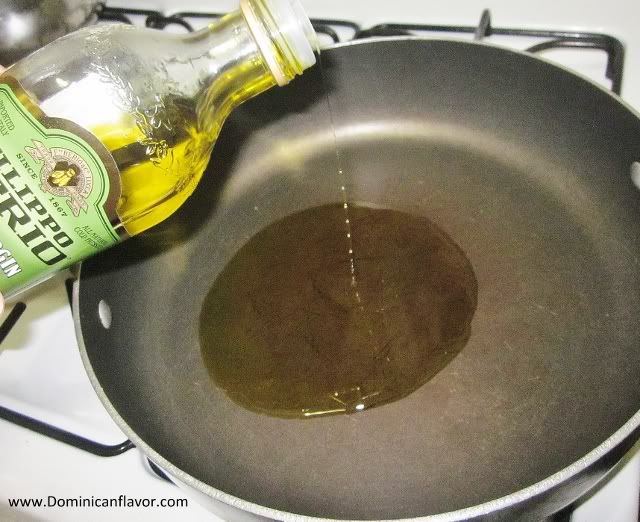 Once the oil get's hot, add the pork, the side with most fat down,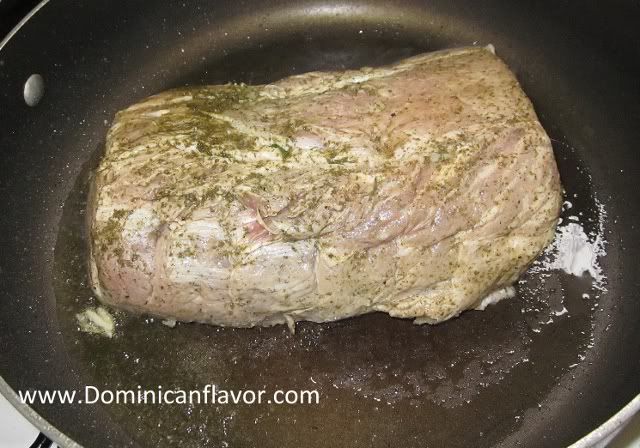 Let it sear for about 5 minutes, until it starts to form a golden crust, then flip the pork and let the other side sear for about the same amount of time.
Searing it creates a crust that seals the juices in.  Starting to look delicious uh? 😉  Make sure to sear both ends.  To do this, hold the pork with tongs (easiest way I've found to do this),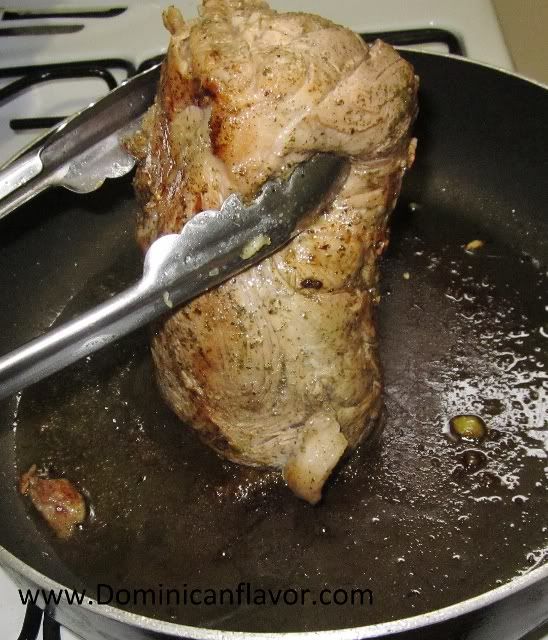 The ends sear much quicker, usually only takes 1 – 2 minutes each side,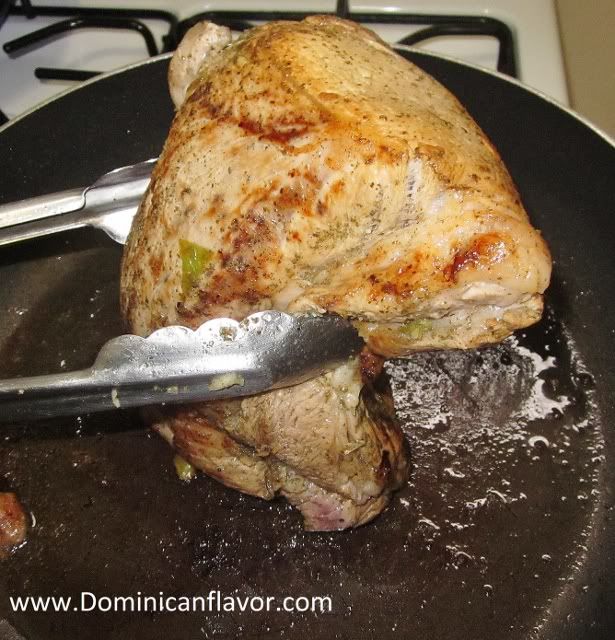 Once all sides are seared, transfer to the aluminum lined baking dish (I highly recommend you do this, it will make cleanup easier).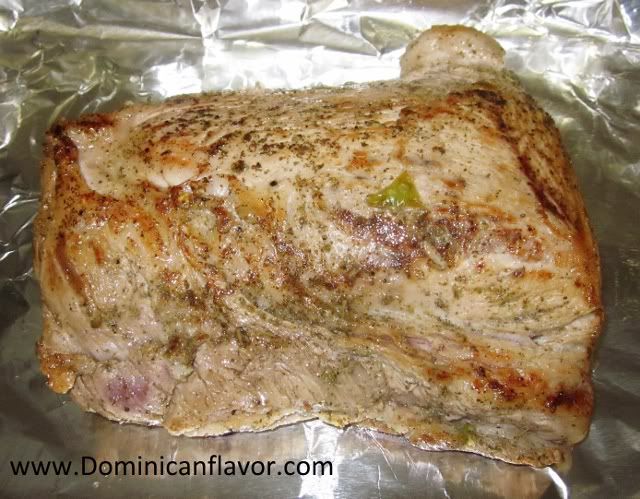 Turn the heat off and save the pan drippings for later use! 🙂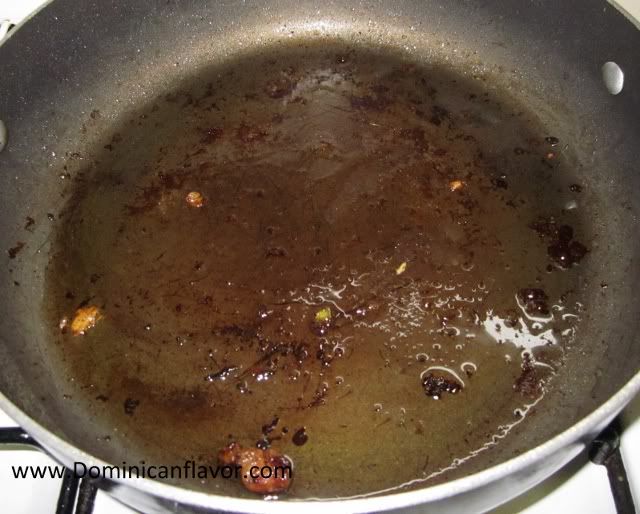 Then transfer to the preheated oven and let it cook uncovered for 1 hour and 15 minutes.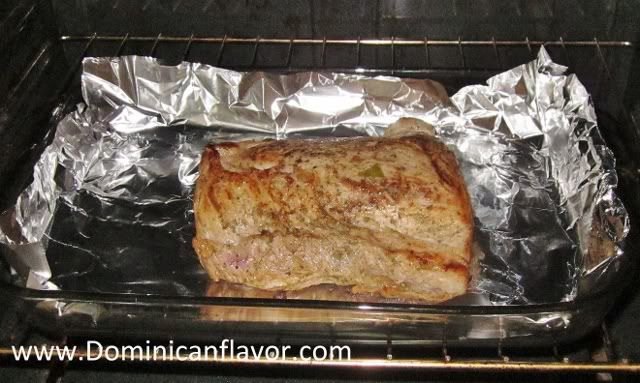 After 1 hour and 15 minutes, take the pork out of the oven and poke the center with a meat thermometer, the temperature should read 160 degrees, then it will be ready! 🙂 If it's less than that, put it back in the oven and let it cook for another 10 – 15 minutes.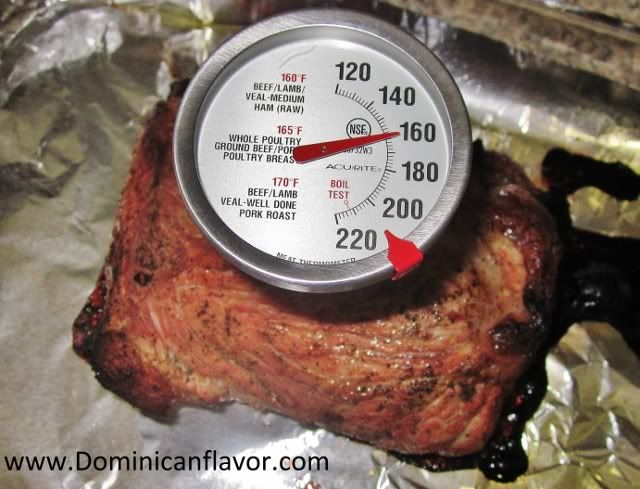 When it's ready, set it aside for 15 minutes without cutting it. (very important to let the meat rest).  May lightly cover it with foil while letting it rest, or just let it rest uncovered.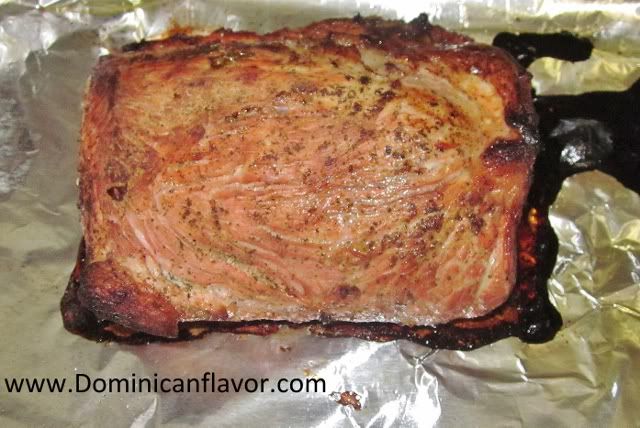 While the pork is resting, take the skillet with the pan drippings and turn the heat on medium high then add the left over marinade, use a spatula or wooden spoon to pick up the caramelized drippings and mix with the marinade,
Let it come up to a boil and cook down until it's reduced to a thick sauce (about 7 – 10 minutes),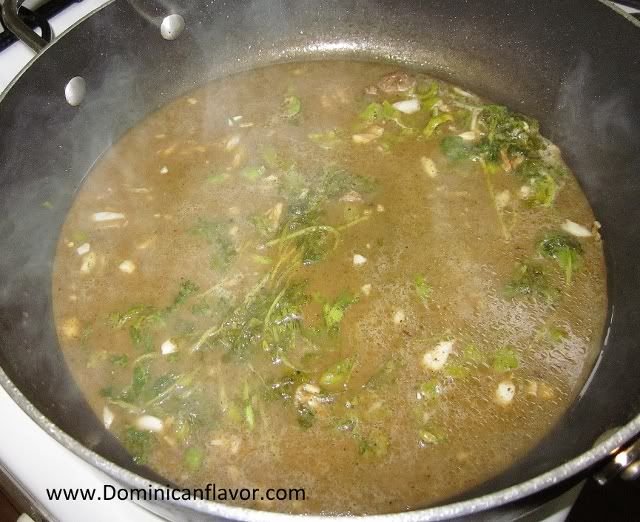 Once the sauce is reduced turn the heat off and set aside.  If you do a taste test, the sauce will have a very STRONG flavor, but trust me, it will work great with the pork!
At this point, the roast is rested and ready to be sliced,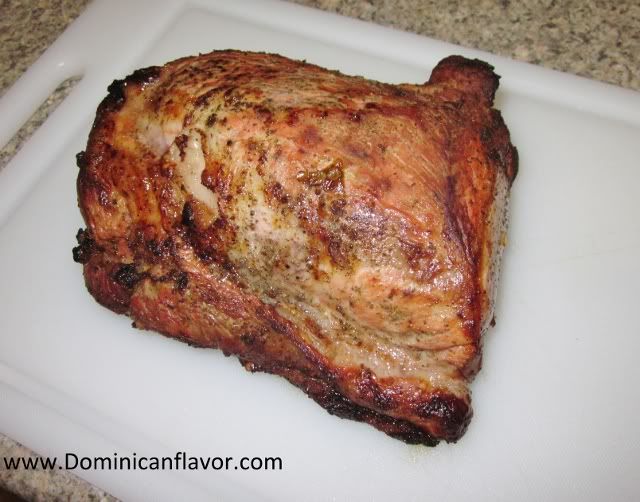 I suggest you put it on a clean cutting board, then take a sharp carving knife and cut it into thick slices (you may cut thin slices if you prefer),
If the pork was undercooked, it would be oozing a dark pink liquid and be reddish dark pink in the middle.  When it's light pink/whitish color and the liquid is translucent, you know it's fully cooked.
Once it's all sliced, transfer to a serving platter then spoon the sauce over the pork,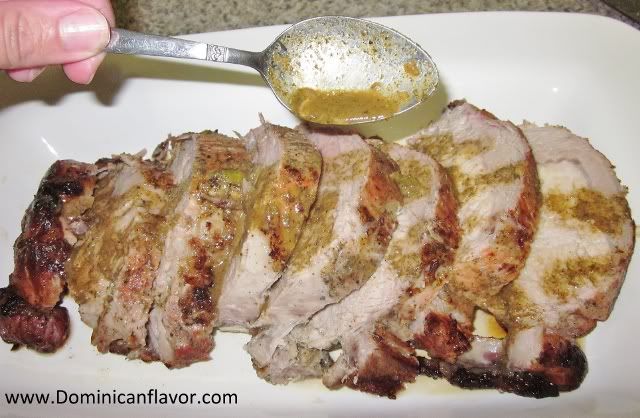 See how delicious and juicy the pork looks? 😉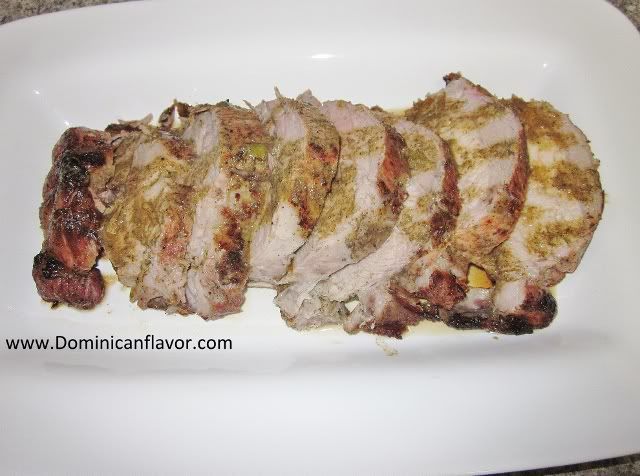 Serve nice and warm with a side of your choice!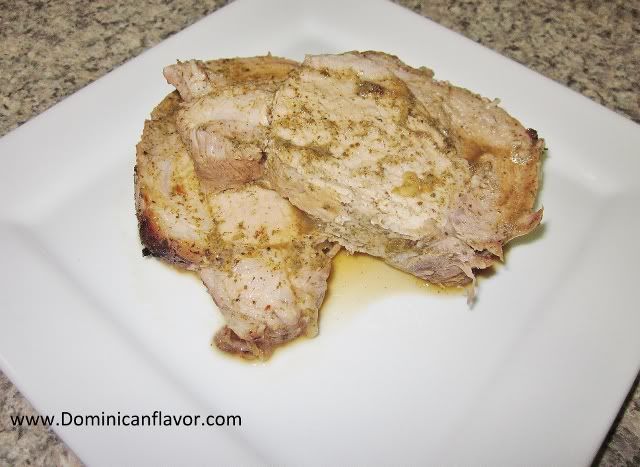 Buen Provecho! 😉