This is one of my all time favorite egg dishes!  My mom used to make them for me on the weekends for breakfast when I was little and I always preferred them over pancakes or any other kind of breakfast food.  These eggs are really delicious and can be made for any meal of the day.  When I first made them for my husband, he had never tried them before, but after tasting them, he loved them so much, that I now cook this dish for him atleast once or twice a month (he loves them with rice and beans).  It is very convenient since you don't have to defrost meat (if you're like me, most of my meat if frozen and I usually pull it out the day before I season it to start defrosting it), it also affordable since a carton of eggs usually costs less than $3 and a couple of pounds of meat (depending the type) can cost double that or more.
To make this dish, you will need the following ingredients:
8 Large eggs
1 Red bell pepper
1 Green bell pepper
1 large onion (yellow or red)
10 cilantro sprigs (approx 1 cup chopped)
2 cloves of garlic
3 tbsp of tomato paste
1/2 tsp Salt
1/4 tsp Pepper
3 tbsp of oil
2 Cups of water
Vegetable Oil (to fry the eggs first)
2 tbsp Parmesan Cheese (optional)
First, we are going to make a nice escabeche with the vegetables.  Add about 3 tbsp of oil (I prefer to use olive oil) to a medium to large sized skillet and put the heat on medium high.
Chop the garlic and add to the oil while it's warming.
Julienne chop the onions and add to the garlic (make sure garlic doesn't burn or it will be bitter and inedible), stir.
Slice  the peppers and add to the skillet and stir some more.
Let the onions and peppers cook for a minute, then add the tomato paste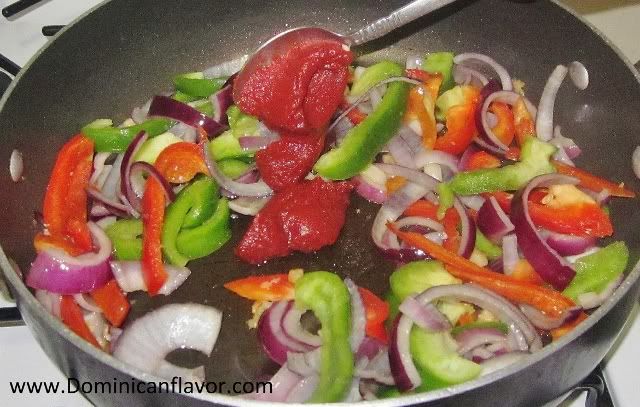 Add 2 cups of water, disolve the tomato paste and then add some salt and pepper to taste.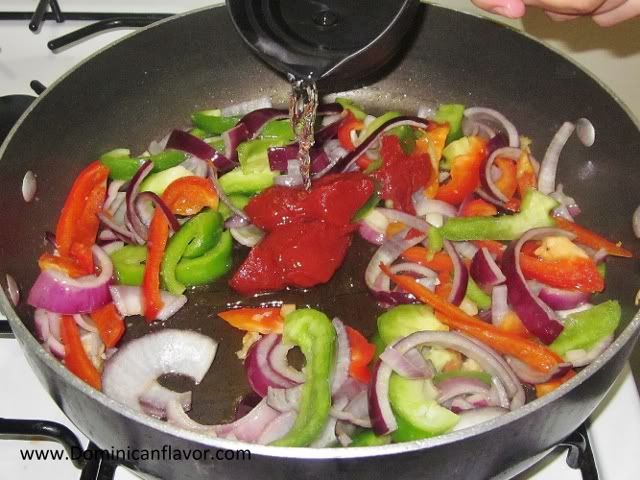 Cover and let simmer for 8 – 10 minutes on medium heat.
After letting it simmer, chop the cilantro, add it to the escabeche , stir and cover again, bring heat to low and let it hang out while you fry the eggs.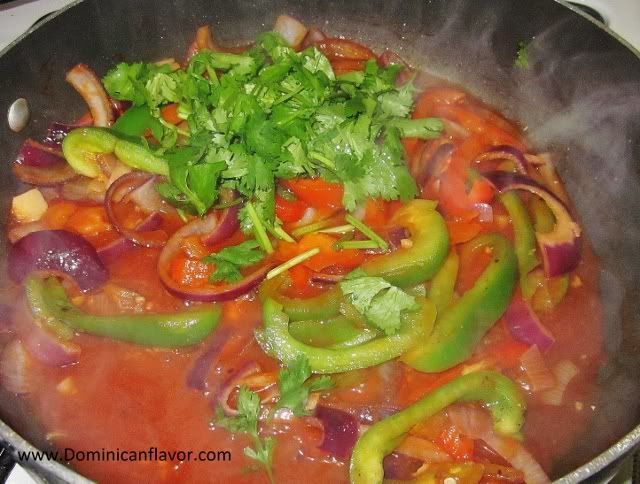 To fry the eggs, in a medium sized pot, add enough vegetable oil to coat the bottom of the pan about an 1/8 of an inch.  Put heat on medium high,
Once oil is hot, crack an egg in a small bowl (I prefer to crack it into a bowl instead of directly into the oil to avoid getting splattered and burned),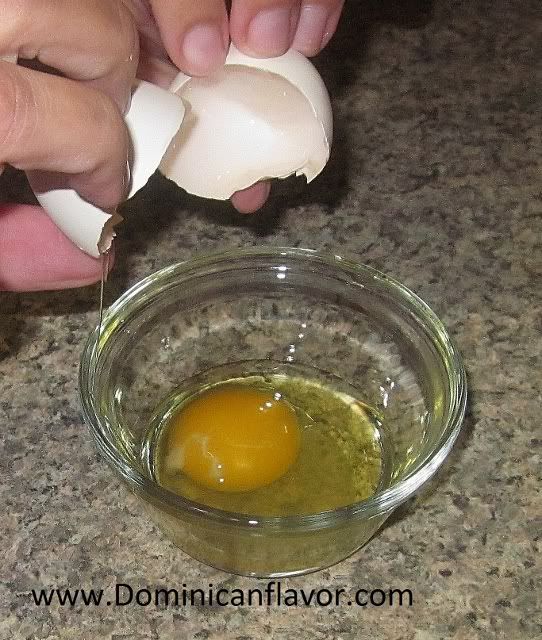 Carefully, add the egg carefully to the oil.
Egg will fry rapidly, keep an eye on it to avoid burning, if it starts to splatter alot of oil, lightly (not fully to avoid steaming) cover the pot until the splattering settles (don't add anymore eggs while oil is splattering)
Add more eggs to the oil, but do it slowly to avoid getting burned, cook them 2 or 3 at a time. With a large spoon, you can spoon oil over the eggs to speed up the cooking process.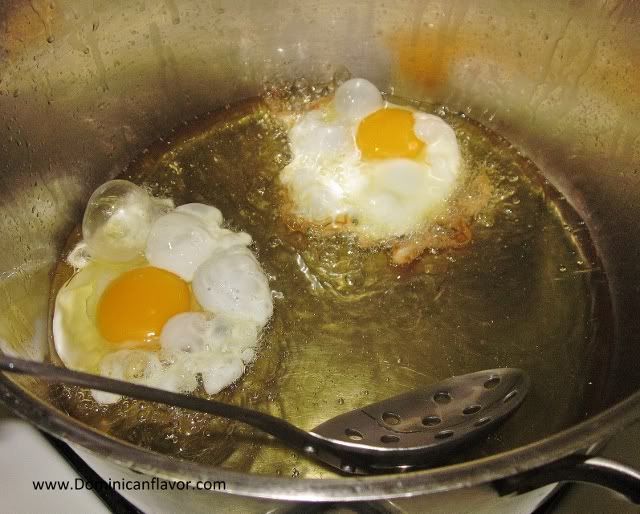 Once egg starts to get firm and golden on the bottom, flip.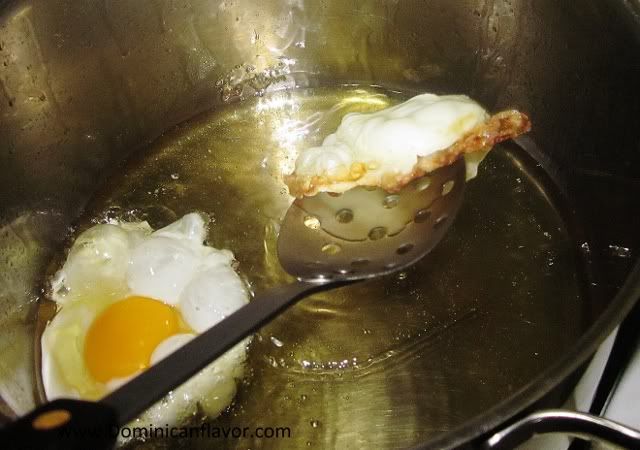 While the other eggs cook, I take advantage and add another egg if there is room.  The eggs will all cook at different time intervals.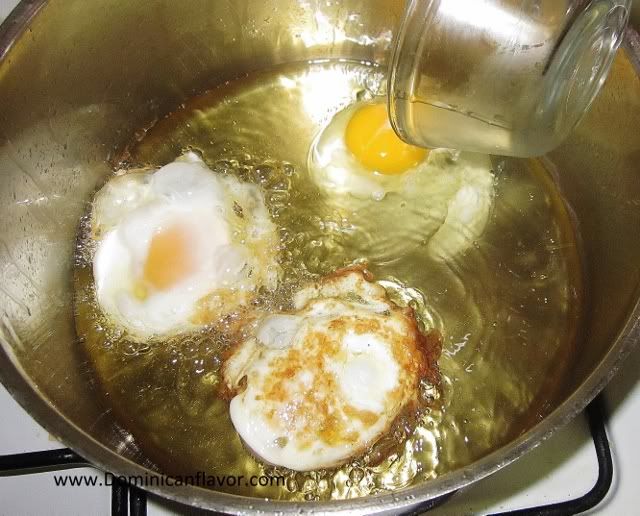 When the egg is cooked through (I prefer a hard yolk so I let them cook for until the yolk feels firm when pressed with the spoon), remove from oil, place eggs on a paper towel lined bowl to drain excess oil.
When  all of the eggs are fried, place on a serving platter one by one.
Pour the warm escabeche over the eggs, then if you want, you can sprinkle some Parmesan cheese if you have some on hand.  I didn't have any this time around, but if you happen to have some, add it and it will enhance the dish. 🙂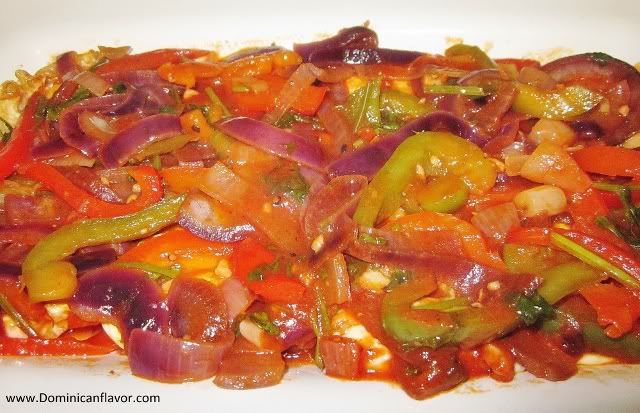 Serve nice and warm with some rice or platanos!
Buen Provecho! 😉