If you love hot chocolate as much as I do, brace yourselves because this recipe will make your taste buds scream in delight!  It's very rich and really warms your bones on those chilly fall and winter nights.  This recipe was inspired by a good friend of mine's mother (who is like a second mom to me) who makes really delicious home made teas and ginger hot chocolates.   I usually serve it with some buttered toast, but ideally this drink goes especially well with a slice of warm cake or arepa, yum!
You can also make this recipe extra special by adding some Bailey's or Khalua. 😉
To make this decadent hot chocolate, you will need the following ingredients:
1 Cup Semisweet Chocolate Chips
2 Cups Regular Milk (may use lowfat)
1 12oz (approx 2 cups) Evaporated Milk
1 Small piece of ginger root (approx 2″ long)
1 tsp Vanilla Extract
1 tsp Allspice (whole)
2 Cinnamon Sticks
2 tbsp Honey
1 Cup water (optional)
Whipped Cream (optional)
Before we begin, I recommend you use good quality chocolate.  I am partial to using bittersweet chocolate to make this drink because milk chocolate tends to be much sweeter.  My favorite brand of chocolate chips is Ghirardelli, but you can always use any brand of your choice. 🙂
To begin, take a small pot or saucepan and put it on medium heat on the stove.  Then add the chocolate chips,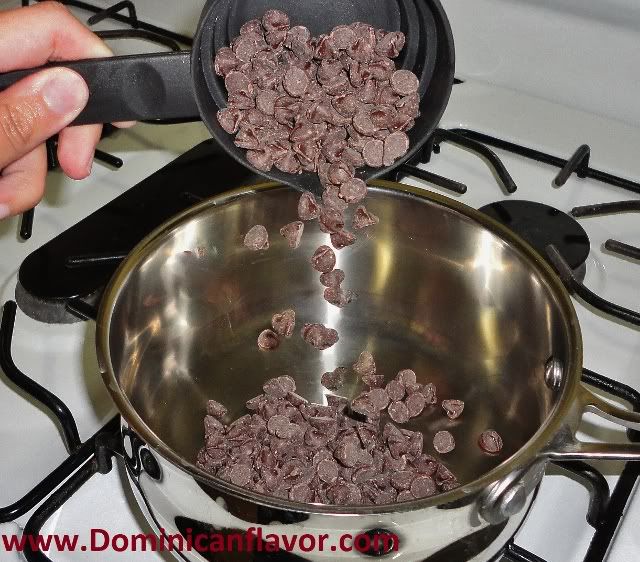 As the chocolate melts, make sure to smooth it out with a spatula or spoon,
When the chocolate has melted, add the milk (I use 1% low fat, but you can use whole milk if you prefer),
Mix the chocolate and the milk, then add the evaporated milk,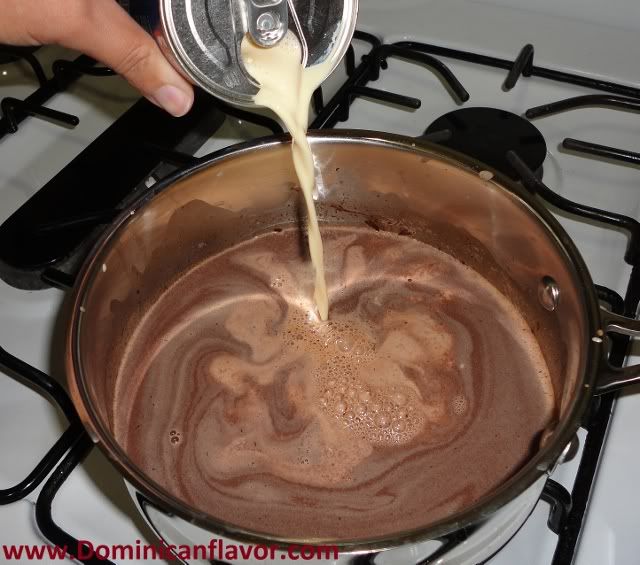 Mix well and make sure that there isn't chocolate stuck to the bottom of the pot,
Then take the ginger root, (make sure to use fresh ginger, if you use powdered ginger it won't taste the same),
Peel it, and cut it into 4 vertical slices and add it to the pot, (if you love ginger, add a bigger piece, but remember that it is a strong spice),
Then add the vanilla extract (use Dominican Vanilla if you can get some 🙂 ), also, I prefer to use white vanilla instead of the dark one (but you can use the dark one if you prefer),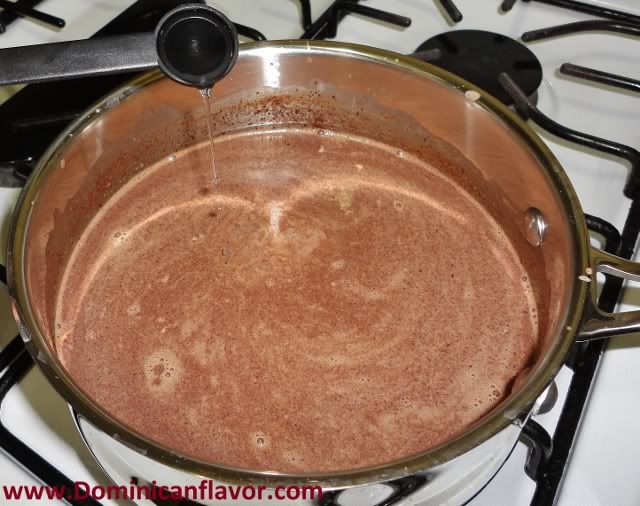 Then add the allspice,
Then add the honey, this gives the hot chocolate  a nice of sweetness,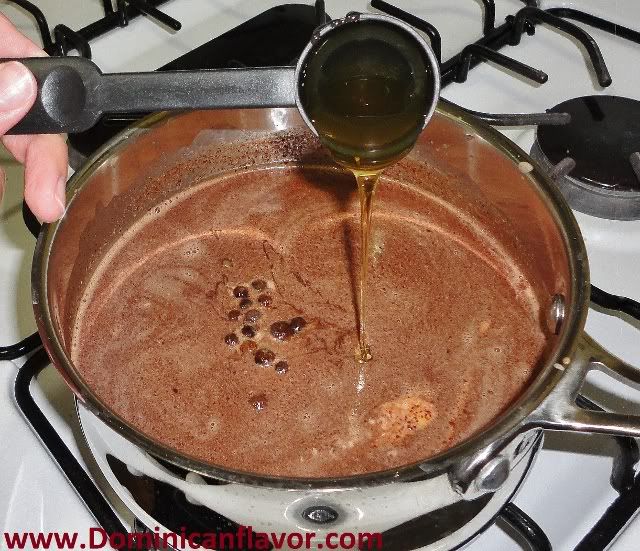 Take the cinnamon sticks and add them to the pot as well,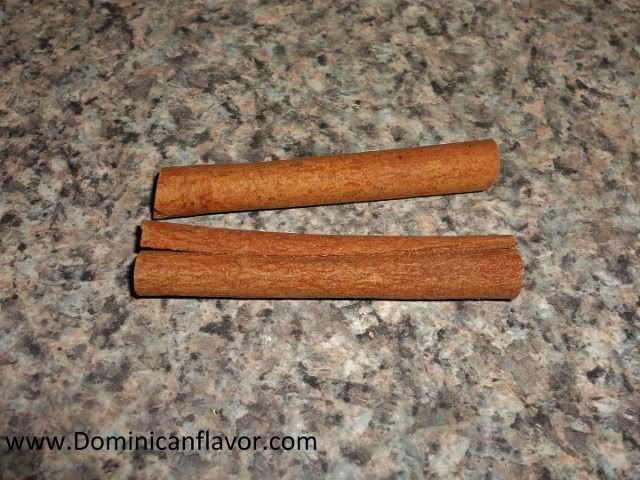 Then last but not least, add about 1 cup of water.  You may omit this step, but I am warning you that this is a very rich and decadent hot chocolate even with the water.  But if you want it thicker and richer, than just omit this step,
Once all of the ingredients have been added, mix well and cover it and let it simmer on medium – low heat for about 20 minutes.  Make sure to stir it every 5 minutes so that the chocolate doesn't settle on the bottom.
After 20 minutes, turn the heat off and serve! 🙂  Remember, the longer the ginger stays in the hot chocolate, the stronger ginger flavor it will have.  Therefore, if you don't love the taste of ginger, pull the ginger pieces out and toss them.
I love to put some whipped cream on top, makes me feel like I'm having some fancy hot chocolate in a nice restaurant. 😉  Paired with some buttered toast (no arepa today 🙁 ) and you have yourself a yummy breakfast, snack or even dinner! Yum! 🙂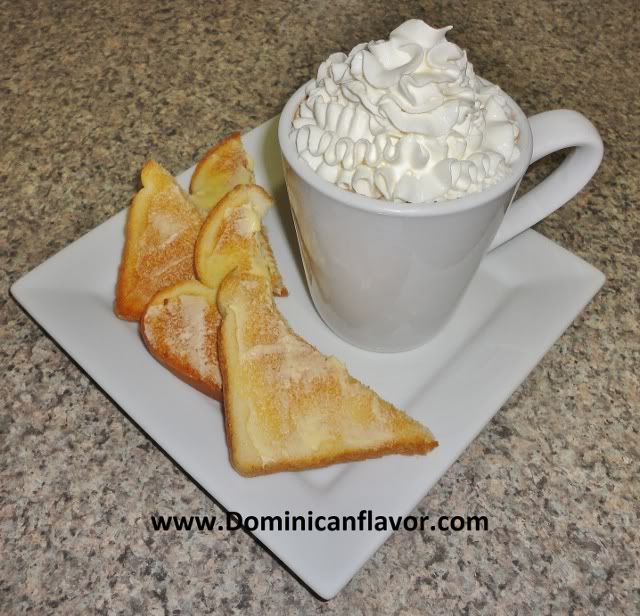 Buen Provecho! 😉