With Easter coming around the corner, I figured this would be an appropriate recipe to post as a way to return from my hiatus from updating.
Habichuelas con dulce is one of those desserts that you either love or hate mainly because it can be too rich and filling.  I must admit that I am not a huge fan of it, however, I did tweak my recipe several times until I came up with one that I can eat a over and over again, enjoy it and not feel like need to drink 2 glasses of water to wash it down after.  The sweet beans are creamy, smooth and decadent!
Since this is not a recipe that is typically made in small batches, I wrote out the recipe to make a large pot to share with the whole family! 🙂
To make this recipe, you will need the following ingredients:
1lb Dry Red Kidney Beans
1lb Dry Roman Beans (may use pink or pinto beans instead)
4 Cups Milk (may use low fat or skim)
2 Cans Evaporated Milk (approx 12oz each)
2 Cans Coconut Milk (approx 13.5oz each)
1 Can Condensed Milk (approx 14oz)
1.5 Cups Raisins
1 tsp Anise Seeds
6 Cinnamon Sticks
1 tbsp Cloves
1 tbsp All Spice
1/2 Cup Honey
2 Cups Light Brown Sugar
1/2 tsp Salt
1 Large Sweet Potato (white) or Yam (Batata)
Milk Cookies (optional)
To begin, combine the dry beans and rinse them,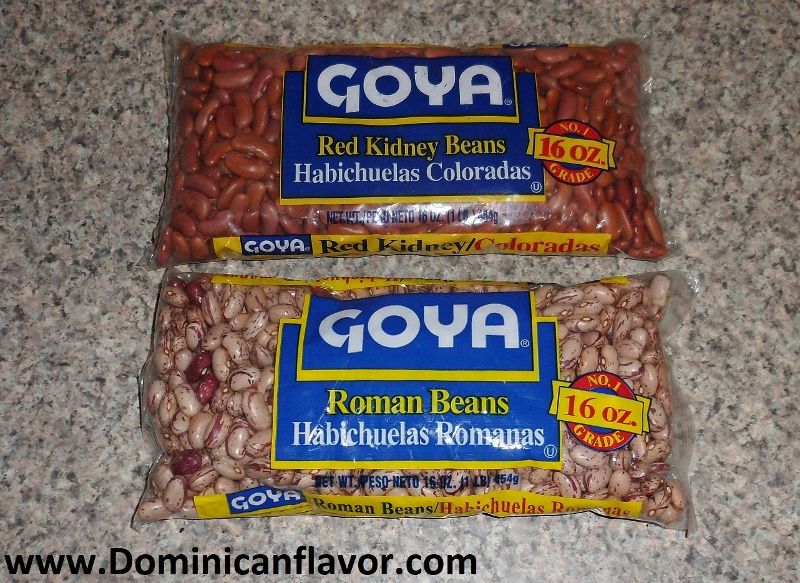 After the beans are rinsed, fill the pot with fresh water to let them soak,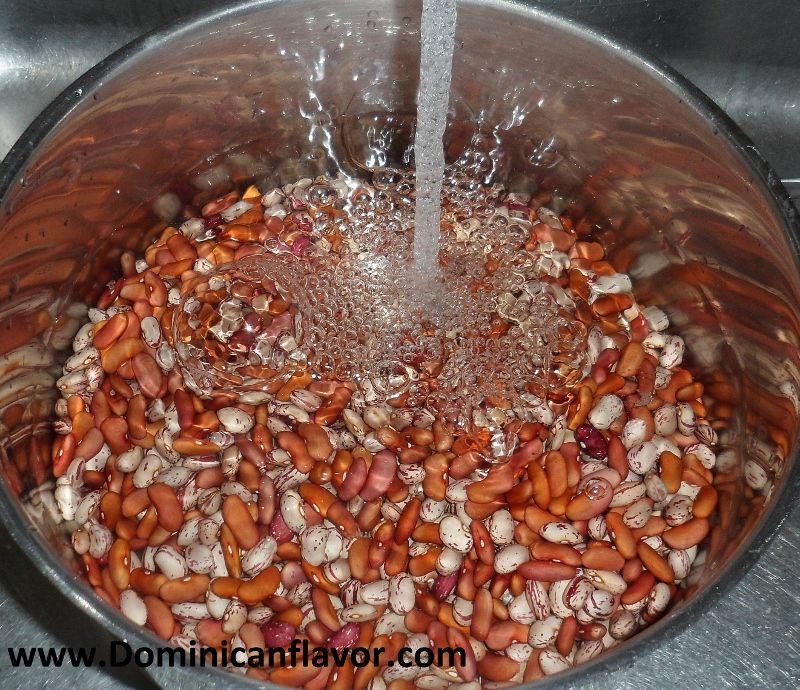 I recommend you let them soak for a few hours (at least 6), preferably overnight in the refrigerator, then they will plump up and look like this,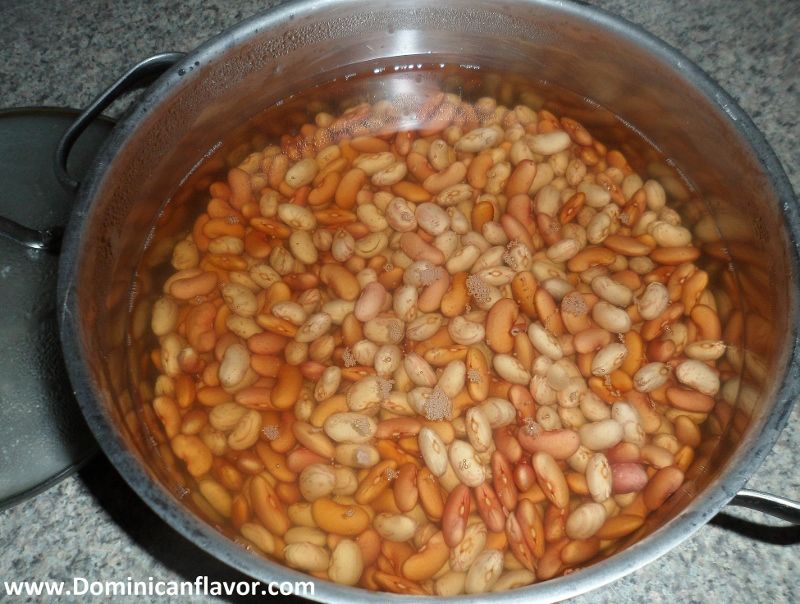 Before starting to cook the beans, add more water to them since they soaked up most of the initial water that was added when they were dry, you want to add enough water to fill the pot about 3/4 of the way,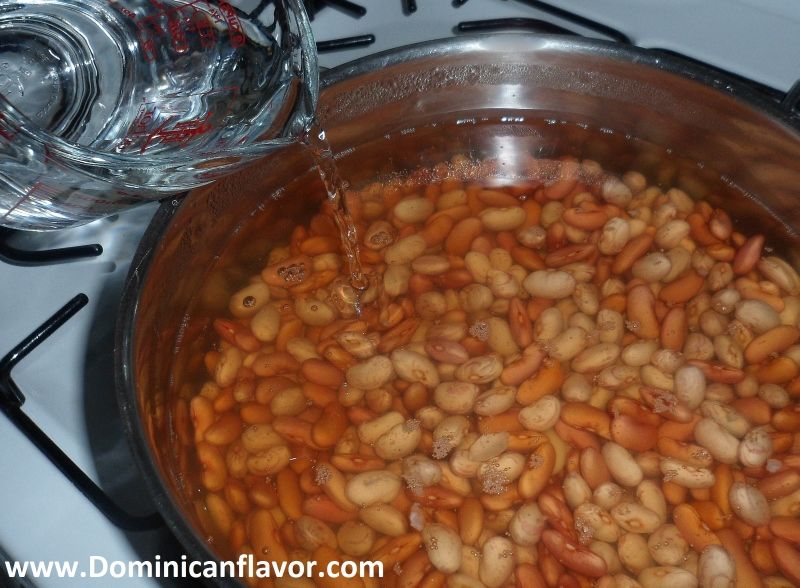 Take 2 cinnamon sticks and add them to the pot,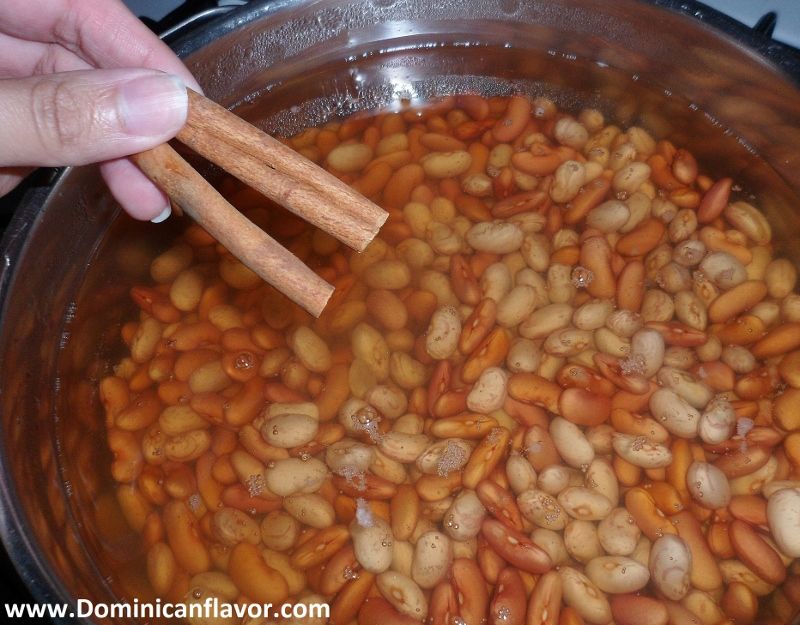 Put the heat on HIGH and boil the beans until they are soft.  It will take about 1 – 1.5 hours, maybe more depending on the heat level your stove can deliver.  Just remember to keep an eye on them and add water so they don't dry out and burn,
After the beans are cooked through and soft, turn the heat off and let them cool off.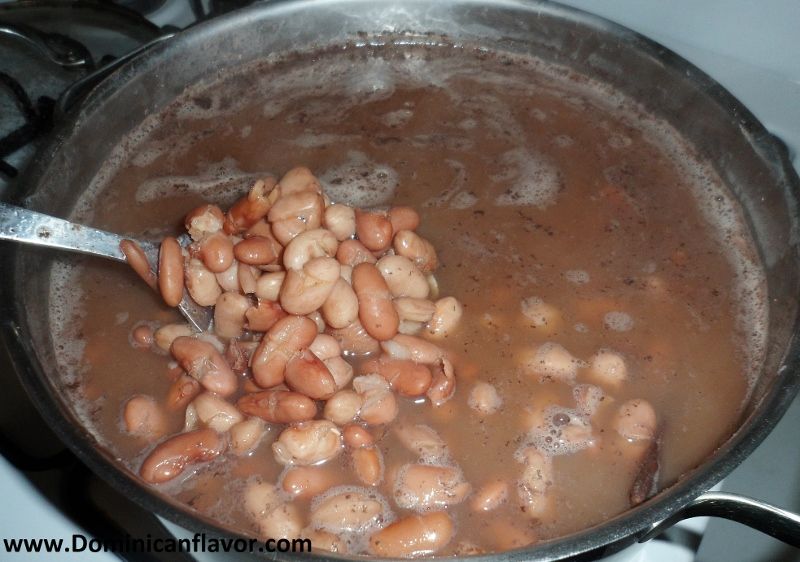 It is very important to let the beans cool down because when it comes time to blend them, you can get a serious burn if you start to blend them while they are hot.  While they are cooling, fish out the 2 cinnamon sticks that were added to the beans to cook them and discard them,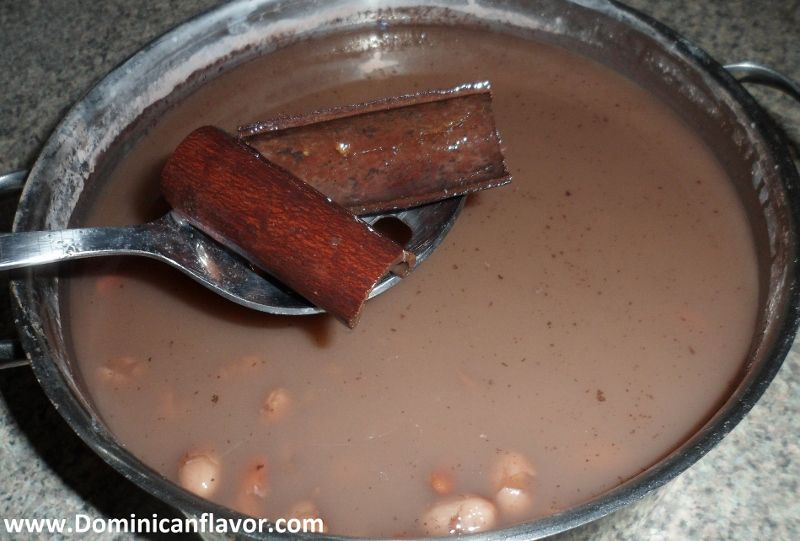 After the beans have cooled down (it's okay if they are still a little warm), add a couple of cups with some of the liquid to a blender and blend them for a couple of minutes,
Be careful to not add too much to the blender so it doesn't spill out when you turn the blender on,
The size of the pot I used was 8 qts, but if you have a bigger one, I recommend you use it if you have never made this before since the milk content is high in this recipe and can boil over if you are not careful.
Take a strainer and position it over the pot, then add the blended beans to the strainer and with a spoon move it around so it can seep through without the  pulp,
After pressing the liquid out of the pulp, do not discard it, put it aside in a bowl,
After straining all of the blended beans and saving the pulp, add half of it back to the blender and add about 2 cups of milk (I used 1% low fat),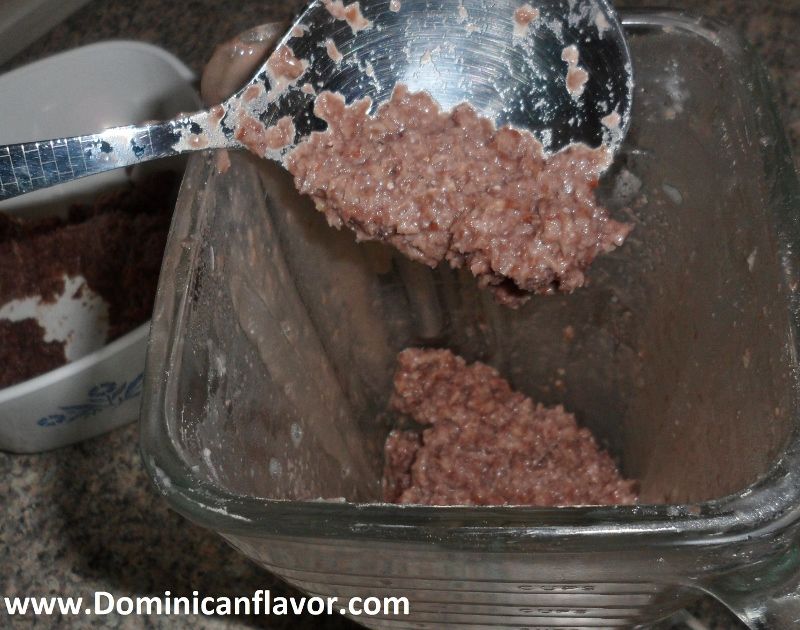 Then blend again, doing this just infuses more bean flavor into the dessert,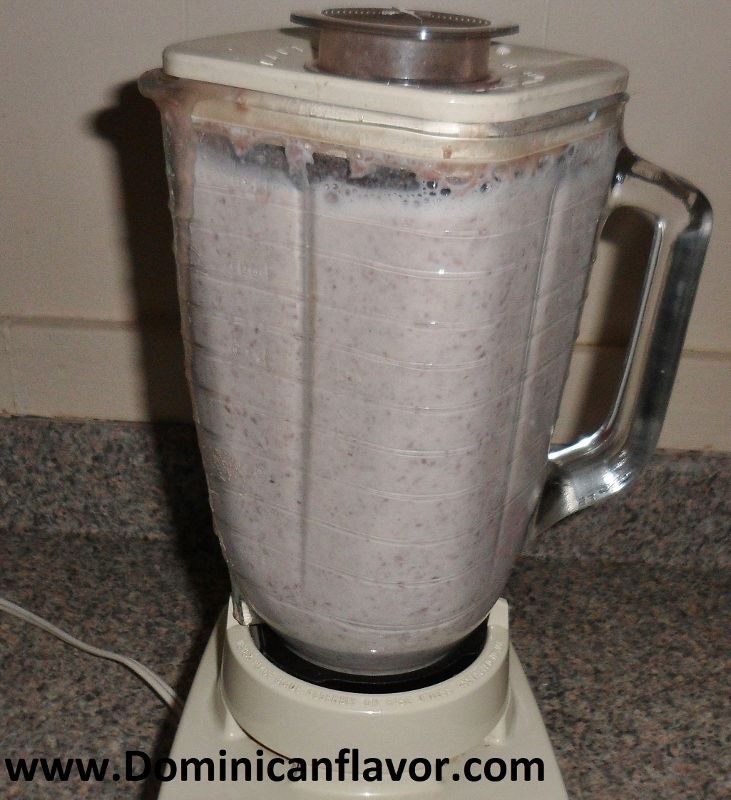 After blending, pour it through the strainer again,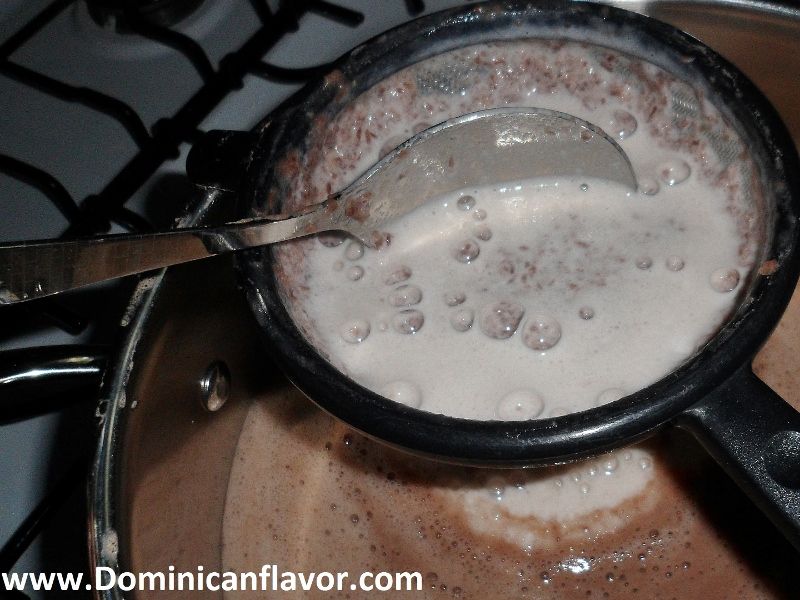 Press the bean pulp against the strainer to excrete out all of the liquid,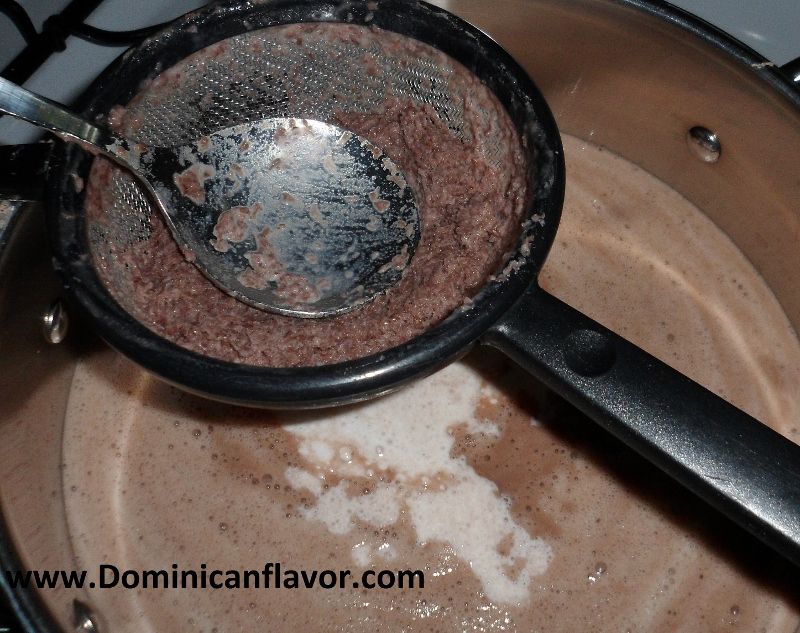 Then you can discard the remaining bean pulp from the strainer, doing this will ensure you have a nice creamy and smooth dessert.
Now we are ready to continue cooking the beans.  Turn the heat and put it on medium to medium high (you can start medium high and put it down as the beans start to show signs that they are going to boil).
While the beans are heating up, let's add the remaining ingredients.  Add 2 cans of evaporated milk, remember to shake the cans before opening them,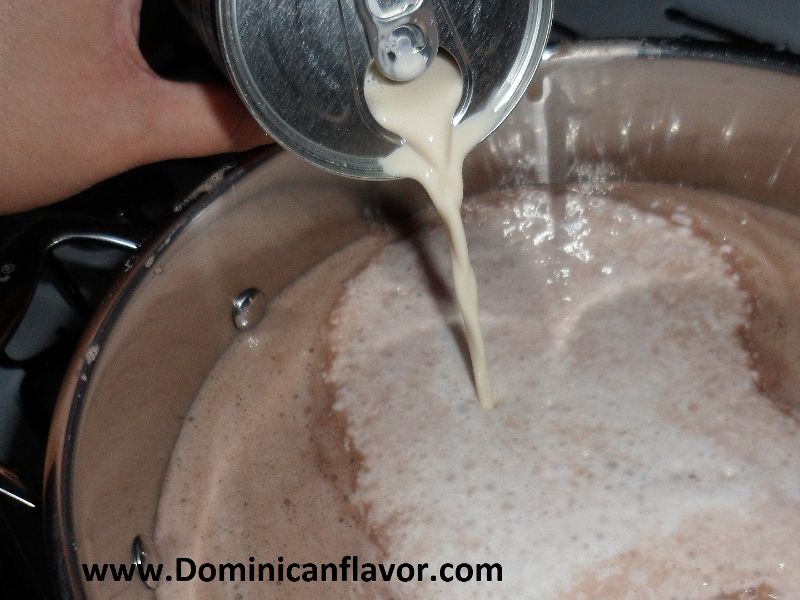 Then add 2 cans of coconut milk, also shake before opening,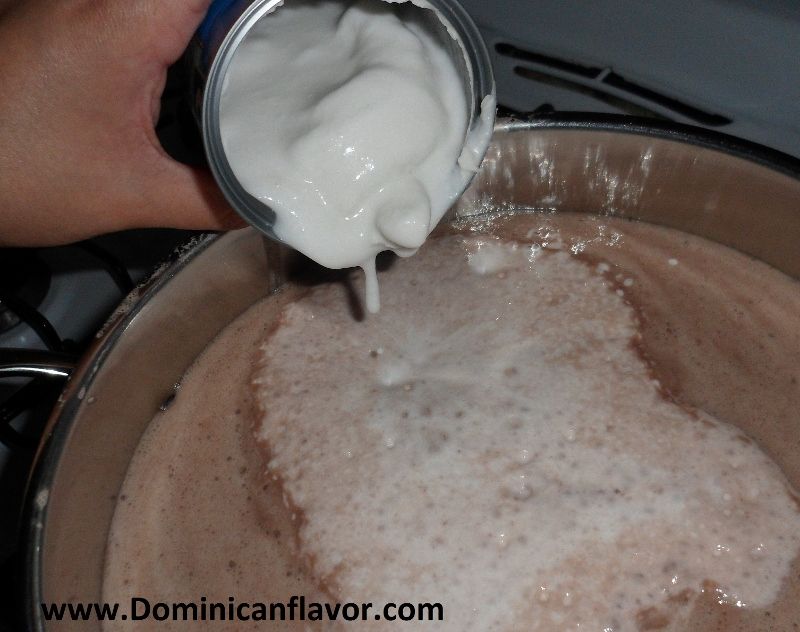 Then add 1 can of condensed milk and stir,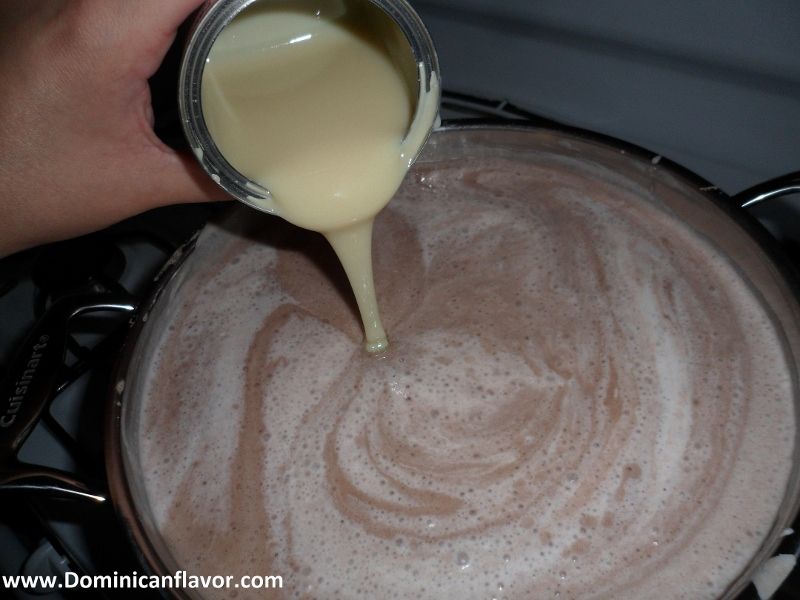 Now let's add the spices.  I don't know about you, but I don't like having habichuelas con dulce and having to fish out any hard spices from my mouth, I find that very unpleasant.  One trick I like to use to keep all of the spices together during the cooking process, also to make it easier to remove them in the end, is taking a piece of cheese cloth (can be found in the super markets),
Then fold the cheese cloth so that it's not too thin (when it gets wet it can thin out even more) into 2 layers, this will ensure the spices stay put and don't leak out,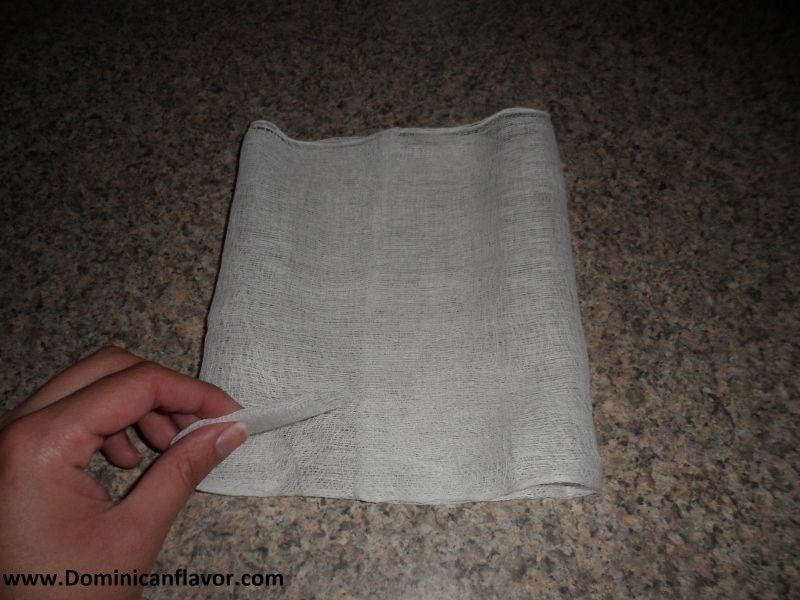 Then neatly place the 4 cinnamon sticks, cloves, anise seeds and all spice in the center of the cheese cloth,
Then wrap the spices with the cheese cloth to make sure they stay put,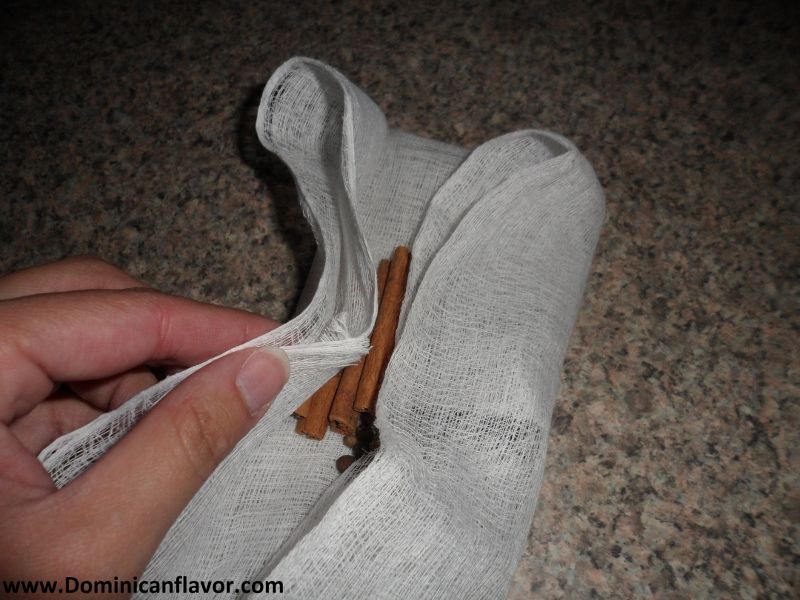 And tie the bundle securely with kitchen twine (also found in supermarkets),
Then add the bundled spices to the pot,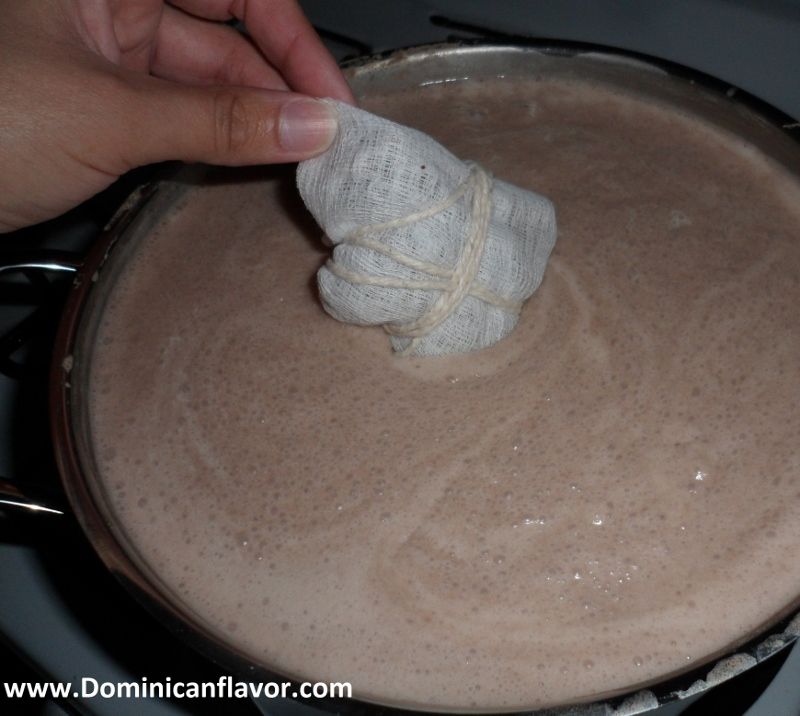 Stir the items in the pot, the spiced bundle will float but as it cooks later on it will slowly sink a little into the pot,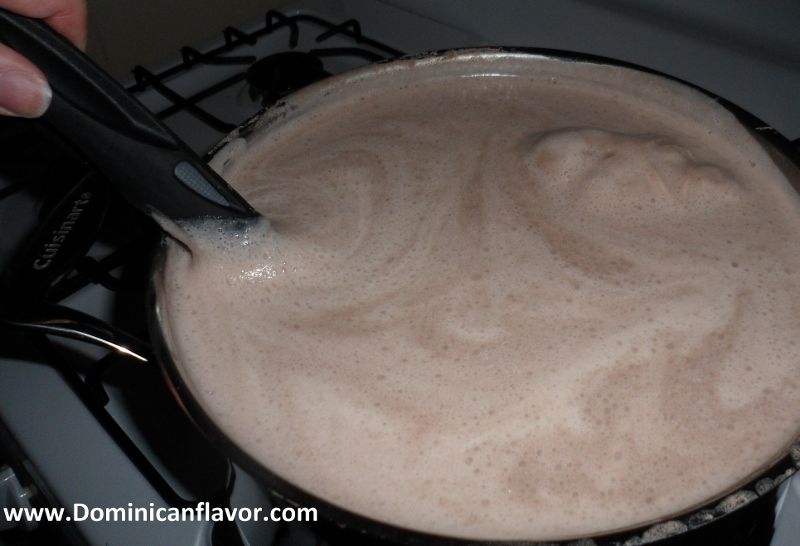 Then add the salt, honey and raisins,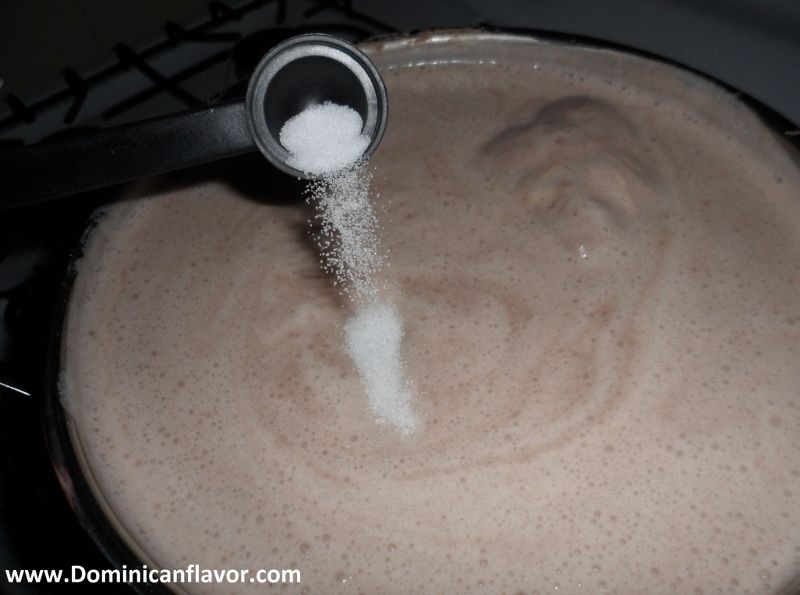 Then add the light brown sugar, I usually add about 2 cups but you can always add less and adjust the sugar level towards the end to make it sweeter to your liking,
I am cutting it close in this pot, since this recipe contains a lot of milk it starts to get foamy, but later on the foam will reduce down and hopefully no spilling accidents will happen! 🙂
After adding the sugar, stir again and now we have to let the items in the pot come up to a light boil and reduce down.  This can take about 30 minutes to 1 hour, again depending on the level of heat you have it on.  I usually keep it between Medium and Medium-High,
As it cooks, continue to stir so the beans don't stick to the bottom of the pot.  As it cooks you notice the foam dissipates,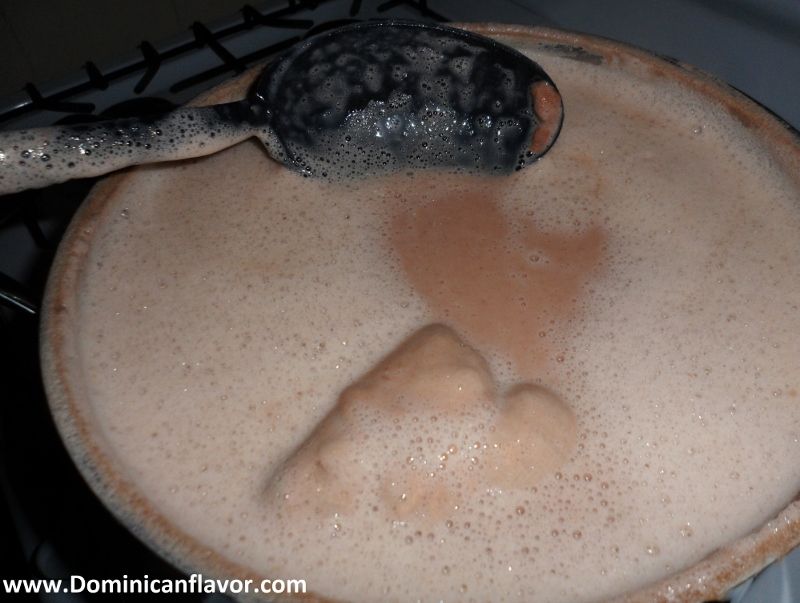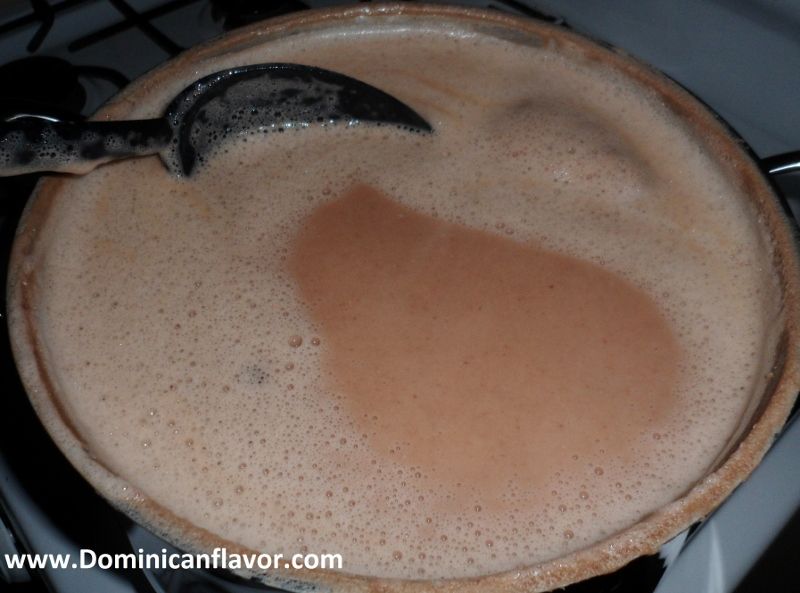 When the beans come up to a light boil, take the batata (white sweet potato or yam), peel it and cut it into small pieces,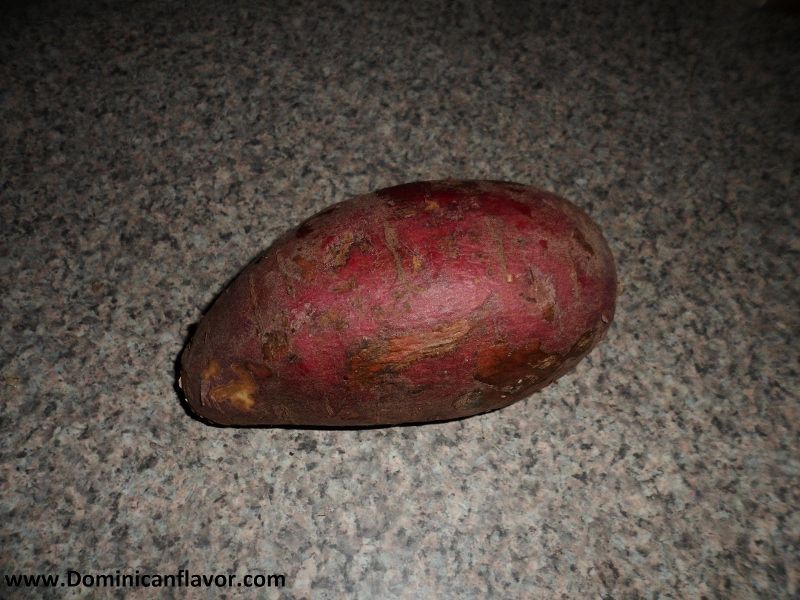 Then add them to the pot (you want to add them towards the end so they don't break down and dissolve),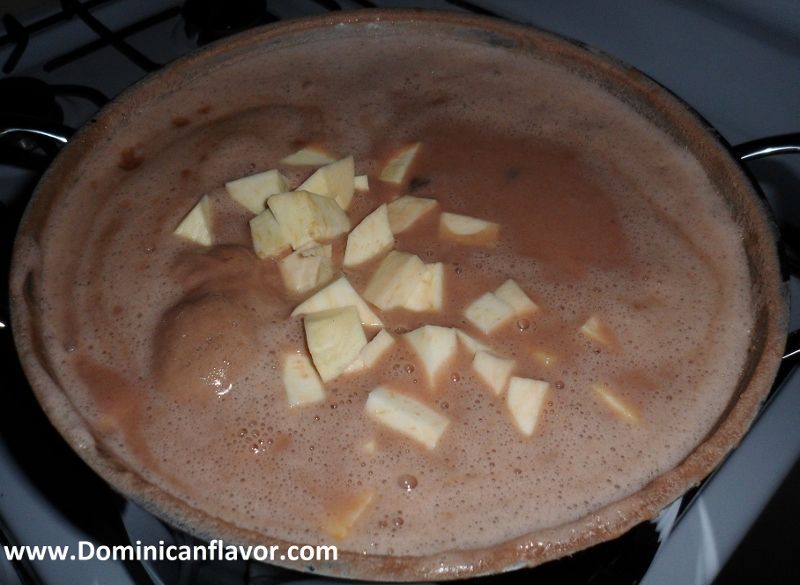 Stir and let them cook about 20 – 30 minutes until they are soft and fork tender,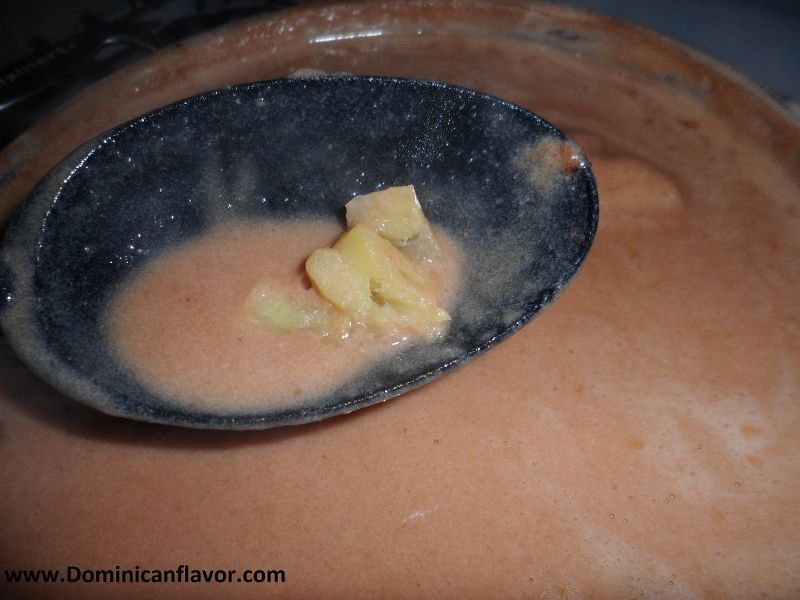 At this point the beans should be ready to come off from the heat.  You'll know they are ready because they are thick, creamy, smooth and coat the spoon,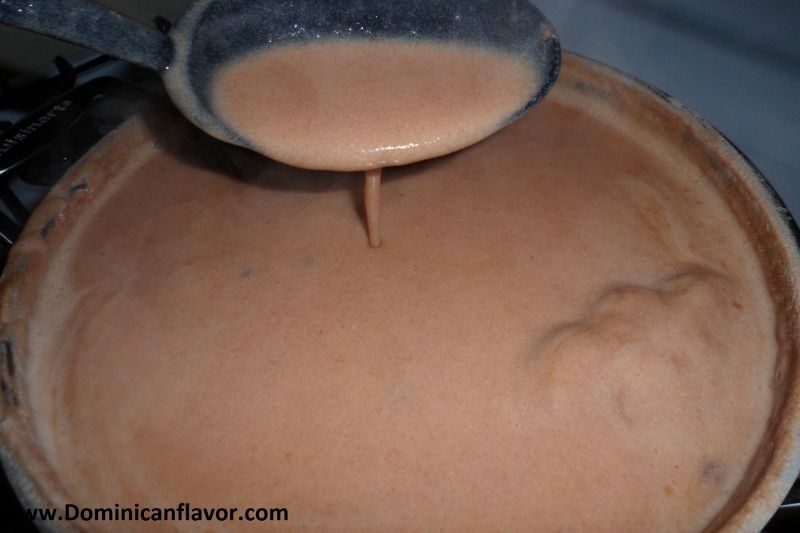 Also, the batata is thoroughly cooked but not falling apart too much,
Now would be a time to do a taste test and add sugar if you feel it's necessary.  Remember, after the beans are cold they will taste sweeter.
After turning off the heat, let the beans rest and cool down.  I keep them half covered and put them aside since in my house we prefer to eat them cold instead of hot.  Remember, DO NOT PUT THE HOT BEANS IN THE REFRIGERATOR, if you do your desert will spoil.  You have to wait for them to cool down slowly before you can add them to the fridge.  I usually leave the spice bundle in the pot since it doesn't interfere when it comes time to serve the beans.
After the beans have cooled down you can serve them with some milk cookies, yum!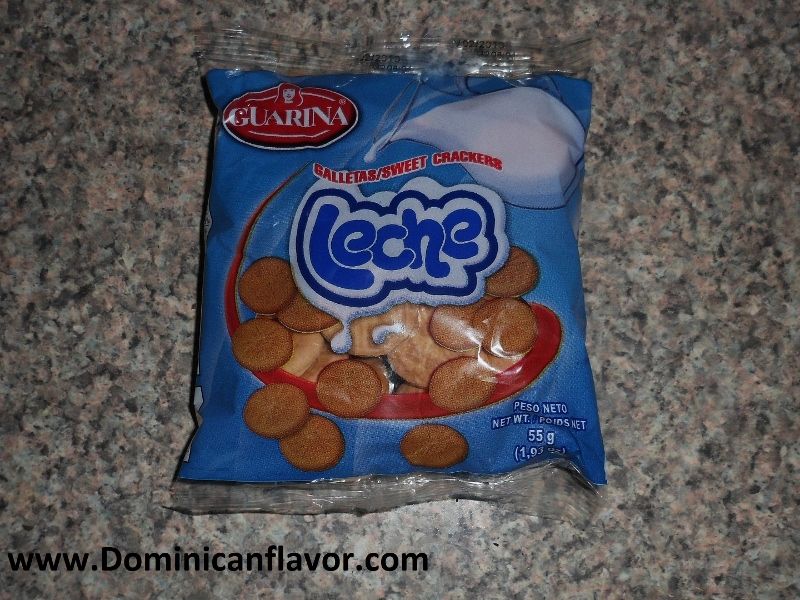 Buen Provecho! 😉