Some people prefer to call them "empanadas" and others "pastelitos".  In my family we've always preferred the latter name so it's stuck with me through the years.  These pastelitos (turnovers) were inspired by my aunt who is a baker and she makes these little oven baked "turcos" that have a similar filling.  They are really delicious and can be served as a snack, dessert of even breakfast (Dominicans love pastelitos for breakfast!).
I'm going to be using store bought pastry discs because it's quicker (also very inexpensive) and they work great for this recipe!  I will be making a post later on on how to make home made "pastelito" dough so stay tuned for that. 🙂
If you've never attempted to make pastelitos, cooking them is the tricky part, but after you've fried a few, you get the hang of it. 🙂  They will not always look perfect, but don't worry they will taste just fine. 😉
To make these delicious pastelitos, you will need the following ingredients:
10 Large Pastry Discs (or 20 small ones)
1.5 Cups Guava Paste
8oz Block of Cream Cheese
Vegetable Oil (approx 3 cups)
2 tbsp Powdered Sugar (optional)
First, prepare the frying pot.  Take a large deep pot, and add enough oil for it be about 1″ deep.  Don't turn on the heat yet.
To make the pastelitos, I usually buy the "La Fe" brand because when the dough is fried, it stays soft, tastes light and very delicious.  There are other brands available, but this is the one I'm partial to.
I prefer to buy the large discs to cut in half, but there are packages with smaller discs available to purchase if you prefer.  I like the shape the pastelitos get when using a half moon shaped disc as opposed to a round one. 🙂
My counter top is not very big, so I usually make 10 pastelitos at one time.  Take half of the discs and spread them on the counter top,
Take the cream cheese block and cut it into 20 small cubes, (I'm partial to Philly cream cheese :D)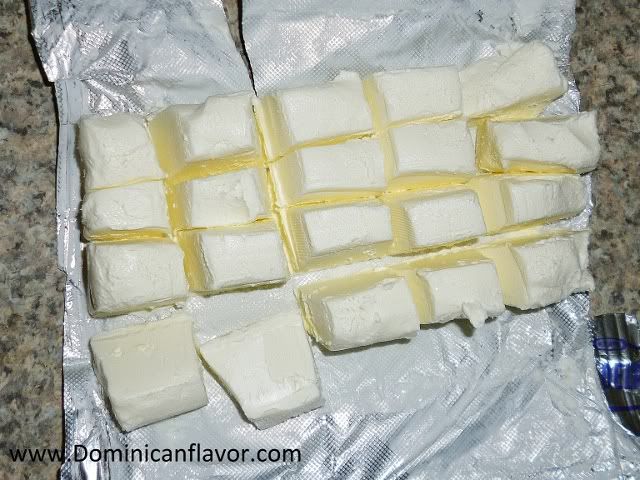 Place a small cube of cream cheese on each half moon disc,
I usually use the "Goya" brand guava paste, it's very easy to find in the international food isle of large supermarkets.  Make sure to refrigerate the left over paste if you get the larger container (as I do).  You can use it as a jam for other desserts (or a topping on ice cream).
Take about 1 tbsp of guava paste and put it over the cream cheese cube on the disc, (you can also combine the guava and cream cheese into a creamy paste and add it combined instead of individually)
Take a small cup and add some clean drinking water (about 1 cup).  Take a pastry brush and dip it in the water,
Brush the edges of the disc around the guava and cream cheese,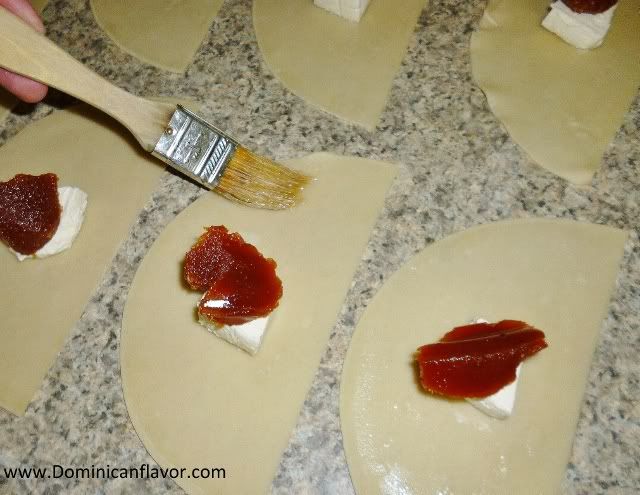 Make sure to get all of the edges moist,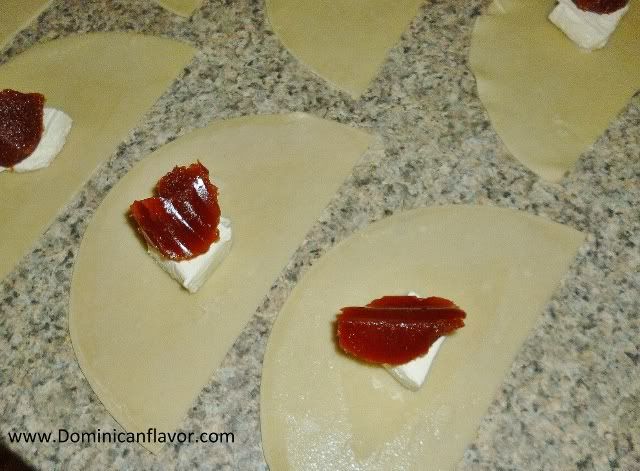 Then flip the disc closed to seal in the guava and cream cheese,
Make sure to put pressure when sealing the pastelito and squeeze out any excess air pockets,
This is what it should look like after it's been pre-sealed,
To make sure that the pastelitos doesn't burst open while cooking, crimp the edges with a fork,
Once all of the pastelitos are sealed and crimped, turn the heat on the stove for the oil we poured earlier.  Put the heat on medium high, also take a large plate and line it with paper towels, this will be for the cooked pastelitos to be placed in to absorb the extra oil.
You want the oil to be hot enough to cook the pastelitos at a slow gentle pace.  If the oil is too hot, they can cook too fast on the outside but not melt the filling on the inside.  Medium high usually is a good temperature, if you put it on high, the oil will get too hot.
A good way to check if the oil is hot enough for the pastelitos, take a toothpick and drop it in the oil after it's been heating for a few minutes.  If the toothpic starts to lightly fry in the oil (you'll see small bubbles forming around it), then we are ready to fry our pastelitos!  If you don't have a toothpic, take a small piece of dough and use that instead.
Add several pastelitos to the oil, make sure to not crowd the pan, you will have to fry them in several batches.  At first the pastelitos will sink to the bottom for a few seconds then rise to the top as they start to fry,
Let it cook for about 2 – 3 minutes, checking to make sure they aren't getting too dark brown.  If they are, lower the heat.  Once the bottom side is cooked, flip them over,
Let the second side cook for another 2 – 3 minutes until it's golden brown.  Then remove the pastelitos from the oil and place on a paper towel lined plate.
Wait a few minutes before serving them because the filling will be very hot!
To serve them, place them on a plate, and give them a light dusting with powdered sugar.  Doing this is optional, but it gives these pastelitos a nice elegant finishing touch.
Make sure to put the powdered sugar in a sifter,
Serve nice and warm so that the filling is soft! Yum! 🙂
Buen Provecho! 😉