I cannot deny that I have quite the sweet tooth with a weakness for dulce de leche caramel.  I find any excuse I possibly can to smother any type dessert in one way or another with dulce de leche caramel.
This cake was inspired by the Royal Wedding that took place earlier this year, I came across a recipe for Prince William"s favorite biscuit cake.  I took the concept of the biscuit cake and made a bunch of changes to get this decadent cake.  The best part, it's so easy to make because you don't have to bake it!  You just have to be very patient since it takes a few hours before it's ready to eat. 🙂  Whether you are a culinary wiz or you are just starting to explore your skills in the kitchen this dessert will fit the bill.
To make this recipe you will need the following ingredients:
1/2 Stick of Butter
1 tsp Vanilla Extract
1/2 tsp Cinnamon
1 Can Evaporated Milk (approx 2 cups)
4 Cups Semisweet Chocolate Chips
1 7oz Package Maria Cookies (approx 35 cookies)
1 Cup of Sliced Almonds
2 Cans of Condensed Milk (approx 4 cups)
I like to use "Maria Cookies" to make this cake because they very tasty, easy to find and work wonderfully for this recipe.  You can substitute with another type of butter cookie of your liking though.
Take the cookies and give them a rough chop, you can also break them with your fingers or put them in a ziploc bag to crush them as well.  I like to leave them into good bite sized chunks, but you can crush them into smaller pieces.  DO NOT GRATE THEM to the point that they are like flour.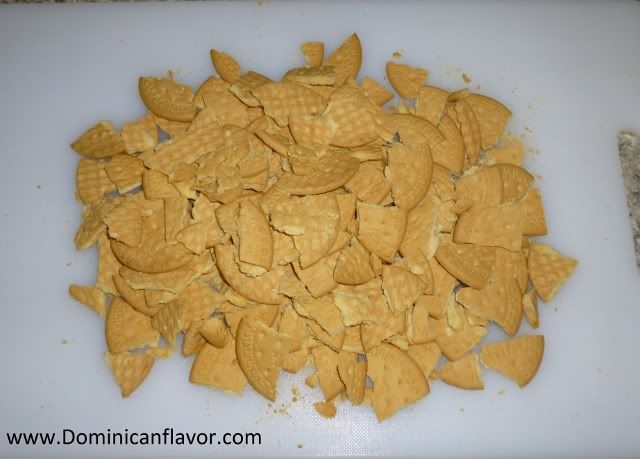 Now let's prepare a baking dish or cake pan before we make the base of the cake.  I will be using a square shaped baking dish but you can use any shape you prefer.
Cover the baking dish (or pan) with some saran wrap or parchment paper.
Now that the dish is ready, let's start making the cake! 🙂
Take a medium pot and put it on medium heat, then add the butter, do not substitute the butter with margarine, 🙂
While the butter is melting, add the evaporated milk,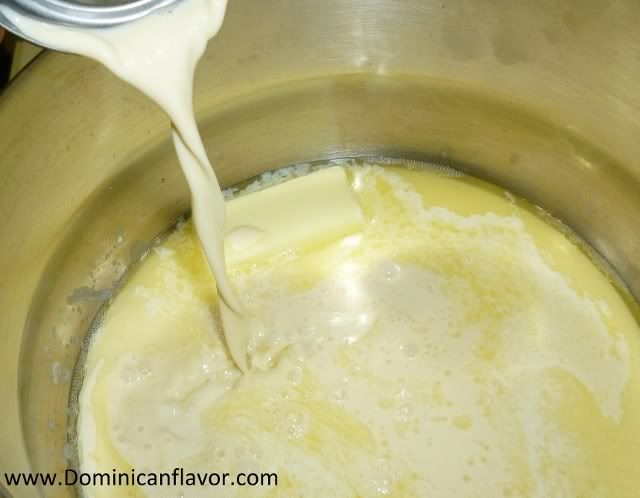 Then add the cinnamon,
Then add the vanilla, make sure to use good quality vanilla extract,
Stir well and let it heat up and cook for about 5 minutes,
When the milk is hot, it will be steaming but not boiling, add the chocolate chips (use semisweet instead of milk chocolate, to ensure the cake is not overly sweet),
After adding the chocolate, stir constantly while the chocolate starts to melt,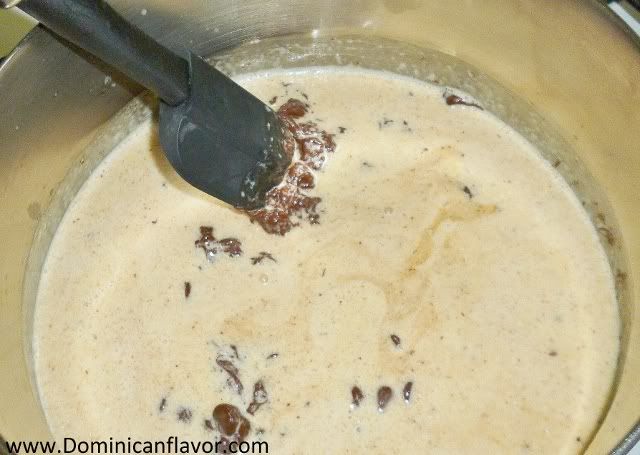 As the chocolate melts, the milk will get thicker, make sure to stir constantly,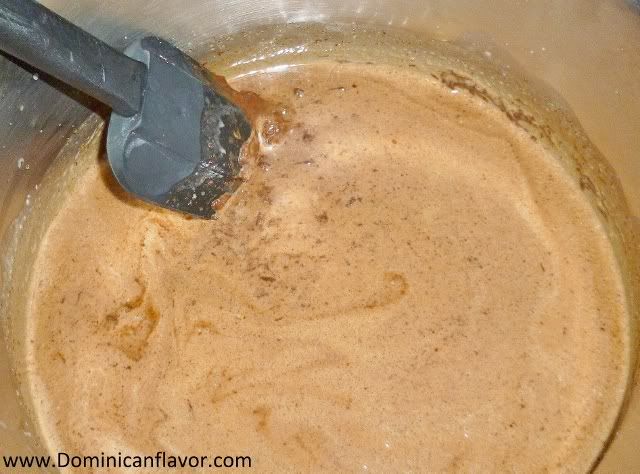 Once all of the chocolate is melted and incorporated with the milk, it will be very smooth and thick,
Now, add the cookie chunks and stir well,
Stir well to make sure all of the cookie pieces are thoroughly covered with the chocolate,
Let the cookies hang out in the chocolate for about 1 minute, then take the mixture and pour it into the baking dish we prepared earlier,
Give the pan a few taps to make sure that everything sits well and there are no air bubbles,
Now it's ready to go in the fridge.
Make sure to put it in the fridge uncovered (since it's still warm) and let it sit in there for atleast 4 hours (preferably overnight) so that the chocolate sets well and gets hard.
While the cake is in the fridge, let's make the dulce de leche caramel. 🙂
First, preheat the oven to 350 degrees.
There are several ways to make this caramel, but for me this is the easiest and safest method.  Take a small baking dish and pour both cans of condensed milk into it,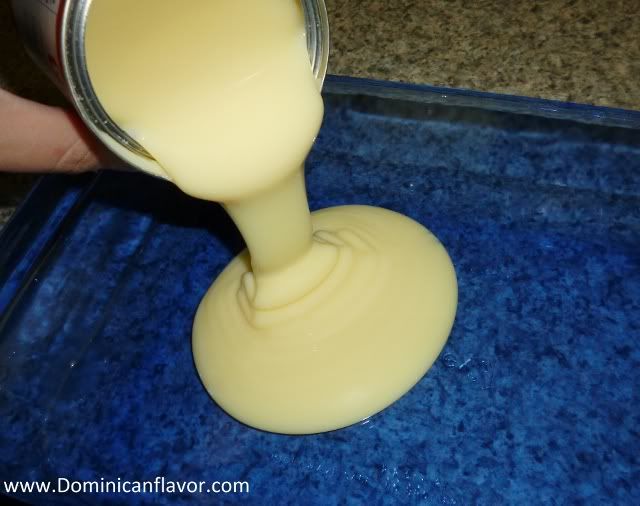 When all of the milk is in the dish,
Take a separate baking dish that is large enough to hold the baking dish containing the milk and set it aside,
Cover the baking dish with the condensed milk with some aluminum foil, then place it in the larger baking dish we set aside earlier.  Then poke some holes in it with a fork to will allow the steam to escape while the milk cooks down.  About 10 – 12 pokes should be good,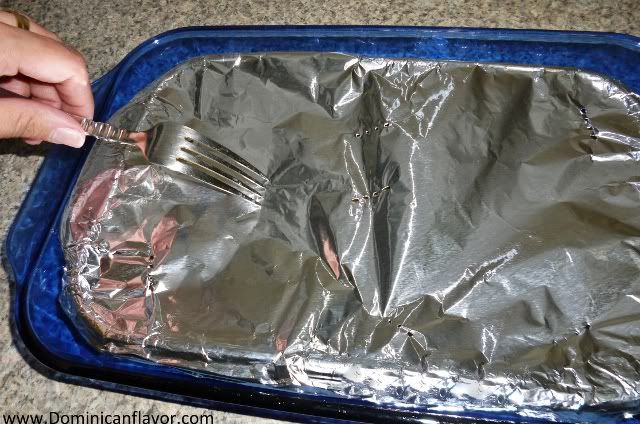 Add some warm water to the outer baking dish, this method of cooking the milk is called "baño de Maria", which means "Maria bath".  It's the same method used to cook flan and other types of custards,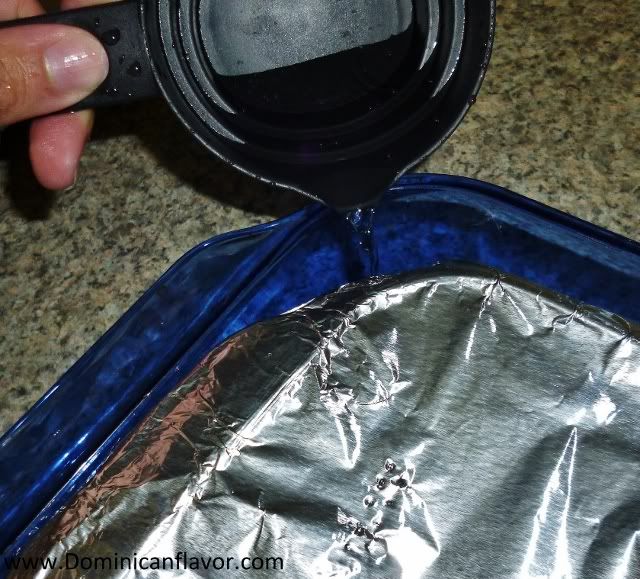 Transfer the dish into the oven and let it cook for 1.5 hours.  While it cooks, DO NOT remove the aluminum foil.
After 2 hours, remove the dish from the oven and let it cool for a few minutes because it will be piping hot!  After you've let it cool, remove the aluminum foil and feast your eyes on this deliciousness: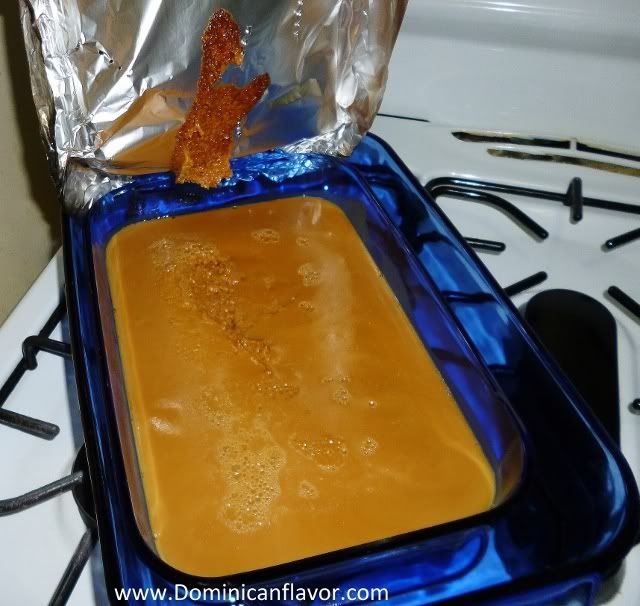 Doesn't that look yummy?  I can just take a bath in that and call it a day… 🙂  (But I know better than to do that 😉 )
With a spoon or spatula, mix the caramel to make it smooth.  At first it will be a little lumpy, but as you mix it the lumps will even out,
The caramel is thick and rich and that's exactly what we want for this recipe.  If you want a looser caramel, you can just add some evaporated milk to thin it out.  I will not be adding milk to thin this caramel out though.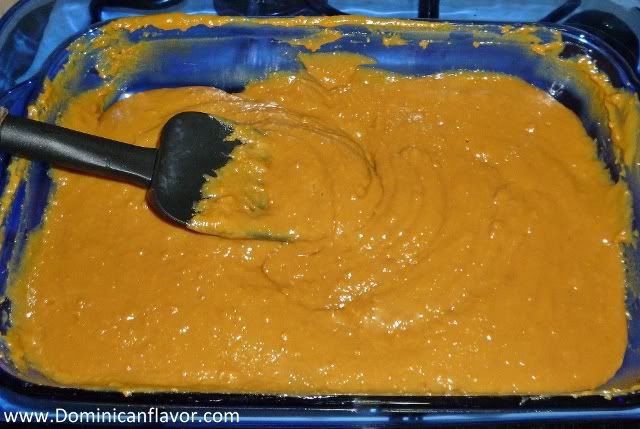 Once the caramel is nice and smooth, transfer to a bowl or container to use later on when the cake is ready.  Resist the urge to eat it up right out of the bowl, it will be hard but trust me, the caramel will be much better on the cake. 😉
When the cake is ready,
Take a large plate or serving dish (this will be the home to your cake from now on),
Then take two pieces of parchment paper (or wax paper) and set them side by side covering the plate.  It has to be two pieces because it will be easier to remove them later on,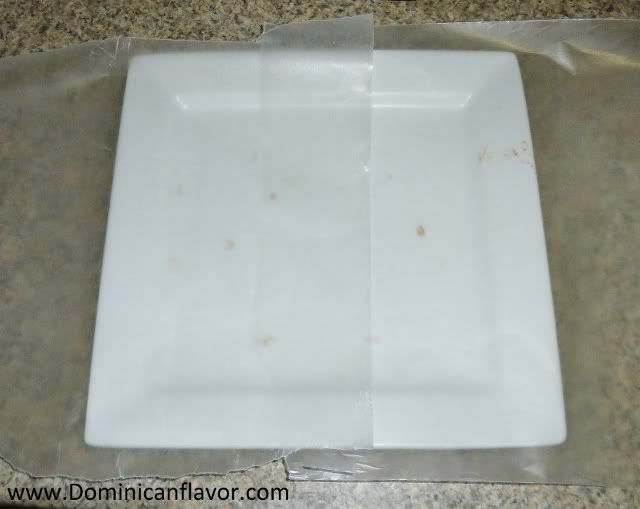 Now this part might be a little messy, but it's very worth it.  Flip the cake onto the dish, removing the parchment paper from the top.  After doing this, the cake will not look very pretty, but will be very tasty. 😉
Then take that delicious dulce de leche caramel we made earlier and spread it all over the top of the cake,
Once the cake is thoroughly covered with the caramel, (you might have some caramel left over, you can just save it aside for later use),
Still not looking pretty but that's about to change. 🙂
Take the sliced almonds, and sprinkle them over the cake to cover it nice and evenly.  You can use a different kind of nut if you prefer, but I am partial to almonds and it works really well with this recipe.
Once the cake is covered with the almonds, remove the parchment (or wax) paper from the bottom.
This will ensure the cake looks neater on the plate.  Doesn't this cake look tasty now? 😉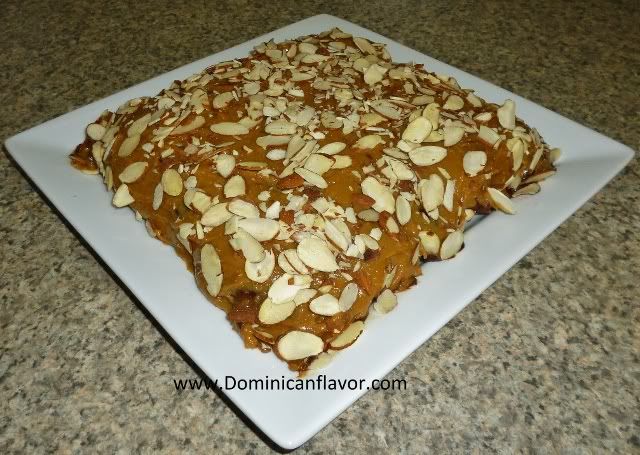 Make sure to keep this cake refrigerated when it's not being served since the chocolate can melt in warm temperatures.  Serve this to your guests and family and I assure you, they will be licking their plates and begging for seconds!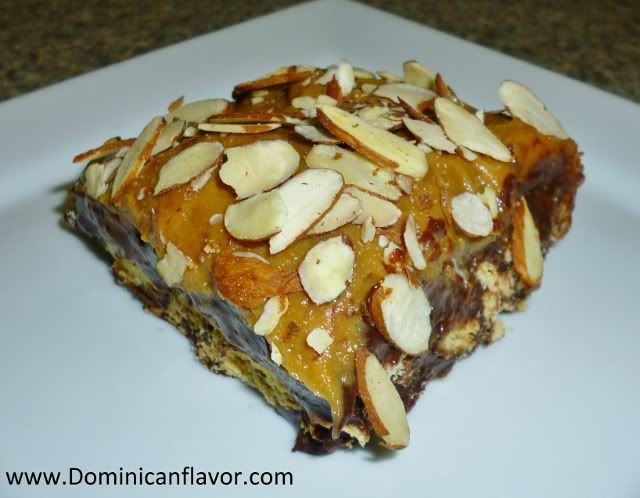 Buen Provecho! 😉