Arepa is a rich, comforting cornmeal cake that is sometimes made sweet so it that can be served for breakfast, as a snack or even dessert with coffee or hot chocolate.  It can also be made salty or savory to accompany heavy meals like lunch and dinner.  Making arepa can be intimidating if you've never tried to before, since it can be tricky balancing out the moisture level to get a soft, creamy arepa, as opposed to a hard and dry one.  If you've never made an arepa before, give this recipe a try, it's very delicious and although it's sweet, it won't overwhelm your palate.
This recipe will make a rather large arepa, depending on how big you cut the pieces you can probably get around 12 good sized slices.  To make this recipe you will need the following ingredients:
5 Cups of Regular Milk (may use Low fat)
2 Cans (approx 12oz each) of Evaporated Milk
2 Cans (approx 15oz each) of Coconut Cream
1/2 Cup Raisins
1.5 Cups Light Brown Sugar
1 tbsp Anise Seeds
1 tbsp Vanilla Extract (White Vanilla is preferable)
3 – 4 Cinnamon Sticks
1/2 tsp Salt
4 Cups of Fine Yellow Cornmeal
5 Cups of Water
4 tbsp Butter or Margarine
To begin, add the fine yellow corn meal to a large bowl,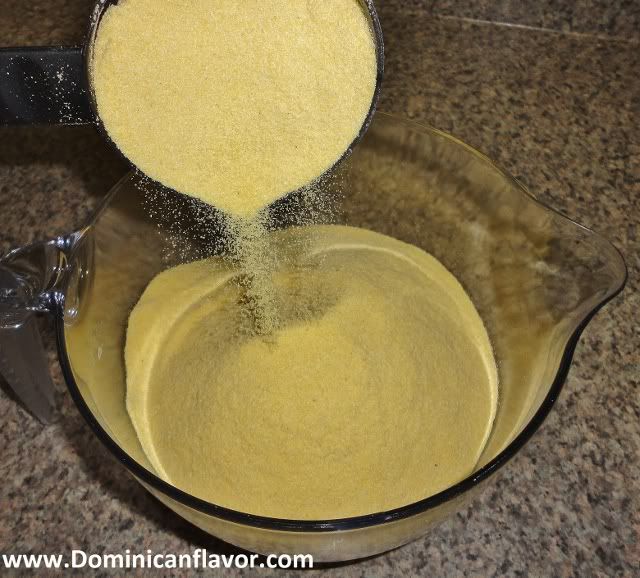 Then add about 5 cups of water, enough to completely soak the corn meal,
Stir it with a fork to make sure all of the corn meal gets moist and there aren't any dry clumps,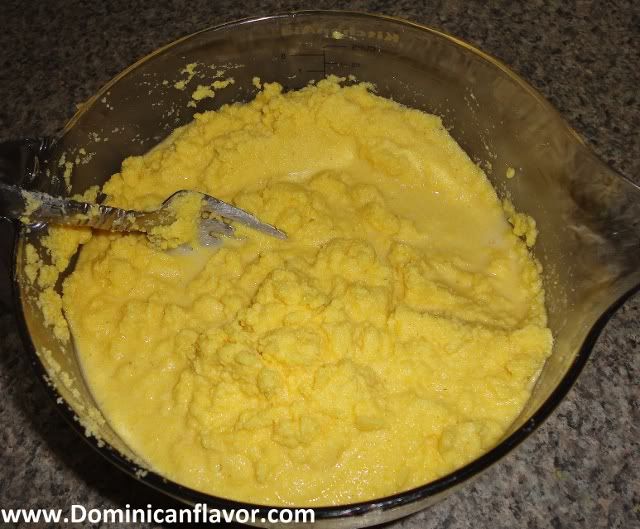 You don't want the cornmeal to be swimming in the water, you just want it to look like a thick grainy pudding.  Set aside until we are ready to use it.
Also, Preheat the oven to 350 degrees so that it's nice and hot when we are ready to bake the arepa.
Then take a large pot and put it on medium high heat, add the milk (I usually use 1% fat, but you may use fat free or whole if you if you prefer),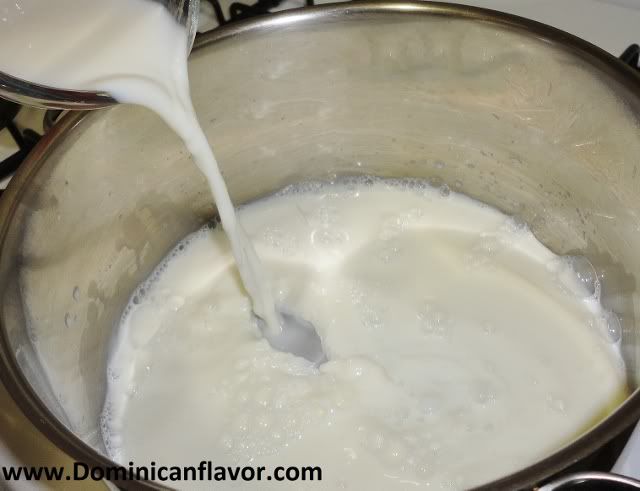 Then add the evaporated milk, remember to shake the can well before opening it,
Add the cinnamon sticks and the raisins (can always add more raisins if you prefer),
Then add the light brown sugar (I don't recommend you substitute with Dark Brown Sugar, since it will make the arepa sweeter and darker), give it a quick stir after adding the sugar,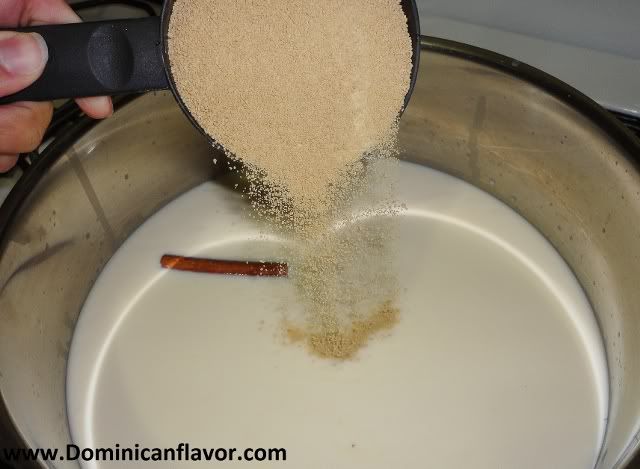 I usually use the Goya brand coconut cream which can be found in pretty much all of the large chain supermarkets and Spanish bodegas.  There are other brands available which you can usually find this in the international isle in the grocery stores, I don't recommend you substitute the coconut cream with coconut milk,
Then add the coconut cream (shake the can well, when you pour it will look like a thick oil),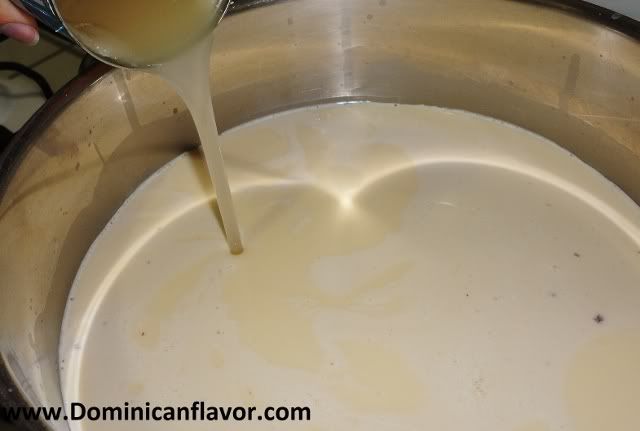 Then add 1 tbsp of vanilla (I recommend you use Dominican white vanilla 🙂 ),
Then add about 1/2 tsp of salt to balance out the sweetness,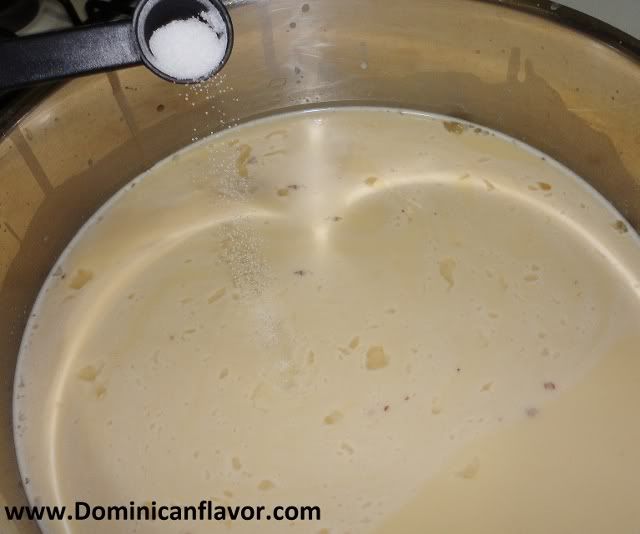 Last but not least, add 1 tbsp of anise seeds,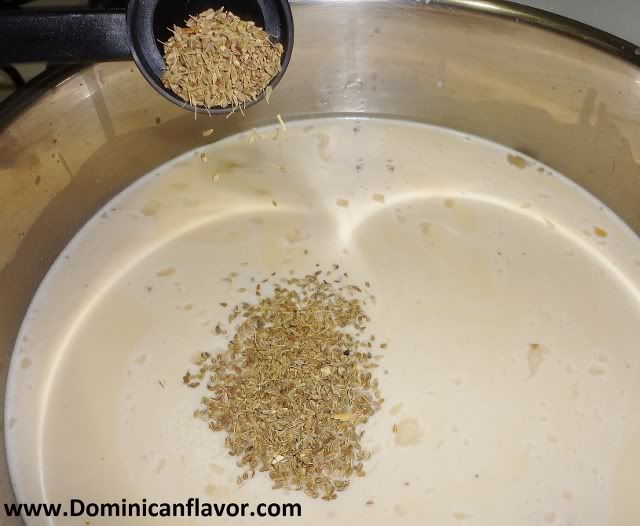 With a whisk or a spatula, stir well to make sure the sugar is completely dissolved and all of the ingredients are well incorporated,
Let the ingredients in the pot come up to a light boil (it will probably take 10 – 15 minutes), make sure to stir every few minutes so the milk doesn't burn at the bottom of the pot, then add the moist cornmeal,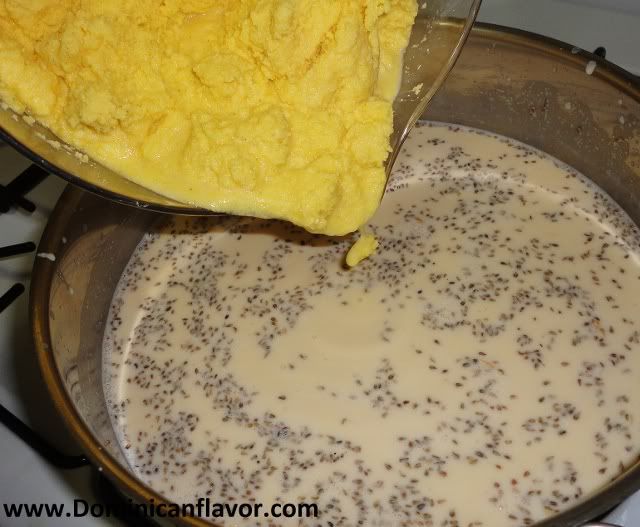 After adding the cornmeal, stir constantly to avoid clumps,
While the cornmeal is cooking, take 2 tbsp of softened butter or margarine and grease a large baking dish (the one I'm using is 4Q capacity, 15x10x2), if you have a pastry brush use that, if not use a spoon or your hands,
Once the dish is generously greased set aside,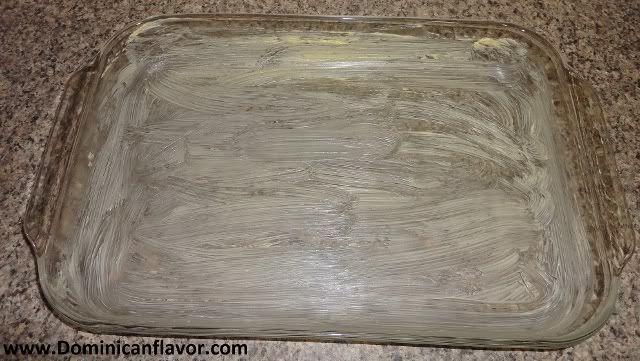 Remember to stir the cornmeal constantly so it doesn't stick to the bottom of the pot,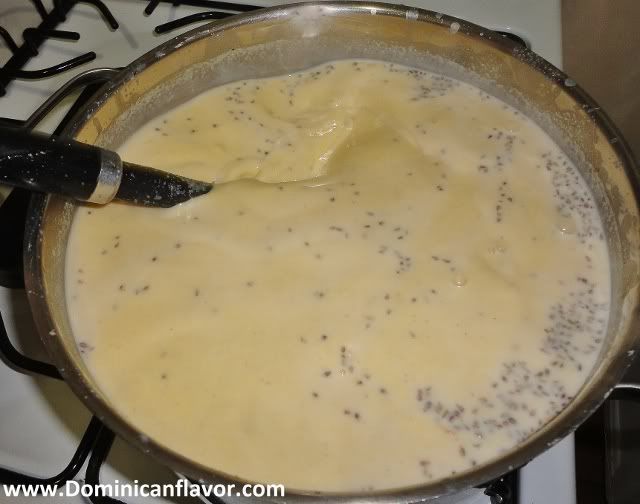 As the cornmeal cooks and absorbs the milk, it will turn into a thick pudding like consistency,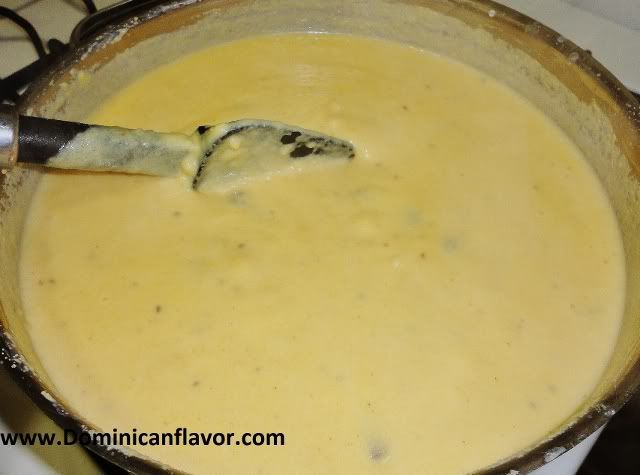 As it gets thicker, stir more frequently so that it doesn't stick to the bottom,
When the pudding is thick and you dip a spoon or spatula, then you get a thick "ribbon" effect, you are ready to add it to the baking dish,
Turn the heat off and I usually like to remove the cinnamon sticks before adding the pudding to the baking dish (I don't know about you guys, but there's nothing worst than biting into an arepa and getting a large chunk of cinnamon stick in your mouth :(),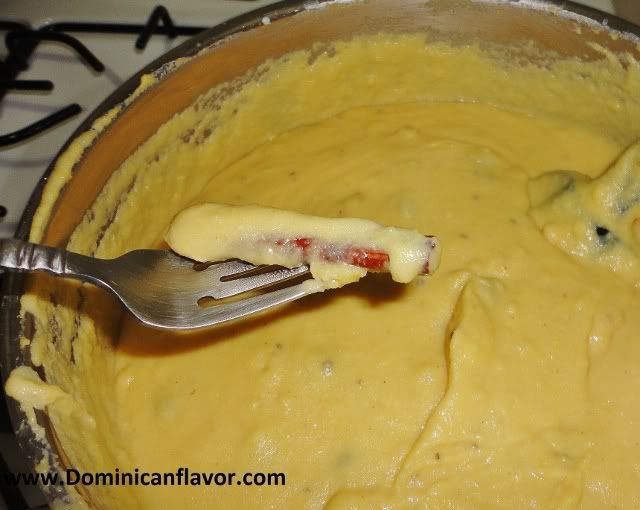 Pour the cornmeal pudding into the baking dish, making sure to scrape all of it from the pot (a spatula will make it easier to do this),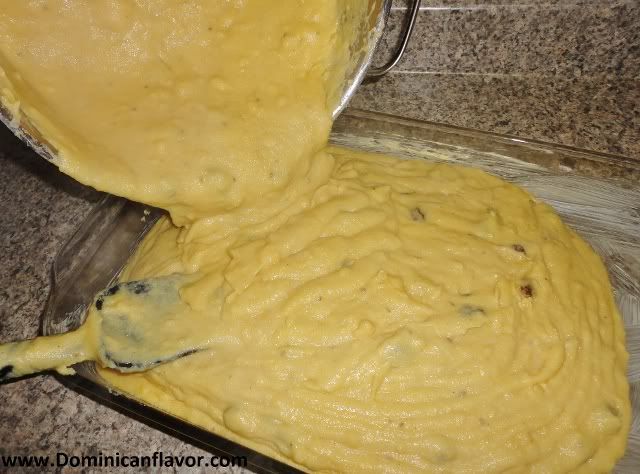 Then spread the cornmeal pudding evenly over the dish, do this with pressure to avoid air bubbles, you can also lightly shake and tap the baking dish to settle the cornmeal as well,
Then take the remaining 2 tbsp of butter (may substitute with margarine) and cut it into thin slices (it's easier to this with a stick of butter), then spread over the arepa,
Adding the butter makes the arepa develop a nice golden crust on the top as it bakes,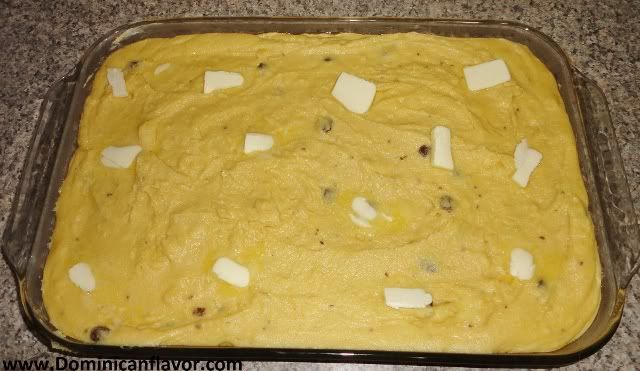 Then transfer the arepa to the oven, make sure to put the baking rack in the middle of the oven,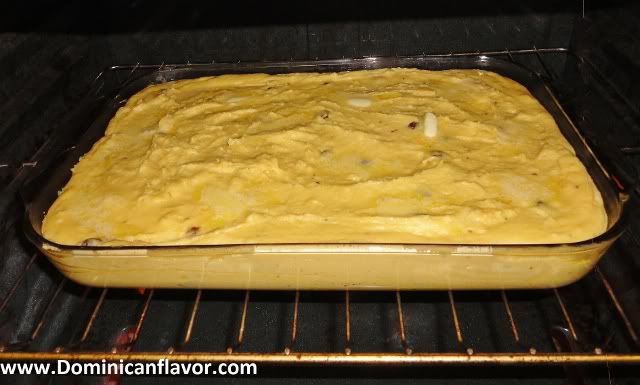 Bake for about 1 hour to 1 hour and 15 minutes.  You'll know the arepa is ready when you poke the center with a thin knife and it comes out clean,
When the arepa is thoroughly baked, let it rest for atleast 1 hour before cutting it.  Don't cut it while it's piping hot, let it settle first.  If you cut it while it's really hot, the pieces will fall apart.
Doesn't that arepa look delicious? 🙂
After letting it rest for a while, cut it into whatever size pieces you prefer.  It's very delicious served warm or at room temperature, accompanied by some delicious ginger hot chocolate yum!
A piece of arepa is a delicious and comforting Dominican treat!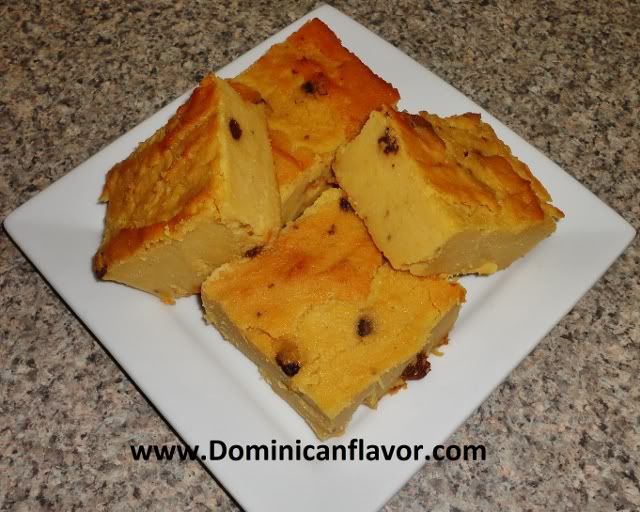 Buen Provecho! 😉