Plantains are the staple "vegetable" in Dominican Republic.  They are delicious boiled, steamed, in soups or especially fried!  Tostones compliment almost any dish and they very simple to make.  The hardest part is peeling the plantain, but hopefully my tips will simplify that step if you've never peeled a plantain before.
It is usually paired with a side of fried or stewed salami, but can be served as a delicious appetizer while nice and hot.
To make tostones, you will need the following ingredients:
3 – 4 Green Plantains
Vegetable Oil
Salt
First, take a wide pot or skillet and add about 1/5 inch of oil.  Put the temperature on high heat.
Peeling plantains can be a pain because they tend to stain your hands with a black sticky film that is very difficult to wash off.  I prefer to use gloves or another trick I like to use if I don't have gloves is to rub my hands with cooking oil.  The oil will help avoid getting the stain on your hands and make it easier to wash them.
Make sure to use COOKING oil, I always have reserved used oil so a tablespoon of that does the trick (you can use fresh oil).  Do not substitute with baby oil or any type of oil that is not edible.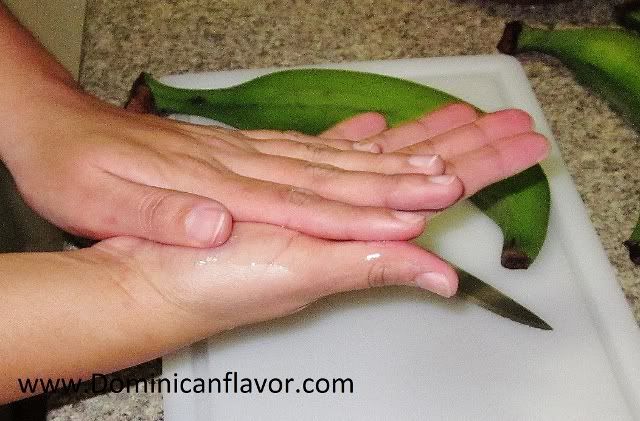 To peel the plantain, cut the ends off,
Cut a thin line vertically down the plantain,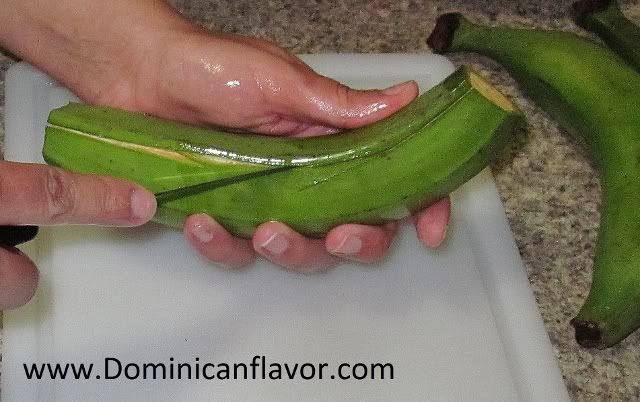 Then cut another line down the opposite side of the plantain,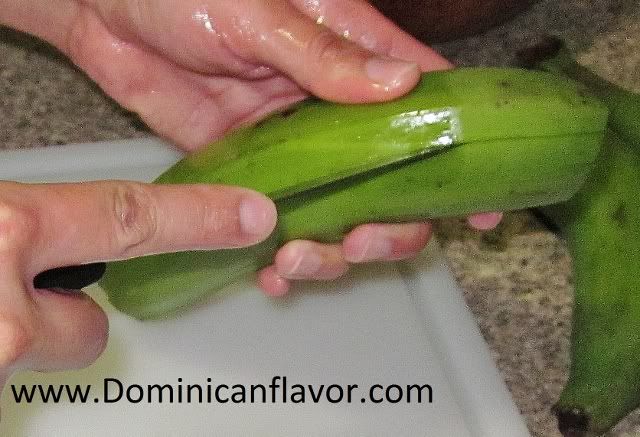 After slicing both sides, with your fingers start to pull back the peel.
After the plantain is peeled, cut into about half to 1″ wide pieces.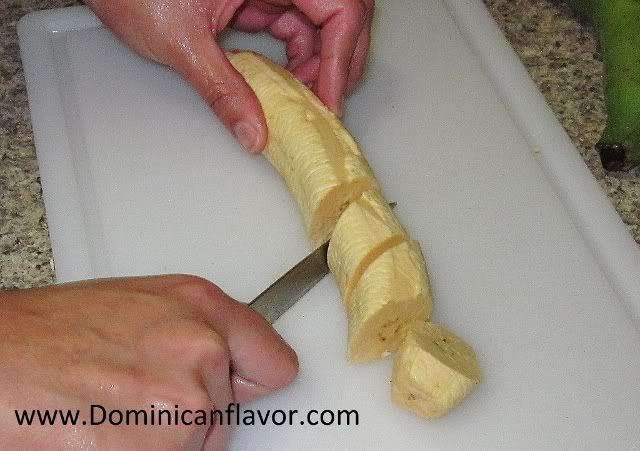 Once all of the plantains are peeled and cut,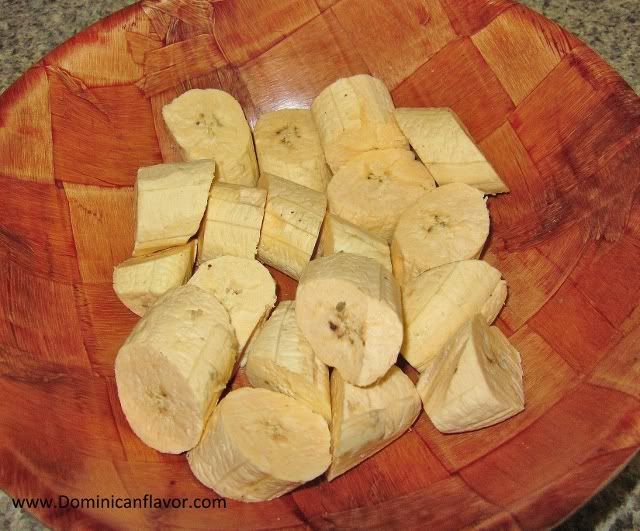 Take one of the pieces and add it to the oil to test and see it is hot enough.  The oil will be at a good temperature if it starts to bubble gently and the plantain starts to cook (not turn brown) lightly.  If the plantain starts to cook very rapidly and turn golden brown too quick, turn down the heat and let it cool before adding the rest.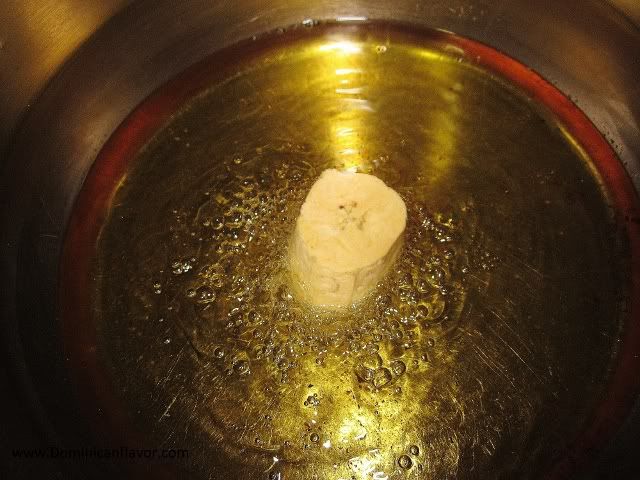 Add the remaining plantains and let them cook for a few minutes.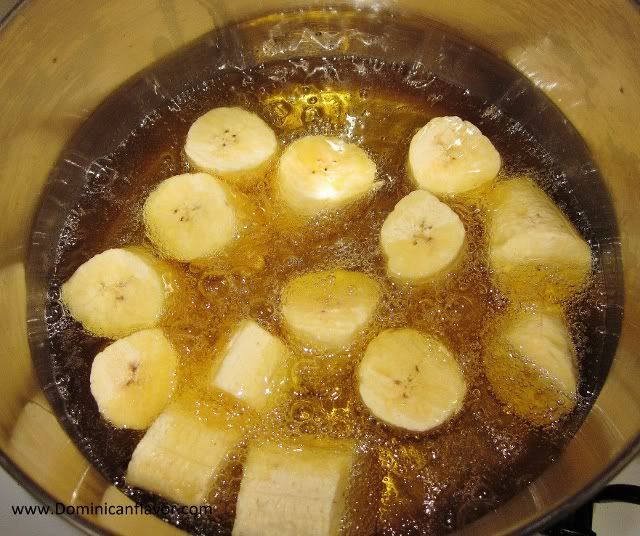 After a couple of minutes, stir the plantains to flip and ensure they cook evenly.
Stir occasionally, when they are a nice golden color and have been frying for about 5 to 7 minutes, remove from the oil.  If they start to turn brown they are overcooking.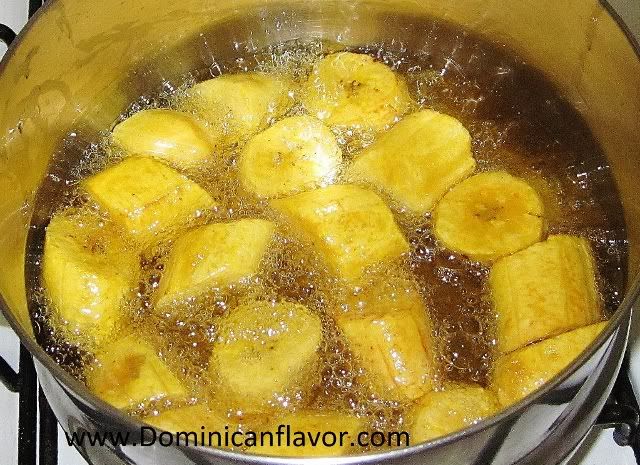 Once they are precooked, remove from the oil and let them cool a little before flattening them.  I use a "tostonera" which can be found in the international aisle of some supermarkets.  If you don't have one, don't worry, just use a cutting board and a flat plate (or two flat plates).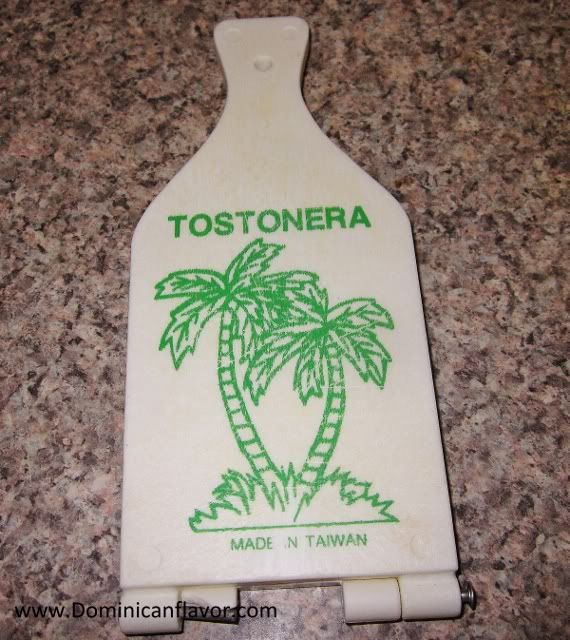 Yes, my tostonera is slightly deffective with that slight broken piece on the bottom, but I assure it works just fine. 🙂
Place the precooked plantain inside the "tostonera", then press shut to flatten it.  If you are using the cutting board or plate, just press the plantain with with a flat plate to flatten the plantain.
And behold, a toston is born!
Repeat the process with the remaining plantains.  Once they are pressed, start adding them in small batches to the oil.
Controlling the oil temperature can be tricky.  When you add the pressed tostones, if they cook very rapidly and start to turn brown, the oil is too hot.  I usually adjust the temperature and lower it after I precook the plantains. Let them cook for about a minute and flip them, cook for another minute or two before removing from the oil and placing on a paper towel lined bowl or plate.
It happens to the best of us, if you notice the tostones on the right look slightly darker than the tostones on the left in the picture below, that's because I added them to the oil that was overly hot and it cooked them too fast.  It's ok, they still tasted yummy! 🙂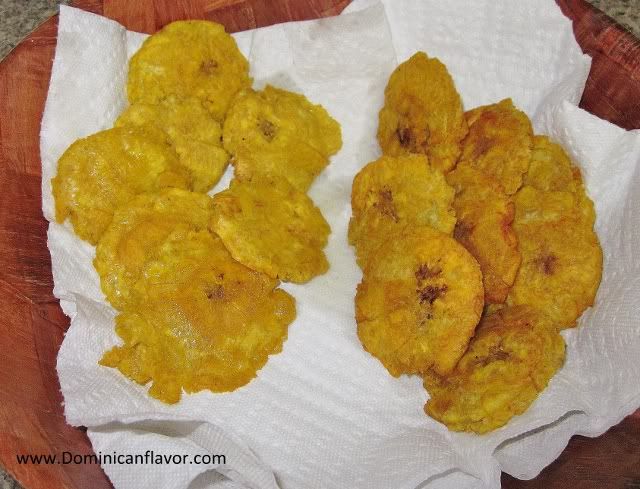 Add some salt to taste while the tostones are still hot and fresh.
Serve as an appetizer or a side dish, recommended side is fried Salami. 🙂  "Pink Sauce" or ketchup make an awesome dip for tostones as well.
Buen Provecho! 😉