Every time I make these stuffed chayotes, I remember about my childhood days growing up in Dominican Republic and coming home for lunch and having this on the menu.  It was (and still is) one of my favorite things my Grandpa made for us!
Now I grew up calling them "tayotas" as opposed to "chayote", therefore, I'm keeping with tradition and kept the name for the recipe.
Chayotes are relatively tasteless when eaten plain, but cooking them this way makes for a delicious appetizer or side to your main course.
To make this recipe you will need the following items:
5 Chayotes
1 Small white Onion
1/2 Cup of White Vinegar
1/4 Cup of Extra Virgin Olive Oil
1 tsp Salt
1/4 tsp Black Pepper
1 Cup Cheddar Cheese
1/2 Cup Parmesan Cheese
2 Cups (14 – 16oz) Creamed Corn
First, we have to make a vinaigrette so we can let it marinate while the chayotes cook.  Take the onion and finely chop it, place it in a bowl and add the vinegar,
Then add the olive oil (I don't recommend that you substitute with another kind of oil),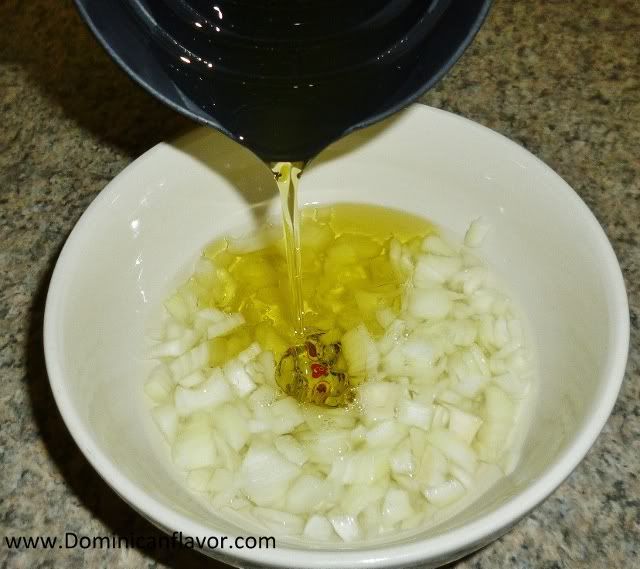 Then add about 1/2 tsp of salt,
Then add some black pepper (freshly ground is my usually choice 🙂 ),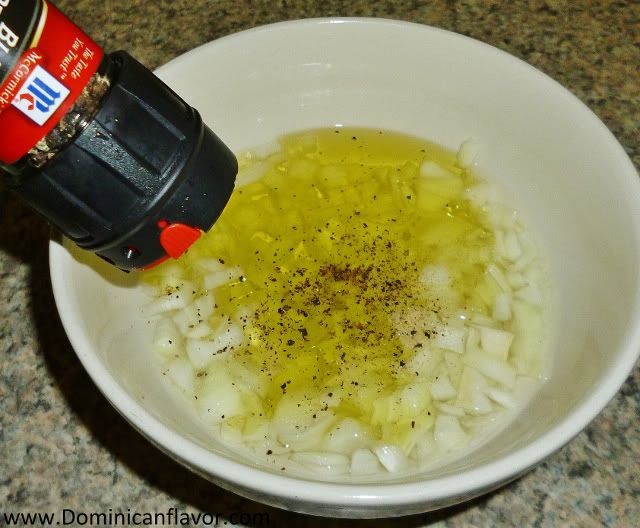 With a fork, give it a good stir to incorporate everything and set aside and let it marinate,
While the vinaigrette is marinating, we will start cooking the chayotes.  Take a large pot and fill it halfway with fresh water, put it on the stove and set the temperature to high so that the water comes to a boil.
Chayotes can be easily found in most supermarkets depending on the season of the year.  If you can't find it in a regular supermarket, try a Spanish grocery store (bodega), they usually carry it year round.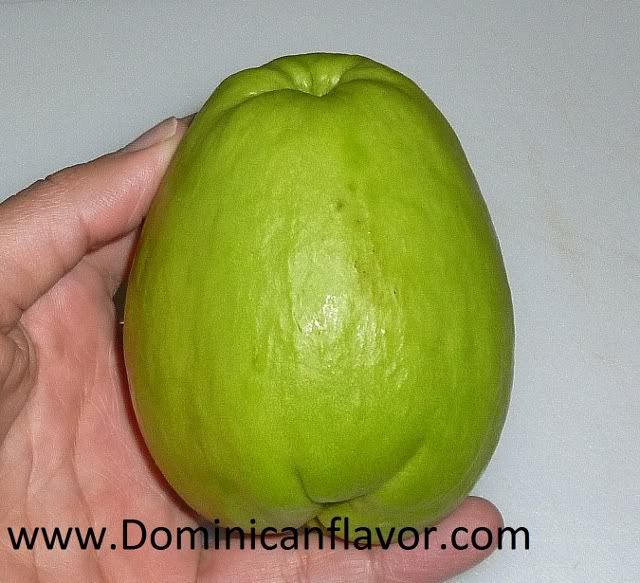 While the water is heating up, take the chayotes and give them a good rinse,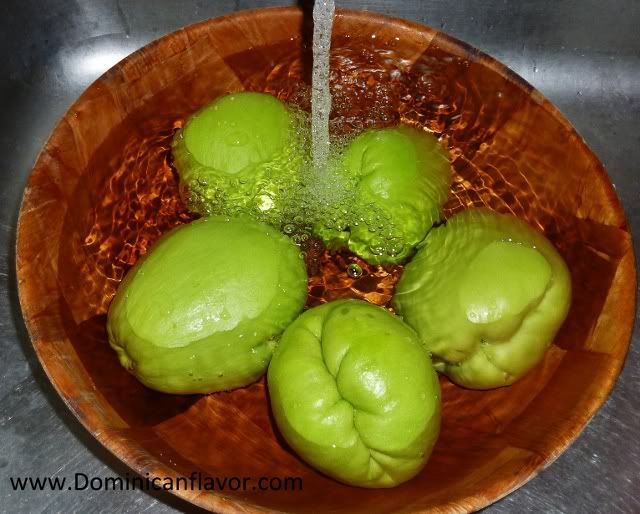 Take each chayote and slice it in half (DO NOT PEEL THEM we need the skin for this dish),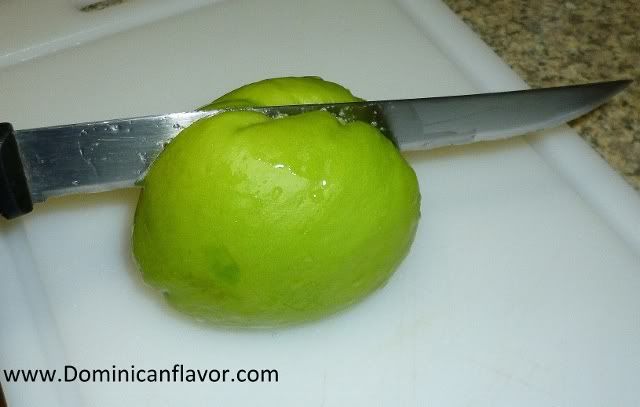 Inside, it will have a large seed that is soft, but inedible,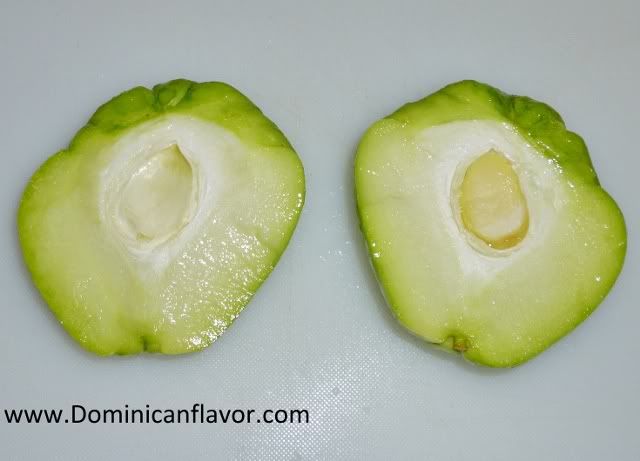 Spoon out the seed from each half (ensure to just remove the seed and thick white part surrounding it),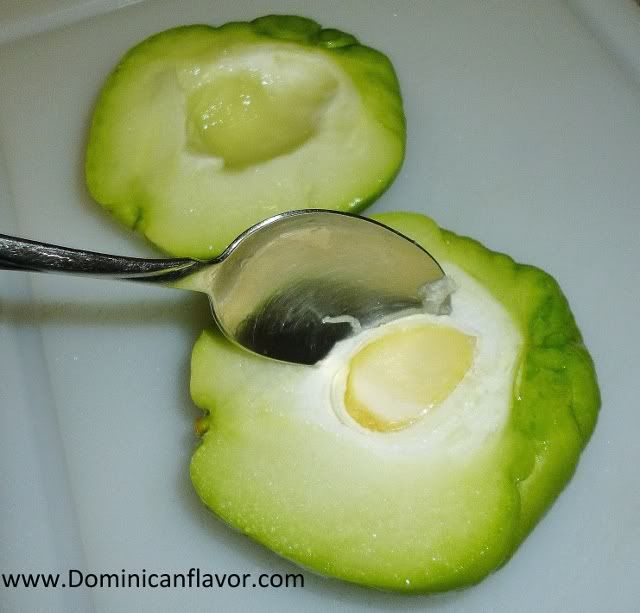 Make sure to not scoop out the meat,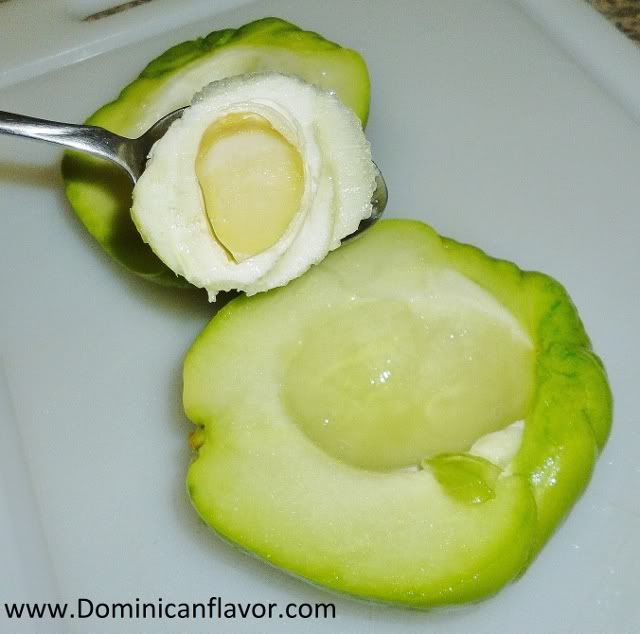 Add the seeded chayotes to the pot of water that we put on high heat earlier,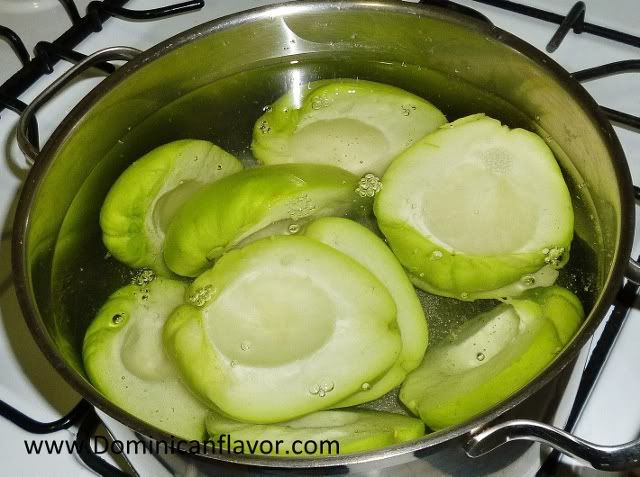 Lightly cover the pot so that it doesn't spill over when it comes to a boil,
When the chayotes come up a boil, let them cook until they are fork tender (about 20 minutes),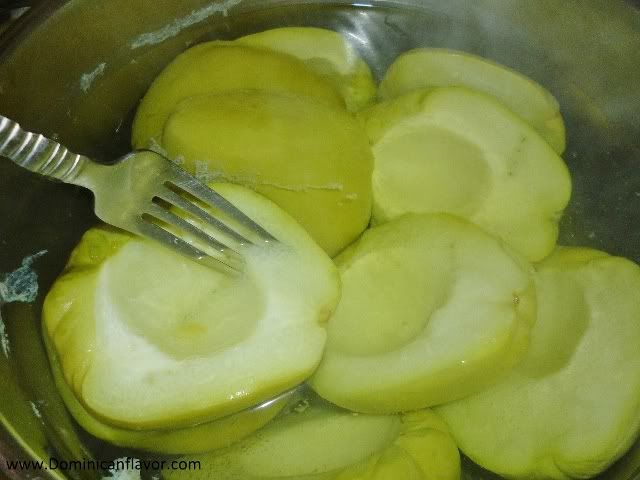 When they cooked through, drain the water and lay them out on a baking sheet to cool,
When the chayotes are cool enough to handle, take a spoon and scoop out the chayote "meat" into a bowl.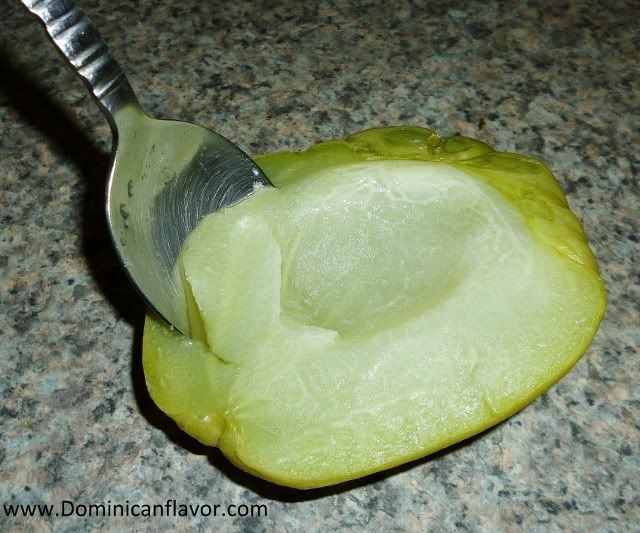 Do this gently so that the skin doesn't break apart.
As you scoop the meat, you will notice that chayotes are a very watery vegetable, just dispose of the excess water that accumulates on the skin "bowl",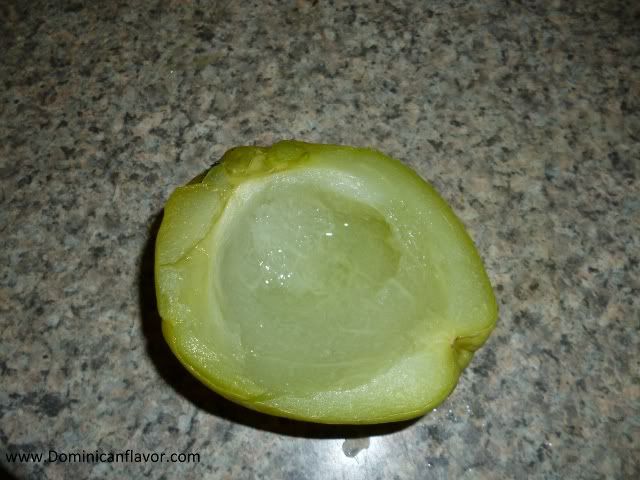 Place all of the chayote skins on a baking sheet,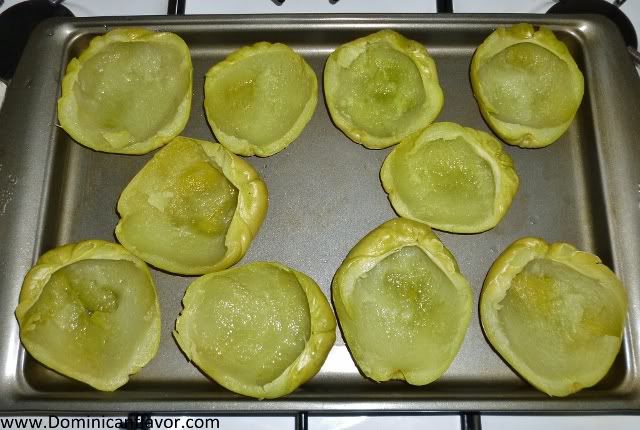 Then take the chayote "meat" and mash it with a fork,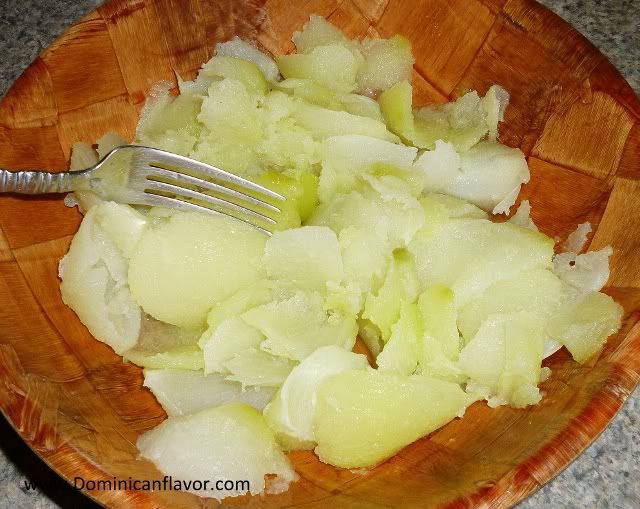 As you mash, the chayote will release alot of water.  Take the chayote meat and put it in a strainer to squeeze the excess water out,
With a wide spoon, just put pressure to make sure you squeeze as much of the liquid out as possible,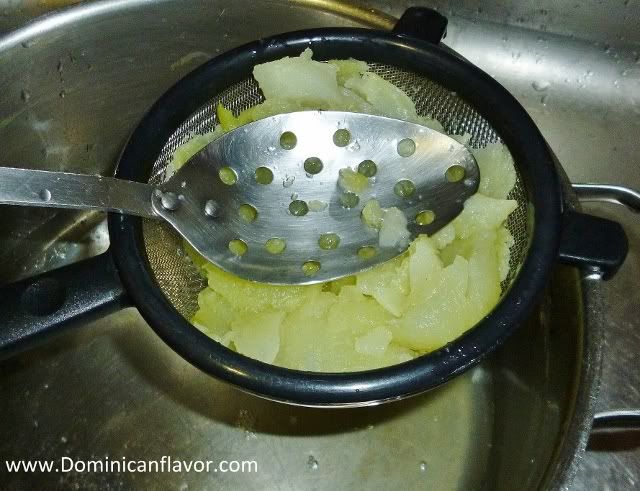 Look at all of the water we drained out of the chayote meat: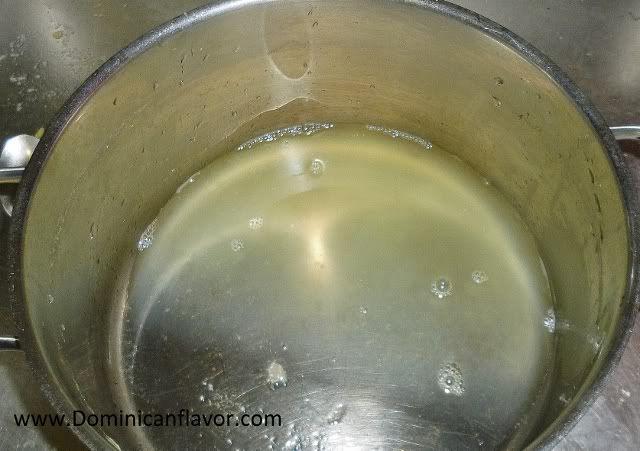 You can just dispose of the liquid.  5 chayotes doesn't render alot of meat when it's drained,
Before we continue, PRE-HEAT the oven, put the temperature on 350 degrees.
Now we add the vinaigrette to the chayote meat.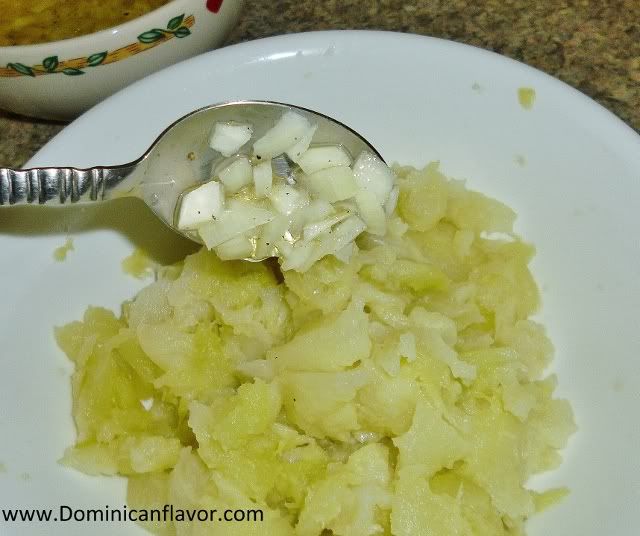 I suggest you start adding 1/4 of the vinaigrette first, then add about 1/2 tsp of salt and give it a taste test,
Add more of the vinaigrette until the flavors balance out (you might not use all of it, save the remaining dressing for a salad 🙂 ).  I like to taste the tang of the vinegar so sometimes I add all of the vinaigrette in, but it depends on how much chayote meat you get since it really shrinks down when you squeeze out the liquid.
Once the chayote meat and the vinaigrette are mixed spoon it into the skin bowls,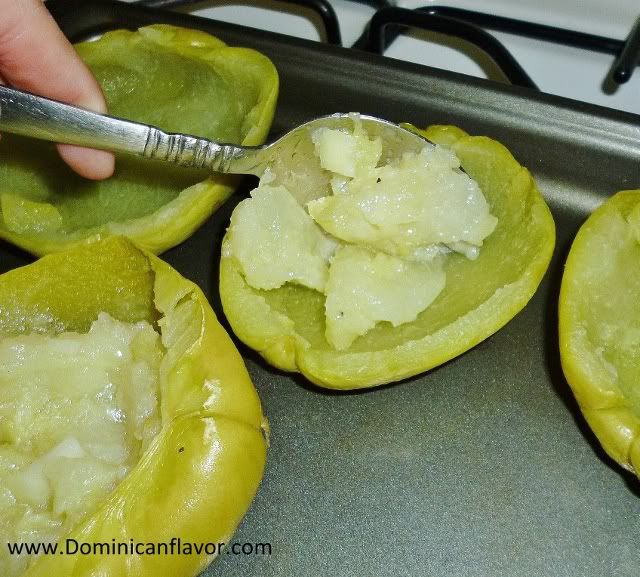 distributing it out evenly (usually 1 – 2 tablespoons per bowl),
I prefer to use the "Del Monte" brand creamed corn, but you may use any brand you prefer,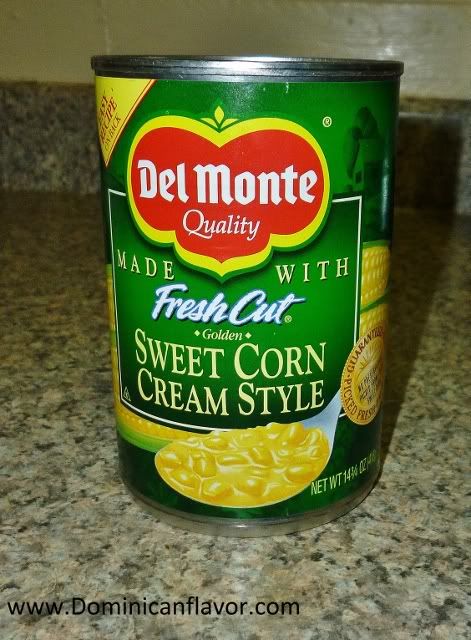 Spoon a layer of creamed corn over the mashed chayote,
I usually distribute the whole can evenly over the chayotes,
Then take some of the cheddar cheese and place some over each chayote, (I usually get the cheddar cheese that comes in a block and just cut a few slices and put a slice or two over each chayote),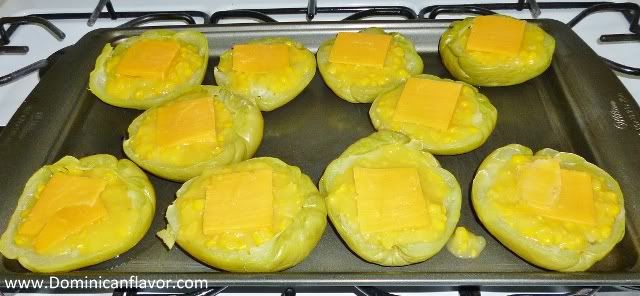 Then take about 1 tablespoon of Parmesan cheese and sprinkle it over the cheddar cheese,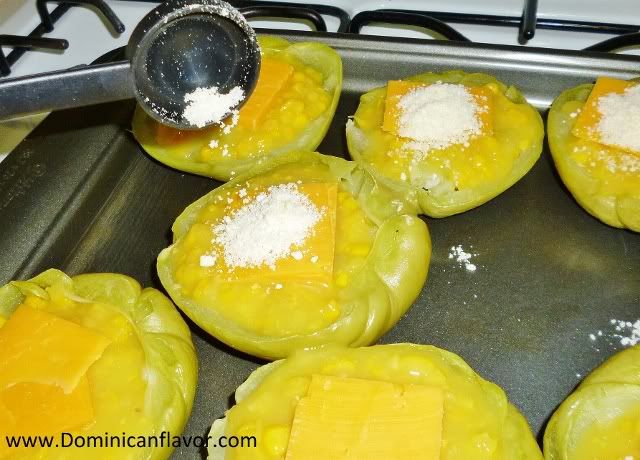 And now we have these lovely stuffed chayotes that are ready to go into the oven to finish cooking off. 🙂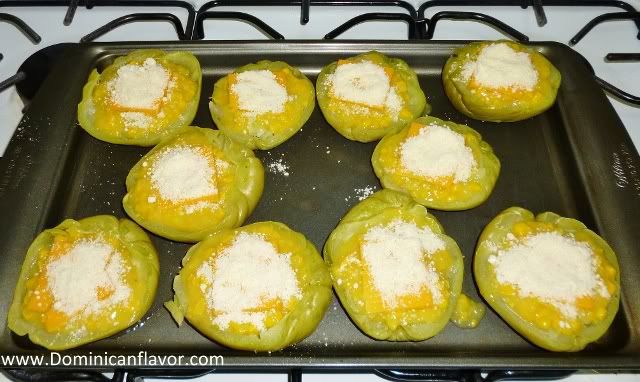 Transfer them to the oven (350 degrees) that should be nice and hot by now and bake them until they turn golden brown and the cheese melts, usually takes about 20 – 25 minutes.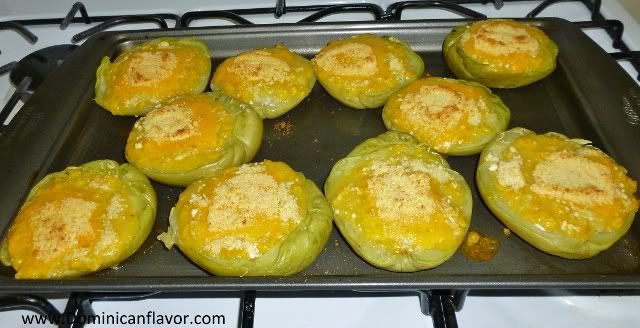 Serve nice and hot as an appetizer or a side to your main meal!  I promise you, they are DELICIOUS! 🙂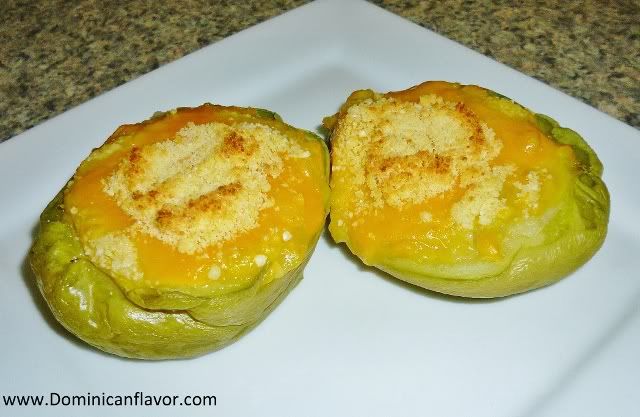 Buen Provecho! 😉